Welcome to our Asheville city guide!
Whether you are a local looking for a new adventure, a newcomer trying to figure out where to start or a visitor planning the perfect Asheville getaway, we hope that you find it useful!
Located in the Blue Ridge Mountains in North Carolina, Asheville is a destination known for its great food, outdoor adventures, vibrant art scene, breweries galore and breathtaking views. Tourists flock to the city for the amazing food and beer scene, proximity to Pisgah National Forest and easy access to the Blue Ridge Parkway.
Asheville is definitely a foodie's town, with everything from gourmet farm-to-table spots with menus that change daily (Table, Rhubarb) to wildly good vegan food (Plant), epic food trucks (Root Down, Bun Intended) and food that I have literally written home about (cough…Buxton Chicken Palace chicken sandwiches and Liberty House Cafe sourdough pancakes…) To top it off, the much loved Chai Pani received national attention in October 2021 by making the NY Times 'America's Favorite Restaurants' list.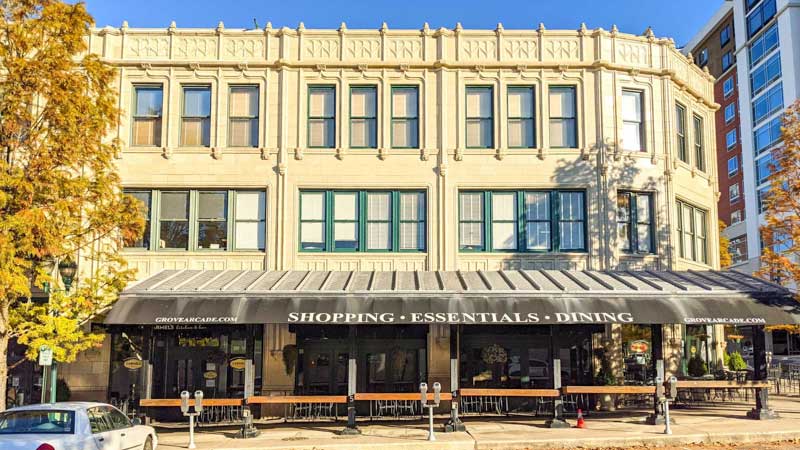 Apart from the wildly popular and amazing food scene, you'll find the equally popular and amazing beer scene. Did you know that Asheville has more breweries per capita than any other US city? This is definitely due in part to the explosion of the South Slope Brewing District (guide) over the past few years. No need to wonder why one of Asheville's nicknames is Beer City!
Asheville is a shop local kind of place. Many of the shopping districts are filled with local restaurants and stores. You can also find great local farmers markets scattered about the city filled with produce, meat, cheese, fresh bread, ice cream, coffee, pastries and handmade goods. Check out our guide to the Asheville farmers markets here!
While Asheville is a great place to visit any time of year, the area sees its most visitors during fall as the leaves change colors. The city is alive mid-October, full of tourists and abuzz with excitement over mother nature's show.
Another wonderful time to be in Asheville is in late spring when the weather has warmed up and flowers are in bloom. This is a great time to visit the North Carolina Arboretum and the Botanical Gardens of Asheville.
And, of course, there's the Biltmore Estate! It's beautiful any time of year, though there is something extra magical about it during the holiday season. We have a full guide to the Biltmore Estate as well as articles on dining at the Biltmore, visiting the Biltmore with kids and even tips for planning a trip to the Biltmore.
With just one visit you'll understand why the city ranks in the top 50 of best places to live in the US by US News. It is also ranked #14 on the best place to retire list.
Whether you know it as Beer City, Bee City… Bear City (sure, why not! we have a lot of bears!)… or even as Paris of the South, you are sure to love your time in Asheville.
Asheville Neighborhoods
Like any city, Asheville is broken into several neighborhoods that each have a unique vibe. We thought it would be good to give some details about the ones we frequent regularly. There are several more residential areas that aren't covered but our list below should give you an idea of the main shopping and eating areas in Asheville.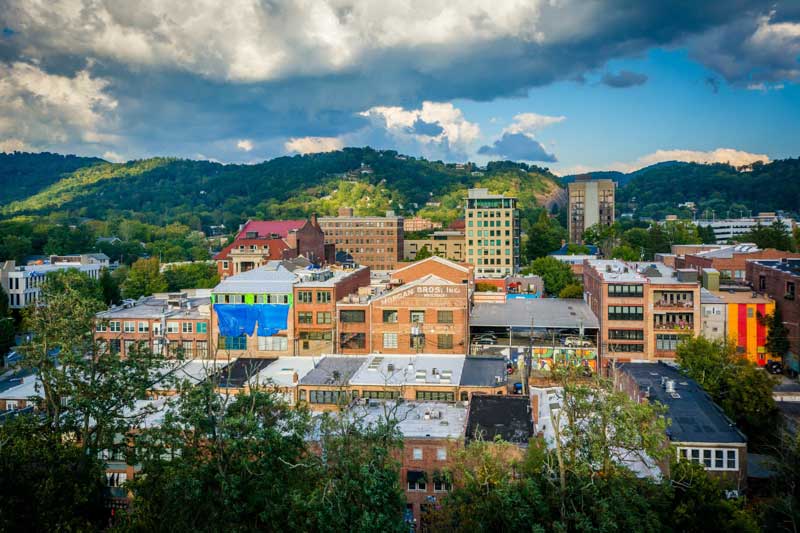 If you love local shopping and great food, then downtown Asheville is for you!
Small businesses and specialty shops are mixed in amongst award-winning restaurants all set in the heart of the mountains. It's a very walkable part of the city and you are bound to find something you love.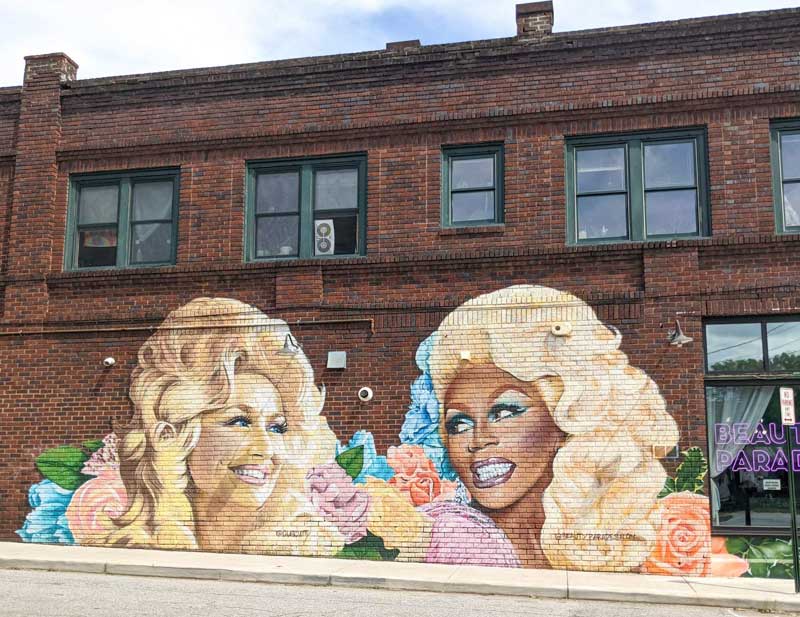 Known for busy brunch spots and local shops, the eclectic West Asheville up-and-came in the last decade.
You'll find breweries, music venues, book stores, dive bars and vintage clothing shops in West Asheville. Haywood Road is the main corridor in West Asheville, connecting the neighborhood with the River Arts District.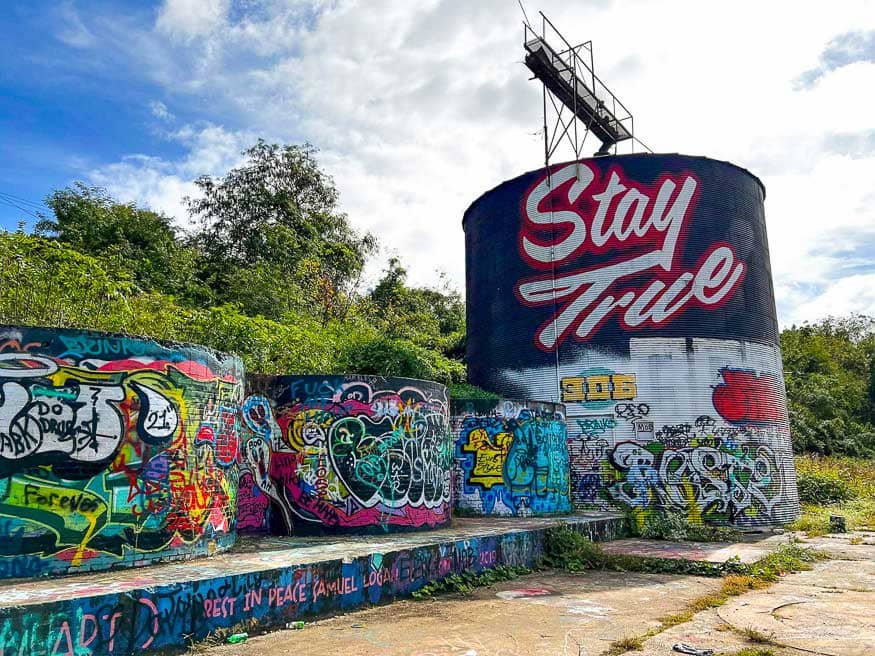 The River Arts District is a creative haven, with working artist studios and galleries filling former warehouses and mills.
From painting to pottery, glassblowing to textiles, you are bound to discover something you love! Apart from the vibrant art scene, you'll find barbecue, burgers, craft breweries and coffee shops.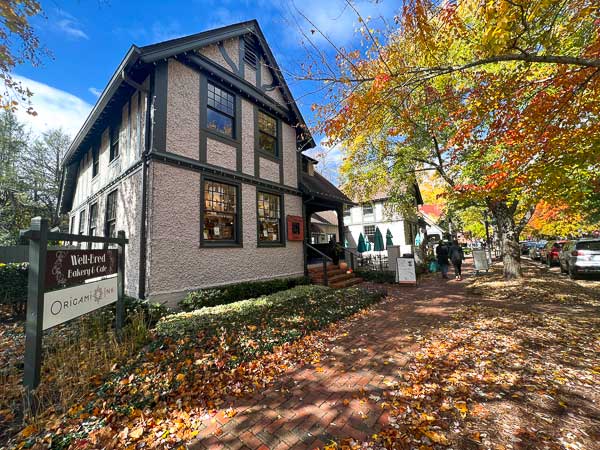 Biltmore Village is a historic district of Asheville filled with shops, restaurants, art galleries and even a cathedral from the late 1800s.
Biltmore Village is located just outside of the entrance to the Biltmore Estate. It originally served a self-sustaining community to house workers of the Estate. Today, it serves as a shopping and dining destination.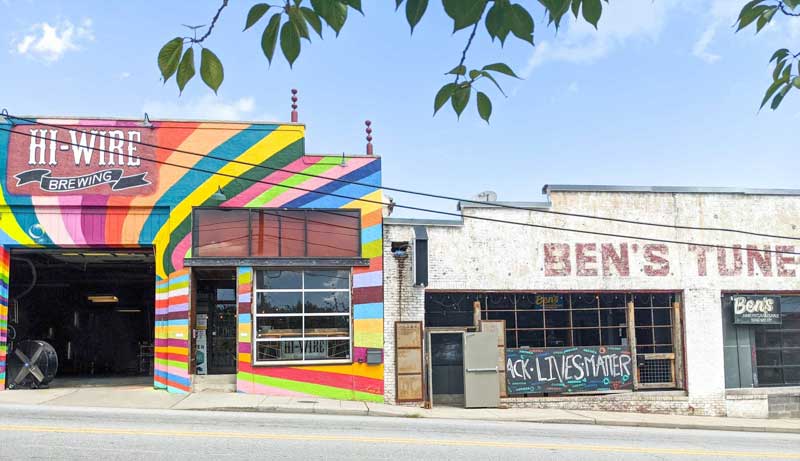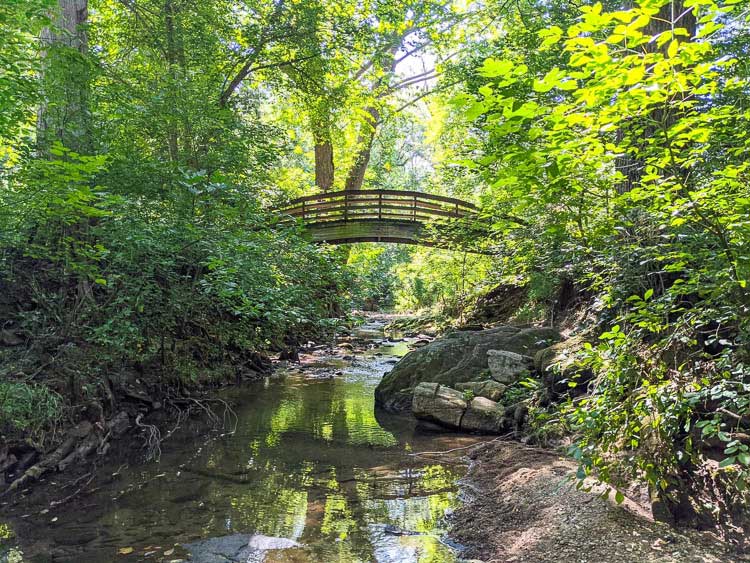 Local restaurants and walkable neighborhoods make North Asheville a popular residential area.
North Asheville is home to many neighborhoods (Charlotte St, Grove Park-Sunset, Five Points, Beaver Lake…), UNCA's campus, the Omni Grove Park Inn and the Botanical Gardens.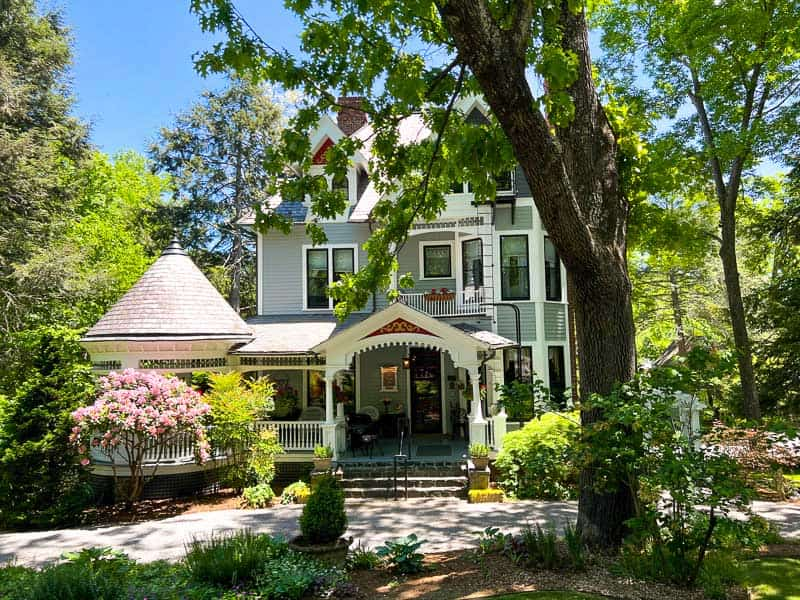 Tree-lined streets, bed & breakfasts and historic houses are all a part of the beautiful Montford neighborhood.
Montford is located just north of downtown Asheville and is within walking distance of it. There you'll find a few restaurants and parks, but it's primarily a residential neighborhood.
South Asheville is a popular residential area with all of the amenities needed for convenient living.
This area has seen a high volume of development in recent years along I-26, Brevard Road and Hendersonville Highway, giving area residents and visitors plenty of places to eat, shop and play.
Close to several large cities, Asheville is a great place to adventure from! Greenville, SC is a little over an hour from downtown Asheville and is a fun day trip. Knoxville and Charlotte are also day trip options, each about two hours from Asheville. I love the views when driving through the mountains to Knoxville!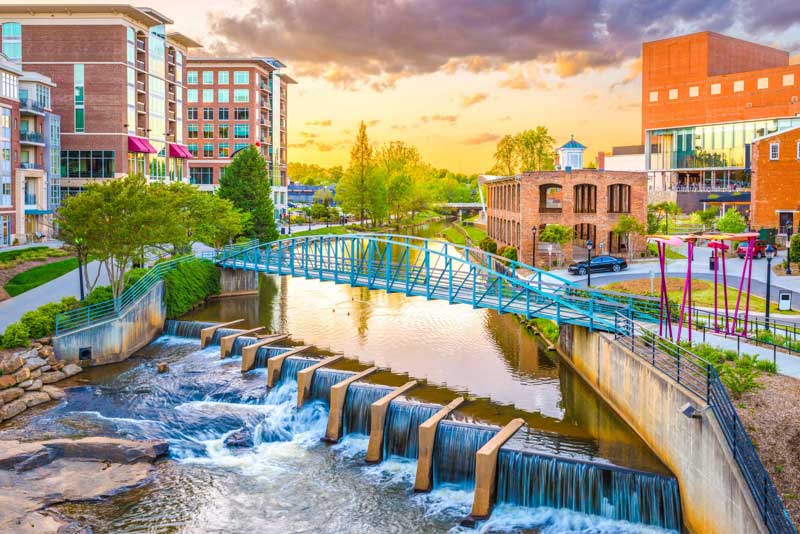 If you are looking to adventure a bit further, Atlanta is 3.5 hours away and Charleston is right at 4 hours. That always surprises me because if you drive 4 hours toward the coast in NC you'll only make it to Chapel Hill.
If you are want to catch a college football game, you can get to Clemson in less than 2 hours. I like taking the scenic route through Pisgah Forest and Brevard. Bonus points for grabbing donuts from The Velvet Cup on the way!
Another great place to visit is Columbia, SC. Check out a city guide for Columbia here! You'll find Riverbanks Zoo in Columbia– it's one of the best zoos in America and features over 2000 animals. Columbia, SC is also home to the South Carolina State Museum and EdVenture Children's Museum, as well as the University of South Carolina.
Other mountain towns close to Asheville
There are also some great mountain towns close by, like Brevard and Hendersonville and Bryson City. Bryson City is really fun to visit, especially when you pair it with a drive next to the Nantahala.
Oh, and I can't forget Lake Lure! An absolutely beautiful lake surrounded by mountains. They have a cute shopping area where you can pick up apple butters, fudge and gemstones and you'll find Chimney Rock close by. Dirty Dancing was filmed here and the town hosts a Dirty Dancing Festival each year.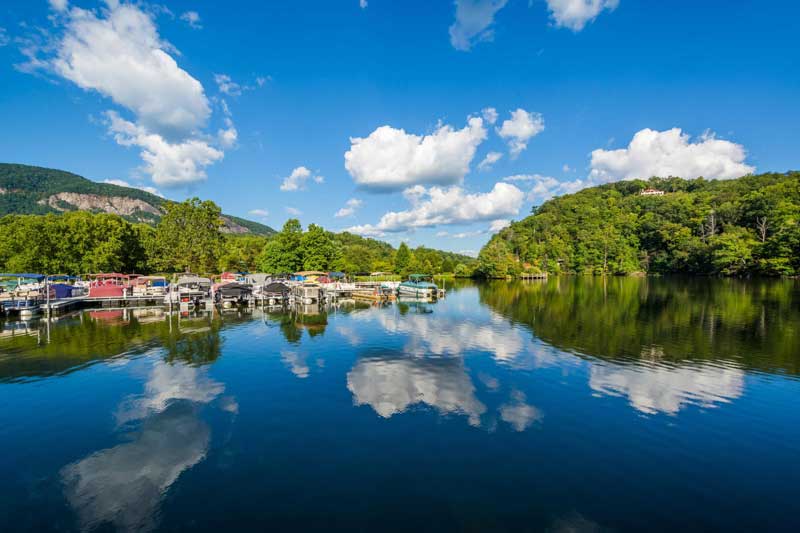 Asheville has four unique seasons, none of which are really extreme. Though you'll have the occasional really hot and humid day in the summer and an absolutely freezing day in the winter, the weather in Asheville is pretty mild year-round compared to other places. See our weather page for a detailed description of each season.
When is the best time to visit Asheville?
We are often asked the best time of year to visit Asheville. And as you probably realized in our weather guide above, we can tell you something charming about every season.
Understandably so, the most popular time to visit is leaf season from mid-October and into early November. This is the time of year that the air turns crisp and you can soak in the colorful views in your comfiest sweater. This is also the time we host the most visitors at our house!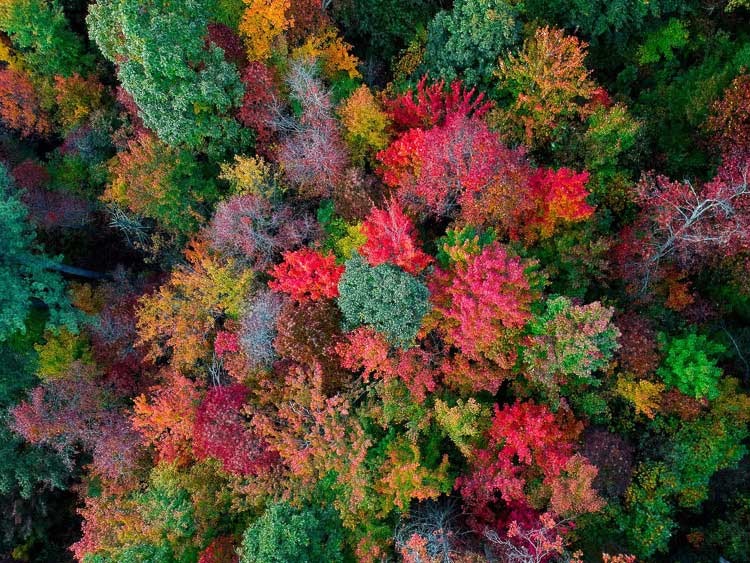 Another favorite month of ours is May, when everything is coming back to life after winter. The trees and flowers bud and bloom and there's a happy, contagious energy in the atmosphere. Asheville is also a great getaway in the heat of summer, as it's typically 10 degrees cooler than nearby areas out of the mountains.
Asheville Regional Airport
The Asheville airport (AVL) is located south of downtown in Fletcher, NC. It's about a 25-minute drive depending on traffic. Airlines that fly out of it include Allegiant, American, Delta and United. AVL has one terminal with seven gates. It definitely makes for an easy travel day!
Check out the list of nonstop destinations from the Asheville airport here!
Transportation in Asheville
The easiest way to get around Asheville is by car. The city is pretty easy to navigate and there is street parking and garages downtown. Traffic can be hit or miss, though you can always expect some sort of delay on I-26 due to construction.
Asheville has a few ride-sharing apps, but they can be hit or miss. If you are planning to really explore the area, you'll want a car.
Hop-On Hop-Off Trolley Tour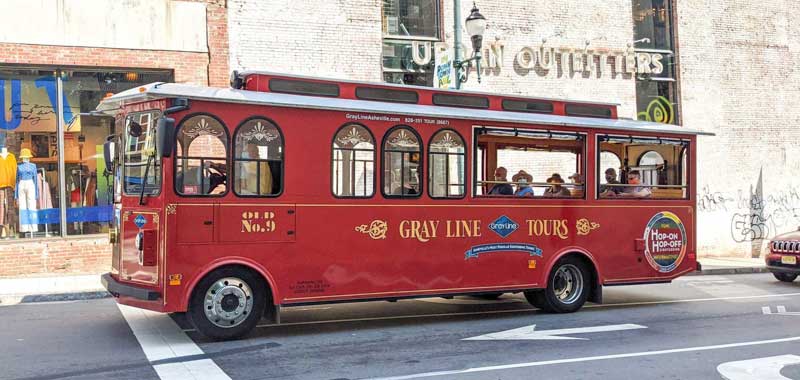 The Hop-On Hop-Off Trolley Tour through Gray Line Asheville is such a fun way to get around town. Not only does it make for an enjoyable day, but you also won't need to worry about parking (and you won't get lost en route!).
There are ten stops total, taking you as far north as the Omni Grove Park Inn and as far south as Biltmore Village. As of fall 2021, ticket prices range from $14 (5-11 years) to $35. Tickets for senior citizens 60+ are $33. The tour is around 90 minutes, but you can do it at your own pace by hopping off at a stop and hopping on a bit later. Oh, and the price includes two days!
If you want more information about the Asheville Trolley, check out our in-depth guide on all of the trolley stops!
Food and Drink in Asheville
Restaurants in Asheville
Asheville is an amazing culinary destination. It was rated as Yelp's best food city in America in 2020, after all! At times it can be overwhelming just how many good options there are.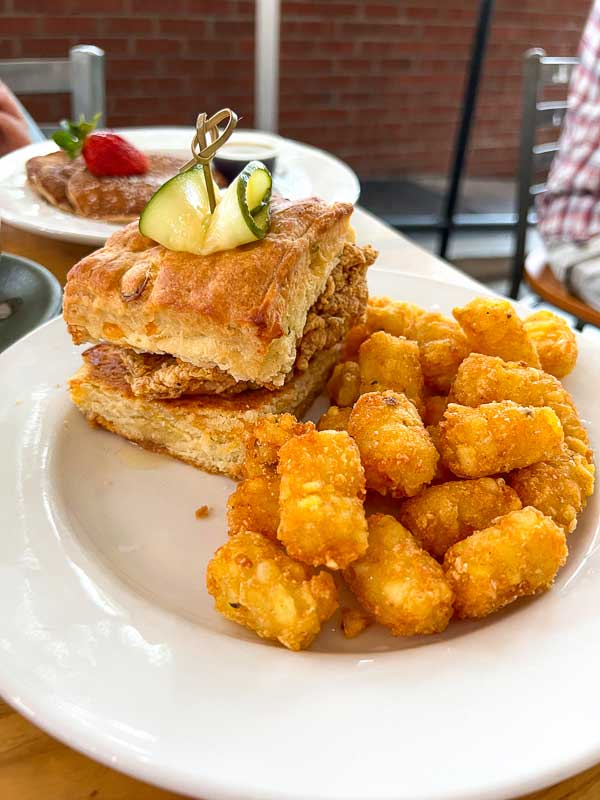 Instead of listing all of our favorites here (trust us, the list would never end!), we will point you to our page of Asheville neighborhood guides! Each individual guide has a running list of restaurants that we have tried and love and is organized by neighborhood to keep it easy.
We also have guides to the best pizza in Asheville, the best BBQ in Asheville and a list of our favorite restaurants in Asheville for takeout. You can also read all of our food and drink posts here.
Asheville Coffee Shops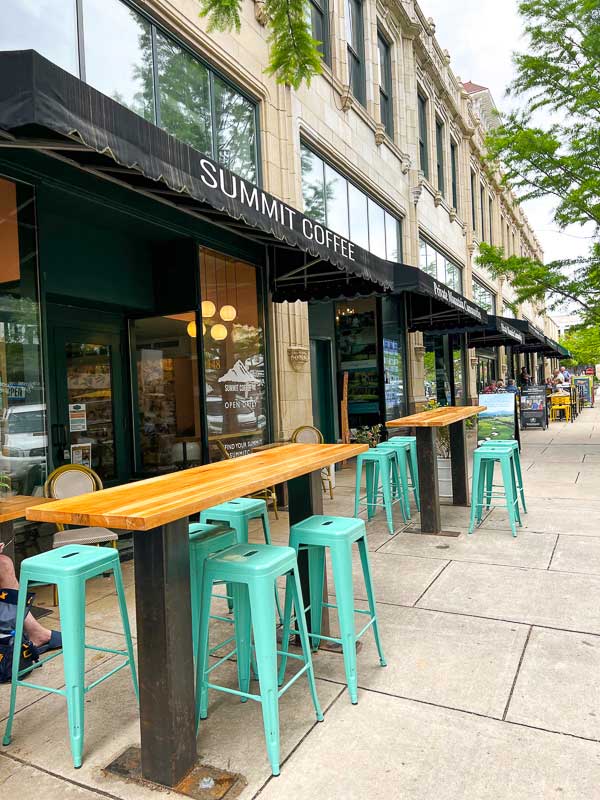 We love a good coffee shop, especially one where we can either 1) work from, 2) people watch, 3) eat delicious food or 4) all of the above. Luckily Asheville is full of these! A few of our favorites are PennyCup, Liberty House Coffee and Cafe, High Five Coffee and Summit Coffee Co. If you want to know everything about the coffee scene, though, check out our full list of the best shops in Asheville!
Breweries in Asheville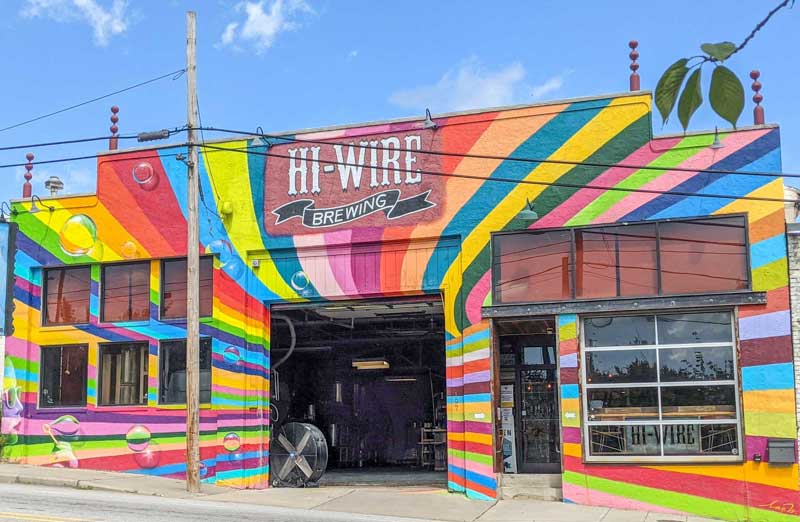 When a city's nickname is Beer City, you know there is great beer to be had. Asheville is home to over 30 breweries (the most per capita than any other city!) ranging in size from craft microbreweries like Bhramari and Burial Beer Company to larger, more well-known ones like Sierra Nevada and New Belgium. Enjoying good beer is a part of Asheville's relaxed culture, so if you're a beer lover, you'll be in good company here.
Things to do in Asheville
Outdoor Activities
Asheville is an outdoor destination! Whether you're into technical sports like whitewater, rock climbing, mountain biking or enjoy having a stroll through nature, Asheville is the perfect hub for you. Any direction that you venture out you will find countless adventures that take you to breathtaking views, magical waterfalls, and best of all, clean fresh air.
Pisgah National Forest
Made up of over 500,000 acres, Pisgah National Forest is a family-friendly destination for hiking, waterfall viewing, fly fishing and picnicking. There are several sections of the National Forest all around Asheville.
Pisgah Ranger District
The Pisgah Ranger District is southeast of Asheville (bordering Transylvania, Buncombe, and Haywood Counties) and is a great place to experience all that the National Forest has to offer. This section of the Forest is home to Looking Glass Falls, Sliding Rock, Black Balsam Knob, Pisgah Inn, Lake Powhatan, Moore Cove Falls and Sycamore Flats.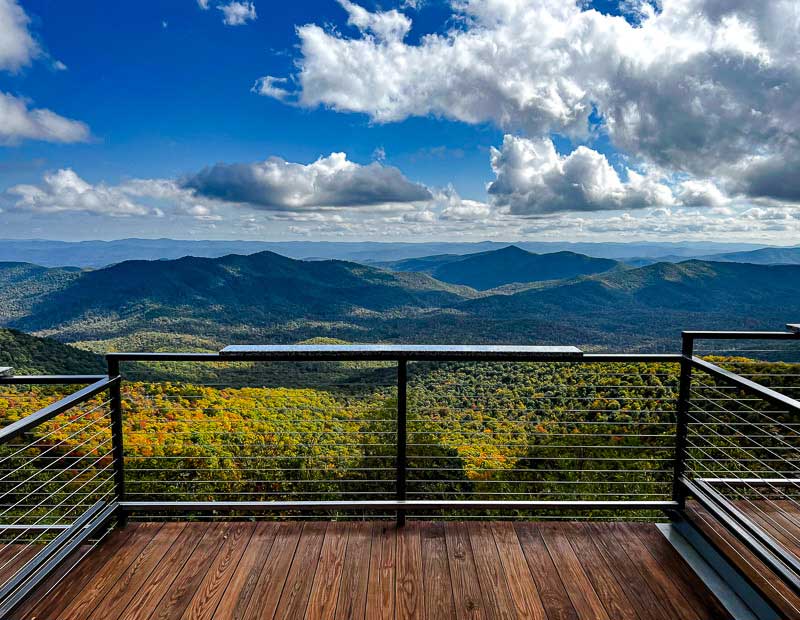 If heading to the Pisgah Ranger District from Asheville, you can either take the Blue Ridge Parkway south or go through Mills River toward Brevard. If going through Mills River, the entrance to Pisgah National Forest is about 40 minutes from downtown Asheville and you'll drive by the airport.
We really like this entrance because it has a few fun eating and drinking spots to hit either on the way in or out. The Hub is a super cool bike shop and tavern. There is often a food truck parked out front and they have great outdoor seating. We also love stopping for donuts and coffee at The Velvet Cup, especially after a hike! This is also in The Hub's parking lot.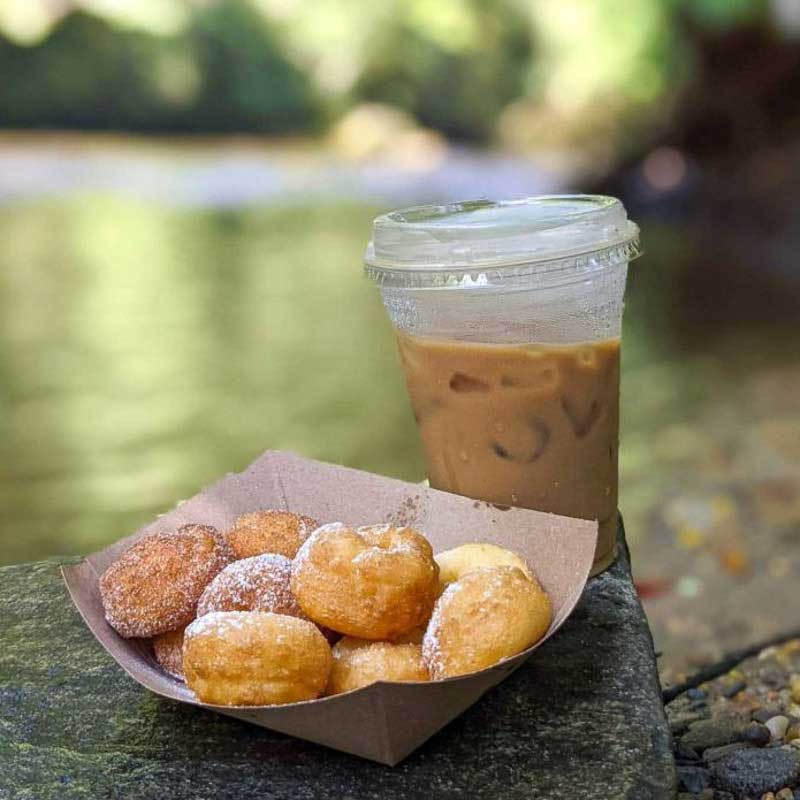 If you need a hike for the whole family in the Pisgah Ranger District, we can highly recommend Moore Cove Falls! You can read about our hike to the Moore Cove waterfall here. Another place we love to visit with our family is Sycamore Flats Recreation Area, It's actually the first stop in Pisgah when entering at The Hub. It's a great place to picnic, fish, tube, explore and relax. We picnic here regularly!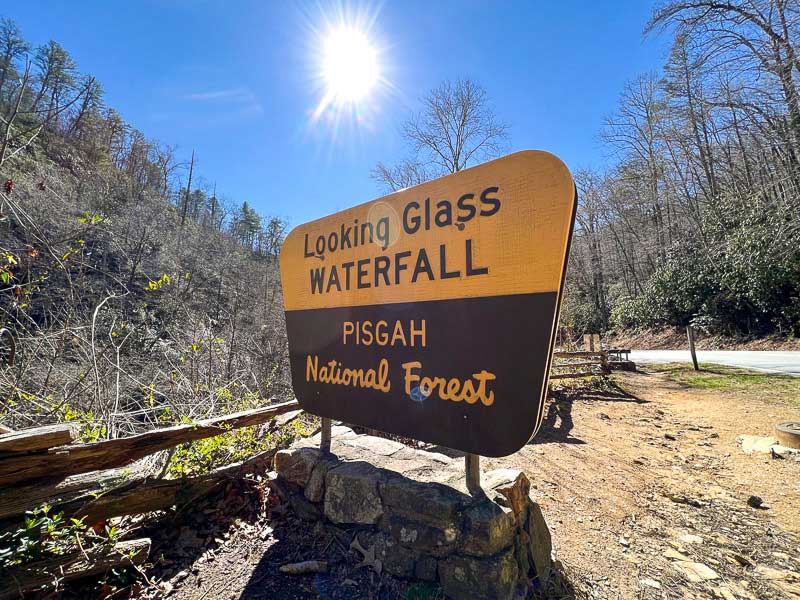 And, of course, if you want a view of stunning waterfall with little effort, check out Looking Glass Falls! We have an FAQ page about the Looking Glass Waterfall area if you have never been.
Grandfather and Appalachian Ranger Districts
The Grandfather and Appalachian Ranger Districts are on the other side of Asheville. Mt. Mitchell State Park, Craggy Gardens, Linville Falls and Grandfather Mountain.
A fun day trip from Asheville is to take the Blue Ridge Parkway north to Little Switzerland. Once you arrive you'll see that the is fitting– the mountains there resemble the foothills of the Alps. On the way, you'll pass by several great overlooks, tons of hiking opportunities and the Craggy Gardens picnic area and Visitor Center. Little Switzerland feels a bit like a step back in time. You'll find a cafe and general store, a bookstore with a coffee shop and, if you are feeling up to it, you can take a drive on the Diamondback! Twelve miles of switchbacks on a sportscar and motorcycle route with at least 190 curves and amazing views. Not for all, but definitely a bucket list item for some!
Either way, a trip to Little Switzerland will give you a fun day out from Asheville with great views, good food and probably a story or two. You can make it a full loop back to the city by driving through Burnsville and Mars Hill and then taking I-26 E back to Asheville.
Playgrounds in Asheville
Asheville has so many great playgrounds scattered around the area and tucked in neighborhoods. As parents to two young boys, we are becoming quite familiar with them all and certainly have our favorite Asheville playgrounds. If near downtown, Carrier Park has a very fun castle-like wooden structure play on, as well as tons of other attractions (Velodrome, sand volleyball, baseball field, basketball court, etc.)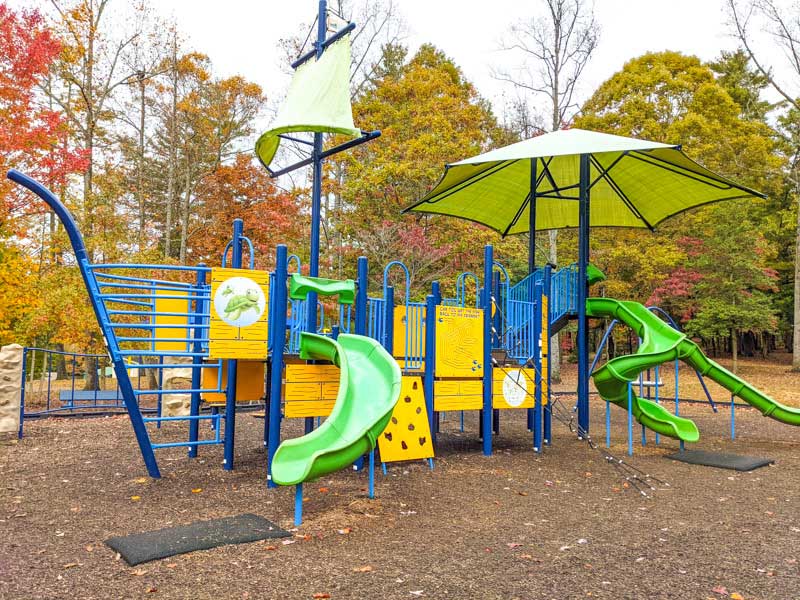 We also like visiting Jake Rusher Park in South Asheville. It's such a nice playground and has restrooms on-site, as well as picnic tables. It's tucked in a neighborhood and feels very safe. Our absolute favorite park in South Asheville / Arden, though is Lake Julian Park. The park has an amazing playground structure, swings, slides, exercise equipment and, of course, the lake! You can even rent paddleboats there! Check out the county's site for all of the details on boat rental at Lake Julian Park.
We know how important the fun factor of a playground is to your kids, so we've put together a guide to the best playgrounds in Asheville (both in the city and in surrounding areas!)
Drive along the Blue Ridge Parkway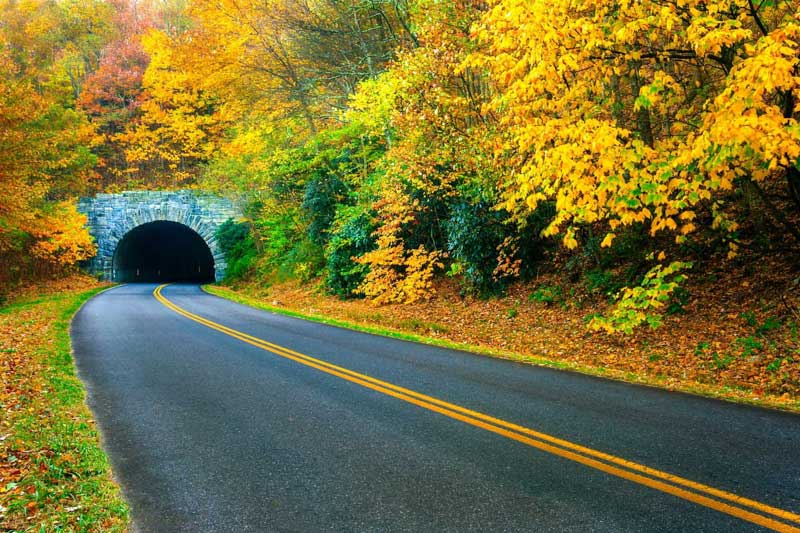 The Blue Ridge Parkway (aka America's Favorite Drive!) is a can't miss when visiting Asheville, especially during leaf season. The Parkway cuts right through Asheville, so you can either take it south through the Ranger District of Pisgah National Forest or north toward Blowing Rock. It can get really busy in October during leaf-peeping season.
Visit the Biltmore Estate
The Biltmore Estate is a historic house museum located a few minutes south of downtown Asheville. The property includes the Biltmore House, the gardens and grounds, a winery and Antler Hill Village, where you can dine and shop. There are also hotels on the property as well as event spaces. There is so much exploring to do at the Biltmore. The gardens alone are over 8,000 acres and make an excellent picnic spot.
Though the Biltmore is always magical (after all it is known as America's largest home!), there is something extra special about visiting when it is decorated for Christmas. The halls are decked and the grounds lit up for a truly breathtaking experience. You need to get reservations in advance, so don't wait too close to the date you have circled!
Tickets can be pricey, so the annual pass is definitely worth it if you are a local or plan to be in the area a lot!
Explore the North Carolina Arboretum
The Parkway The North Carolina Arboretum is one of our favorite hidden gems in Asheville. There you'll find acres of gardens, trails and places to relax and unwind. Tucked away in the mountains right off the Blue Ridge Parkway, it's only a 15 minute drive from downtown Asheville.
The NC Arboretum is one of our favorite places to visit with our two kids. In fact, we have a whole post about why we love visiting with our kids here!
Immerse yourself in nature at the WNC Nature Center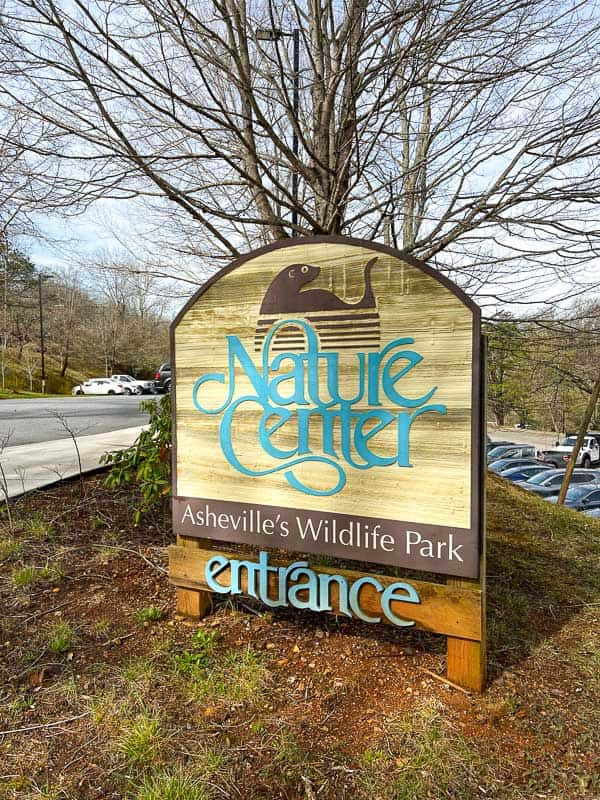 The WNC Nature Center is such a fun way to spend a day in Asheville with kids. Located near the Blue Ridge Parkway in East Asheville, the Nature Center is home to over 60 animals who are native to Southern Appalachia. You'll find black bears, river otters, owls, snakes, goats, coyotes, wolves and even a red panda. Before you go, make sure to read our guide on everything to know about the WNC Nature Center!
Visit the Botanical Gardens at Asheville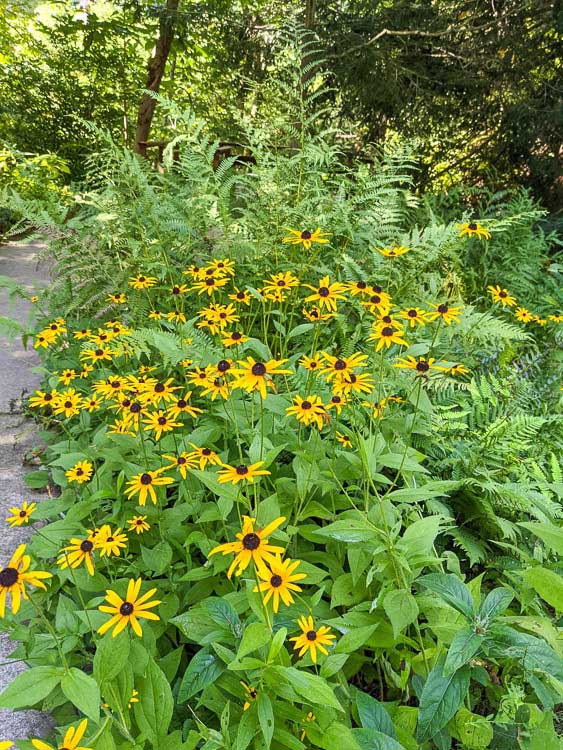 If you are close to downtown and want a quick dose of nature, head to the Botanical Gardens! It's free to enter and offers a wonderful break from the hustle and bustle. We love picnicking in the meadows there and viewing the various blooms throughout spring and summer. Check out our post on visiting the Botanical Gardens for more information!
Experience the arts
Asheville and the surrounding area is home to thousands of artists and craftspeople. It's hard to miss the impact they have on the city when visiting. From the bustling River Arts District to the Art Museum, the Folk Art Center, the street art and even the architecture downtown, you are sure to find something inspiring.
Asheville with Kids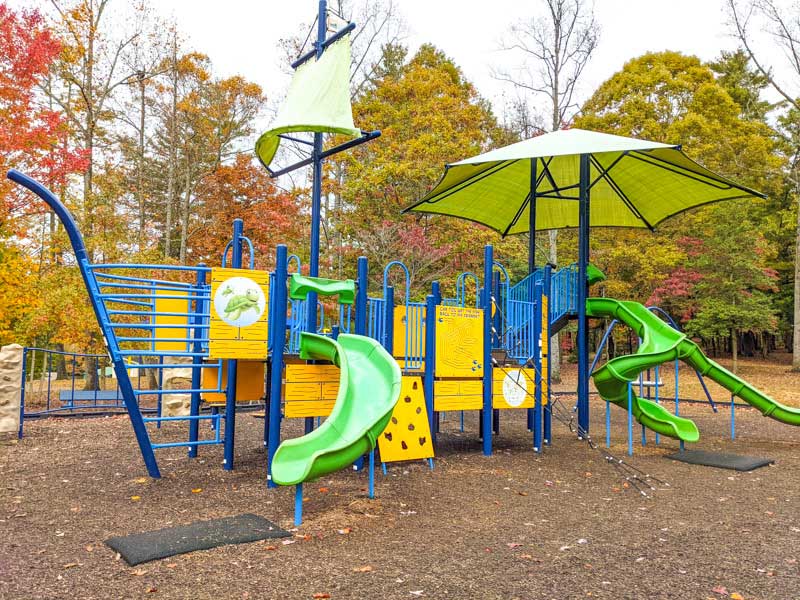 Asheville is an awesome city for kids! We have two boys and can always find something fun to get into, whether it's a day on the playground and lunch out, a hike in Pisgah National Forest or a splash at the Botanical Gardens. There are a ton of kid-friendly breweries, counter-service restaurants, museums, tours and more.
For a full list of what we like to do with our two boys, check out this article on fun things to do with kids in Asheville.