Asheville is a top destination for the fall season (and for good reason!) It's absolutely gorgeous here as the leaves turn and the days are sunny and crisp.
There are so many things to do in Asheville, though, that it can get overwhelming deciding how to spend a fall weekend here. To help, we made an itinerary full of the best ideas for fall fun in Asheville. And if you have never been to Asheville, don't miss our itinerary for your first visit to Asheville for more ideas.
If you haven't booked a hotel yet, check out our guide to the best hotels in Asheville! It shares our top picks for where to stay and why.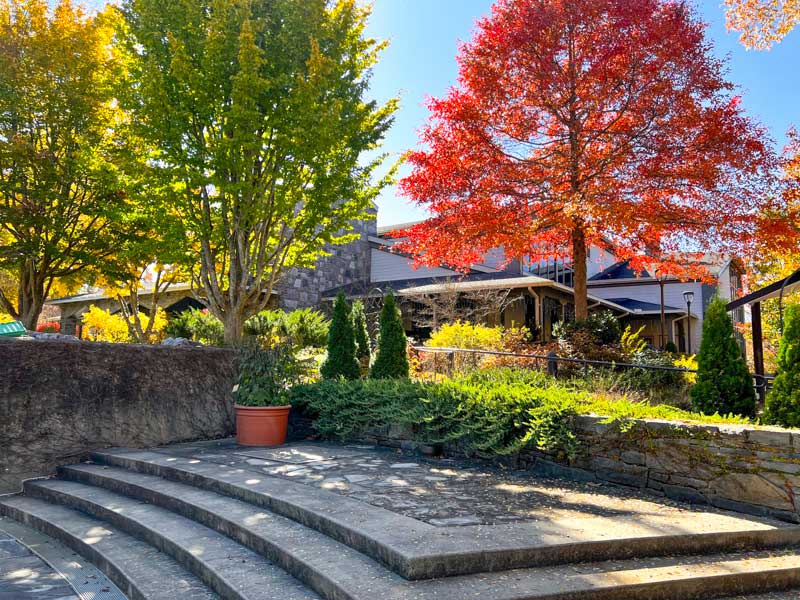 And now on to your big fall trip! Follow this itinerary for the perfect fall weekend in Asheville. And if you are looking for more ideas, check out our guide to October in Asheville with details on tours, festivals and more.
Day 1: Spend The Day In Downtown Asheville
Downtown Asheville is a must-visit any time of year. Small businesses and specialty shops are mixed amongst Asheville's top restaurants, all set in the heart of the mountains.
It's a great place to kick off your fall weekend in Asheville because it just has an extra special feel when the leaves are turning and the air is crisp. Below you'll find a few ideas for how to spend a fall day downtown, but check out our guide to downtown Asheville for additional details.
Start your morning off right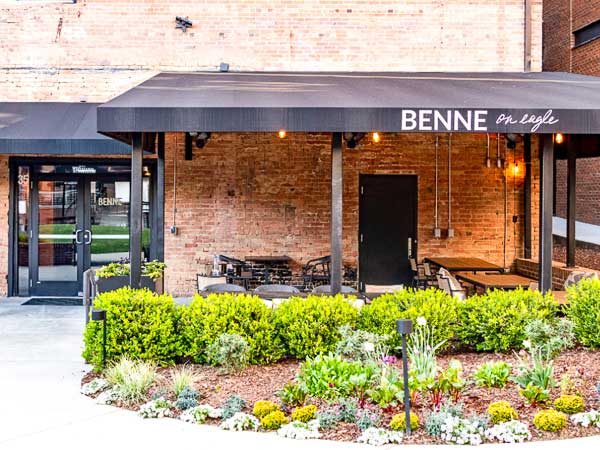 If you get here early and are looking for breakfast in downtown Asheville, check out The Med for casual diner vibes.
If you want more of a brunch setting, Benne on Eagle gets our vote. They have a daily brunch menu with everything from chicken & waffles to matcha oatmeal. They also have outdoor seating that's perfect for enjoying fall weather in Asheville!
Explore Downtown Asheville
One of the best ways to enjoy downtown is to stroll along the streets, admiring the architecture, listening to the buskers and shopping local. Below are a few of the many local shops worth a visit.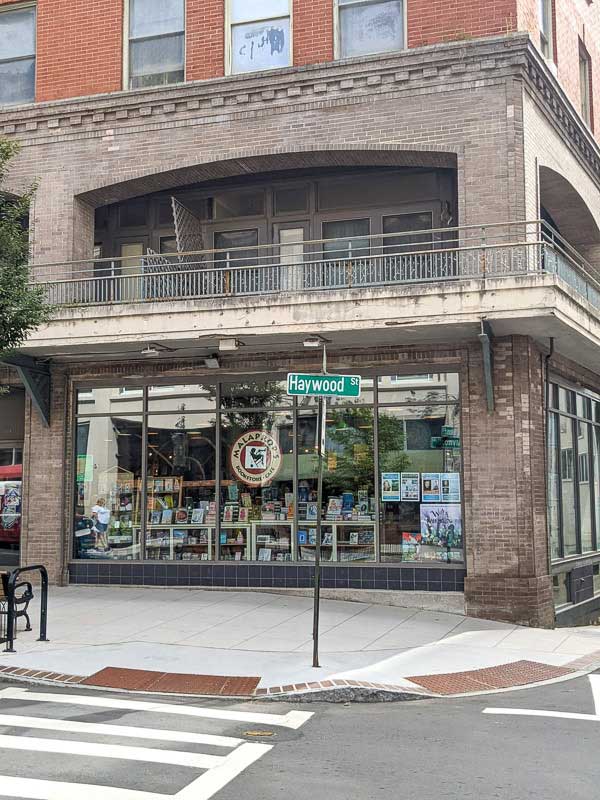 > East Fork: Pottery shop with a cult-like following. Their dinnerware is made in Asheville and is dishwasher + microwave safe. Loved by chefs and celebrities!
> Nest Organics: A charming shop with Nancy Meyer's style home goods, gifts, art, and baby clothes + toys.
> Malaprop's Bookstore: An independent bookstore with a coffee shop.
> Woolworth Walk: Two-story art gallery and emporium, complete with a nostalgic vintage soda fountain and diner inside.
> Mast General Store: a perfect stop for the whole family! You'll find outdoor gear, packaged foods like jams & jellies, home goods, old-fashioned candy and more. There are rocking chairs and creaky wood floors.
If you'd rather just hang out for a bit, check out one of downtown Asheville's rooftop bars or settle in at French Broad Chocolate Lounge with a sipping chocolate. Old Europe Pastries is another great spot for a dessert-filled break.
Circling back to rooftop bars, our top pick for this fall is The Observatory. It's located at the top of Asheville's newest luxury hotel The Restoration. The Observatory is such a great space and you'll love exploring around the beautiful property.
The Asheville Art Museum is located downtown. They have an excellent exhibition on The Art of Food featuring work from Andy Warhol. It runs through October 22, 2023. There's also a great kids section of the museum if you are traveling with younger ones. You'll find a rooftop cafe upstairs.
If it's Friday, go check out the drum circle at Pritchard Park. It starts in the late afternoon and is fun to stroll by on your way to dinner.
Enjoy a seasonal drink at Rowan Coffee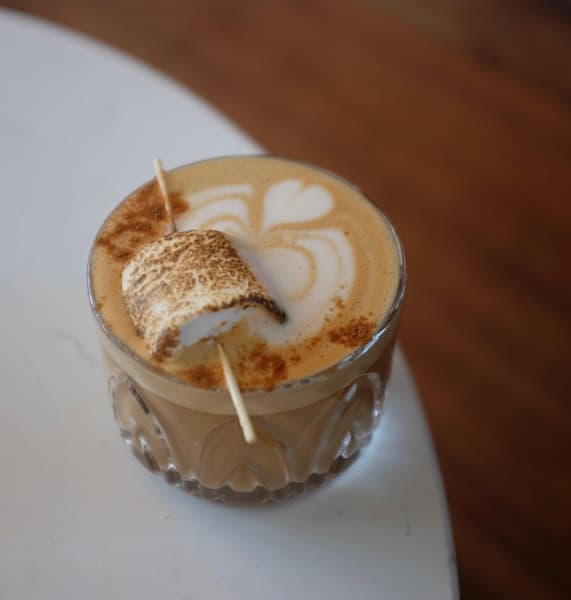 If you need a caffeine boost during your time downtown, head to Rowan Coffee! It's our top recommendation for coffee lovers in Asheville. The space is charming and their dedication to the coffee craft is unmatched in Asheville.
Try their seasonal Sweetie Pie latte with brown sugar, sweet potato, pumpkin, nutmeg, cinnamon, and clove. It's topped with a toasted vegan marshmallow.
Rowan also has pour overs as well as your standard espresso drinks. Grab some merch and a bag of their coffee beans roasted in-house.
Rowan Coffee closes daily at 3pm (4pm on Sundays) so plan accordingly!
Dinner In Downtown Asheville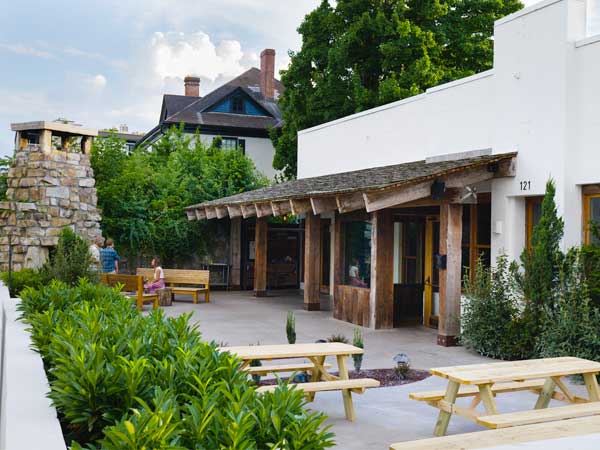 We took inspiration from our best restaurants in Asheville list and think Ukiah Japanese Smokehouse would be the perfect place for your first dinner in Asheville.
They have a fun Japanese meets BBQ menu with everything from duck hot pot to smoked pastrami short rib. You'll even find a smoked Carolina pork shoulder with fire roasted kimchi on the menu!
If you are looking for something different, Cúrate is Asheville's crown jewel. But you'll need to make reservations in advance to secure a table.
Chai Pani is another great Asheville darling. It's more casual and doesn't take reservations.
Day 2: brunch, apple picking and river arts district
Enjoy An Early Brunch At ELDR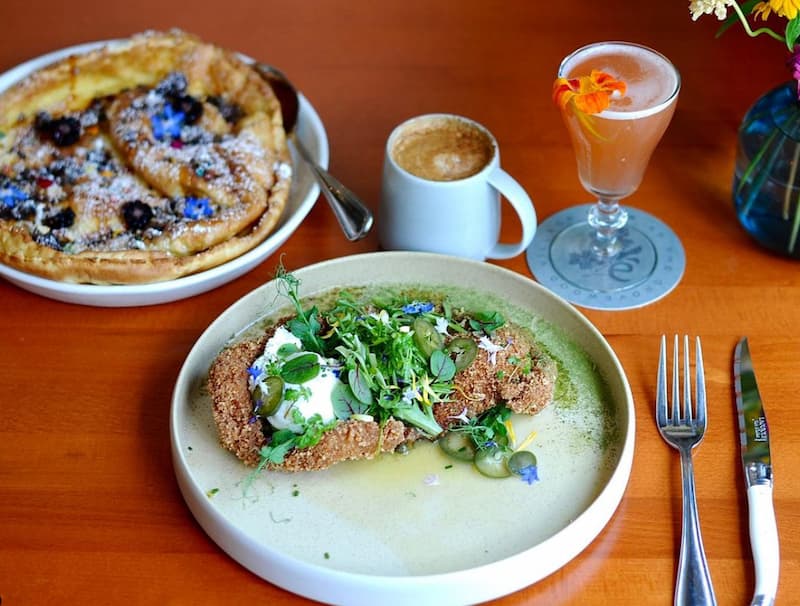 The most charming spot for brunch in Asheville is ELDR in North Asheville. It's a newer restaurant and you can expect excellent food and atmosphere.
We recommend the fried chicken biscuit or the breakfast sandwich with bacon. Try the pork schnitzel if it's closer to lunch! They have a great drink menu and a modern yet cozy interior. You'll also find an outdoor patio if the weather is nice.
Apple Picking at Jeter Mountain Farm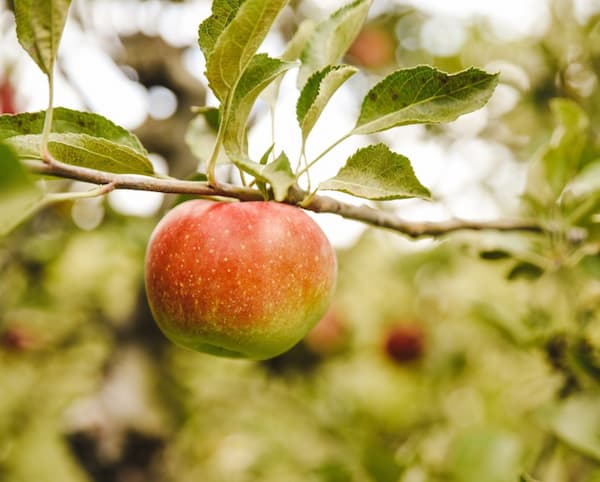 A fall itinerary in Asheville isn't complete without a visit to one of the many nearby apple orchards. And boy do we have a great recommendation for you!
Without a doubt, our top apple orchard recommendation near Asheville is Jeter Mountain Farm. It's clear that they have invested a ton of time, money and resources into making it such a wonderful experience.
You'll find a BBQ food truck (get the mac & cheese!), a coffee shop, U-pick apples, hard apple cider flights, an indoor playground, a market shop and more. There's live bluegrass music and just an elevated feel all around. We call it the Biltmore of apple orchards.
You will be delighted by the gorgeous property as soon as you drive up. If there are a ton of cars in front of you, don't worry about it! It's part of the experience. Jeter Mountain has a tractor wagon shuttle that runs non-stop from the parking lots to the main barn area. You can also opt to walk if you need to stretch your legs.
Spend Time in the River Arts District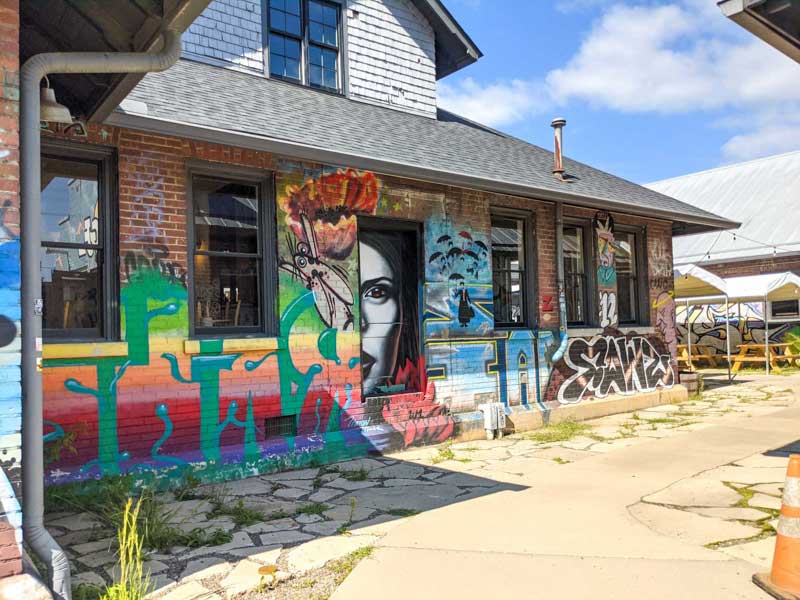 If you are up for more local shopping and culture, head to the River Arts District. It's a fun area to explore with shops, restaurants and breweries — and it's where our dinner recommendation is (see below!)
The River Arts District is a creative haven, with working artist studios and galleries filling former warehouses and mills. If you just feel like kicking back, head to Wedge Brewery (2 different locations in RAD!) or High-Wire's beer garden there.
Dinner in River Arts District
We thought it'd be fun to switch things up for this part of the itinerary regarding dinner. Downtown and West Asheville are two hotspots for restaurants, but River Arts District actually has several that we love!
Two restaurants in the River Arts District that immediately come to mind are Vivian and Bull & Beggar.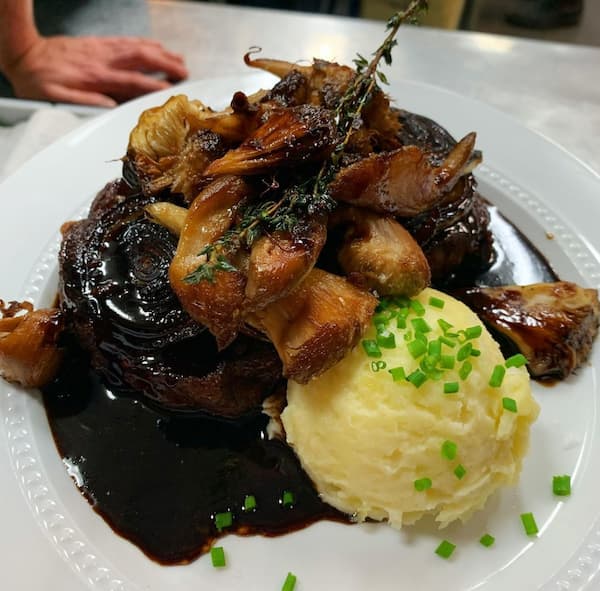 Vivian
Vivian is an excellent choice for a delicious dinner out. As far as food goes, their steak dinner is an absolute show-stealer. It's a 14oz ribeye loin with mashed potatoes and their famous steak sauce. That plus a few of their starters makes for an excellent dinner for two!
They take reservations and aren't so busy that you can't get in the door. Plus, it's a spot loved by locals!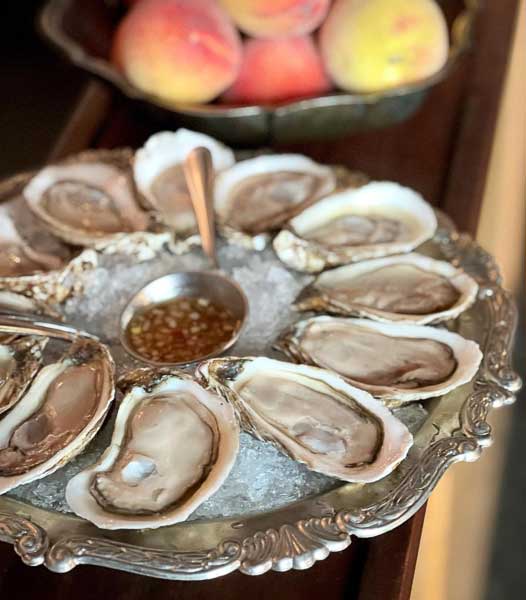 The Bull & Beggar
The Bull & Beggar is an amazing restaurant that has a hidden gem feel. You'll love the interior featuring lofty ceilings, two levels of intimate seating, and an elegant yet rustic atmosphere.
The menu skews French, with crowd favorites like their oysters and bread with charred onion butter and their classic steak frites.
Bull & Beggar is right by Wedge Brewery's Studio location. Plan to enjoy a drink before or after your dinner at this locally-loved brewery.
Day 3: Adventure on the Blue Ridge Parkway
Brunch at Liberty House Cafe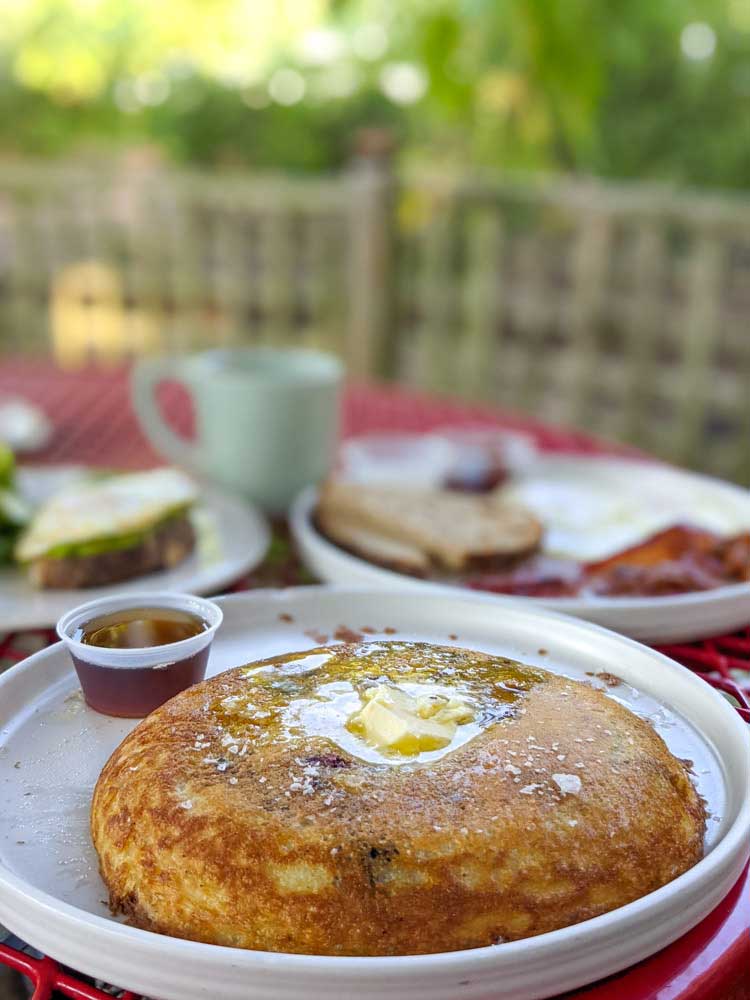 Enjoy a sourdough pancake, pumpkin spice latte and wonderful outdoor seating at Liberty House in North Asheville. Their porch is always overflowing with pumpkins in the fall– it makes for a great photo op!
If you aren't looking for a full meal, enjoy a relaxing moment over a coffee and pastry in their garden area. Liberty is order at the counter.
Another great pumpkin-decorated restaurant for brunch in Asheville is Corner Kitchen in Biltmore Village. It's open daily and has a great menu! It has table service and takes recommendations.
Pastries from OWL Bakery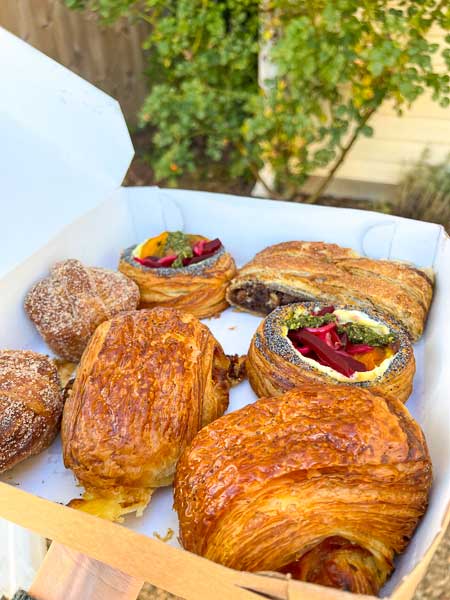 After you visit Liberty House, head to OWL Bakery in North Asheville. There's a location in West Asheville, too, but the North one is just a few minutes from Liberty.
OWL Bakery is the perfect place to get a box of savory picnic lunch pastries for the road or to enjoy a cup of coffee with an apple strudel. We love their almond rose croissant, cardamom bun, coffee walnut strudel and their danish of the day.
For this particular itinerary, make sure to grab ham & cheese croissants to-go. They'll be your picnic lunch atop a mountain while you drive along the Blue Ridge Parkway. Get a coffee, too, because it's delicious. And if you picked apples at Jeter Mountain, bring those, too!
Drive Along The Blue Ridge Parkway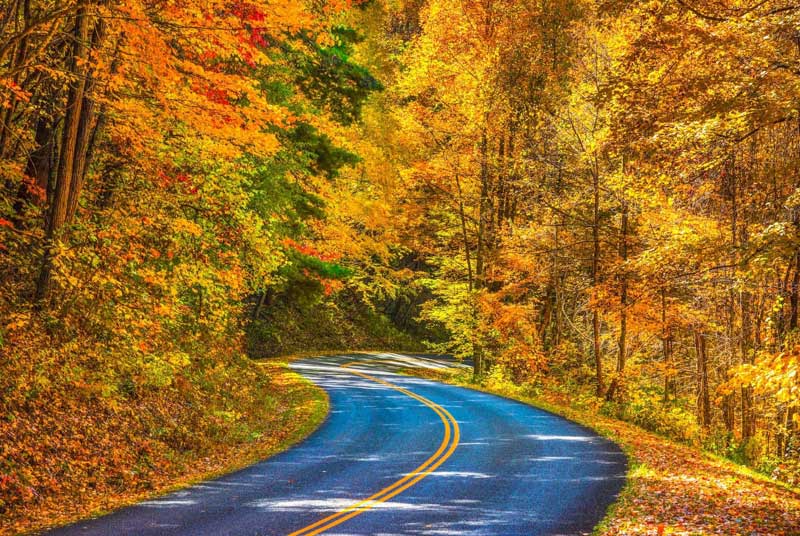 Next up: the highlight of your trip! No, really. You will absolutely love driving on the Blue Ridge Parkway. It's gorgeous when the leaves are changing and there are endless opportunities for adventure.
Enjoy the fall colors and the scenic views along the Parkway. There are several lookouts where you can stop to really soak it in, and a ton of trails when you are ready to stretch your legs
Fall is busy on the Parkway so expect a ton of cars and a slower drive. Watch out for cyclists and motorcycles!
If it's early to mid-October, we recommend heading to the Craggy Gardens area of the parkway. It's less than a 40 minute drive (and the drive is part of the destination, anyway!)
Our recommendation is to try to find a parking spot at the Craggy Gardens visitor center and hike to the meadow area. We like this stop because there are great views from the visitor center and it's an easy and enjoyable trail to the meadow. Parking spots are limited, though.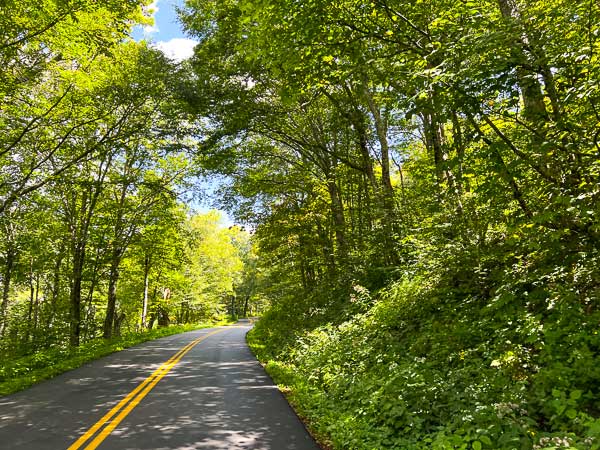 The Craggy Gardens Picnic Area also has a trail that leads to the meadow. It's a bit more difficult of a trail but parking is easier. You can read about both options in our guide to Craggy Gardens.
If you are up for a steeper hike, the Craggy Pinnacle Summit trail is short and gets you to some epic views. It can get really crowded on weekend days and is pretty narrow at times, though. Just something to keep in mind! This trail is located just past the visitors center.
Visit the tallest mountain in North Carolina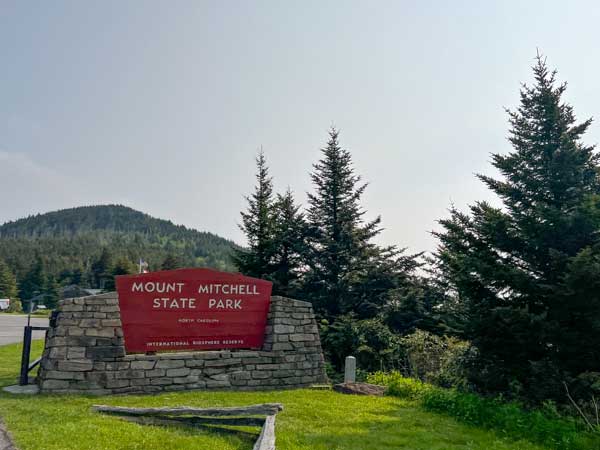 If you want to keep exploring, head to Mount Mitchell! It's along the Parkway past the Craggy Gardens area.
Mount Mitchell is the tallest mountain in North Carolina and the highest point on the entire US east coast. It's about an hour from OWL Bakery in North Asheville. If this sounds like your type of place, check out our guide to Mount Mitchell for details.
One thing to keep in mind is that fall colors happen sooner at higher elevations. This will happen late September to early October.
Tour along the other direction instead…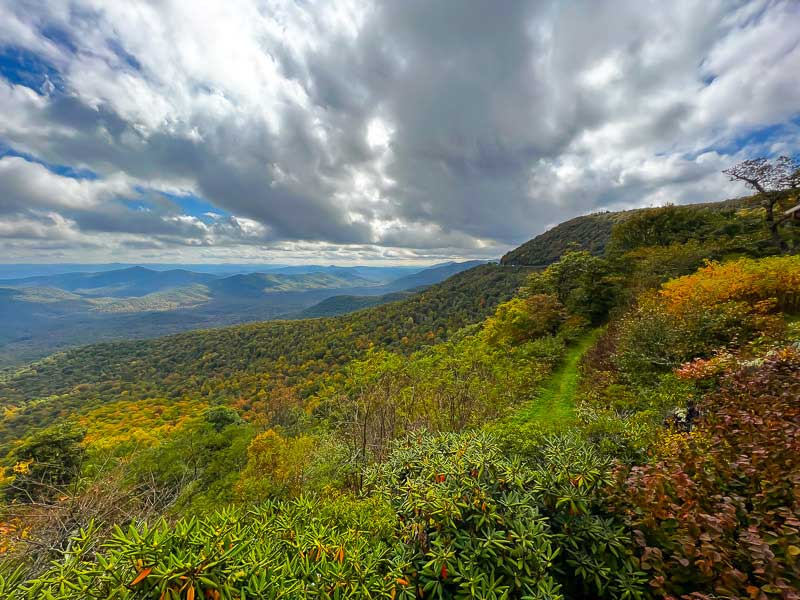 ---
And that wraps up our itinerary for the perfect fall weekend in Asheville! Of course, you can customize it to best fit your needs, but hopefully it serves as a great jumping off point.