Guide to the best breakfast sandwiches in Asheville
Asheville is definitely known for its breakfast and brunch scene. Whether it's a long brunch or a quick bite, you are sure to find something awesome for breakfast in Asheville!
With two young kids, we find ourselves more in need of quick breakfasts lately, especially when we are on the go. We love grabbing a breakfast sandwich from somewhere and then heading to a nearby park or playground for a picnic.
With that in mind, we thought it would be fun to highlight 10 of our absolute favorite on-the-go breakfast sandwiches (and tacos!) in Asheville. First, we'll start with a map!
Map of where to find the best breakfast sandwiches in Asheville
10 of our favorite quick breakfast sandwiches in Asheville
1. Breakfast Bagel from Tiger Bay Café
373 Haywood Road | West Asheville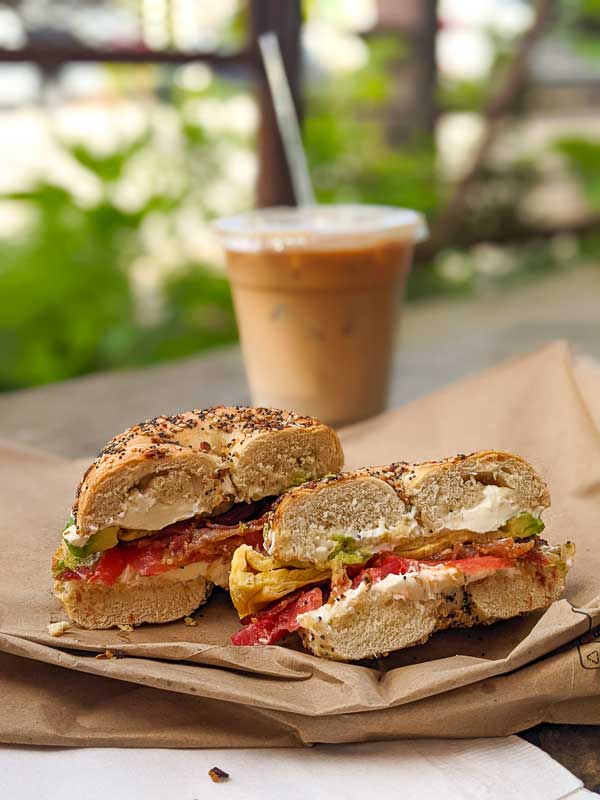 The breakfast bagel from Tiger Bay Café is phenomenal. This everything bagel is loaded with cream cheese, scrambled eggs, and fresh avocado and tomatoes. A little bit of fresh ground pepper just puts it over the edge.
If you're not a bagel person, the breakfast panini is also highly recommended by us!
Order online before arriving! And when you get there, make sure to grab a coffee from BattleCat Coffee Bar (located in the same building.)
2. Croissant "Bikini" from La Bodega by Curate
32 S Lexington Avenue | Downtown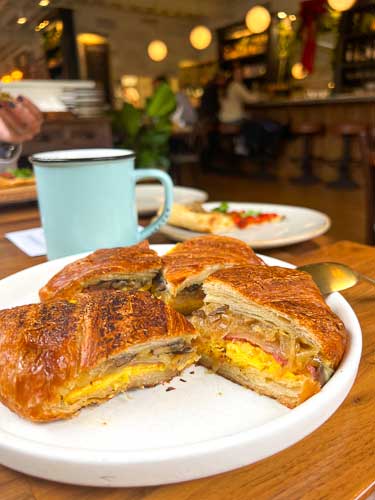 Here's the deal: this sandwich is $16.
Now that we've got that out of the way… Leave it to La Bodega by Curate to make the most gourmet breakfast sandwich on our list. The griddled croissant is packed with flavor with their jamon casero, caramelized onion, mushrooms sauteed in sherry, manchego, and allioli (my mouth is watering!)
3. Build Your Own Breakfast Sandwich from The Rhu
10 S Lexington Avenue | Downtown
The Rhu puts together a delicious breakfast sandwich just the way you want it. You can select from biscuits (including gluten-free), bagels or English muffins and top them with you local cheddar cheese, scrambled egg and your choice of bacon, sausage or veggie sausage.
We also love their ham and jam biscuits! And they have bagels + cream cheese, too.
4. Build Your Own Breakfast Sandwich from Geraldine's Bakery
840 Merrimon Avenue | North Asheville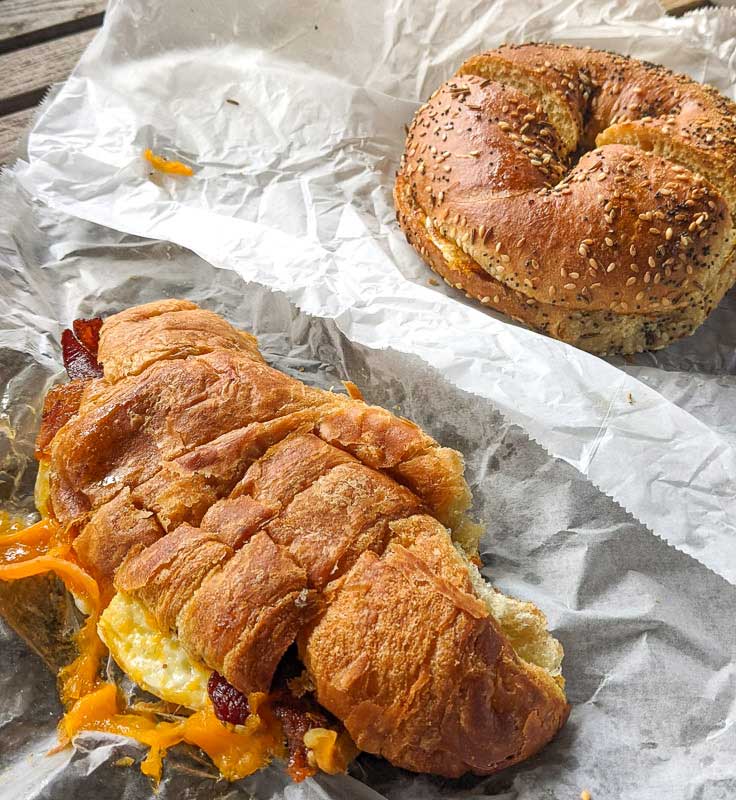 Build your custom breakfast sandwich on one of Geraldine's fresh baked goods. You can choose from rolls, croissants and bagels and add your choice of meat and cheese.
While you're there be sure to grab a donut (or a dozen) for later- they're on our list of best donuts in Asheville!
5. Egg & Cheese Breakfast Sandwich from Well-Bred Bakery
6 Boston Way | Biltmore Village
1 Page Avenue | Downtown (Grove Arcade)
26 N Main Street | Weaverville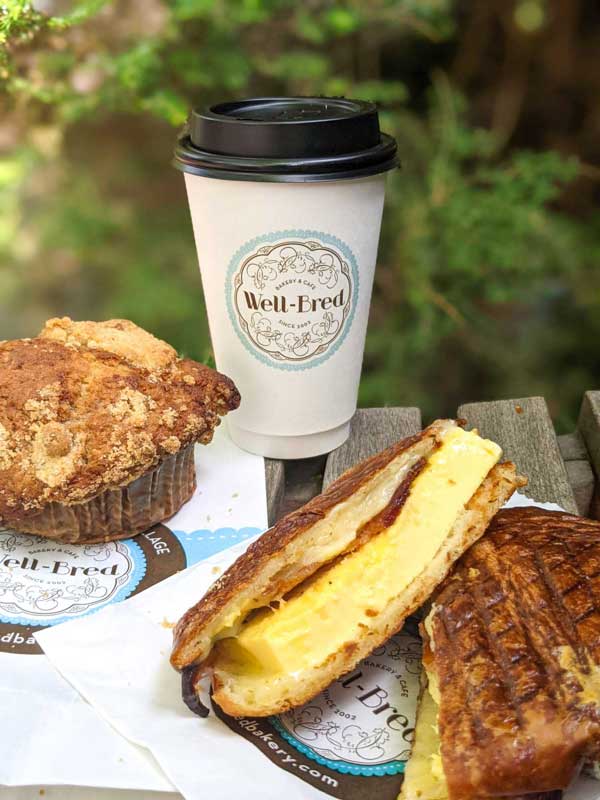 The Egg & Cheese Breakfast Sandwich from Well-Bred Bakery& Cafe is delicious with its warm and melted cheese. You have the option to add bacon, tomatoes and sriracha if you want to add a little something extra to it!
6. Lumberjack Breakfast Panini from Mosaic Cafe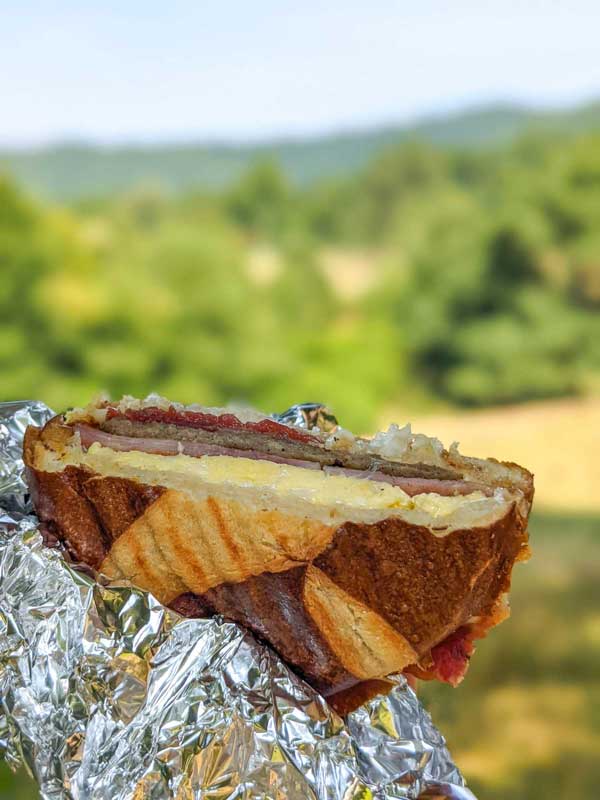 If you are in need of something that will fill you up for a long time, Mosaic Cafe's Lumberjack Breakfast Panini won't disappoint. It comes with ham, bacon, sausage, egg and swiss on a pretzel roll. It's Alex's go-to if we're headed south of Asheville for a hike.
Mosaic also has plenty of other paninis, wraps and bagels to choose from!
Read more about breakfast from Mosaic here.
7. Cheshire Ham & Cheese Croissant from OWL Bakery
295 Haywood Road | West Asheville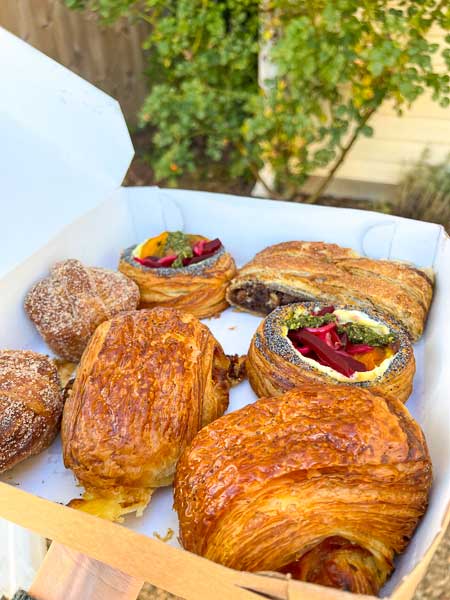 This list wouldn't be complete without the magic that OWL Bakery bakes every day. Well, Thursday-Sunday, at least.
Their Cheshire Ham & Cheese Croissant meets the expectations set with all their other baked goods. The ham and cheese are baked inside of the croissant, so it's super portable. The perfect breakfast snack to grab on the go!
8. Sunrise Bagel from Ultra Coffeebar
242 Clingman Avenue Ext | River Arts Districts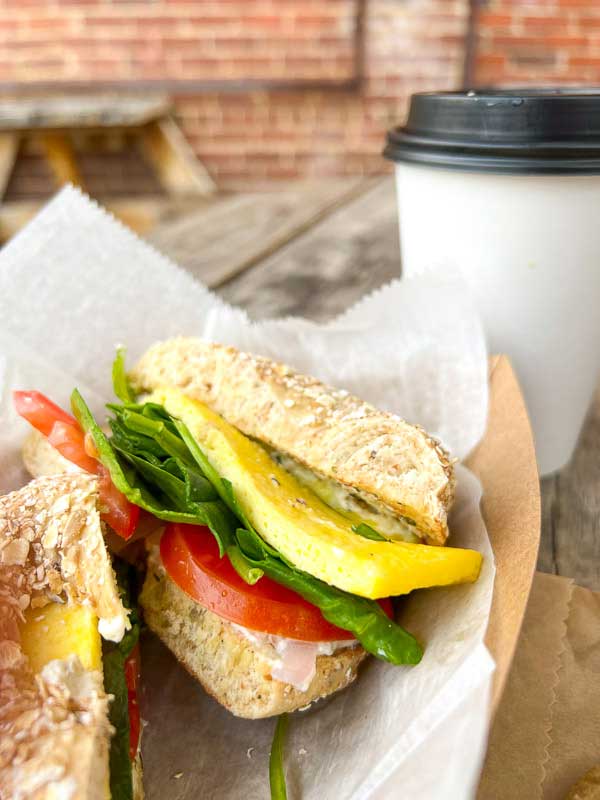 Ultra Coffeebar has a range of options including our favorite breakfast sandwich: the Sunrise Bagel. It's topped with egg, garlic herb cream cheese, tomato, pickled onion and spinach. Grab a fun caffeinated drink and a delicious bagel sandwich and you'll be set!
Ultra also has an extensive vegan breakfast menu.
9. Bacon, egg and cheese biscuit from City Bakery
88 Charlotte St | North Asheville
60 Biltmore Ave | Downtown Asheville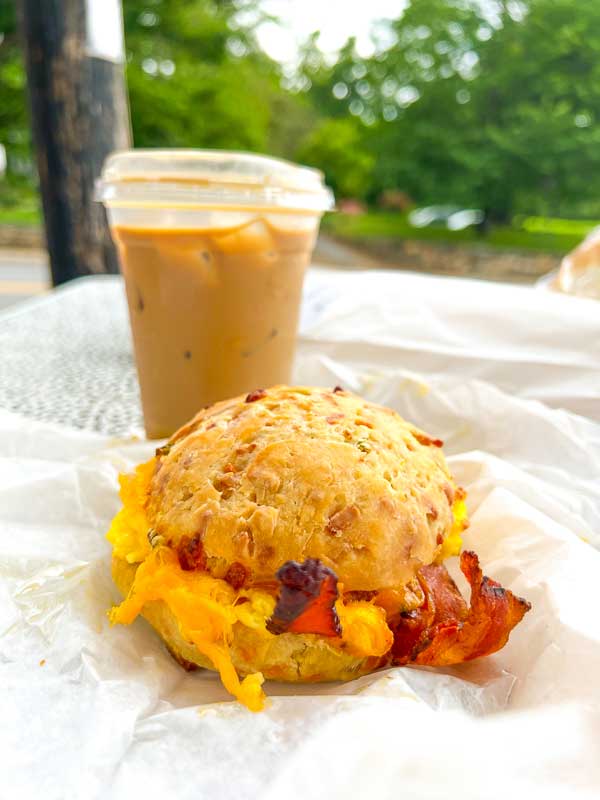 City Bakery makes an awesome cheddar and scallion biscuit. And it's made even better when you add egg and bacon to it. Their food is always super delicious and you can order online to keep it really easy!
We love grabbing a loaf of their french bread for sandwiches while there.
10. Breakfast Taco from Taco Billy
201 Haywood Road | West Asheville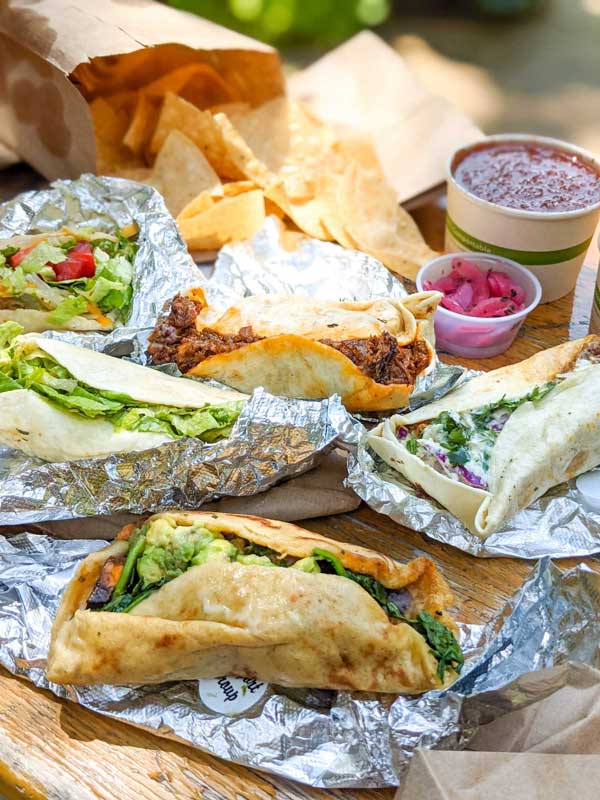 For the purpose of this list– tacos count as breakfast sandwiches! They have to because we couldn't leave out one of our favorite on-the-go breakfast spots in Asheville: Taco Billy.
Taco Billy has an awesome breakfast menu! They have several to choose from ranging from a classic bacon, egg and cheese to a sweet potato + goat cheese taco! Their plantain tortillas are great for breakfast.
We hope this list of our favorite breakfast sandwiches inspires you to grab one before your next Asheville adventure. And if you need a playground recommendation, make sure to check out our kid-approved list of the best playgrounds in Asheville.