Asheville has a wide variety of Chinese restaurants to choose from, whether you're in the mood for wildly good dumplings, wonton soup, a classic hot pot, or the perfect takeout Chinese food. Our guide to Chinese food can help point you in the right direction for your next delicious meal out.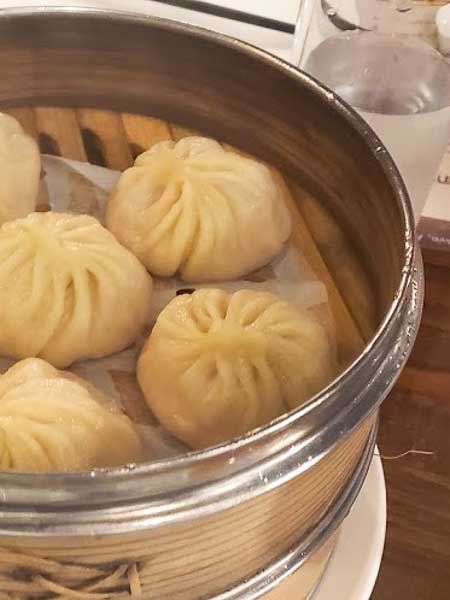 We cover everything from the 'fancier' places with steamed dumplings and beautiful presentation, an Indian restaurant with Chinese offerings, a couple of strip mall spots and even the best farmers market dumplings around! Oh, and our favorite Asian fusion restaurant made the list, too.
Where To Get Chinese Food In Asheville
Below is a map of all of the Chinese restaurants around Asheville that we have highlighted in our guide.
For other nearby regional cuisines, check out our guides to Indian food and Thai food in Asheville.
A Guide to the Best Chinese Restaurants in Asheville
Below you'll find our roundup of excellent eateries in Asheville with Chinese fare. For more dining inspiration, check out our list of our favorite restaurants in Asheville. But if you're specifically looking for Chinese restaurants, read on!
Red Ginger Dimsum and Tapas
A When In Asheville Favorite
Upscale Chinese small plates and dumplings
Located across the street from Pritchard Park in the heart of downtown Asheville, this upscale Chinese restaurant serves high-quality fare in an elegant space. Their traditional Chinese dishes are not only delicious but also presented beautifully.
What we love most is their tapas-style menu which lets you choose a variety of options to share with the table. Their menu boasts a variety of dumplings and other small bites including vegetarian, meat and seafood options.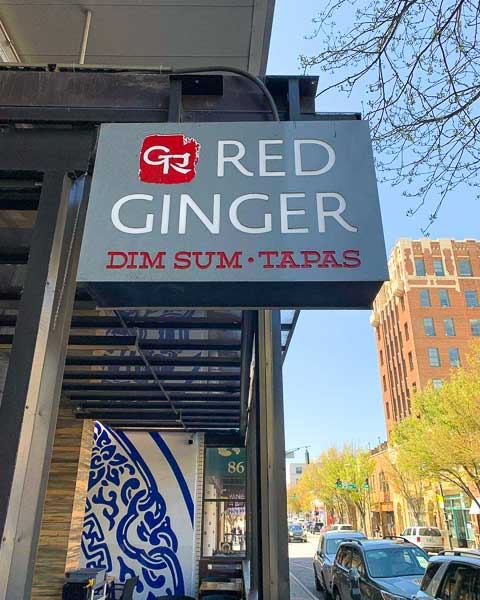 Red Ginger is the perfect date night spot or place for a special occasion. The atmosphere is always lively with staff cooking in their bright clean open kitchen. You can choose whether to sit inside or on their sidewalk patio.
It's also great for take-out with easy online ordering and 10-minute curbside pickup parking spots in front of the restaurant.
We can highly recommend the Szechuan wontons and the stir-fried string beans in their garlic soy sauce. They also have a number of buns to try. We love the Gua Bao, a Chinese pancake sandwich with pork belly.
Shanghai Dumpling House
A When In Asheville Favorite
Enjoy delicious dumplings at this date-worthy Chinese restaurant
Shanghai Dumpling House is an intimate and nicer Chinese restaurant located on Biltmore Avenue in downtown Asheville. The restaurant offers a wide variety of high-quality Chinese dishes, including dumplings, noodles, and fried rice.
As the name suggests, the main attraction is their dumplings. The soup dumplings are to die for and their pan-fried pork buns are a close second when it comes to our favorite.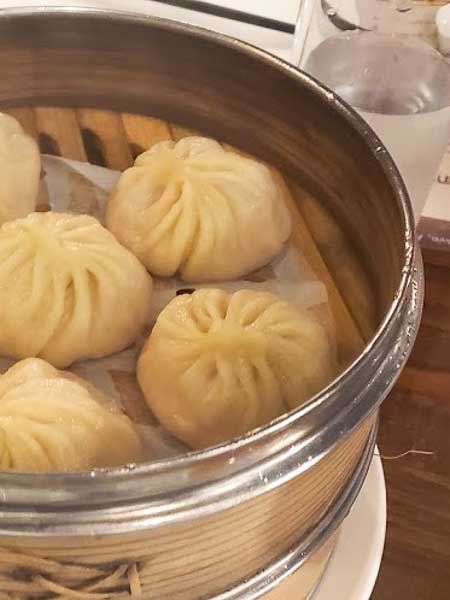 If you're looking for some carbs to go with your dumplings, try the pineapple fried rice along with a variety of other fried rice and noodle dishes. They also have traditional Chinese entrees like Kung Pao Chicken, Mongolian Beef and General Tso's Chicken.
Shanghai Dumpling House is a great spot for both a date night out or a cozy night in made simple with online takeout ordering.
Charming Chinese restaurant with a sidewalk patio in the heart of downtown
You may have seen this cute Chinese restaurant in downtown Asheville while strolling around and wondered whether it's worth a stop – and it is! The Noodle Shop is your destination for all things Asian noodles. And it's one of the only places in Asheville for a Hunan Hot Pot.
The restaurant has a simple interior and a large sidewalk patio that is a prime location for people-watching at Pack Square.
Their menu offers a ton of noodle bowls as well as traditional Chinese entrees such as Mongolian beef, crispy chicken and Hunan hot pot. And their noodle soups are the perfect way to warm up on a cold day.
In addition to Chinese fare, they also have other Asian dishes on the menu including Pad Thai and a Spicy Korean noodle bowl.
Dilbar
A When In Asheville Favorite
Expand your horizons with Dilbar's Indian-Chinese cuisine
You may be thinking to yourself: what is Dilbar doing on this list? Isn't it an Indian street food restaurant? Well, yes, but its menu boasts a wide range of Indian-Chinese dishes. This option is a unique take on Chinese fare that may be intriguing if you're on the hunt for Chinese food.
Downtown Asheville's Dilbar serves up some delicious noodle and fried rice dishes. The dishes are prepared in the typical Chinese style but packed with traditional Indian ingredients and spices. Try their chicken haka noodles or chicken Szechuan fried rice!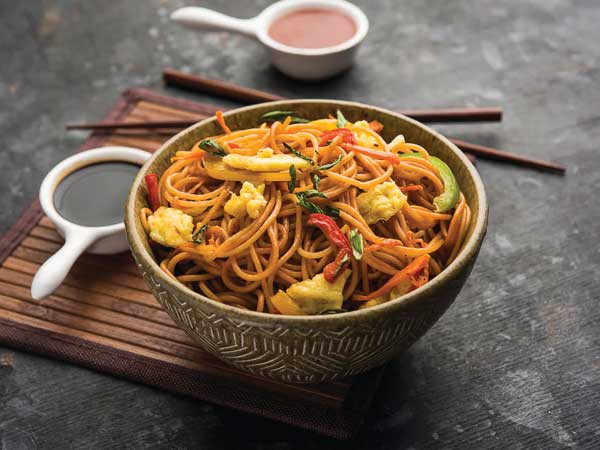 Dining at Dilbar is quick and casual with counter service and several booths for seating. If you're looking to order to go, takeout is made simple with their easy online ordering.
10/10 Asian-Fusion restaurant in West Asheville
Gan Shan West is absolutely one of our favorite restaurants in Asheville. We truly can't get enough of their GSW rice bowl, the pork dumplings or the Gai Lon.
Their food menu is truly Asian-fusion, with everything from Japanese fries to Dan Dan Brussel Sprouts, ramen, rice bowls with Korean BBQ and General Tso's chicken. The flavors and dishes blend together beautifully, and it's as good to go as it is to dine in. In fact, we think they have the absolute best takeout food and process in all of Asheville.
Chinese (and other regional cuisine) food from a family restaurant
Pacific Pagoda is a Pan-Asian restaurant in South Asheville. It's located in the Skyland Plaza shopping center anchored by Ingles.
Pacific Pagoda has a quaint dining room with tables and seating at the sushi bar and traditional Chinese decor. In addition to classic Chinese dishes, Pacific Pagoda also offers Japanese and Thai cuisine. There's something on the menu for every taste and it's a fan favorite for the local South Asheville crowd.
Takeout is available at the same location called Asian on the Go II.
Classic American Chinese Takeout
If you're looking for your new go-to strip mall shopping center takeout Chinese spot, look no further than New 1 China. Located next door to Gypsy Queen on Patton Ave. in West Asheville it's easily accessible.
New 1 China serves up some of the most consistently tasty Chinese takeout in Asheville . You'll find excellent fried dumplings, chicken wings and countless entrees on the menu.
They have a few tables inside their small space but it's primarily a takeout restaurant – and they're fast too.
Counter-service Chinese for a quick dinner
A little further away from downtown on Patton Ave, you will find Dragon China, another solid American Chinese takeout restaurant. This counter service establishment serves up high-quality Chinese food with excellent fried rice, lo mein and classic specialties like sesame chicken, orange chicken and Mongolian beef.
They're great for both lunch and dinner. There's a separate menu and portion sizes for each. And their online ordering makes takeout simple on busy nights!
Local celebrity chef with dynamite Cantonese dumplings and wantons
Chef J. Chong is definitely worth a mention on this list! You may have seen her around town at various Asheville farmers markets selling her Cantonese dumplings and sauces. Or maybe you caught her on HBO's cooking competition show The Big Brunch.
Either way, we can confirm that her dumplings are 100% amazing! We always opt for the OG pork dumplings when we see her at the North Asheville Tailgate Market. And you've got to get some of her sauce to go with them! The dumplings are frozen and come with cooking directions.
Make sure to follow her on Instagram to see her next market appearances and pop-ups.