Our guide to the best bakeries in Asheville
From almond croissants to key lime pie, tasty macarons and giant cookies, you can certainly satisfy a sweet tooth at any one of the many bakeries here in Asheville.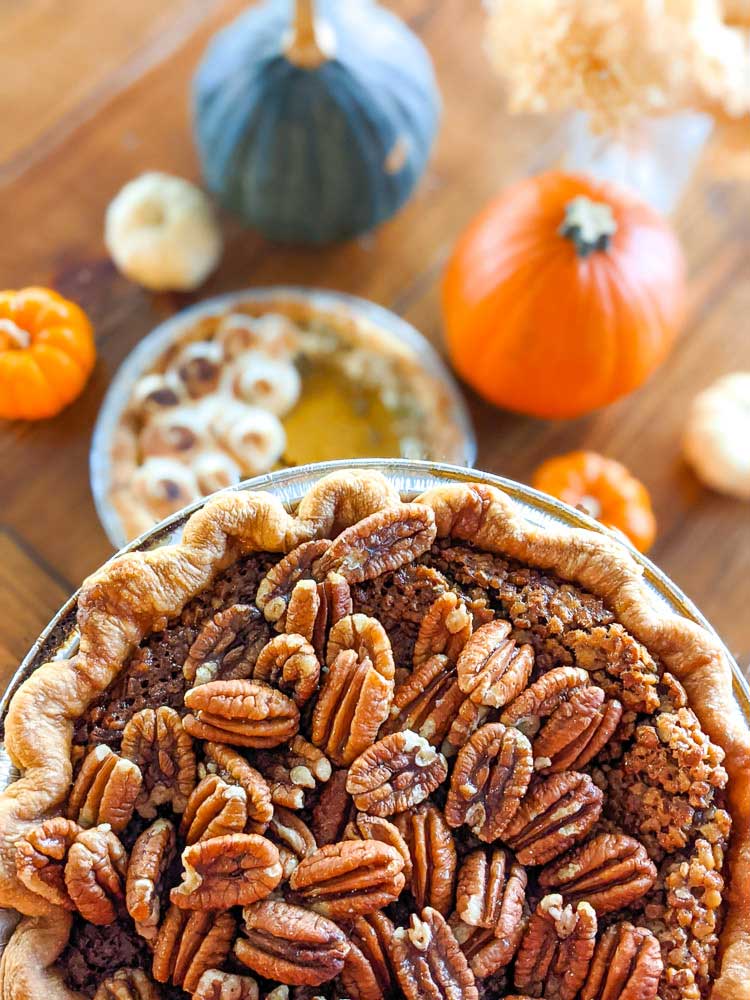 Whether you are looking for a quick treat while out running errands, want to try to best of the best while visiting Asheville or need a great dessert to feed a crowd– this comprehensive list of Asheville bakeries is for you!
You'll find a lot of information in this article. In our first section of the must-try bakeries, we included the address, details on what types of baked goods you'll find, parking information, what we like to order and even a When In Asheville award for each.
After that, we cover a variety of specialty bake shops. See our table of contents below for details!
Asheville Bakeries Table of Contents
As we began to brainstorm for this list we realized just how many awesome bake shops there are around town. So many that we decided to break this article up into several sections.
We start with our must-try bakery list and then deep-dive various specialty bakeries– cookie shops, cake shops and even chocolatiers with delicious baked goods. Use the table of contents below to jump around!
Map of Asheville Bakeries
Must-try bakeries in Asheville
1. OWL Bakery (West AVL and North AVL)
Old World Levain Bakery (or OWL Bakery for short) is hands down one of the best bakeries in Asheville. It's the first on our list, after all!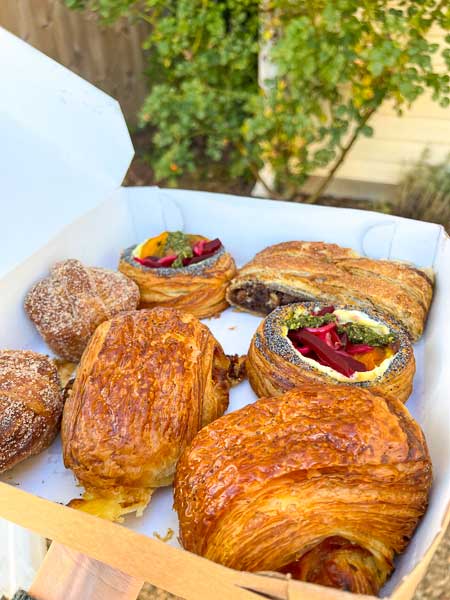 You won't find cakes or too many cookies on their menu, though they do have a French Broad Chocolate chip cookie. OWL is known for their amazing and gourmet pastry selection.
Whether it's a savory danish, a croissant dough morning bun with a hint of orange, a ham + cheese croissant or a loaf of bread, OWL exceeds all expectations.
OWL Bakery is always a must-visit for my Asheville recommendations.
But one thing to note: prepare to wait and plan to go early because they do sell out.
Quick details: A true Asheville bakery with gourmet pastries and breads. They have great coffee, espresso drinks and a delightful menu. OWL is definitely the best bakery in Asheville for foodies.
Location: Their original spot is in West Asheville (295 Haywood Road) and their newest location is in North Asheville (197 Charlotte St.)
Their West location has a window on the side for ordering. If you get an espresso drink, they will call your name around the front of the building once it's ready. The only seating at the moment is outdoors.
Their North location has indoor seating.
Availability: Both locations open at 8AM. OWL's North AVL location is closed Mondays and the West bakery is closed Mondays and Tuesdays.
Types of baked goods: Croissants, breads, pastries, quiche, etc., but make them all gourmet. Even their croissants are elevated.
Beverages: Full espresso bar and drip coffee available. They brew Methodical Coffee Co and, in my opinion, make one of the best cups of coffee in Asheville. OWL also has herbal tea, hot chocolate, chai and lemonade.
What to order:
Don't miss their almond rose croissant. The ham & cheese one is also great and makes a wonderful hiking snack. We listed it on our best breakfast sandwiches in Asheville list.
Our kids especially love their morning bun (it has a hint of orange), the cardamom bun and the chocolate chip cookie made with French Broad chocolate.
As far as bread goes, their wheatless squirrel loaf (dense, highly nutritious loaf with oats, psyllium, flax, chia and all manner of nuts and seeds) is wildly good. They also have the classics you'd expect (country, baguette, rye…)
Parking: They have a parking lot at their bakery in North Asheville. You'll find street parking out front for their West location.
Award: Best Bakery In Asheville! Well, tied with Old Europe Bakery. They are just so different from one another that it's hard to compare.
2. Old Europe Pastries (downtown)
Old Europe Pastries is such a delightful stop when in downtown Asheville. It's actually my go-to spot for an iced latte because they make them perfectly and it's an easy in-and-out place (unless there's a line!)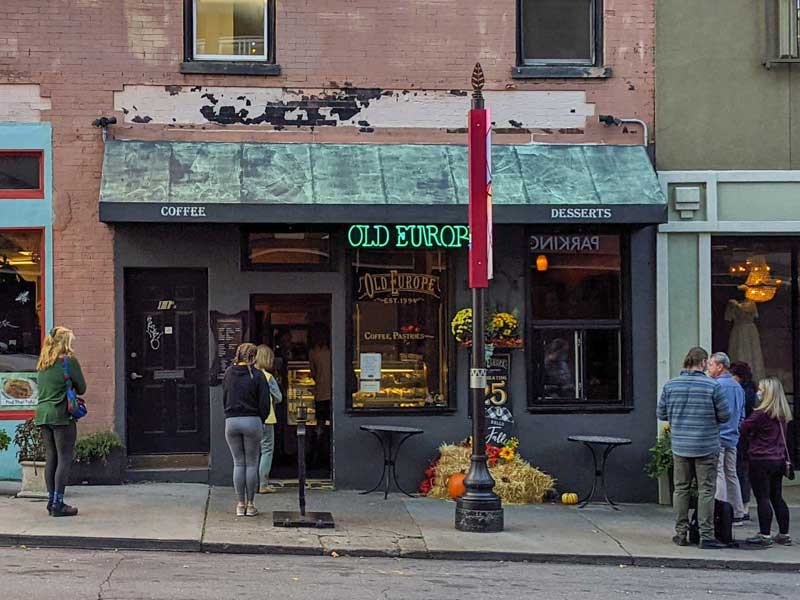 They just opened a new space across the street from the old one. It's just next to the AC Hotel by Marriott. You can order from the counter and either take it to go or sit at one of their many tables. It's a charming spot to enjoy coffee and a pastry.
About Old Europe Pastries
Quick details: The perfect bakery to pop in when shopping around downtown Asheville. It's beloved by both locals and visitors alike.
Location: 18 Broadway St // downtown Asheville
Availability: Open all day, daily! That's actually pretty rare for Asheville.
Types of baked goods: Cakes, pies, quiche, cheesecake, macarons, croissants, cupcakes, cookies. They have it all. Their pastry case is generally pretty stocked throughout the day.
Beverages: Full espresso bar and drip coffee available. They also have Coke, bottled water, Perrier and orange juice.
What to order: Anything! Everything is beautiful and it's always hard to decide. I typically opt for a latte and quiche if I'm nearby in the mornings. And, of course, I get a few things to take home with me. I love their vanilla cheesecake (it has an almond crust) while my husband is a big fan of the peanut butter mousse cake. And our kids enjoy the 4 pack of mix-and-match macarons.
Parking: There's street parking out front (including two curbside pickup spots…) You can also park in the AC Hotel garage or just behind Old Europe in the Car Park lot.
Award: Best Bakery In Asheville! Old Europe tied with OWL Bakery on this one– they are both just so good and too different to truly compare. If visiting Asheville, plan to try both!
3. Geraldine's Bakery (North AVL)
An authentic New York style bakery in North Asheville! Geraldine's is a no-frills local gem. We love getting breakfast sandwiches and donuts from there before venturing out. They have a few barstools inside and a couple of picnic tables outside.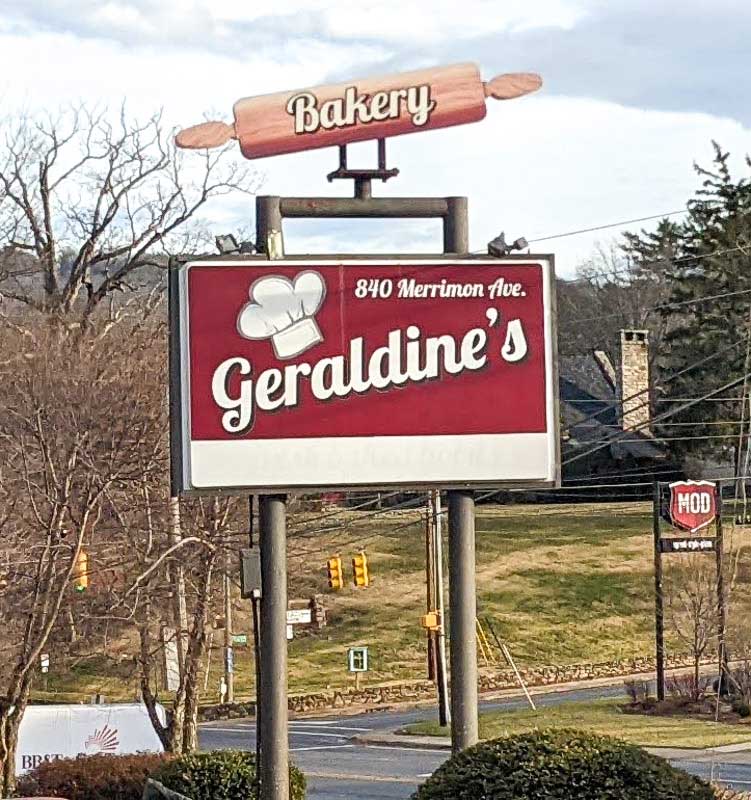 You can read more in our article about the reasons we love Geraldine's Bakery.
Quick details: An authentic New York style bakery with a great pastry selection and breakfast sandwiches. You'll find a loyal, local crowd in line.
Location: 840 Merrimon Ave // North Asheville
Availability: closed Monday and Tuesday
Types of baked goods: Pastries (croissants, danish, almond cigars, hand pies…), donuts, eclairs and cookies. They sell out of the crowd favorites quickly, so go early! Especially if you want one of their signature Boston cream donuts.
Beverages: Dynamite Roasting Co drip coffee poured out of perfectly on brand old-school diner-style round coffee pot. Geraldine's also has a beverage cooler with bottled drinks.
What to order: Their breakfast sandwiches are great! And for baked goods, make sure to get a wildly overstuffed Boston cream donut if you are lucky enough to snag one.
Parking: They have a parking lot but it can fill up at times. We haven't ever had an issue getting a space but it can get busy.
Award: Best Boston Cream Donut in Asheville!
4. Baked Pie Company (South AVL)
You'll find Baked Pie Company tucked away in South Asheville. The outside is unassuming, but the inside is a different world. Baked Pie Company is charming, smells absolutely amazing, everyone is always so friendly and the pies are unmatched.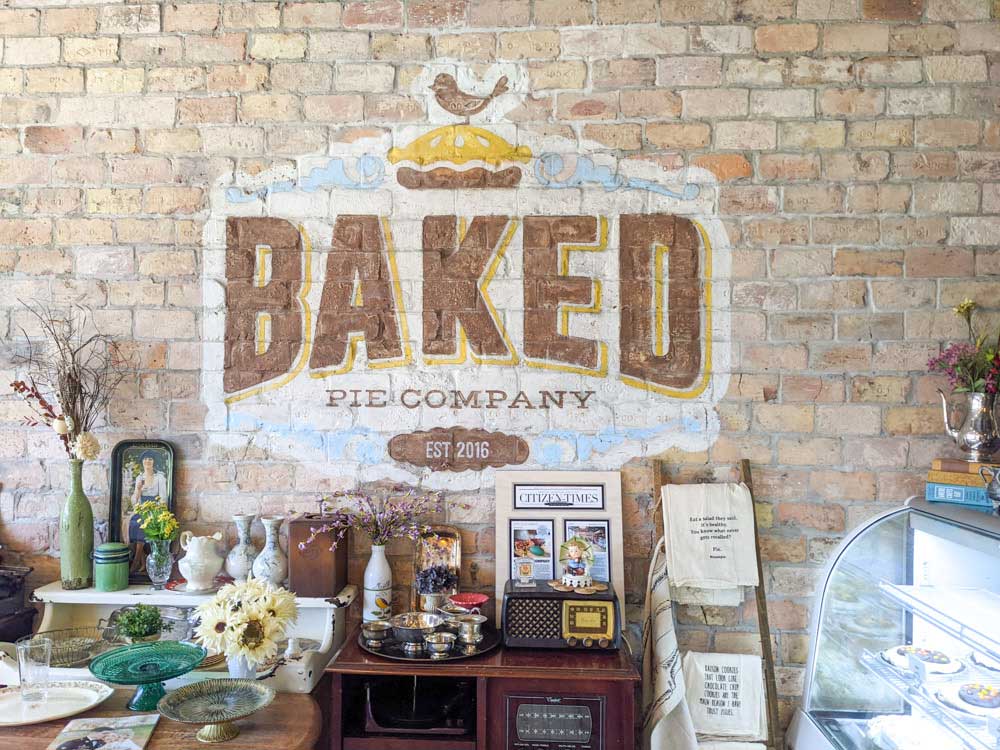 I absolutely love gifting pies from Baked or getting one if we have friends in town.
If you aren't after a whole pie, check out their pie flight. Three slices of pie and a scoop of ice cream. Such a fun afternoon out with kids or unique date idea. You can also order a single slice if that's more your speed.
My pro tip for Baked is to get at least a slice of the honey pecan (if not a whole one) and FREEZE IT before eating. Then, eat the pie directly from the freezer with a cup of coffee. It's my favorite combination in the world.
You can read more about Baked in our spotlight here (it's called "The Best Pie in Asheville" in case you needed another reminder just how great they are!)
Quick details: A darling pie shop where you can buy whole pies, by the slice or even try a pie flight.
Location: 4 Long Shoals Road | Arden (South Asheville)
Availability: Open 11-6 Wednesday – Sunday
Types of baked goods: Pies, pies, pies! So many pies. You can order a whole pie in advance or choose from the case. Order by the slice or get a whole pie ($36) that serves 6-8 slices.
Beverages: Coffee, tea, milk, lemonade, bottled drinks
What to order: Try a pie flight! You can sample three different pies along with a scoop of ice cream. I love doing this as a special treat with our oldest son. My go-to flavors are the honey pecan and cherry crumb.
Parking: Parking out front for both locations.
Award: Best Pie In Asheville and Best Smelling Bakery in Asheville!
5. The Rhu (downtown)
The Rhu is one of the few places on our best bakeries in Asheville list that have both breakfast and lunch. I especially love their creative lunch sandwiches, but their breakfast is great too. My favorite item on the menu is their decadent brownie, though.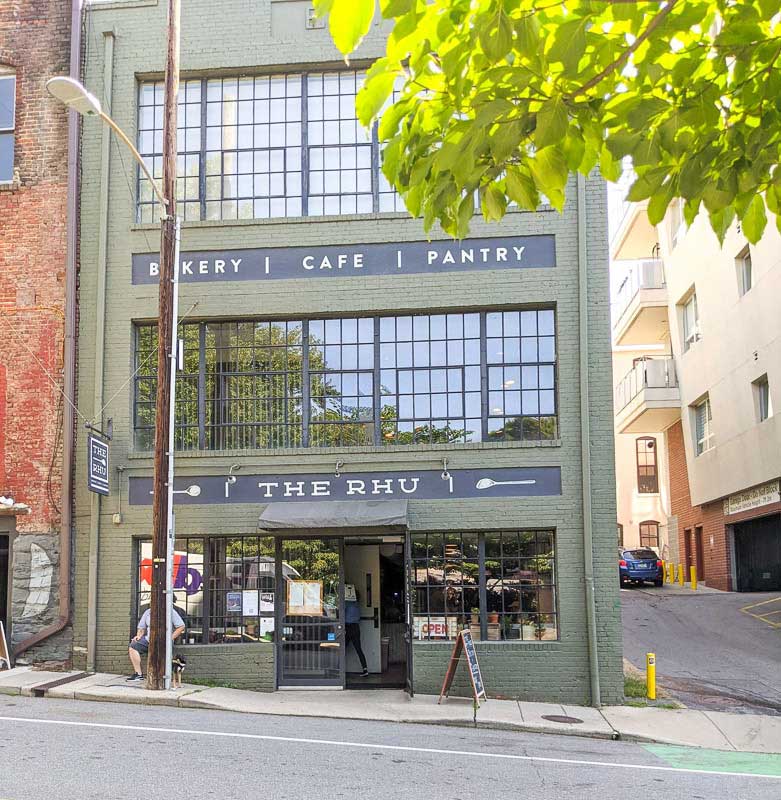 They have pastries located in the main pastry case and around the corner in front of where you pick up your food. Make sure to walk around to check there before ordering.
The Rhu supplies several coffee shops around Asheville with baked goods. So even if you haven't been in their shop, you may have already tried one of their sweet treats.
Apart from baked goods, the Rhu also has great coffee and tons of seating upstairs, as well as a few tables and great window seats downstairs.
Quick details: Great coffee, a perfect pastry selection, breakfast sandwiches and lunch options. They also have a fun retail market with local goodies.
Location: 10 S Lexington Ave // Downtown Asheville
Availability: closed Tuesday
Types of baked goods: croissants, danishes, cookies, an amazing brownie
Beverages: Full espresso bar and drip coffee available
What to order: For breakfast, try the breakfast sandwich (cheese, egg, house-made sausage on a biscuit) and a danish. Or their pimiento cheese grits and collards! If you are there for lunch, try the pastrami Rueben or the Appalachian sandwich. Make sure to get a brownie!
Parking: There isn't any street parking out front, but there are pay to park lots next door and just across the street.
Award: Best brownie in Asheville! The Rhu is also listed as our best coffee shop in Asheville to work from on our guide to Asheville coffee shops.
6. Well-Bred Bakery + Café (Biltmore Village and downtown)
Here's a great place for delicious baked goods in Asheville! They have so many great treats to choose from and their Biltmore Village location offers the perfect place to relax a bit when browsing around.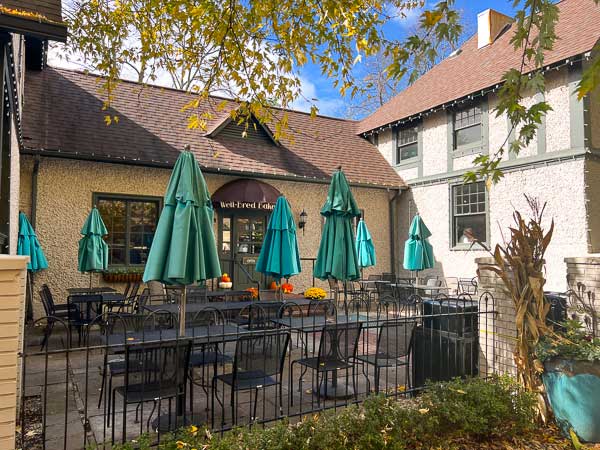 Not only does Well-Bred have great baked goods, but they also have excellent breakfast sandwiches. Their bacon, egg and cheese on a croissant is my go-to at Well-Bred any time of day.
About Well-Bred Bakery + Café
Quick details: The perfect stop for a sweet treat, breakfast or lunch! You'll find a pastry case filled with beautiful and delicous desserts.
Location: Well-Bred Bakery has two bakery locations in Asheville as well as their original location and a food truck in Weaverville.
Availability: Open daily
Types of baked goods: Well-Bred has a full pastry case (ex. croissants, cookies, eclairs, chocolate fudge cake, carrot cake, baklava, pecan streusel coffee cake…). They also have great seasonal baked goods! I can't get enough of their pumpkin cheesecake with gingerbread crust when it's in season.
Beverages: Drip coffee, espresso drinks, tea, lemonade, bottled drinks
What to order: If you are there for breakfast, try their bacon, egg + cheese on a croissant.
Parking: Biltmore Village can get really busy as the day goes on. There is some parking on the street by Well-Bred but you may have to park a bit further and walk. PS The Gray Line Trolley stop in Biltmore Village is just across the street from Well-Bred.
Award: Best outdoor seating for a bakery in Asheville! They have a great location in Biltmore Village with several tables out front.
The Best Birthday Cake and Wedding Cake Bakeries in Asheville
Though we have highlighted several of our favorite Asheville bakeries already, we wanted to spotlight a few categories within the bigger baking world. We are starting this off with a very tasty one: where to get the best cake in Asheville.
Cakes by Gray
The perfect destination for wedding cake in Asheville! Choose from a variety of flavors, fillings and icings. You can go classic with a vanilla cake and Italian meringue buttercream or something fun like a strawberry basil or pear blue cheese.
Not only does Melissa make beautiful and delicious wedding cakes, but you can also order special celebration cakes from her. Check out her gallery of cakes here.
Please note that Cakes by Gray is not open to customers. It's a special order only bakery.
Karen Donatelli Cake Designs
This by appointment only dessert shop is full of delicious goodies. You can tell just how much passion and skill goes into each dessert.
Not only can you order a fabulous wedding cake from Karen Donatelli, but you can also order specialty pastries, tarts, croissants, danish, cinnamon buns and cookies. View the menu here and call to place an order!
Short Street Cakes
Obviously this one would be on our list of the best cake in Asheville! Not only can you order wedding cake from Short Street (and birthday, etc..), but you can also stop in for a cupcake. They sometimes share their daily offerings on their Facebook page.
Important info: Short Street Cakes sells vegan cake! And their cakes are beautiful, too.
AVL Cake Lady
The perfect spot for a custom birthday cake in West Asheville! I have tried a few flavors but my top favorite will always be the strawberry crunch. It's just as good as it sounds.
This female-owned (and Black-owned!) bakery is also known for their banana pudding, shortbread cookies and hot chocolate bombs. Dairy and gluten-sensitive cakes are also available. Stop in for a treat today or order ahead for a celebration cake.
Geraldine's Bakery
We included Geraldine's in our must-try list, but we also wanted to shout them out here too because they are known for their birthday cakes in Asheville. Geraldine's specializes in old-school sheet cakes, though they also offer tiered round cakes.
As far as flavors available go, sky is the limit! They have a standard yellow chiffon cake and chocolate devil's food cake. They also have specialty flavors, including carrot cake, German chocolate, peanut butter, Boston cream, strawberry short cake and more.
So, first you have to pick from 10+ flavors. And then you can decide icing type– vanilla buttercream, chocolate buttercream, whipped cream, cream cheese icing, fudge or choose from 8 flavored buttercreams. And after all of that, you still have the option to add a filling (like, raspberry or custard!) Oh, and the design must be decided!
We are certain that whatever you choose, you and your guests will be delighted!
OWL Bakery
OWL Bakery used to offer wedding and specialty cakes, but are not doing that at the moment. They put their special order cakes on hold due to production and expansion efforts. Stay tuned to this page for updates on the status of their cake orders.
Morsel Cookie Company
Ending our section on cake with… cookie cake! Morsel Cookie Co specializes in all things cookies, including cookie cake. You can preorder a whole cookie cake through them. They make really cute ones around the holidays and sometimes you can even snag a whole holiday cookie cake in the shop. Plan on preordering to be safe, though! Visit their site to learn more about special order cookie cakes.
The Best Cookie Shops in Asheville
If you are looking for where to get the best cookie in Asheville, start here!
The shops below specialize in cookies. The first three cookie shops are local to Asheville and the second two are nationwide brands. All offer giant, delicious cookies.
1. Moo Cookie Company (West AVL)
The perfect little house serving up amazing cookies in West Asheville. There's a small area to park just next door, which is rare in West Asheville. Not only do they offer pickup but they also ship.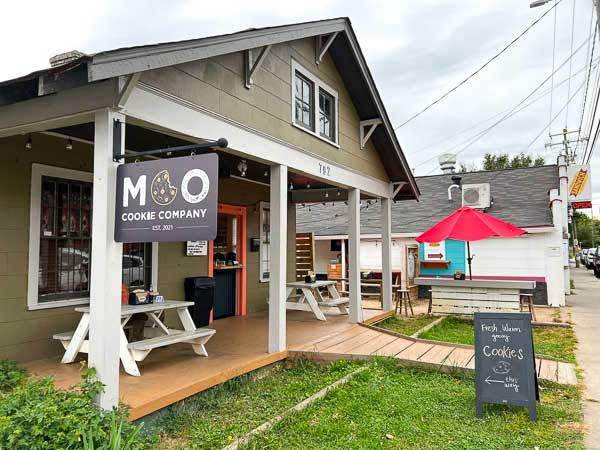 You'll find a brown butter chocolate chip cookie on the menu, as well as a Little Debbie style oatmeal cookie sandwich and seasonal flavors. My absolute favorite cookie on the menu, though, is the chocolate peanut butter stuffed one.
2. Morsel Cookie Company (downtown)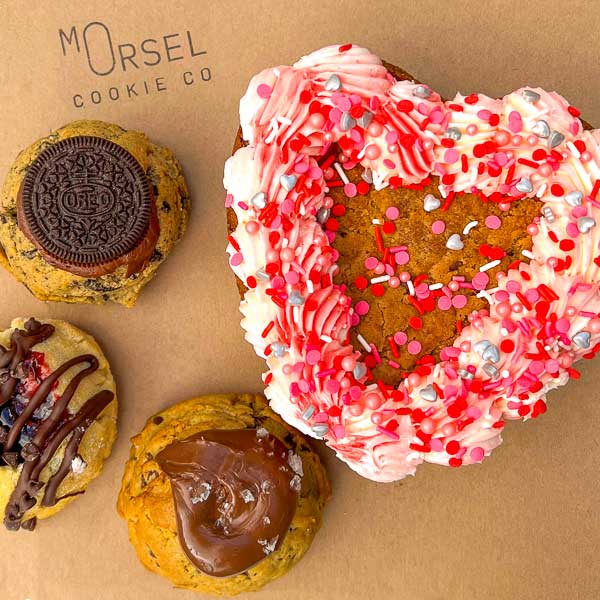 Another great local cookie shop! Morsel recently opened their cookie shop in downtown Asheville after proving out the concept in a Woodfin/North Asheville location.
You'll find giant cookies and cookie cake slices with flavors ranging from birthday cake cookies to a kitchen sink one that includes, well, everything.
3. Finch (Biltmore Village)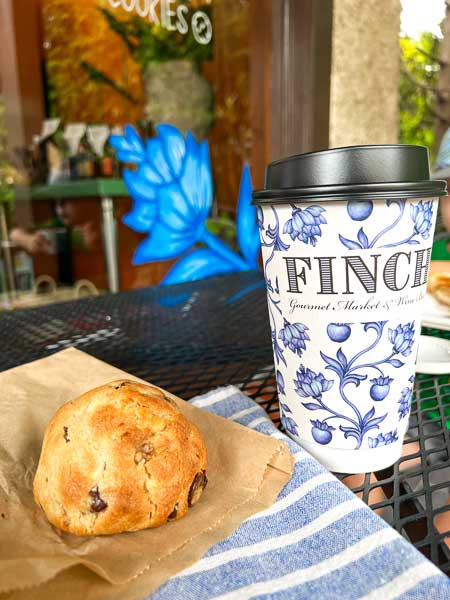 While it's not specifically a cookie shop, Finch makes an amazing chocolate chip cookie! Their NYC Levain Bakery-style chocolate chip cookie is loaded with walnuts and even white chocolate chips. It's crisp on the outside and gooey in the middle. Their cookies get a 10/10 for me.
Apart from their giant scone-like cookies, you'll also find charcuterie boards meant for sharing, sandwiches, salads, wine and great outdoor seating.
Finch is the perfect stop when browsing around Biltmore Village.
4. Crumbl Cookies (West AVL)
You may already be familiar with Crumbl Cookies because they have locations all over. Asheville's Crumbl is located in the Westgate Shopping Center. It's in West Asheville but not in the main shopping area. Instead, it's just over the I-240 bridge from downtown.
What's fun about Crumbl is that the menu rotates weekly. You'll find 4-5 flavors in addition to their always available classic chocolate chip cookie. There's a reason for the hype around Crumbl– their cookies are amazing!
5. Mary's Mountain Cookies (downtown)
Another nationwide cookie company, but this one doesn't have quite as many locations as Crumbl. It's new to Asheville as of summer 2022 and is located under the AC Hotel.
You'll find fresh baked cookies, ice cream filled cookies, cookie dough milkshakes at Mary's. They also have a 10 minute parking voucher for the hotel's parking garage.
A delightful chocolate shop with baked goods
French Broad Chocolate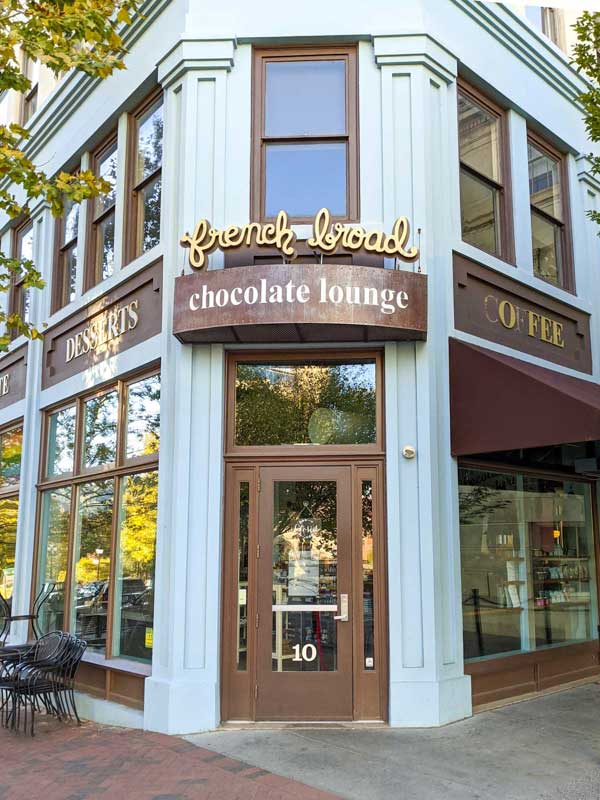 The first chocolate shop that comes to mind when I think about Asheville is hands down French Broad Chocolate. Specifically their chocolate lounge in downtown Asheville.
And lo and behold, French Broad Chocolate Lounge has a pastry case filled with decadent cakes, pies and cookies.
Their handcrafted desserts are beautiful, rich and delicious. If you are looking for a real chocolate experience, try their quintessential chocolate cake. They also have brownies, cookies and macarons.
If that's not your style, try a sipping chocolate or get a scoop of ice cream. French Broad Chocolate Lounge has it all!