Your Guide to the Coolest Neighborhoods in Asheville
From popular downtown to the quiet neighborhoods of Asheville, let us show you around.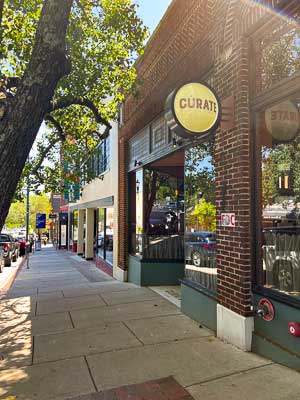 If you are looking for the best places to explore and stay while visiting Asheville…
Our Asheville neighborhood guides are just for you! They give you an overview of our favorite spots in the main shopping and dining areas in Asheville.
Generally speaking, Asheville is broken into four quadrants (north, south, east and west), all centered around downtown. There are a few exceptions to this that we will cover below.
Our highlighted neighborhoods are some of the best places to explore as a visitor to the city.
This is where you'll find the tastiest restaurants in Asheville, the cutest local shops and the 'only in Asheville' feel that we all love.
Though there are a ton of smaller neighborhoods within these areas, you'll see that we focus on the larger areas instead. We'll not only give you a general idea of various neighborhoods in Asheville, but we'll also map out where they are in relation to one another.
The first one we'll look at is a crowd favorite: downtown Asheville. Downtown Asheville is a must-visit. It's small enough to not feel overwhelming, but still has a 'big city' downtown feel. Downtown is full of local shops and delicious restaurants.
About Downtown Asheville
If you love local shopping and great food, then downtown Asheville is for you!
Small businesses and specialty shops are mixed in amongst award-winning restaurants all set in the heart of the mountains. It's a very walkable part of the city and you are bound to find something you love.
WHAT IT'S LIKE: Local · Big City Feel · Hip
KNOWN FOR: restaurants · shopping · architecture
LOCATION: city center
We typically tell people that downtown is the epicenter of Asheville, and you can go any direction from there. For example, if you head north you will find North Asheville. Easy, right?
North Asheville is very residential and is home to the UNCA campus. There are several grocery stores, parks and neighborhood eateries. The original Luella's BBQ is in North Asheville and is definitely worth a visit if you love great barbecue. The impressive Omni Grove Park Inn is also located in North Asheville, as well as the peaceful Botanical Gardens. Oh, and one of our favorite farmers markets— the North Asheville Tailgate Market.
About North Asheville
Local restaurants and walkable neighborhoods make North Asheville a popular residential area.
North Asheville is home to many neighborhoods (Charlotte St, Grove Park-Sunset, Five Points, Beaver Lake…), UNCA's campus, the Omni Grove Park Inn and the Botanical Gardens.
WHAT IT'S LIKE: family-friendly · residential · historical
KNOWN FOR: local restaurants · walkable neighborhoods · UNCA · Omni Grove Park Inn
LOCATION: north of downtown Asheville
You'll also find the historic Montford neighborhood just north of downtown. There are only a few eateries in Montford, but there are several historical bed and breakfasts. It's a very desirable area to live in Asheville because the homes and properties are beautiful. But most come at a very hefty price tag!
About Montford
Tree-lined streets, bed & breakfasts and historic houses are all a part of the beautiful Montford neighborhood.
Montford is located just north of downtown Asheville and is within walking distance of it. There you'll find a few restaurants and parks, but it's primarily a residential neighborhood.
WHAT IT'S LIKE: residential · historical · desirable
KNOWN FOR: tree-lined streets · bed and breakfasts · architecture
LOCATION: just north of downtown
If you continue going north of downtown you'll eventually get to Woodfin and Weaverville, NC.
Now, let's head south of downtown Asheville.
First, you'll find an extension of downtown called South Slope. And this is where many of the breweries are. There are so, so many breweries in South Slope. It's walkable from downtown Asheville.
About South Slope
South Slope has quickly become the brewery district of Asheville, with over ten breweries, as well as a cidery and distillery.
The area is also home to some great restaurants like Buxton Hall BBQ and Little Chango, a fun cheese shop and some of the best donuts in Asheville.
WHAT IT'S LIKE: hoppy · walkable · fun
KNOWN FOR: breweries · restaurants
LOCATION: just south of downtown
If you go a bit further south from downtown you will stumble upon Biltmore Village and the entrance to the Biltmore Estate. Speaking of, you should definitely look at a map of Asheville to appreciate how much land the Biltmore Estate actually takes up. It's staggering.
About Biltmore Village
A shopping and dining district in Asheville located just by the entrance to the Biltmore Estate.
You'll find Tudor-style architecture, cobblestone sidewalks, local shops, national retailers, and a few restaurants sprinkled in at Biltmore Village. It's a relatively small area and can be easily seen in under a day.
WHAT IT'S LIKE: historical · charming · small but mighty
KNOWN FOR: shopping · restaurants · architecture
LOCATION: just south of downtown
If you keep heading south on Hendersonville Highway, you'll get into 'South Asheville', which includes Biltmore Park and Arden.
It definitely feels like the suburbs in South Asheville. You'll find a lot of grocery stores and strip malls. But you'll also find an entrance to the Blue Ridge Parkway and the NC Arboretum. It's also really close to Mills River, which is home to the mega Sierra Nevada brewery. The airport is also right there.
One interesting thing to note is that several Asheville restaurants have opened locations in South Asheville over the last year or so. Three that immediately come to mind are Biscuit Head, Tupelo Honey and Vinnie's Italian. Baked Pie Co's only shop is also located in South Asheville.
About South Asheville
South Asheville is a popular residential area with all of the amenities needed for convenient living.
This area has seen a high volume of development in recent years along I-26, Brevard Road and Hendersonville Highway, giving area residents and visitors plenty of places to eat, shop and play.
WHAT IT'S LIKE: suburban · family-friendly
KNOWN FOR: Biltmore Park Town Square · AVL Airport
LOCATION: south of downtown and Biltmore Estate
Let's now look at other areas near downtown Asheville, starting with the River Arts District. It's southwest of downtown but only about a 3-minute drive.
As the name suggests, the River Arts District is along the river and is a destination for art lovers. You'll find tons of artist studios and galleries mixed in amongst breweries and coffee shops. There are a few houses and apartments in the area but it's less residential than other areas.
About The River Arts District
The River Arts District is a creative haven, with working artist studios and galleries filling former warehouses and mills.
From painting to pottery, glassblowing to textiles, you are bound to discover something you love! Apart from the vibrant art scene, you'll find barbecue, burgers, craft breweries and coffee shops.
WHAT IT'S LIKE: creative · funky · industrial
KNOWN FOR: local art · galleries & studios · restaurants · murals & graffiti
LOCATION: southwest of downtown, just over the French Broad River from West Asheville
Finally, you have east and west of downtown Asheville. East Asheville is another pretty residential area. This is where the mall is located and big box stores. The WNC Nature Center is also in East Asheville, as well as access to the Blue Ridge Parkway.
Meanwhile, West Asheville is the total opposite. It's home to vintage shops, popular restaurants, long brunch lines and a distinct West Asheville feel. Check out our guide to West Asheville restaurants for our top picks of where to dine.
About West Asheville
Known for busy brunch spots and vintage shops, the eclectic West Asheville up-and-came in the last decade.
You'll find breweries, music venues, bookstores, dive bars and vintage clothing shops in West Asheville. Haywood Road is the main corridor in West Asheville, connecting the neighborhood with the River Arts District.
WHAT IT'S LIKE: hip · lively · vibrant
KNOWN FOR: vintage finds · restaurants · local everything
LOCATION: west of downtown, just over the French Broad River from River Arts District
And that wraps up our list! We hope this overview of Asheville neighborhoods has been helpful.
If you are local or planning to move and need a roommate in Asheville, a great place to start is with Asheville Room Finder. It's a locally-owned site with a mission to help people find housing safely, easily and freely. So, keep it local and check out Asheville Room Finder!