A Guide To Asheville's Holiday Events and Markets
The holiday season is Asheville is such a special time. It's chilly out, hot chocolate is abundant and Christmas lights are all around. There are also a ton of fun markets, events and other holiday-themed activities that are great for the whole family.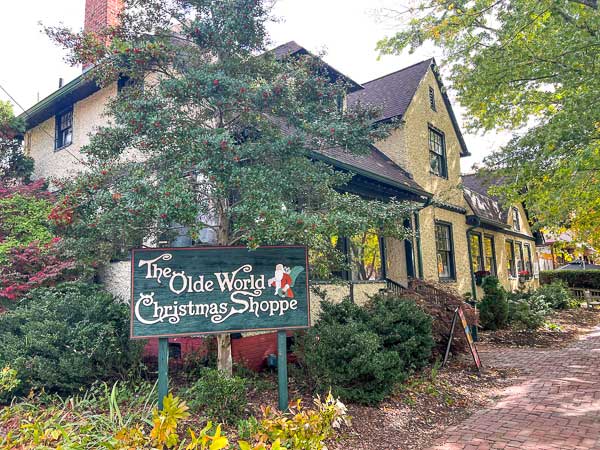 This post shares so many fun things to do in Asheville for the holidays. There are several sections so first we'll start with a table of contents.
Holidays in Asheville: table of contents
1. Popular Annual Holiday Events in Asheville
The activities mentioned below include some of our favorite holiday traditions for our family. We try to attend as many of these events each year and we love experiencing new ones too, like the Winter Wonder Walk that opened in 2021.
The National Gingerbread House Competition (November 28 – January 2)
There is no better way to get in the Christmas spirit than a visit to the Omni Grove Park Inn when the gingerbread houses are on display. This years marks the 30th annual event.
Expect beautiful, elaborate displays and even a life-size 10′ x 10′ Great Gingerbread House serving up hot chocolate or Hansel and Gret-ale.
Competitors from all over and of all ages compete for the grand prize. The houses have to be at least 75% edible, but sky is the limit as far as designs go. You will be amazed at what these artists come up with!
About the gingerbread house competition
Quick details: An annual event held during the holiday season at the Omni Grove Hotel. Competition winners are selected in November and the gingerbread houses remain up through the season.
Location: The Omni Grove Park Inn (290 Macon Ave | North Asheville)
Cost: The gingerbread houses are free to view. Self-parking for day guests is $25 and for night guests it is $20. A portion of their parking proceeds goes to local non-profits.
Dates: The display begins November 28, 2022 through January 2, 2023. It is closed for viewing December 23, 24, 25, 30, 31 and January 1. See below for viewing times.
Additional Notes: If you aren't staying at the resort, you can view the houses anytime Monday through Thursday and after 6:00 p.m. on Sundays. All Fridays and Saturdays are reserved for registered resort guests and those that have confirmed dining reservations.
Winter Lights at the Arboretum (November 18 – December 31)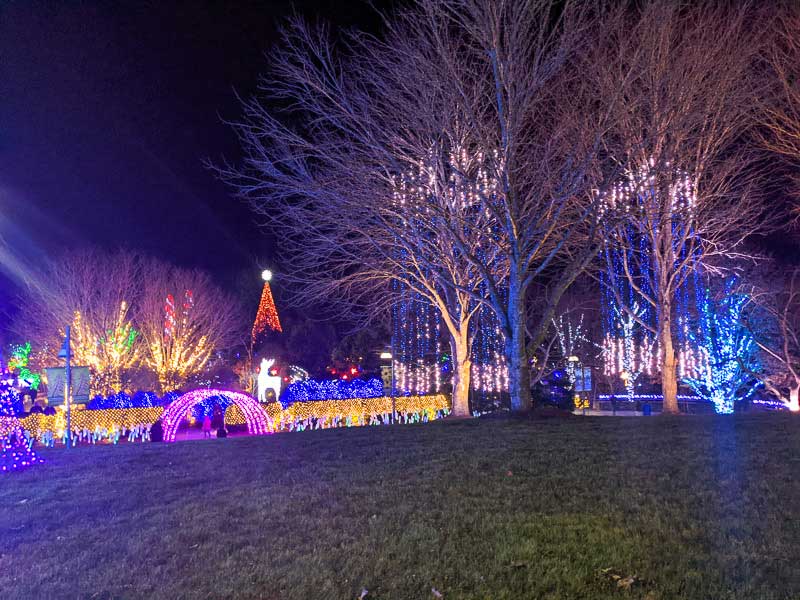 Bundle up and head to the NC Arboretum for the evening to enjoy a spectacular outdoor light display featuring over one million lights. Their 50 foot tree is lit up and lights in the Quilt Garden are time to holiday music.
Our kids especially love it because the Rocky Cove Railroad model trains run during Winter Lights. Apart from lights, the train, hot chocolate booths and live music, you'll also find firepits and heaters. Smore's kits are available for purchase
Quick details: An open-air walk-through light show held annually at the Arboretum. You'll find amazing light displays, live performances, lights timed to music and the Rocky Cove Railroad runs each evening.
Location: The NC Arboretum (100 Frederick Law Olmsted Way | South Asheville)
Cost: Price varies based on when you purchase your tickets and the types of tickets purchased. Prices range from $30 (budget night) to $75 (flex tickets) for cars. Tickets are on a per vehicle basis. Members receive a $5 discount.
Dates: November 18 – December 31, 2022
Additional Notes: Winter Lights is rain or shine and you will need to purchase your tickets in advance. If you are worried about weather, get a flex ticket. Tickets are date and time specific.
Biltmore's Candlelight Christmas Evenings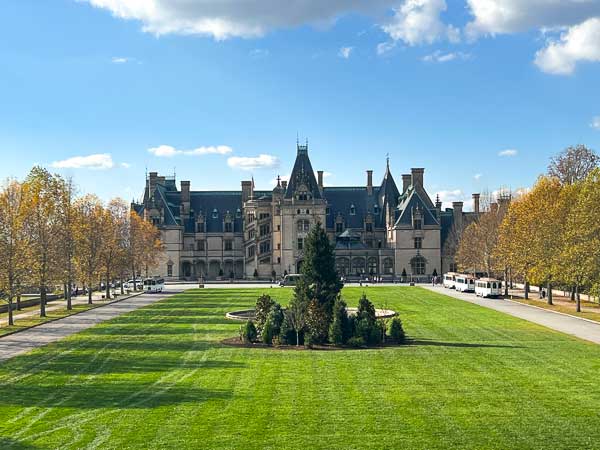 Christmas at The Biltmore House is like no other. There are twinkle lights and trees everywhere, with candles and fireplaces guiding the way. It is so much fun to imagine what Christmas was really like in the house for the Vanderbilt family.
Though it's somewhat costly to enter, it makes for an extraordinary evening. To keep costs down, you can opt for a daytime ticket at a reduced rate.
If you have an annual membership, you'll still have to buy a separate Candlelight ticket. However, you will get a member discount.
About Biltmore's Candlelight Christmas Evenings
Quick details: Tour America's Largest Home® when it is at its best during Christmas. You'll truly feel the magic of the season in the flawlessly decorated Biltmore House. There's a soft glow from candles and twinkle lights everywhere you turn.
Location: The Biltmore Estate
Cost: Tickets range from $99 (audio-guided visit) to $409 (expert-guided visit) for daytime tickets. Evening tickets start at $119.
Dates: November 4, 2022 – January 7, 2023
Additional Notes: Antler Hill Village is also decked out for Christmas at the Biltmore. Tickets include entry to the gardens and Antler Hill Village in addition to a tour of the house.
Lake Julian Festival of Lights (December 2-23)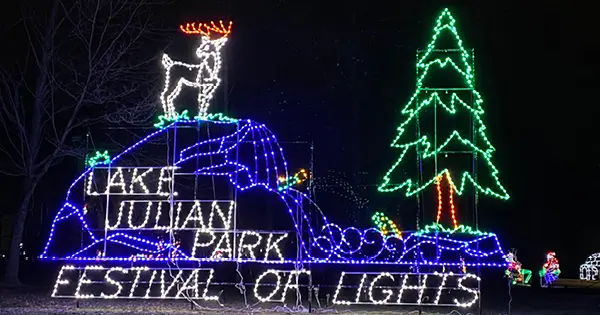 A favorite holiday tradition of ours! The Festival of Lights is the longest running drive-thru holiday light show in the area. It's an especially great activity when it's cold out because you can stay bundled up in your car while still getting in the holiday spirit.
Not only can you drive through the light show, but they also have two nights at the beginning of the month where you can walk through instead.
About Lake Julian Festival of Lights
Quick details: A drive-thru Christmas light show held nightly from 6-9pm December 2nd through the 23rd. There are two walk-thru nights on December 2 and 3.
Location: Lake Julian Park (37 Lake Julian Rd) | South Asheville
Cost: Cars are $10 each, large cans are $25 and buses are $50. The two walk-thru nights (December 2 and 3) are $4 per person while kids under 16 are admitted for free.
Dates: December 2-23, 2022
Additional Notes: 20% of proceeds are donated to Special Olympics Buncombe County and the remainder is reinvested in the show for the following year.
Winter Wonder Walk (December 9-18)
This one is new to the game as of 2021, but it's such a great holiday event for the whole family. The Winter Wonder Walk is an immersive experience created by Asheville Plays and is held at the Adventure Center of Asheville.
Escape into an outdoor holiday land where live characters guide you through an immersive story walk. After that, enjoy some pizza, hot chocolate and family fun in the warm festival tent.
The Holiday Aerial Glow Trail is also open during these evenings. This is an elevated aerial trail of swinging bridges, cable walks, beam walks, tunnels and other challenges for ages 4 and up.
Quick details: A live-action immersive story-walk on an outdoor trail. Expect live characters, tons of lights and happiness all around!
Location: The Adventure Center of Asheville
Cost: $17 general admission (kids under 4 are free.) $1 of every ticket is donated to support MANNA Food Bank.
Dates: December 9, 10, 11, 15, 16, 17, 18 2022
Additional Notes: There is a warm festival tent on site with local vendors, concessions and activities. You can pre-order a Mellow Mushroom pizza with your ticket purchase. Slices are available at the event.
2. Holiday performances, ballets and musicals in Asheville
There are several holiday productions that will take place this winter in Asheville. This list includes multiple versions of the beloved Nutcracker, a Christmas performance by a talented violinist, an orchestra concert and even a musical rendition of feel-good movie The Elf.
Asheville Ballet Nutcracker (December 9-11)
A classical version of the hit holiday ballet The Nutcracker. Their Nutcracker performance has been beloved by Asheville for over half a century. Expect new choreography for several dances this year, as well as scenes you know and love from previous performances.
Showings are December 9 (7:30pm), December 10 (2:30pm and 7:30pm) and December 11 (2:30pm) at the Diana Wortham Theater.
Vienna Light Orchestra Concert (December 22)
Prepare to be amazed at the one-day only performance of the traveling Vienna Light Orchestra's Christmas concert. The concert hall will be lit up with over 2000 flickering candles while world-class musicians play Christmas favorites.
The Christmas concert will be held on December 22 at the AMT Theatre. Showings are at 4pm, 6pm (sold out) and 8pm.
NUTCRACKER! Magic of Christmas Ballet (December 20)
Celebrate the 30th Anniversary tour of The Nutcracker Magic of Christmas Ballet this year. Featuring dancers from Ukraine, Italy, Japan, Kazakhstan, Turkey and more, this traveling production is not to be missed.
This NUTCRACKER! performance will be held on December 20 at the Thomas Wolfe Auditorium at Harrah's Cherokee Center.
Elf The Musical (December 2-18)

A musical comedy based on the beloved film Elf performed by the Asheville Community Theater. Except to laugh, tear up, sing along and become a believer.
Showings are held Fridays and Saturdays at 7:30 and Sundays at 2:30 between December 2 and December 18, 2022. Additionally, there's a special Thursday night show on December 15 at 7:30pm.
The Nutcracker and the Mouse King (December 2 and 3)
Expect the unexpected at this version of The Nutcracker presented by Asheville Contemporary Dance Theater. The story told is based on the original and "darker" version of The Nutcracker written in 1816 by German author E.T.A. Hoffmann.
Showings are December 2 at 7:30pm and December 3 at 2pm and 7:30pm at the Diana Wortham Theater.
Lindsey Stirling Snow Waltz Tour (December 3)
Tickets are almost sold out for this, but you may be able to snag some off-market! Lindsey Stirling is an amazing violinist who has shot to fame performing a variety of music styles. She recently released the Christmas album Snow Waltz and top hits in the social media world.
Catch her on tour at the Thomas Wolfe Auditorium at Harrah's Cherokee Center on December 3.
3. Asheville Holiday Markets
Check everyone off your list with these local holiday markets in Asheville. It's the perfect way to shop locally and support our makers, bakers, farmers and fellow citizens.
The Big Crafty (December 3 and 4)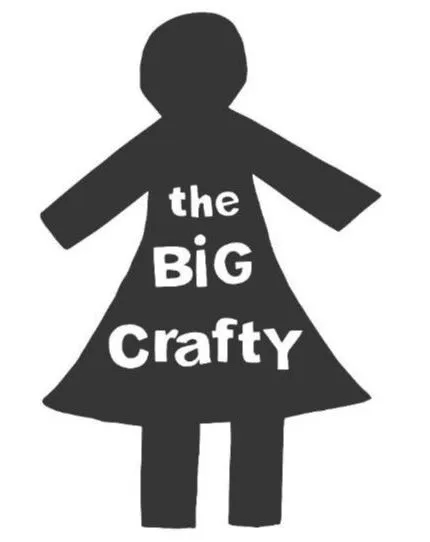 The Big Crafty is an amazing event held semi-annually in downtown Asheville that features local artists and makers. It's such a fun way to feel a part of the community and support the local creatives (many of which are women!)
Shop the market on December 3 and 4 at Harrah's Cherokee Center in downtown Asheville.
Uncommon Holiday Market (December 10 & 11)
This indoor + outdoor event is always a great way to spend an afternoon! There are several uncommon holiday markets throughout the year, but this is the only holiday-themed one.
The Uncommon Holiday Market will be held at the Mission Health/A-B Tech Conference Center on December 10 and 11 from 10am-4pm. Admission is $5 and includes access for both days. Kids are free!
North Asheville Tailgate Market Holiday Bazaar
One of my favorite Asheville farmers markets gets a holiday makeover each year! The Holiday Bazaar hosted by the North Asheville Tailgate Market is such a great way to get in the spirit and be a part of the community. Shop handmade goods, local product and Christmas craft.
4. Family-Fun Holiday Activities in Asheville
Below is a list of fun holiday activities in Asheville for the whole family. You'll find everything from a Dickens-themed festival, a visit with the one and only Santa, a showing of A Christmas Story and a ride on a magical trolley.
A Dickens Christmas In Biltmore Village (December 2 and 3)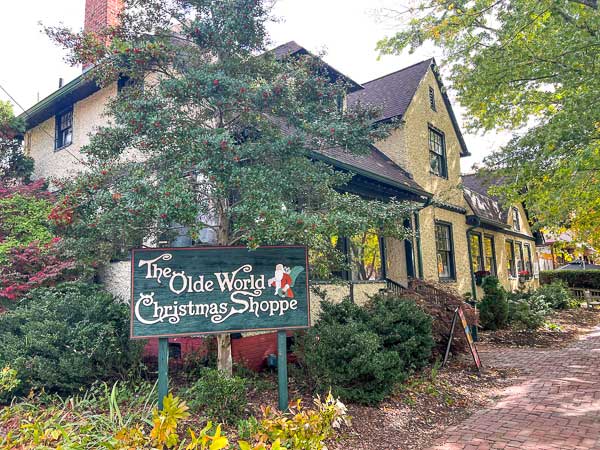 Step back in time at this annual event in Biltmore Village. This part of town always feels magical, but it's truly a different world when there are dickens carolers, a chestnut roaster and a 15 foot tree in the Village Green. It's the perfect spot to get in the holiday spirit.
A Dickens Christmas will be held on December 2 and 3, with various events scheduled on each date.
Santa at the Biltmore Estate (November + December)
Don't miss Santa at The Biltmore Estate! This event is also known as "Santa at the Bandstand." He'll be greeting kids of all ages in the months of November and December. It's the perfect opportunity to experience the magic of Christmas at the Biltmore with your younger ones.
Find Santa in the Biltmore Estate's Antler Hill Village, which also has an ice cream shop, a playground, a working farm and several places to eat and shop.
This event is included in the cost of admission at the Biltmore Estate. Dates include: Nov. 5-6, 12-13, 19-20, 25-27 and Dec. 3-4, 10-11, 17-18, 19-23 from 1-5pm.
Mr. & Mrs. Claus at The Grove Arcade (December 16)
Another magical place to find Santa in Asheville is at the Grove Arcade's Winter Wonderland event on December 16. Not only will Santa himself be there, but also the lovely Mrs. Claus. Get your family photo taken and whisper your wishes from 5-7pm.
Miracle at Marquee (December 2)
This sounds like such a fun and free event (and all for a good cause!) Enjoy live music by local Asheville jazz trio, Bill Bares Trio, sweet treats from Mary's Mountain Cookies, drinks by Saint Brighid's bar and holiday surprises all evening.
There's also an Uglier Sweater Competition– uglier in that you take an ugly Christmas sweater and make it even uglier!?
The local nonprofit OpenDoors Asheville will be there selling ornaments from their students. Their mission is to strengthen the community by eliminating the race-based opportunity and achievement gaps for students through education. Shop locally, help the community, enjoy a night out. Wins all around!
Holiday Movie Nights at Asheville Pizza & Brewing (December)
Catch a showing of your favorite holiday movie all December-long at Asheville Pizza & Brewing's North Asheville location. Pick from A Christmas Story (December 1-6), Scrooged (December 2-6), How the Grinch Stole Christmas (starting December 8) and Love Actually (starting December 8.) Tickets are $3 for their holiday classics.
Holly Jolly Christmas Trolley Tour (December)
We absolutely love riding on the Gray Line Asheville trolley and it's even better during the holidays! Hear tales of local holiday traditions, sing classic carols and catch the sights of the holidays on their Holly Jolly Christmas Trolley Tour.
You'll ride through the historic Biltmore Village, downtown Asheville, the historic Montford neighborhood and the Grove Park Inn.
Swannanoa Winterfest 2022 (December 17)
Ending this list with a FREE event by the Swannanoa Community Council, Friends and Neighbors of Swannanoa (FANS), and the Friends of the Swannanoa Library.
Modeled on the traditional European holiday markets, the Swannanoa Winterfest will feature a variety of artisans and vendors selling holiday-themed items under tents decked with festive lights. Attendees can warm their hands over a fire pit, while enjoying the delicious food, holiday treats, and hot drinks that will be available for purchase.
Musical entertainment, caroling, and holiday lights will fill Grovemont Square with the sounds and sights of the season. There will be activities for the kids, too, including a visit from Olaf the Snowman. Bring the whole family and enjoy the holiday festivities with your friends and neighbors!
This free event takes place in Grovemont Square (adjacent to the Swannanoa Library, 101 West Charleston Ave.), on Saturday, December 17th, from 3 – 8 pm. Make sure to bring nonperishables or monetary donations to support the Healthy Food & Fund Drive sponsored by local nonprofit Bounty & Soul.