An itinerary for the perfect spring weekend in Asheville
We are so excited to share an itinerary for a visit to Asheville in the spring. Spring in Asheville is such a magical time!
You always hear about the fall and leaf season, but spring really is an awesome time to visit Asheville. Flowers are in bloom, trees are turning green and even the bears are waking up (watch out, by the way!!) You'll find cool mornings and warm afternoons for the most part. And happiness! Everyone is just so happy to be out and about, enjoying the various patios and parks around town.
There are so many different ways to experience Asheville throughout the year, so we thought we'd focus on spring for a 3-day Asheville itinerary to highlight some of the many fun things happening during this season.
Quick note about the Asheville Trolley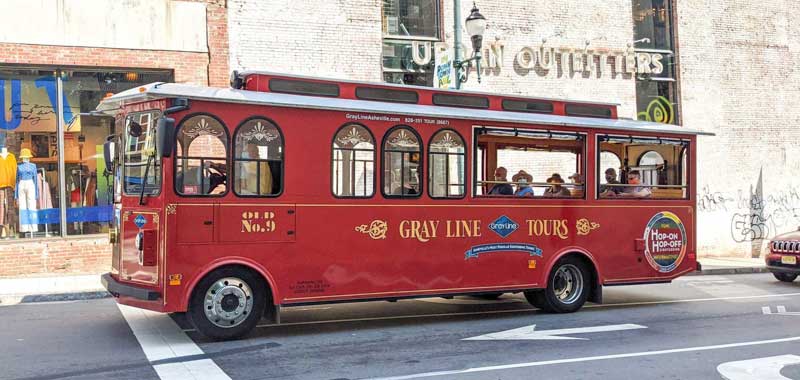 Before I share about what to do in Asheville, I want to first mention the Asheville Trolley. It's a great option if you want to experience several areas in one day. The trolley drives all over town and you can start/stop at any of their ten stops (ex. downtown, River Arts District, Omni Grove Hotel, Biltmore Village…) It may be worth it if this is your first visit to Asheville and you want to see it all. You can read more about the Asheville Trolley stops here!
The complete itinerary to a perfect long weekend in Asheville
We have divided this Asheville itinerary up into three days and made recommendations for each. Of course, you can pick and choose from these days as you wish! Mix and match until you have your perfect Asheville trip. And definitely check out the last section of this Asheville itinerary for several ideas of a 'choose your own adventure' style day.
Spring Asheville Itinerary Day 1: Shop and explore in Asheville
Start your day in AVL with brunch
Welcome to Asheville! The best possible way to kick off your time in Asheville is to grab brunch at one of our many delicious restaurants around town. There are a ton of amazing spots in Asheville for breakfast and brunch and you really can't go wrong. We'll make some suggestions for some of our favorite places, but this is definitely not a complete list!
If the weather is nice, our number one recommendation for an outdoor brunch is Liberty House Coffee (North Asheville). They have amazing food and the best outdoor seating by their garden where they grow so many of their menu items!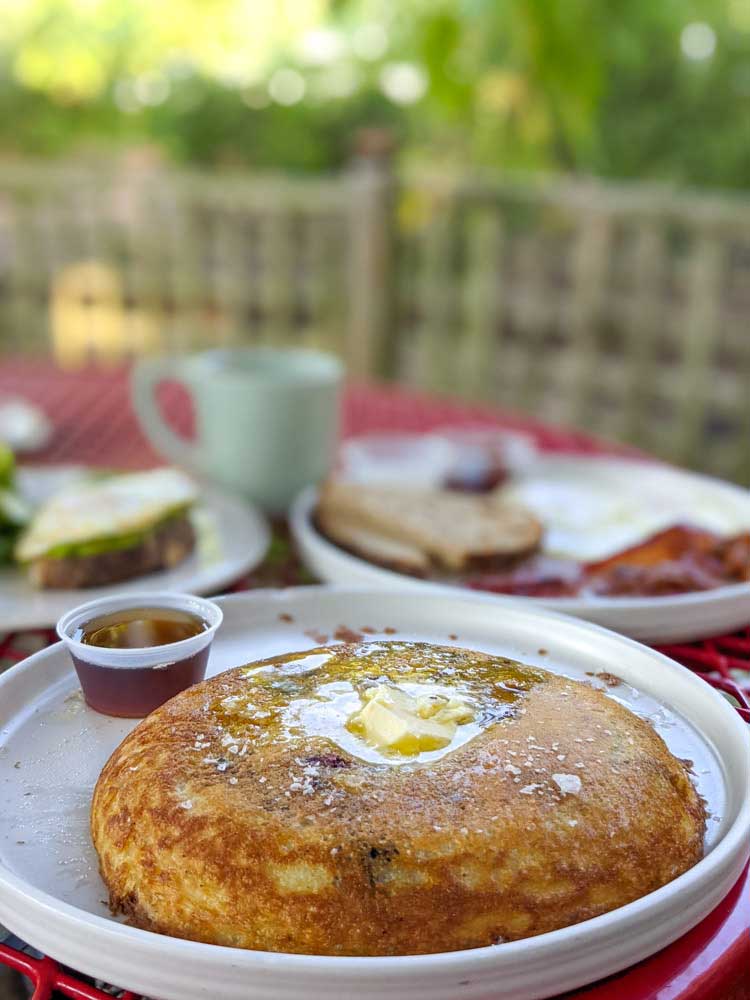 Speaking of gardens, another great brunch spot is Sunny Point Cafe in West Asheville. Sunny Point is consistently ranked the top place to grab breakfast/brunch in Asheville on various reader polls. Their bacon is dream-worthy and they have carrot hotcakes with CARDAMOM CREAM CHEESE. They also have shrimp and grits, a chicken and waffle sandwich, huevos rancheros (including a vegan version with tofu!) and stuffed french toast. As the weather gets warmer, their outdoor seating is the perfect place to hang out and their garden is definitely worth seeing.
Ok, want a few more ideas for brunch in Asheville?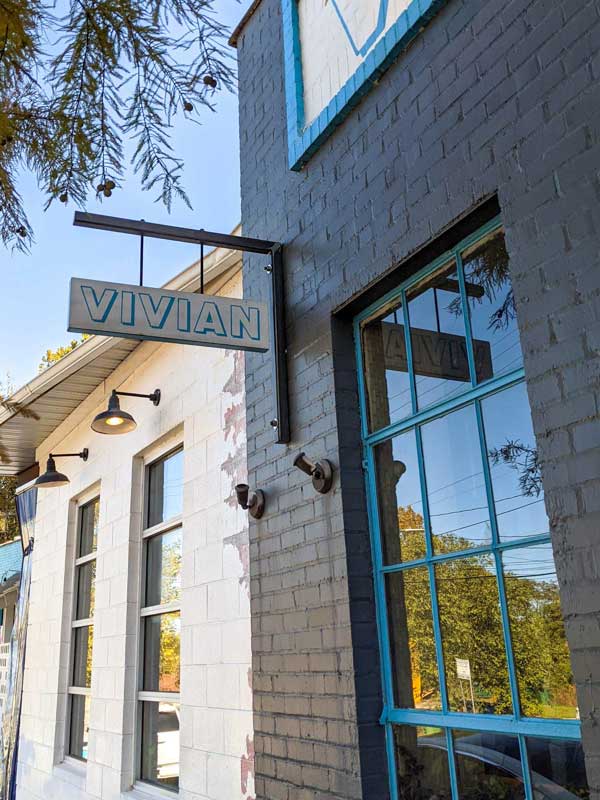 If it's Sunday and you want to live like a local, check out Vivian in River Arts District. Grab a cup of the Vivian + PennyCup Coffee blend, a quiche or chicken biscuit and a Bloody Mary and enjoy the sunshine on their patio. Divine!!!
If you are looking for somewhere to brunch downtown, Tupelo Honey's original location is there (but it feels more touristy than ~local~ … not a bad thing… just pointing it out….) The Market Place is also downtown and serves up brunch on the weekends. We love their shrimp and grits and they have great outdoor seating for people-watching. The best part is that you can (and should!!) make reservations. Oh, and just a few doors down is Early Girl— another great brunch spot in downtown Asheville. Too many to name!!
If you want a quick breakfast in downtown Asheville, check out Curate's Bodega or The Rhu. Both are downtown and you order at the counter. Easy, quick and delicious!
Spend time in downtown Asheville
Now that you are fed, it's time for some exploring! If this is your first time in Asheville, definitely plan to spend time in downtown Asheville. There are so many local shops, art galleries, restaurants, dessert spots, coffee shops, museums, bookstores and fun finds downtown. You could spend your whole trip downtown and still not experience it all!
Shopping in downtown Asheville
You can read our full guide to downtown Asheville here, but we thought it would be good to list some standouts from it. As far as stores go, most are local! It is Asheville, after all 🙂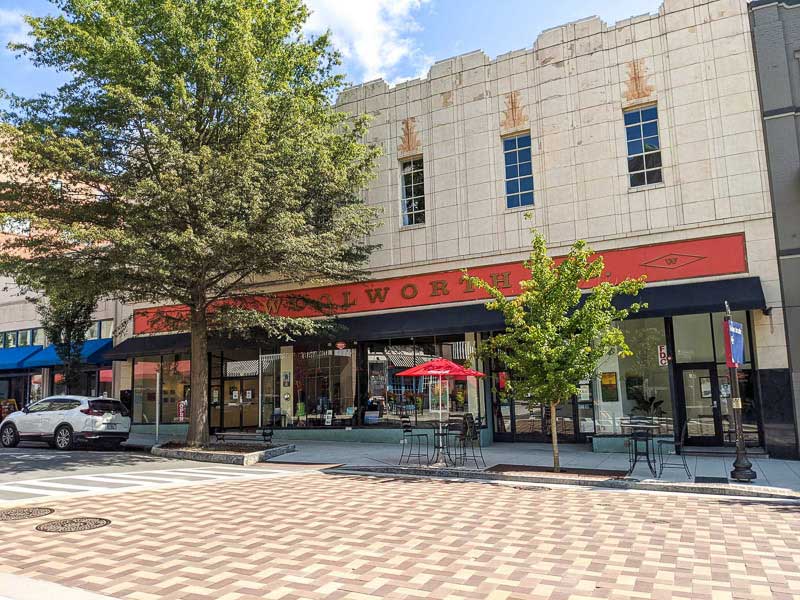 Nest Organics is a great spot for organic home goods, baby gifts and clothing and art. It's so lovely and calm there.
Duncan and York is also on Lexington and is another great spot for gifts for everyone (including yourself), kids and local items.
East Fork Pottery is a delightful pottery shop and boutique. It is both local and somehow world-famous at the same time.
Kress Emporium is always a fun stop if you are shopping for art or something local. They feature work from over 80 regional artists and craftspeople. It's a great place to pick up a souvenir!
The Woolworth Walk is another art gallery and emporium located downtown. It is two-stories and includes an old-fashioned soda fountain.
Battery Park Book Exchange is close by in the Grove Arcade (architecture!!!) and is a fun spot to be amongst used books while drinking wine, champagne or coffee. You can also grab a cheeseboard, pastry or dessert.
Mast General Store is a fun place to shop for old-fashioned candy, outdoor gear, jams, jellies, cookbooks, popcorn… classic general store stuff! They have a door in the back of the downstairs (yes, it's two floors!) that pops out to Lexington Ave. If you need a coffee pick-me-up, head out that door and take a right to go to The Rhu. Mast also has restrooms located on the first floor in the back near their packaged food items.
Asheville Art Museum
If you want to explore a museum, the Asheville Art Museum features contemporary American art. It's a great place for art-lovers, especially if it is raining out. They currently have a beautiful stained glass exhibit (through May 2022) as well as a powerful exhibit on climate change. Images and narratives are on display that were captured by local youth to demonstrate the effect of climate change/flooding/drought on residents and neighborhoods. This exhibit is a collaboration between Youth Artists Empowered, Tepeyac Consulting and the City of Asheville and is on display through May 2022.
Need a coffee or dessert pick-me-up?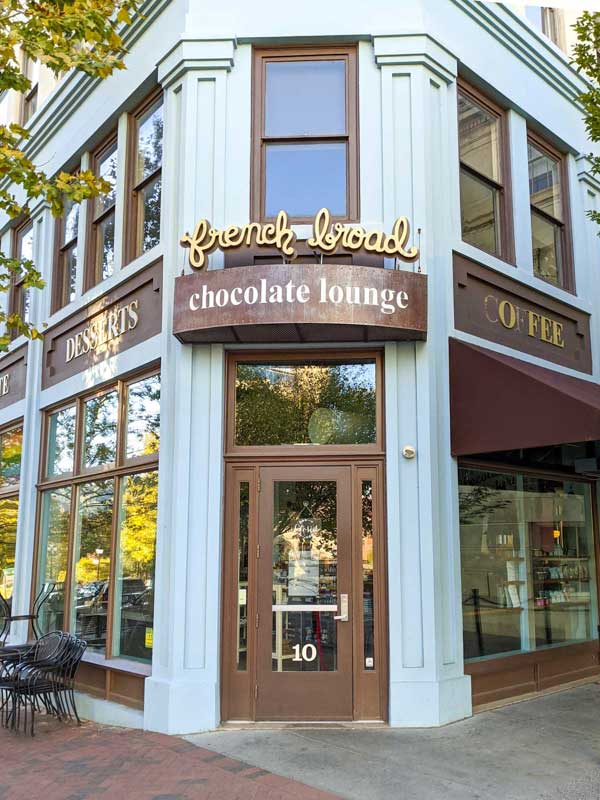 French Broad Chocolate Lounge: there may be a line, but it generally moves quickly and the wait is definitely worth it! I love their Strawberry Balsamic chocolate bon-bons and they always have cakes, brownies and other fun desserts. Also, sipping chocolate!
The Chocolate Fetish is another chocolate shop downtown with some amazing sweets. It smells delightful!! Try their dark chocolate covered ginger!
The Hop in S&W Market is a great local ice cream shop with a ton of innovative flavors. It's next to the Buxton Chicken Palace storefront in the market (hint hint). On Sunday you can grab a Hop/Buxton Chicken Palace brunch collab complete with chicken and waffle cones (and a side of ice cream!)
Double D's double-decker bus is always a hit, especially with kids. Grab a coffee or smoothie and enjoy it upstairs in the bus! FYI it's cash only.
Asheville Club is located just across from Woolworth Walk and has a great drink menu (beer, cider, wines and Counter Culture coffee.) This would be a good spot if you are traveling sans-kids and want to sit back for a while and people-watch.
One last thing… the drum Circle at Pritchard Park!!
If it's Friday, don't miss the drum circle! It's seasonal and typically starts up in April. It's such a fun time and quite the mix of people. Drummers show up early-evening between 5 and 6.
Dinner time!
If you want to stay downtown for dinner, check out one of these spots!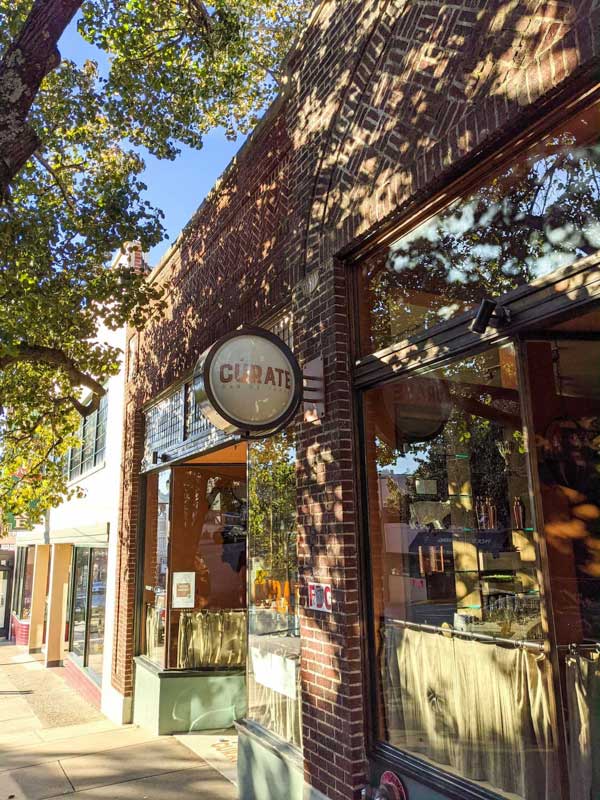 If you are ready for some takeout, we have a whole post on our favorite spots to get to-go food in Asheville.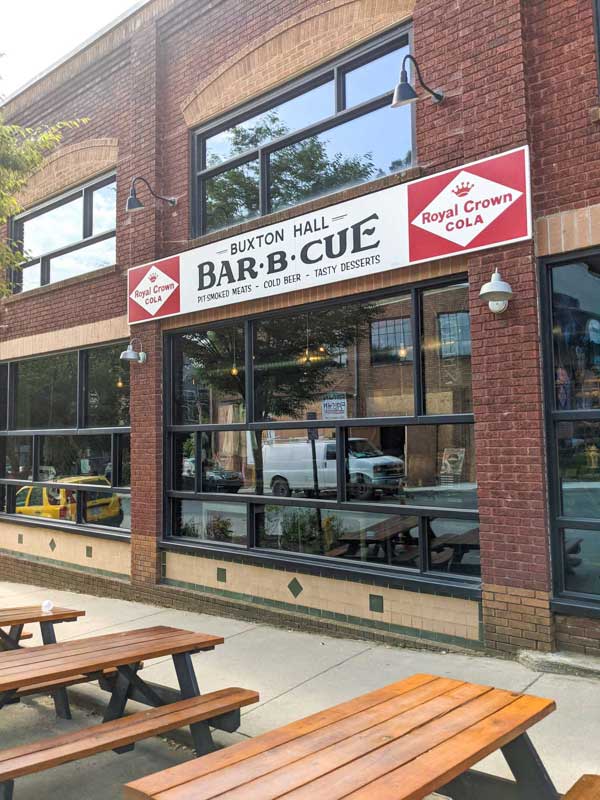 If you are looking to check out South Slope (Asheville's brewery district), you can't go wrong with dinner at either Buxton Hall BBQ or the Wicked Weed Funkatorium. After dinner head to one of the many breweries in the area. One of our favorites for unique brews is Burial Brewery. Don't miss the Tom Selleck + Sloth mural!
Spring Asheville Itinerary Day 2: Drive along the Blue Ridge Parkway
If you love great views, awesome hikes and quaint mountain towns, then definitely add a drive along the Blue Ridge Parkway to your Asheville itinerary.
But first, an Asheville breakfast!
We recommend grabbing a quick breakfast on the way out, like OWL Bakery, Tiger Bay Cafe or Taco Billy in West Asheville. If you are closer to downtown, check out The Rhu or Bodega by Curate. Looking to linger a bit longer? Early Girl Eatery or Sunny Point Cafe are great options!
Next up: enjoy the Blue Ridge Parkway!
Southwest on the Parkway
The Blue Ridge Parkway goes right by Asheville and it's easy to hop on it in either direction. If you take it southwest, you'll go through the Pisgah Ranger District of Pisgah National Forest. Here you'll pass by the NC Arboretum, Pisgah Inn, Fryingpan Lookout Tower, Devil's Courthouse and Black Balsam Knob, among other hikes, views, lookouts and waterfalls.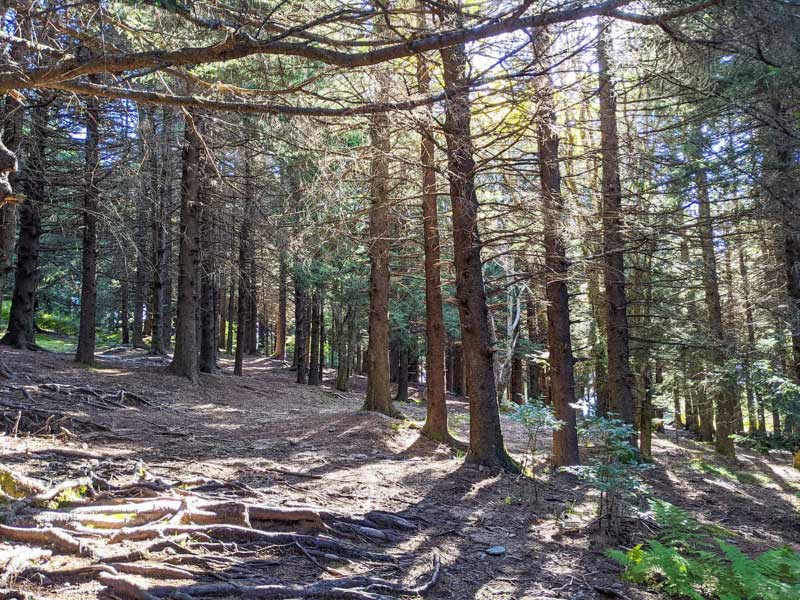 Check out Devil's Courthouse if you are looking for a challenging yet rewarding hike. It's partially paved and ends with sweeping panorama views and is a great spot for a picnic! It is 1 mile round-trip and approximately one hour from downtown Asheville on the Blue Ridge Parkway.
A picnic at the top of Black Balsam Knob is always fun. It's a good hike for kids and ends in views in all directions. Perfect for both sunsets and sunrises.
Waterfalls are always pretty intense in the spring. Looking Glass Falls is just off Pisgah Highway and is a great stop if you loop back that way. Read our post on everything to know about Looking Glass Falls if you plan to stop!
If you end up going south on the Parkway, check out the Sierra Nevada Brewery on your way back into town. It's worth just driving by if you are short on time because it's magnificent, but they have awesome food, drinks and an amazing setup. You'll often find live music and can even take a beer on a hiking trail! It's kid-friendly, too 🙂
Northeast on the Parkway
If it's late spring, consider heading north on the parkway toward Craggy Gardens. June is the perfect time for experiencing the Catawba rhododendrons in full bloom at Craggy Gardens. Pack a picnic lunch and spend time admiring the views.
In addition to Craggy Gardens, you'll also find Little Switzerland (a fun village with Swiss architecture) and Mount Mitchell, as well as tons of trails, waterfalls and overlooks. If you are up for a longer drive, Grandfather Mountain (and the Mile High Swinging Bridge!) is an absolutely amazing destination complete with wildlife exhibits (bears, bald eagles, mountain lions…)
The mountains and views are a bit more impressive if you head north, but heading south actually makes a pretty nice loop. Speaking of, we have a whole post dedicated to a 'Brevard + Pisgah National Forest loop' day trip! Make sure to check it out if you want all the info! It includes a stop in Brevard, which is a cute mountain town with walkable sidewalks and tons of shops about 45 minutes from downtown AVL.
Spring Asheville Itinerary Day 3: Choose your adventure
The final day of our itinerary! We have included a few ideas that are spring-centric, including seeing Biltmore Blooms at the one and only Biltmore Estate, exploring the River Arts District and (my personal favorite!) living like a local in Asheville! It's just a list of things that you can find us up to on any given day we have some extra time to enjoy our beautiful city.
Idea 1: Visit the Biltmore
April to May is the ideal time to see flowers in bloom at the Biltmore. Their famous 'Biltmore Blooms' actually kicks off on April 1. If you are curious, you can read about how things are currently blooming at the Biltmore here. Tickets are a bit expensive (currently $86 for spring 2022), but if you haven't been this is a great time to check it out. Entry includes access to the gardens and a self-guided tour of the house itself. You can also catch the Monet & Friends exhibit this spring at the Biltmore.
Idea 2: Explore and Dine in the River Arts District
If you are into local art, eclectic finds, great food and breweries, you should make time in your trip for the River Arts District! Spring is a great time for this because the weather should be perfect for a day of strolling and shopping.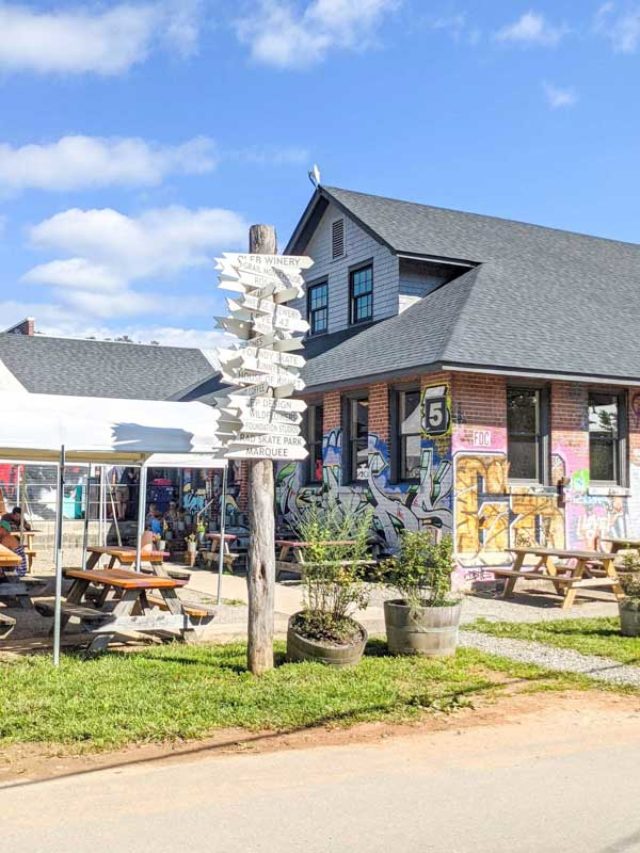 You can read our full guide to the River Arts District here, but it's a great part of the city and there is always something waiting to be found. A morning exploring studios and having breakfast outdoors at Ultra Coffee (psst they are on our best coffee in Asheville list!)is a favorite pastime of ours. We also love grabbing beer and burgers at Wedge at Foundation (read about our latest dinner here) and exploring all that the Foundy Street area of RAD has to offer. You'll find shops like Riverview Station, Marquee, Sunnyside Trading Co and House of Kismet in this area.
The second Saturday of each month is a special day in the River Arts District where you'll find open studios, demonstrations, workshops, live music, wine tastings, food and more. Read more about Second Saturdays here.
Idea 3: Live like a local
Want to immerse yourself in all things Asheville? Here's a list of the various things you can find us doing in our free time! It may be my favorite part of the itinerary because I love traveling and living like a local.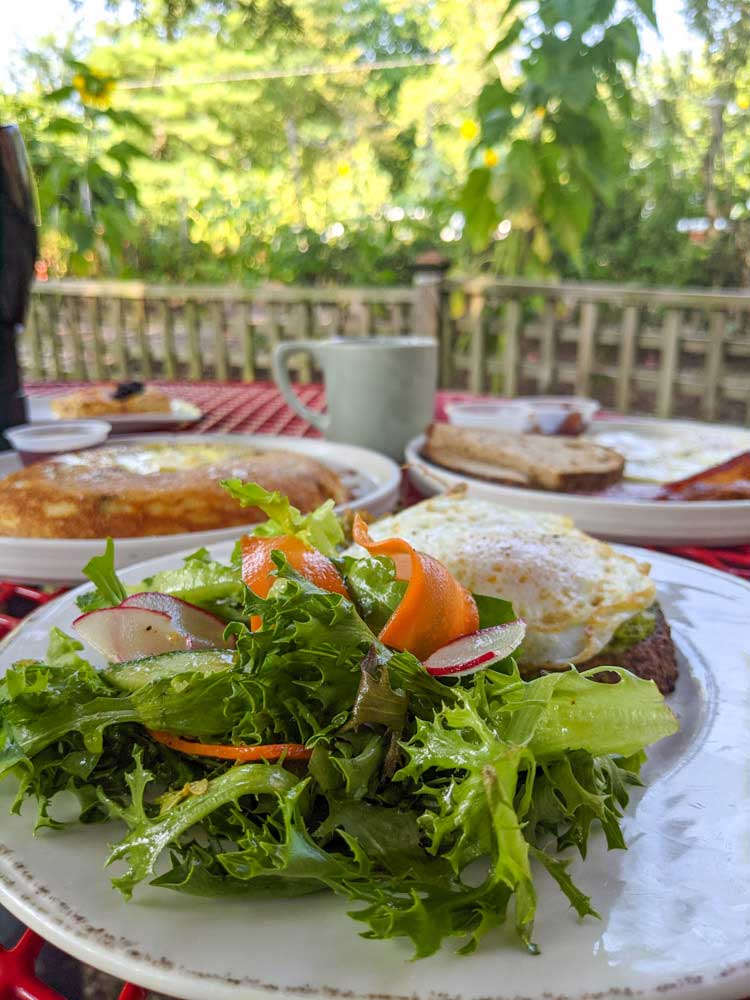 Take a slow morning starting with brunch (have you been to Liberty House Café yet!?)
Go on a donut tour of Asheville! Don't miss Hole and Vortex, and if you like Boston Cream Donuts then head to Geraldine's! Want to try them all? Don't miss our full guide to the best donut shops in Asheville here!
Shop local in West Asheville! Flora is a great plant shop (plus a coffee shop!) and Provisions Mercantile always has a great inventory of cooking supplies, accessories, books, puzzles, etc. You'll also find a ton of vintage shops in West Asheville. Reciprocity and Twice Round always have something fun (and what a fun souvenir if you find something good!)
If it's a Saturday, check out a local farmer's market ('tis the season, after all!) There are a ton of tailgate markets around town. The North Asheville Tailgate Market at UNCA is a great stop to live like the locals live. You can grab a few local goodies, fresh produce and even a pastry from Owl Bakery!
Immerse yourself in nature at the Botanical Gardens. It's right by the North Asheville Tailgate Market and is an excellent stop in the spring. It's free and has walking paths, creeks, a meadow and tons of benches to sit down and enjoy nature. If this piques your interest, you can read our full post about the Botanical Gardens here.
Grab a picnic lunch and head to the NC Arboretum. If you are traveling with kids, the model train runs on the weekends at the Arboretum. It's seasonal but I think it starts again in April. Otherwise, spend time admiring nature and the various exhibits. Through May 8, 2022 you'll find the 'Thanks FLO' exhibit, a tribute to Frederick Law Olmstead who planned both Central Park (his first major design) and Biltmore in Asheville (his final one.) Read more about the exhibit on the Arboretum's site.
Speaking of picnics, we love getting takeout picnic food from Montford Deli (Montford), Asheville Sandwich Co (West Asheville), The Rhu (downtown), Homegrown (North Asheville) or City Bakery (downtown AVL and North Asheville.) Mother AVL is also a good one and new to the scene! They just opened up in the RAD and have great grab & go ham and butter sandwiches.
Hike around Lake Powhatan— it's only 15 minutes from downtown Asheville and is an easy + fun hike for kids. You can read about our recent hike at Lake Powhatan here!
One last note on this spring Asheville Itinerary
No matter what you decide to do, we hope you have a great visit to our wonderful city! And don't stress about seeing it all, you pretty much can't go wrong. If you are looking for more information about areas of town be sure to check out our neighborhood guides and our full