Resources for your next great Asheville Adventure
Planning a trip to Asheville is tough because there is so much going on!
I'll be the first to say there's an overwhelming amount of things to do. There are too many breweries to visit, too many hikes to conquer and way too many brunch spots. There's the River Arts District and West Asheville shops. There's the Biltmore and a spectacular downtown. The Blue Ridge Parkway. The NC Arboretum. The music venues and distilleries. The cute cafes and coffee shops tucked away out of sight. And… ok, there's a lot going on in Asheville.
In it we share our must-do recommendations for visitors, our favorite restaurants and how to live like a local in Asheville. It covers a typical Friday to Sunday visit, but you can do most of the ideas mentioned any day of the week.
We also made it more of a choose your adventure style itinerary so that you can do the things you really love.
But we also know that our perfect weekend may not be yours!
So, to help plan your perfect trip, we have a ton of resources to guide you in the right direction.
Let's talk food.
Check out our best restaurants in asheville list!
Asheville is definitely a foodie's town, with everything from gourmet farm-to-table spots with menus that change daily to wildly good vegan food and two 2022 James Beard Award winning restaurants. Our guide shares the best of the best!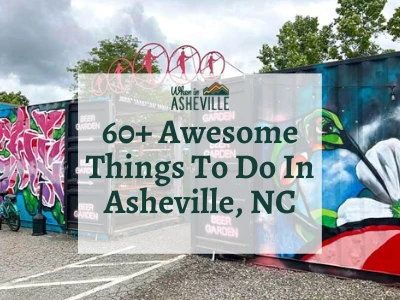 Want a ton of ideas for things to do?
Pick the best time to visit.