Ultimate Guide to the Best BBQ in Asheville
Oh yes, we have rounded up a list of the best BBQ Asheville has to offer! You can't beat Carolina-style bbq, especially when it has an Asheville foodie twist. This guide to Asheville's best BBQ restaurants is full of fun finds, from fancy nights out to down-home favorites.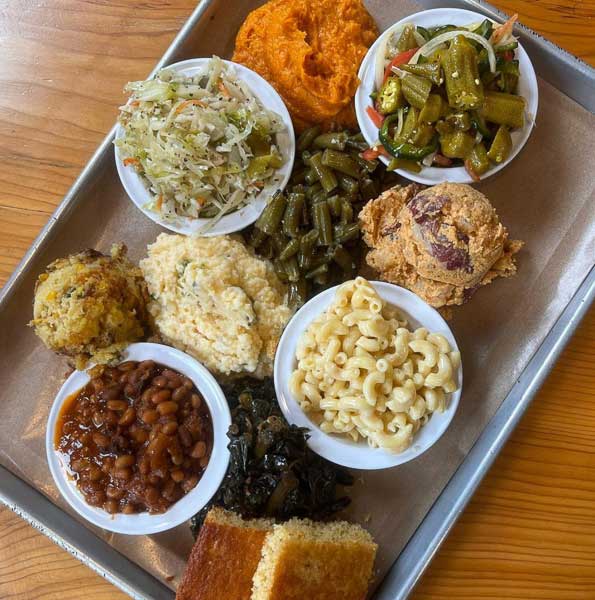 Whether you are looking for the best Carolina BBQ, a fun place for whole family or the best ribs in town, our guide to barbecue restaurants in Asheville will point you in the right direction.
What You'll Find In This Article
Where To Get BBQ In Asheville
Before we get into the details of Asheville's best BBQ joints, we wanted to share a map to help you find the spot most convenient for you!
A Guide to Help You Find the Best Asheville BBQ
Before we dive in, all of the restaurants listed in our Asheville BBQ guide are great, but the top four are the ones we recommend most often!! We hope this guide gives you a good lay of the land and inspires you to explore the Western North Carolina BBQ scene.
Trendy upscale BBQ restaurant with a lively vibe and great food
Buxton Hall BBQ is one of Asheville's best BBQ spots, combining awesome Eastern Carolina barbecue recipes, a love for the craft, local pastured pigs, a renowned restauranteur*, a James Beard-nominated chef and a really fun atmosphere in a cool part of town.
It's definitely a must-visit restaurant if you are visiting Asheville. Whether you are looking for a classic pulled pork plate, an epic fried chicken sandwich or just want some southern dessert, you will love Buxton Hall!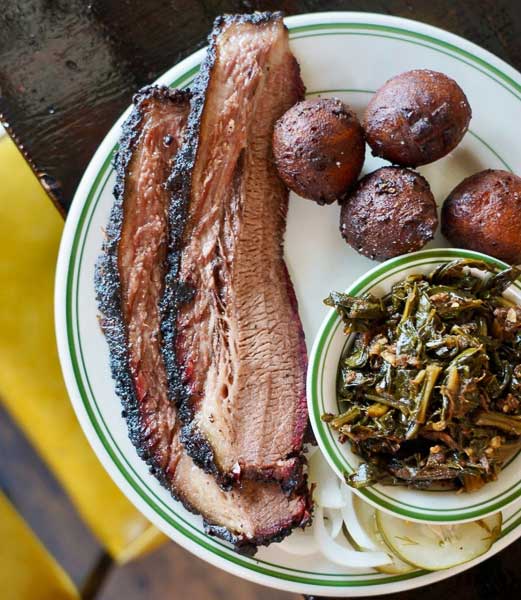 What to order at Buxton Hall: Get a plate of their whole hog pulled pork plate with two sides (we will always recommend the collards and mac & cheese) if you are feeling the classics. Hash and rice is another crowd favorite and their buttermilk fried chicken sandwich is not to be missed.
What we love about Buxton Hall: The food is amazing and the atmosphere is unmatched. It's in a stunning industrial-style space that in its previous life was a roller skating rink, a boat showroom and a paper sales company. We also love Buxton because they source locally when possible, including hogs from Lake Lure's Vanele Farms.
The cult following of Buxton Hall's chicken sandwich led to the 2021 opening of Buxton Chicken Palace at the S&W Market food hall in downtown Asheville.
*Buxton Hall BBQ is part of Meherwan Irani's portfolio along with Chai Pani (absolutely amazing Indian fare in downtown Asheville!), Spicewalla, Bodiwalla, Nani's Rotisserie (Atlanta) and Buxton Chicken Palace.
Delicious pulled pork with vinegar sauce and a takeout favorite
Luella's is one of our favorite BBQ restaurants in Asheville and one of our favorite restaurants for takeout. It's also our pick for the best barbecue restaurant for kids in Asheville because they have a casual environment and delicious mac and cheese.
They serve up Eastern Carolina-style BBQ in a vinegar sauce that is always exceptional! Luella's BBQ also has several other sauce varieties available if you are more of a mustard or tomato person. Apart from pulled pork, you'll find great brisket, smoked wings and even vegan BBQ tempeh. And don't miss their banana pudding!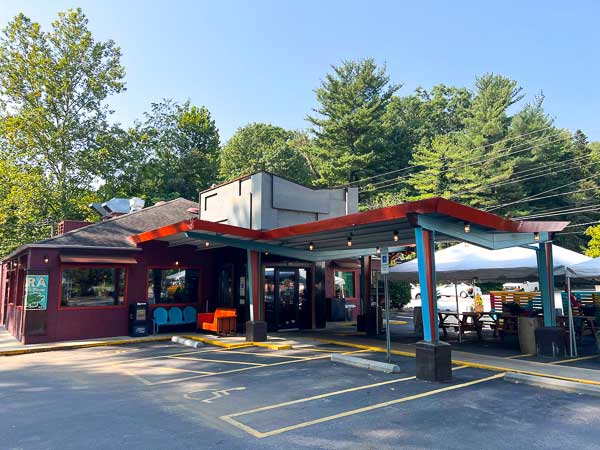 What to order at Luella's: Luella's is known for their pulled pork, brisket, and mac and cheese (burnt ends mac and cheese is also on the menu!) Their smoked wings are great and they have BBQ tempeh on the menu for our vegetarian friends.
What we love about Luella's: Their BBQ Family Pack (2 pounds of meat, 3 sides and hush puppies) is always a hit! When feeding a large group we always order a family pack with pulled pork, okra, collards and green beans, a large side of mac and cheese, smoked wings, sweet potato chips and a gallon of tea.
A much-loved Asheville spot with world-class ribs
If you're wondering where to get the best ribs in Asheville, 12 Bones Smokehouse gets our vote! They have a location in the River Arts District and another in South Asheville.
12 Bones keeps it simple with its menu: a few different types of meats served as either a platter or a sandwich. They have a ton of sides to choose from as well as a few salads on the menu.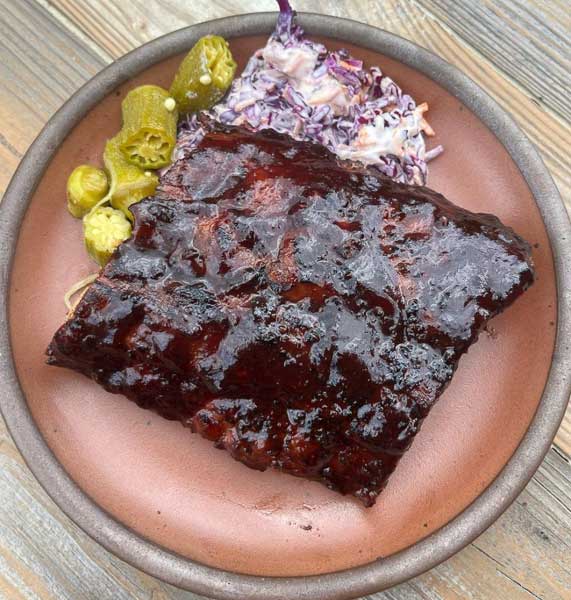 We always come back to their ribs— especially the brown sugar rub and the blueberry chipotle ones. Yes, blueberry! And yes, they are amazing!
12 Bones is Barack Obama's favorite spot to grab BBQ when he is in Asheville, after all. We love sitting outside at their RAD location and then grabbing a beer next door at Wedge Brewing.
PS: 12 Bones is on our shortlist of the best takeout restaurants in Asheville.
What to order at 12 Bones: Ribs!! Their blueberry chipotle ribs (sweet with a kick) is one of our favorite dishes in town! We also love their brown sugar-rubbed ribs, collard greens, corn pudding and jalapeno cheese grits.
What we love about 12 Bones: Their menu includes a Just a Taste section, with sides of pulled pork, pulled chicken, smoked turkey and 3 ribs. This is the perfect way to sample something new (or try everything!)
Authentic homestyle BBQ just west of Asheville
If you are looking for the most authentic feeling Carolina barbecue restaurant in Asheville, head to Doc Brown's. Located just outside of Asheville, this Candler BBQ spot is worth a visit if you're nearby (and even if you aren't!) Doc Brown's has a ton of fun menu options, great portion sizes and a really great local feel.
They have three different sauce types and three different types of slaw, so you can mix it up with each visit. Our go-to is their SC mustard sauce, though all are great!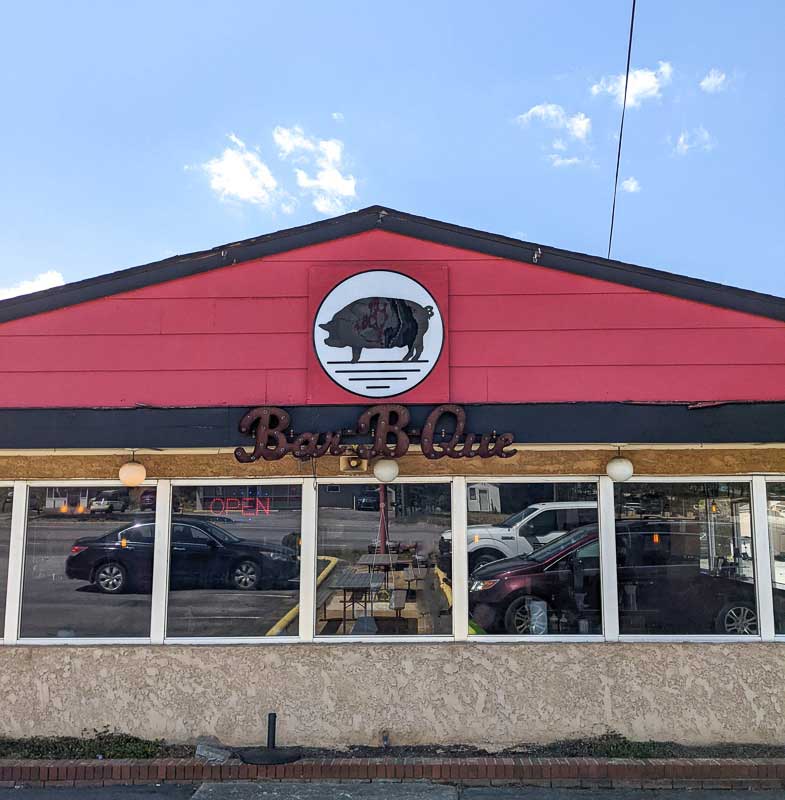 What to order at Doc Browns BBQ: A little bit of everything! Try their pulled pork plate with a few sides and different sauces. And definitely grab a cole slaw flight so that you can try all three. You can't go wrong with their sides, especially the macaroni and cheese pie. They also have Bourban applesauce (seasonal), which is always a fun addition to your plate.
What we love about Doc Brown's BBQ: We love the variety at Doc Brown's and the way it feels like a local gem. It's a quick drive west from downtown Asheville but feels like a totally different world.
5. Huli Sue's BBQ and Grill
Classic BBQ with a Hawaiian twist
Located in the Grove Arcade, Huli Sue's BBQ and Grill brings an exotic twist to the Asheville BBQ scene with a Hawaiian BBQ and grill. In addition to their classic BBQ menu that features brisket, pulled pork and baby back ribs, Huli Sue's also has plenty of seafood and grilled options on the menu.
Their bright and trendy interior creates a fantastic ambiance for a great dining experience. They also have outdoor seating on the wide sidewalk along the beautiful exterior of the Grove Arcade.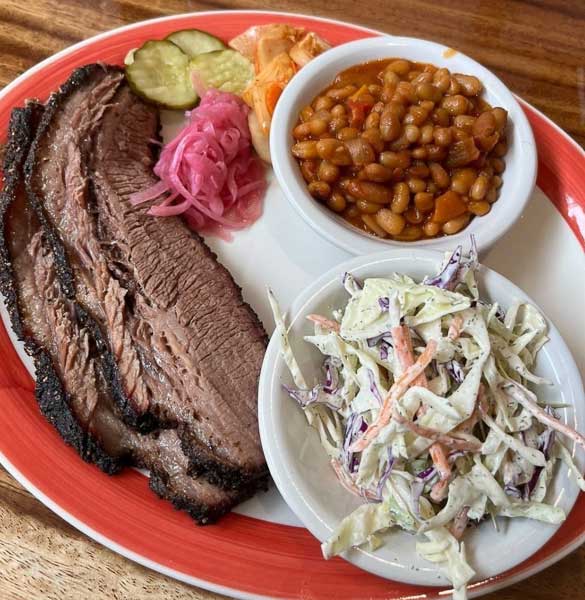 What to order at Huli Sue's: Their brisket is incredible and just melts in your mouth. You can order the brisket as a plate, sandwich or on nachos. To try all the BBQ, order The Sampler. It includes brisket, pulled pork, baby back ribs and house-made sausage. And can't forget the mac & cheese and the grilled pineapple!!
What we love about Huli Sue's: A taste of Hawaii in Asheville! It's such a fun + unique concept and perfectly executed. Expect amazing food, an awesome space and very friendly people!
6. Bear's Smokehouse Barbecue
Taking BBQ to the next level with outrageous bites and a few vegan options too
Now onto another fan-favorite BBQ restaurant on the list: Bear's Smokehouse! This Connecticut-based barbecue restaurant has an awesome space in South Slope and are also located in South Asheville at Sweeten Creek Brewery.
You'll find excellent brisket, ribs and even vegan meatloaf at Bear's. They also have some wild menu items, like their bear balls with mac and cheese, pulled pork and cornbread battered, fried and topped with cheese and bacon. As intense as they sound!
Bear's in South Slope has a great outdoor seating area with picnic tables, fire pits, bistro lights and Adirondack chairs. They also have indoor seating along with a full bar.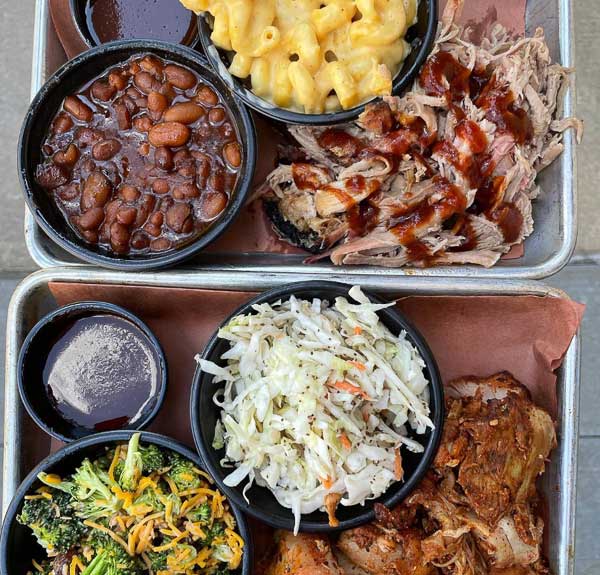 What to order at Bear's Smokehouse: Bear's has all of the barbecue classics (pulled pork, pulled chicken, turkey, brisket, ribs), as well as wings and Texas sausage. No Carolina-style sauces here, though! Instead, you'll find Kansas City sweet sauce, Texas pepper sauce or grizzly ghost pepper sauce.
What we love about Bear's Smokehouse: We love the outdoor seating at Bear's combined with their delicious, hearty food. It's a fun spot for dinner when your plans include brewery hopping in South Slope.
Authentic Carolina-style BBQ at a roadside takeout joint
Hidden Gem Alert! Big J's no-frills barbecue establishment in South Asheville is the perfect spot to grab a quick BBQ sandwich or pick up a to-go dinner for the entire family. Their menu includes all the traditional Carolina-style BBQ offerings including pulled pork, ribs, chicken and sides.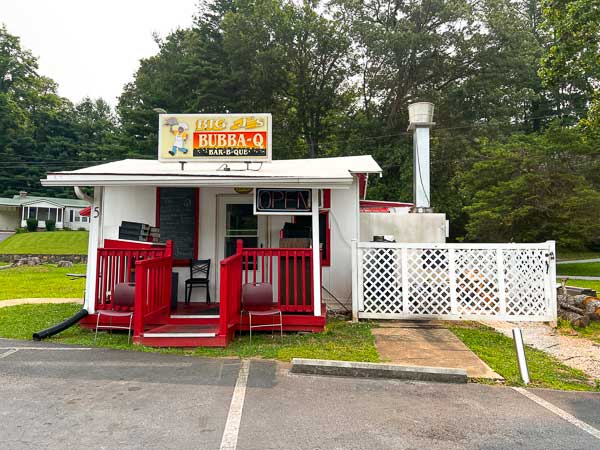 What to order at Big J's Bubba-Q: We recommend you go with a classic pulled pork plate or pulled pork sandwich. If you're feeding a group, you can also get pulled pork by the pound or half pound. Their sides are amazing too — make sure you try the mac and cheese and the green beans.
What we love about Big J's Bubba-Q: We love the authentic feel that Big J's exudes. You can taste the love, care and experience that goes into making this ultimate comfort food.
Delicious fast and casual BBQ joint
And now let's go to the east side of Asheville to Black Bear BBQ! Located ten minutes east of downtown Asheville, Black Bear BBQ is an unexpected find in an unassuming shopping center.
Formerly Webo's BBQ, the owners of Mojo took over in 2020 and quickly made Black Bear BBQ a local go-to. You'll find a large menu with all the sides and fixin's you could dream of. They also have great desserts (like the banana pudding!) and tons of options to feed large groups.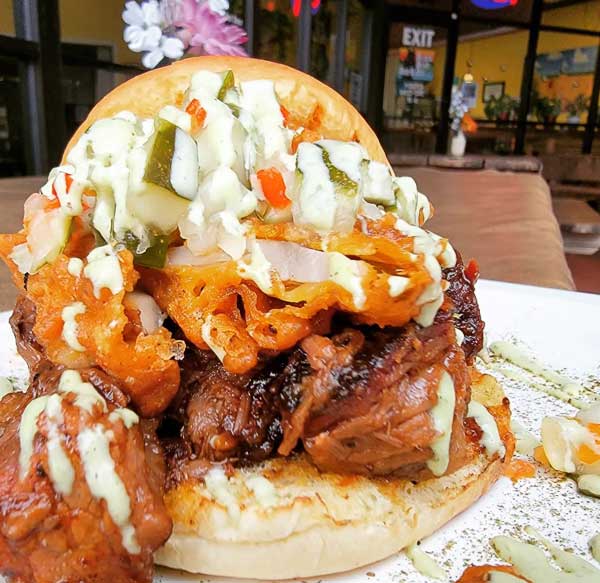 What to order at Black Bear BBQ: Try the sampler plate for a little bit of everything! We also love their mac & cheese and collards. And make sure to check out their weekly burnt end sandwich special. Past flavors range from elote corn salad to jalapeno mango salsa to a kimchi with yellow sriracha. They have even done one with mozzarella sticks, salami and marinade! You can check their Instagram for the flavor of the week.
What we love about Black Bear BBQ: We love their sampler dinner plate (1/4 lb. pulled pork, 1/4 smoked chicken, 1/4 lb. Sausage link, 2 sides, choice of roll or cornbread and 2 sauces) and would definitely recommend it for your first visit if you aren't sure what to get. Make sure to add a dessert though!
Quintessential roadside BBQ joint in picturesque mountains
Less than 15 minutes from downtown Asheville, Smokey & the Pig is a perfect mountain BBQ spot near Fairview, NC. Their authentic Carolina BBQ is smoked in a wood-burning smoker, giving the BBQ a classic wood-smoked taste.
Smokey & The Pig's menu includes sandwiches, plates and bulk options. They offer pulled pork, pulled chicken, beef brisket and ribs. They even make ordering for the whole family easy with preset family meal deals.
Smokey & the Pig is primarily a takeout restaurant but they do have a few outdoor tables. There is no indoor seating available.
What to order at Smokey & the Pig: You can't go wrong with their pulled pork plate. That way you can get two of their delicious sides. We love the mac & cheese and the sweet potato crunch!
What we love about Smokey & the Pig: We love the authentic BBQ flavor, smoked over real wood and without sauces or rubs. It makes for a delicious and simple BBQ where you can taste the complex smokey flavor.
Asheville's oldest BBQ joint
With claims to Asheville's oldest BBQ joint, you know you are in for a treat! Little Pigs is located just south of downtown Asheville near Biltmore Village and Mission Hospital.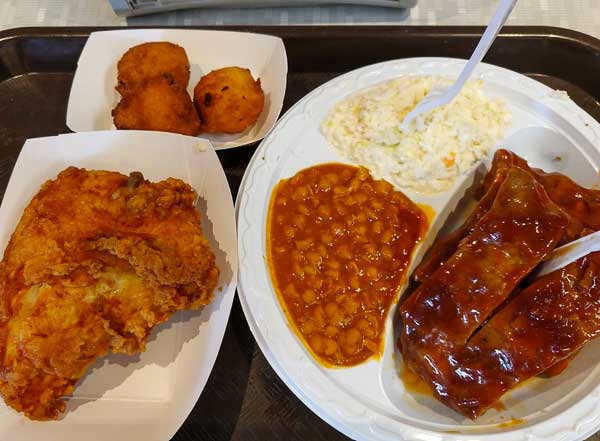 It's nostalgic in all of the best ways and has great food, too. In addition to pulled pork, they also have broasted chicken that is cooked in a pressure fryer!
What to order at Little Pigs: We keep it classic at Little Pigs and typically get a BBQ tray with slaw, hushpuppies and vinegar sauce and a broasted chicken (fried) dinner with black beans and potato salad. You can also get ribs in a sweet tomato sauce or a Nathan's hot dog.
What we love about Little Pigs: It's such a nostalgic peek at a simpler time, with their comfort food style of BBQ and vintage decor. It's an unexpected delight in a foodie town— something you'd imagine tucked away in a tiny NC city and not just south of the busy downtown Asheville area.
Alabama-style BBQ near Biltmore Village
Moe's Original BBQ chain is a little bit different than the other Asheville BBQ restaurants on this list in that they serve up Alabama-style barbecue. That means you'll get the traditional Alabama-style white sauce in addition to red BBQ sauce.
You'll find all the BBQ classics at Moe's (pulled pork, smoked chicken, smoked turkey) served up as either a sandwich or platter and each meal comes with two sides. You can also get a ribs platter or smoked wings platter.
They have great sandwiches and platters and an absolutely amazing everyday sides menu and daily specials menu. Their sides menu includes the classics like mac and cheese, collards and slaw. The real fun is their daily specials, with sides like squash casserole, fried okra and skillet corn. Moe's posts their side specials daily.
What to order at Moe's Original BBQ: Get a pulled pork plate with two sides, and then plan to order a couple of extra sides because there are just too many to choose from! And definitely don't miss dessert!
What we love about Moe's Original BBQ: Sides, sides, sides! It's impossible to choose and everything is always fantastic (though last time our collards were a little too salty to eat.. just FYI!)
PS: Moe's is a great place to turn to when you need to feed a group or order catering. In fact, they have a whole catering department and catering menu that includes delivery.
Other Restaurants with Great BBQ Menu Items
A running list of the non-BBQ Asheville restaurants that also happen to have great BBQ on the menu.
---