Your Guide to Restaurants on The Biltmore Estate
The Biltmore Estate is known for its beautiful grounds and America's largest home, but did you know there are also a ton of restaurants on the property?
You'll find various dining options all over the Biltmore Estate, from a food truck at Antler Hill Village to a four-star dining experience at The Inn.
You'll either need to be an overnight guest at the Biltmore, or have a daytime ticket or Biltmore Annual Pass to dine at one of the many restaurants around the property. The exception to this is the Dining Room at the Inn– only overnight guests and annual passholders (Jan-Oct) can dine there.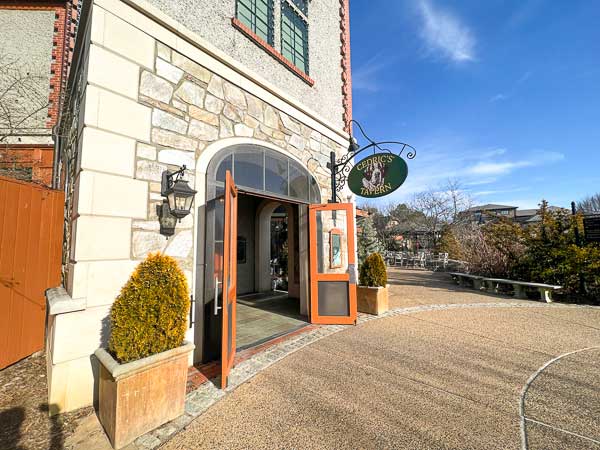 I do want to point out that Biltmore Estate restaurants tend to be more expensive than other restaurants in Asheville. This comes with the territory of eating at an attraction.
Also, while The Dining Room is known for their exquisite menu and presentation, the other restaurants on this list aren't necessarily foodie places. They aren't bad, but the food is more 'good' than 'great'. But they are perfect options if you plan to spend the whole day on the estate and want to get the true experience, or if you are staying the night and prefer not to leave the property.
PS: If you want the best of Asheville dining, start with this list of our favorite Asheville restaurants.
Biltmore Restaurant Guide: Table of Contents
Restaurants on the Biltmore Estate are scattered around the property, with the majority being near the Antler Hill Village / Village Hotel area. We thought it would be helpful to start off by listing restaurants by where they are on the property.
After that, we share details on picnicking, our picks for the best lunch and dinner restaurants, the dress code for dining and even share which restaurants cater to special dietary needs. Use this table of contents to jump around as needed!
Restaurants at Biltmore's Antler Hill Village and Village Hotel
Antler Hill Village really does feel like a small little town. And it's particularly charming when it's lit up for Christmas! You can find restaurants for every meal of the day, coffee, ice cream and even a wine bar.
There's parking available close by and it's just next door to the Village Hotel if you are staying on the property. Below are details on the various restaurants at Biltmore's Antler Hill Village.
Cedric's Tavern
English pub fare with great outdoor seating! At Cedric's Tavern, you'll find fish & chips featuring fresh haddock and a remoulade sauce, a pub burger and even bangers & mash.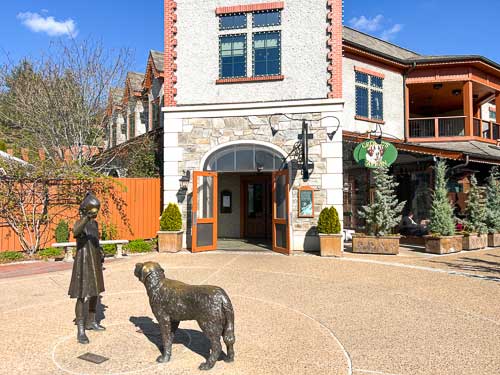 And I can't forget their house pickles! They really do come in a jar to the delight of our two kids. Speaking of kids, Cedric's has a dedicated kids menu with a burger, corn dog bites, chicken tenders and even a kids fish & chips.
Cedric's Tavern is open for lunch and dinner. You can make reservations or walk in, though their waitlist can get pretty long.
Wine Bar at the Winery
Enjoy a wine flight and relax at Biltmore's Wine Bar. You'll find seating both indoors and out, as well as a fire pit perfect for a chilly Blue Ridge Mountain day.
Wine is available by the glass, bottle or even a flight. You'll also find non-alcoholic beverages, including sparkling grape juice and coffee. If you are wondering if you can bring your kids to Biltmore's winery, the answer is yes!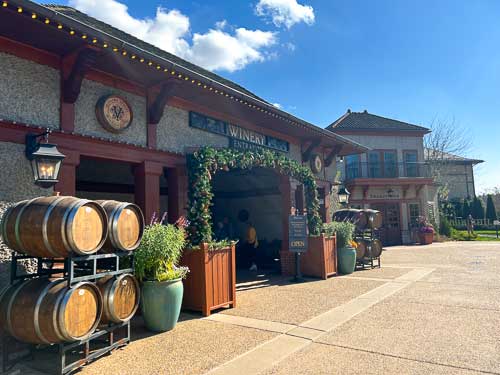 Did you know that your Biltmore admission also includes complimentary tastings at the Winery?
Reservations are required for all wine tastings. Plan to make reservations for a tasting the day of your visit.
And there's not just wine! The Wine Bar's menu also includes a few sharable bites, like a cheese board, charcuterie board and hummus plate. Reservations are not required for the Wine Bar.
Village Social
A casual dining spot serving breakfast, lunch and dinner, though dinner is not daily so you'll want to check before making plans.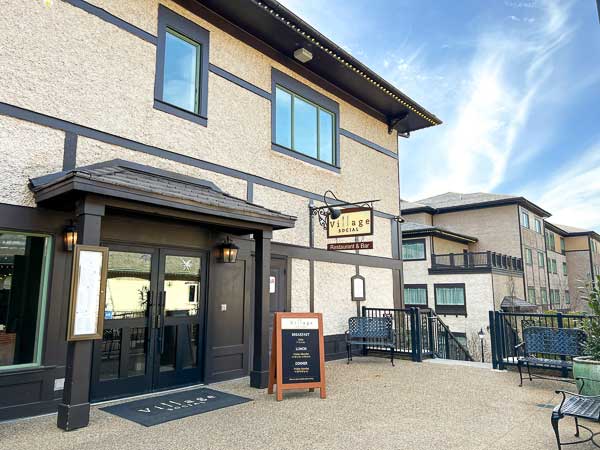 Breakfast options include an omelet, a breakfast sandwich, lox and even a pecan waffle. For dinner, you'll find fried green tomatoes, meatloaf, shrimp & grits and more. You'll even find a kids' menu here.
Village Social is located at the Village Hotel and not in the main Antler Hill area with the Creamery, Cedric's Tavern and the Winery.
Bistro
Biltmore's Bistro is a great spot for dinner, especially if you are staying overnight. You'll find an open kitchen and a casual setting serving everything from filet mignon to rigatoni. See the full menu here and don't forget to make reservations in advance.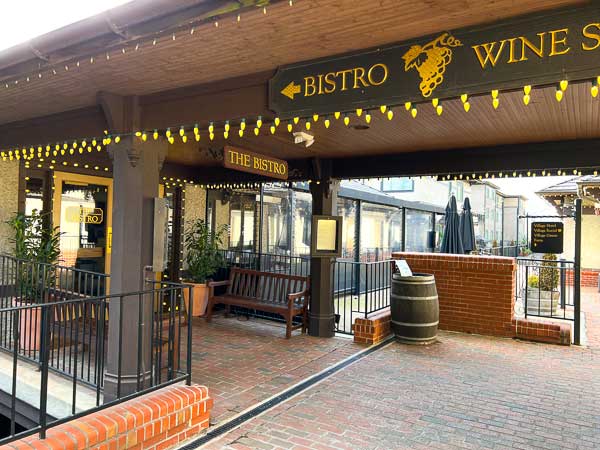 You can opt to dine outside at the Bistro and we definitely recommend this if the weather permits. There's a great patio with tables and umbrellas. It would be an especially nice stop for lunch.
Bistro is open for dinner only. Like Village Social, Bistro is located at the Village Hotel.
The Kitchen Café
One last restaurant inside Biltmore's Village Hotel! It's actually a perfect stop if you want a quick bite to eat. The Kitchen Cafe is open for breakfast and lunch. Their menu includes coffee, espresso, tea, baked goods and sandwiches. To be honest, it reminds me of an airport grab-and-go type of place. It's less of a restaurant than the other spots mentioned above.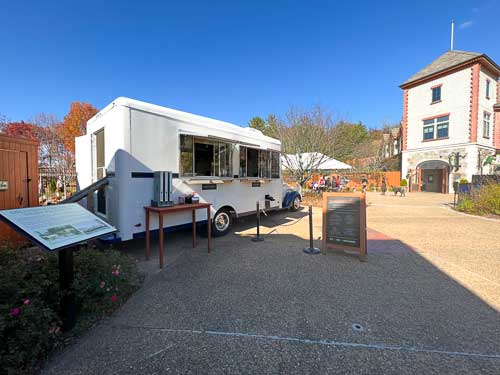 Smokehouse Food Truck
An unexpected find at Antler Hill Village! This food truck is a great stop if you aren't looking for a sit-down lunch inside a restaurant. It's also located next to an ice cream shop and they make an excellent pair.
You'll find BBQ on the menu, as well as hot dogs and some wildly good mac & cheese. The hot dogs are just plain, regular, nothing fancy hot dogs. But the mac and cheese is excellent! Our kids love getting food at Smokehouse and sitting at the various tables scattered around Antler Hill Village. And of course, ice cream after!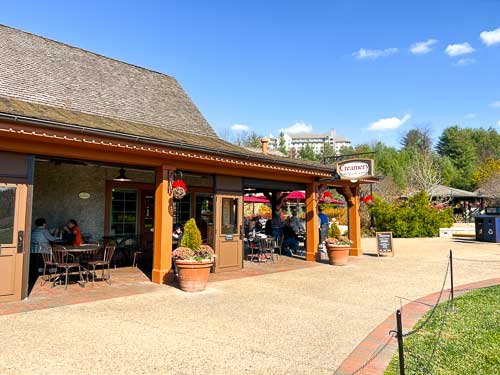 The Creamery
Speaking of places that aren't actually restaurants, there is an ice cream shop at Antler Hill Village! They have a covered patio and it's the perfect spot on hot summer days.
Their menu includes espresso drinks, though I personally prefer a sundae! Their famous Winky Bar Sundae includes black cherry ice cream, chocolate sauce, peanuts and whipped cream. And our kids love getting an ice cream cone.
---
Restaurants at The Inn on Biltmore Estate
Nestled atop a hill not too far from Antler Hill Village, is the gorgeous and grand Inn on Biltmore Estate. Apart from the wonderful spa, the beautiful suites and the great views, you'll also find some of the best restaurants at The Biltmore.
Below are details on dining at The Inn on Biltmore Estate. Poolside dining and room service are also available at The Inn.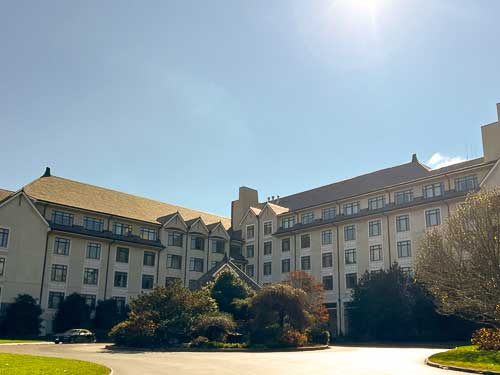 The Dining Room
Note: only overnight guests (year-round) and annual pass holders (Jan-Oct only) can dine at The Dining Room.
The Dining Room is a four-star restaurant with white tablecloths, fine china and crystal. Apart from exquisite food and ambiance, you'll also enjoy amazing views of the estate from the restaurant. It is definitely the best place to eat at the Biltmore because it gives you a true Vanderbilt-style experience.
Their menu includes seafood, hand-crafted pasta and seasonal meat options, like a sage-crusted lamb rack and seared duck breast. Not only is their dinner incredible, but their dessert is also not to be missed.
The Dining Room has a breakfast and brunch buffet in addition to dinner. Resort elegant attire is required for dinner, and resort casual is recommended for breakfast.
Library Lounge
Enjoy cocktail service and a few bites at the Library Lounge located in The Inn. It's an elegant yet relaxing spot with Biltmore Wine on the menu and both savory bites and sweet treats. Additional details.
---
Restaurants near the Biltmore House
You'll find a few dining options at the Biltmore House. Most of the ones mentioned below are located to the right of the house when at the entrance. The exception to this is the Conservatory Café, which is located south of The Biltmore House at the Biltmore Conservatory.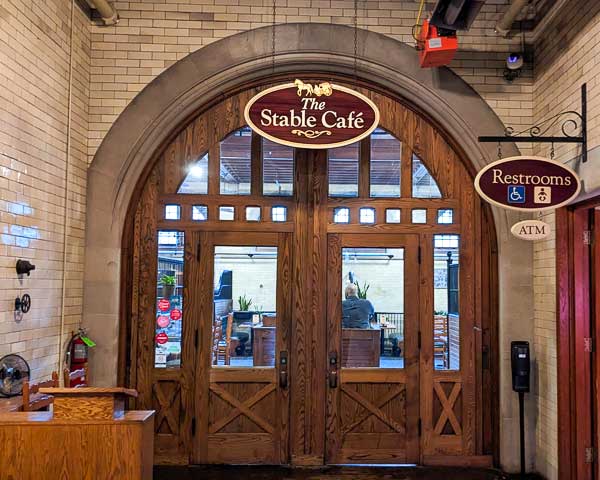 Stable Café
As the name somewhat hints, this cafe is actually set inside the estate's horse stable. It's such an interesting and unexpected space, with towering ceilings and brick floors. The most noteworthy part is that some of the tables are even set in what were once horse stalls.
Stable Café is a lunch-only spot, with sandwiches, burgers, shrimp & grits and even a BBQ sampler on the menu. There's also a kids menu with chicken tenders, a grilled cheese, a cheeseburger, a BBQ sandwich and a BLT. And don't skip out on dessert! You'll find everything from a Bilts'more cake to a 21+ red velvet cake with Bailey's Irish Cream icing.
Stable Café is a top contender for the best place for lunch at the Biltmore. It can get busy, so make a reservation in advance to avoid a wait.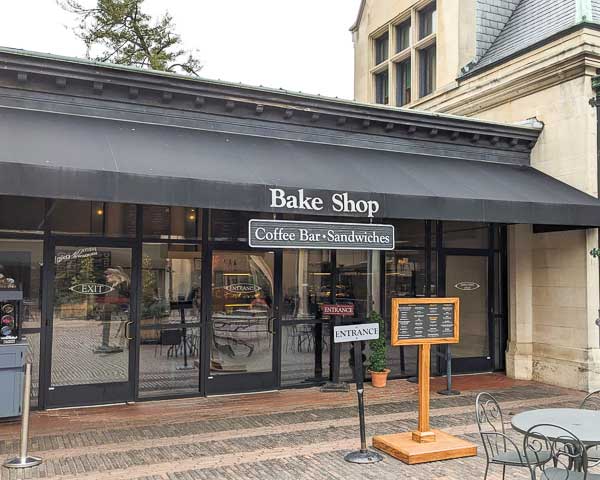 The Bake Shop
An easy place to grab a quick bite after your tour of the Biltmore House. It's located just to the side of it and offers pastries and other baked goods. You can also get a coffee, espresso drink, hot chocolate or hot tea. You'll find gingerbread men during the holidays at The Bake Shop.
There's a great courtyard area out front with tons of tables up for grabs.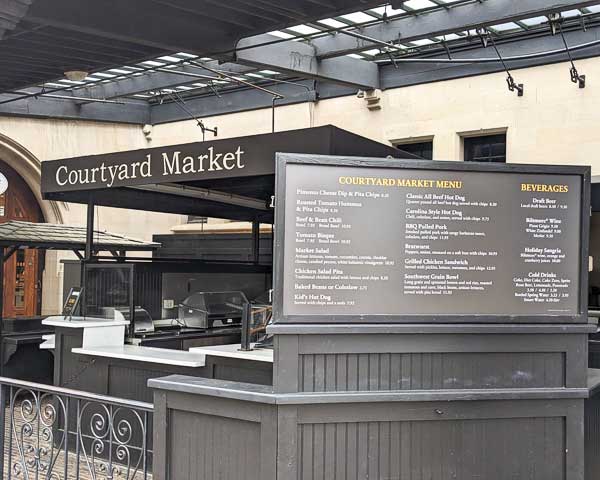 The Courtyard Market
This casual order-at-the-counter restaurant is also located by the Biltmore House. You'll find hot dogs, BBQ pulled pork, salads, snacks and even beer and wine on Courtyard Market's menu. There are tables out front (the same ones by the Bake Shop) where you can dine and relax a bit.
Courtyard Market is closed for the season as of Winter 2023.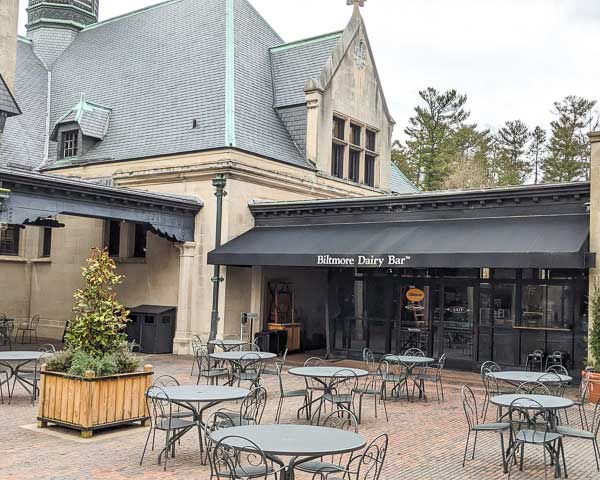 Biltmore Dairy Bar
A seasonal ice cream shop with cones, milkshakes, sundaes and other drinks (including a pina colada milkshake!) They also have their famous Biltmore Churn available– creamy swirled vanilla with peanut butter cups. Make it a sundae with chocolate sauce, whipped cream and a cherry! Biltmore Daily Bar is definitely our pick when near the Biltmore House and needing an afternoon snack.
Biltmore Dairy Bar is closed for the season as of Winter 2023.
The Conservatory Café
Hidden on the Conservatory's back patio is a small kiosk-style café where you can order Biltmore wines, light snacks and small plates. Don't plan on a full meal at the Conservatory Café, but it's a great stop for to sit for a moment and enjoy a refreshment. There are a few tables available.
The Conservatory Café is closed for the season as of Winter 2023. They will reopen in Spring 2023.
---
Where to picnic on the Biltmore Estate
Did you know you can picnic at the Biltmore!? We didn't want to leave it off our dining list because the Biltmore offers excellent spots for picnics.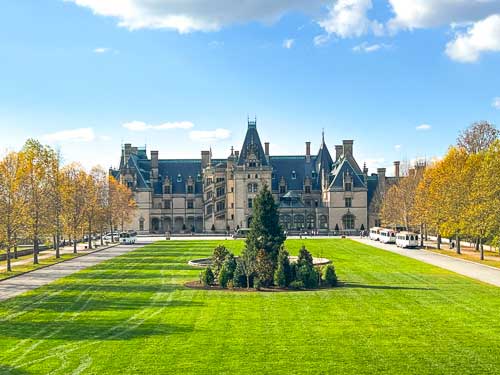 One of our top picks for the best picnic spot on the Biltmore Estate is the lawn with the Diana statue. It's up a series of steps in front of the house and offers magnificent views.
Bring a picnic blanket and enjoy a picnic, outdoor time and excellent opportunities for people-watching.
Pictured is the view from the stairs up to the Diana statue lawn. Note: don't picnic on the lawn in the photo! This is the Front Lawn and food and beverage is not allowed here.
Another great picnic spot on The Biltmore Estate is on the Deer Park Trail along the French Broad River. Bring a chair and enjoy the views!
Another option for picnicking at the Biltmore by water is the bass pond and surrounding trails. You can get here by taking the walking path from the Conservatory to the bass pond. There's also a small waterfall located at the south end of the pond.
You can read more about Biltmore's picnic policy on their site.
---
Now that we have covered all of the dining options, we thought it would be good to quickly give a few suggestions to make your time at the Biltmore a bit easier. And if you need more help, check out our guide to planning your Biltmore visit.
Kid-Friendly Restaurants at the Biltmore
We certainly know our way around the Biltmore's dining scene with kids! Not only are there several restaurants with dedicated kids menus, but even the atmosphere at some make them a great destination with kids.
For lunch we recommend getting takeout from the Smokehouse food truck if you want something quick. It's a very kid-friendly menu and also just next door to The Creamery.
If you are looking to dine at a 'real' restaurant for lunch in the Antler Hill Village area, Cedric's Tavern is our second pick. They have outdoor dining, a kids menu and even a jar of pickles on the menu!
If you are closer to the Biltmore House, Stable Cafe is a great option for lunch at the Biltmore with kids. Your younger ones will love the converted horse stable. And their prices are actually pretty great considering you are dining at an attraction. As of Winter 2023, kid meals are all $6.95 and include a side (applesauce, potato chips or french fries) and a small drink. Choose from chicken tenders, a burger, BLT, BBQ sandwich or grilled cheese. And if you have room, our kids give the Bilt'smore Cake two thumbs up!
Did you know you can also bring your kids to the winery? Now, you probably wouldn't want to have them running around and being too noisy, but if yours are on the chiller side… it's a pretty cool stop! You can taste wine while they sip on grape juice.
---
Best restaurants for lunch at the Biltmore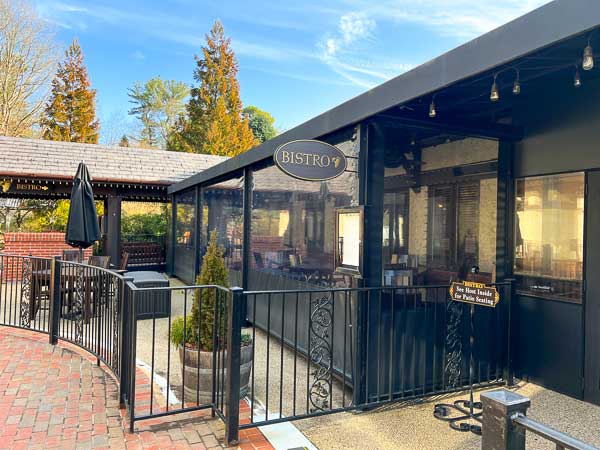 If you want something quick for lunch, the Smokehouse food truck is the way to go. Yes, you'll find overpriced hot dogs on the menu. But sometimes that's needed, especially with kids in tow when speed is of utmost importance!
If you want an only-at-the-Biltmore experience, get lunch at Stable Cafe. This is the restaurant located inside a horse stable of yesteryear just by the Biltmore House. We recommend reservations for this dining experience!
If you want to have lunch outside, Bistro is a great option. It's located at the back of Village Hotel and offers a great patio full of tables with umbrellas.
Bistro is table service but if you are looking for outdoor dining that is order-at-the-counter, head to the Courtyard Market by the house! It's located by The Dairy Bar, so you can enjoy an lunch followed by delicious ice cream. Perfect for a hot day!
---
Best restaurants for dinner at the Biltmore
If you are looking for a true Biltmore experience, we highly recommend The Dining Room for dinner at the Biltmore. Absolutely nothing compares. Make a reservation online and prepare to be wowed. We recommend an early-ish dinner so that you can enjoy the views before the sun sets.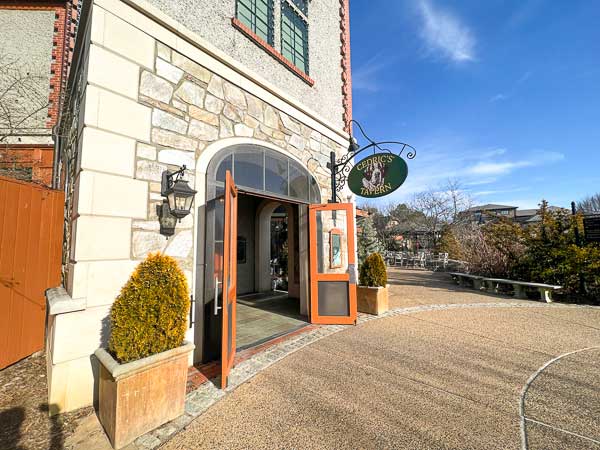 If you are dining with kids, Cedric's Tavern is a great option for dinner. This is especially true when you can enjoy their seasonal al fresco dining.
Their kids menu covers the bases and they even have a brownie sundae on the menu if you need to do any bribing during dinner.
Plan to make reservations so that you won't need to wait around!
---
Where to get a snack at the Biltmore
My favorite category! There are several places at the Biltmore where you can get a quick snack or small treat. See below for a few of the best ones!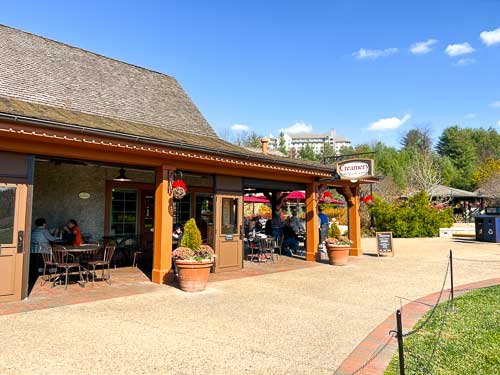 If you are in need of ice cream at the Biltmore, head to The Creamery in Antler Hill Village or Biltmore Dairy Bar by the House. The Dairy Bar is seasonal but The Creamery is open year-round. Both offer delicious ice cream, milkshakes and sundaes.
If you want a pastry, the Bake Shop by the house is the perfect destination. Grab a muffin and a hot coffee before or after you explore the mansion.
And if you want to enjoy a glass of wine with some light snacks, the Winery is a great destination. Enjoy a complimentary wine tasting (reservations required– make them the day of) and a few small plates.
---
Dress Code for Biltmore Restaurants
You can dress as you please for most of the dining options at the Biltmore, but there are a few exceptions highlighted below.
First, plan to wear "resort elegant" attire to The Dining Room for dinner. It is a four-star dining experience, after all! Per their recommendations, this includes slacks, dress shirt, dress, suit jacket and/or suit.
If you are joining them for breakfast at The Dining Room, you can wear "resort casual" attire. This is generally the dress code at all other Biltmore restaurants. Just don't show up in a swimsuit or bathrobe!
The Biltmore also encourages resort elegant attire for evening cocktails and entertainment at the Library Lounge.
---
Dietary options at Biltmore restaurants
Several of Biltmore's restaurants cater to certain dietary needs. Some even offer menu substitutions to accommodate special dietary needs and have separate menus. For example, Cedric's Tavern has dedicated Dairy-Free and Gluten-Free menus available.
Biltmore restaurants with gluten-free options
Bistro
Cedric's Tavern
The Dining Room
Library Lounge
Stable Cafe
Wine Bar at the Winery
Biltmore restaurants with vegetarian options
Bistro
Cedric's Tavern
The Dining Room
Library Lounge
Stable Cafe
The Bake Shop
The Courtyard Market
The Kitchen Cafe
Wine Bar at the Winery
---
Want more details on dining near the Biltmore?
We have compiled a list of all of the restaurants, bakeries, cafes and breweries in and near Biltmore and Biltmore Village.