We love sharing ideas and itineraries for visitors, especially if it's your first trip to Asheville. We know planning a trip here can be overwhelming, so we pulled together a tried-and-true list of places and attractions that we love. We also have an itinerary for the perfect weekend in Asheville if you are looking for more.
Whether you are heading to Asheville for the outdoors, the views, the brews or the bites, let our guide for planning your first trip to Asheville lead the way!
---
Iconic Activities In Asheville
While there a ton of fun attractions in Asheville, the ones highlighted below are those we believe are absolute musts on your first visit to Asheville. These are the ones that feel very 'Asheville' and really showcase what the city has to offer.
Must Visit Restaurants For Your First Trip To Asheville
Though we could easily tell you over 30 awesome restaurants to dine in Asheville, we'll keep this to a really short list of must-visit eateries. The ones highlighted below cover a variety of cuisines. You'll find some of the darlings of Asheville on the list, like Cúrate and Chai Pani, others are new to the scene and a few are just our personal favorites.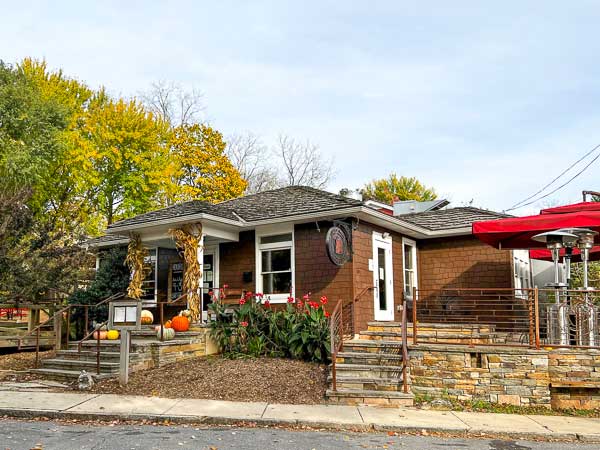 Must Visit Breweries In Asheville
Now that we have covered where to eat, let's look at where to drink! There are so many great breweries in Asheville and you can easily make a whole trip out of brewery-hopping. If you can only go to a couple, though, start with the ones below.
If you are looking for somewhere to grab a drink with a gorgeous backdrop, check out one of the many awesome rooftop bars in Asheville.
Coffee Shops To Visit In Asheville
While there are a wild amount of coffee shops in Asheville, there are a few that we consider the best of the best. If you love coffee like us then you will be in heaven at any of these shops.
All three of these happen to be in downtown Asheville. If you are in River Arts District, though, check out Summit. And if you find yourself in Woodfin, the High Five coffee shop on the river is awesome when the weather is nice.
PS Try to find a bag of local Cooperative Coffee to take home with you as a souvenir. You can find them in various retail shops as well as Trade and Lore.
Can't Miss Desserts in Asheville
Though we love Asheville's many bakeries, there are three that we will never get enough of. These are the spots we recommend to everyone and frequent ourselves often.
Ready for your first visit to Asheville? Start planning your trip now and find a place to stay.