Our favorite breweries in Asheville to bring the kids!
There are so many great kid-friendly and family-friendly breweries in Asheville. And we certainly love visiting them with our two boys. What's great is that they love visiting these breweries, too. Win, win!
We wanted to write this guide because not all breweries here are kid-friendly. In fact, some don't even allow kids. Others may allow them but don't have anything especially kid-friendly. They tolerate children but also… not really??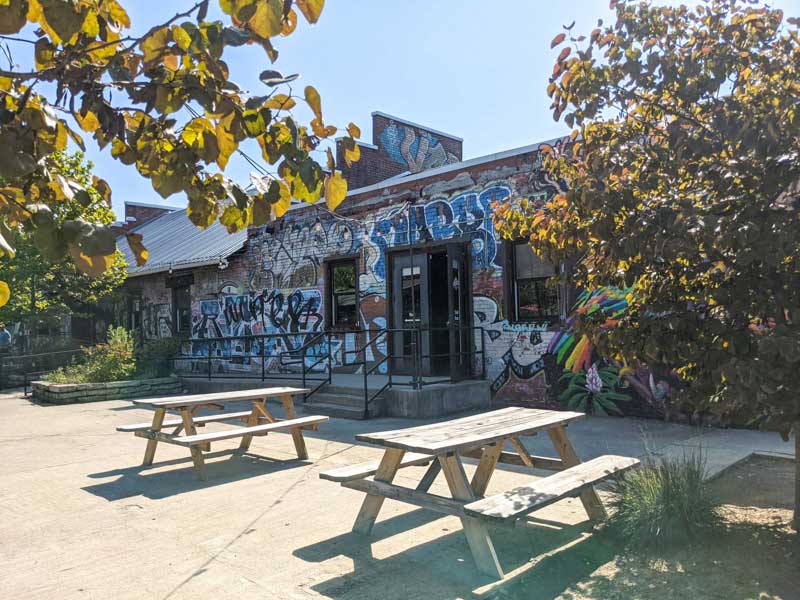 So, to help out our fellow parents, whether you are just here visiting or are local to Asheville, we have compiled a list of our favorite kid-friendly breweries! These are the places we actually take our two and can confirm that they are great places for kids. And if you really want to know about the beer scene here, check out our guide to Asheville breweries.
Whether it's a fun atmosphere, cool views of trains or even just a delicious kid's menu, there are several breweries in Asheville that are perfect for kids.
In true When In Asheville fashion, we have done a deep-dive on Asheville's kid-friendly breweries. This article shares all of the important details– you'll find things like why it's a kid-friendly brewery, details on the food situation, which offer tours for kids and our top picks. Though, really, you can't go wrong at any of these!
Map of Kid-Friendly Breweries in Asheville
Before we begin, let's look at a map! This should help you locate the closest kid-friendly brewery to you.
Now on to our list of the best kid-friendly breweries in Asheville!
---
And that wraps up our guide to the most kid-friendly breweries in Asheville!
This was a fun one to put together and definitely made us want to immediately go back to all of them. Especially to Asheville Brewing for some pizza!! You can't go wrong at any of the breweries mentioned in this guide.
For more kid-friendly Asheville content, make sure to check out our guide to Asheville with kids.