Your guide to the best delis, cafes and sandwich shops in Asheville
Are you on the search for that stacked deli sandwich made to perfection? A perfect pressed panini? Or maybe the New Jersey deli of your dreams? We all know that Asheville has no shortage of good eats, and this includes good sandwich shops!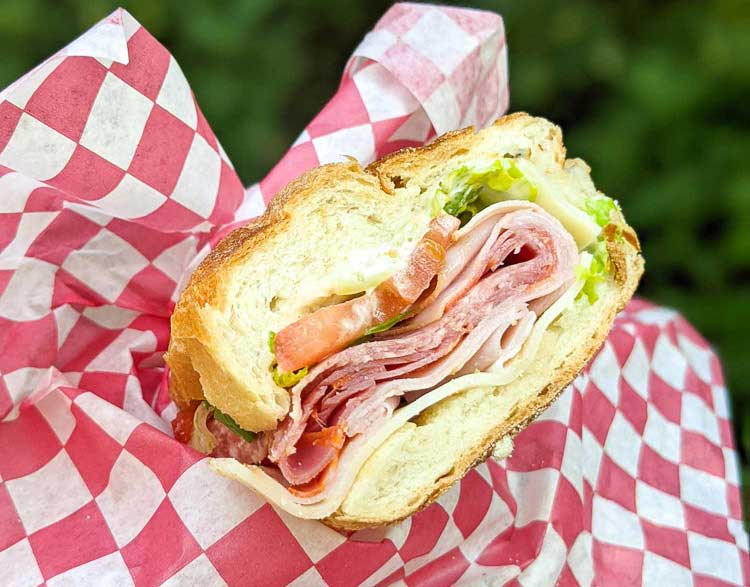 In building out this guide on where to find great sandwiches in Asheville, we focused on classic delis and restaurants primarily dedicated to sandwiches, though we also included a few that have more than sandwiches on the menu.
Wherever you end up, expect delicious sandwiches and get ready to give a rave review!
These sandwich shops and restaurants run the gamut from go-to places for panini pressed sandwiches, New Jersey style delis, New York style delis (yes, there's a difference between the two!), sandwich shops with pinball machines and even a gas station restaurant with award-winning faire.
Table of Contents
Before we dive into the list of Asheville sandwich shops, we thought we'd first start with a map so that you can easily find the one closest to you. You know, if it's a sandwich emergency or something. Our guide also includes links for online ordering where applicable so that you can easily grab and go.
It turns out Asheville has a lot of great sandwiches, so we broke the guide into a few sections to help you navigate it.
Map of the Best Sandwich Shops & Delis in Asheville
Delis and sandwich shops in Asheville
The restaurants in this section are classic sandwich shops, delis, cafes, etc. with an extensive sandwich menu. These are the places that feature several signature sandwiches, soups and salads. If you are looking for a sub shop, jump to our next section!
Where to find great paninis and pressed sandwiches in Asheville
Other Great Places For Sandwiches in Asheville
And finally, a list of a few local restaurants that feature great sandwiches on their menu. In this section you'll find everything from The Rhu's Appalachian sandwich with collard greens on it to a gas station restaurant with a killer menu.
---
We hope this guide to the best delis and sandwich shops in Asheville helps you find your new favorite spot! If you are looking specifically for a breakfast sandwich, check out our list of the best breakfast sandwiches in Asheville.