A guide to the River Arts District's eats, drinks and shops
The River Arts District (RAD) is a creative haven, with working art studios and galleries filling former warehouses and mills. Apart from the vibrant art scene, there's also barbecue, craft breweries and coffee shops.
What it's like:
creative · funky · industrial

Known for:
local art · galleries & studios · restaurants · murals & graffiti

Location:
Southwest of Downtown Asheville // Across the French Broad River from West Asheville


Check out our River Arts District guide below and don't miss our Asheville city guide!
When visiting the River Arts District you can expect to find everything from pottery to glasswork, galleries, jewelry, fiber arts, painting, woodworking, antiques and amazing eats. We divided this guide into several areas to help you quickly find what you are looking for and a table of contents is below. Happy exploring!
About the River Arts District
Asheville's River Arts District was originally the city's industrial and commercial hub, with its close proximity to the river and abundance of railway lines. The once-thriving industrial area was hit hard with flooding and closures in the early 1900's, ultimately leading to the abandonment of several warehouses for over 50 years.
The River Arts District as we know it today started to take shape in the 70's when a businessman and his wife purchased several of the properties and began renting them to local artists. Over time, many of these same properties were sold to artists. Next, in the early 90's, the Asheville Riverfront Plan began to take shape to revitalize the riverfront, with an emphasis on the environmental, recreational and business needs of the community. It was eventually approved and would have a major impact on the surrounding area and the River Arts District itself.
The nonprofit group RiverLink, which steered the efforts to develop the Riverfront Plan, began to revitalize the River Arts District in 1992 with the purchase of Warehouse Studios. Other buildings were also purchased and made available for artist studios around the same time. Today, there are over 200 studios and artists in the RAD mixed in amongst food establishments and other shops. It's a beloved area both locally and a destination for visitors to the city.
Restaurants in the River Arts District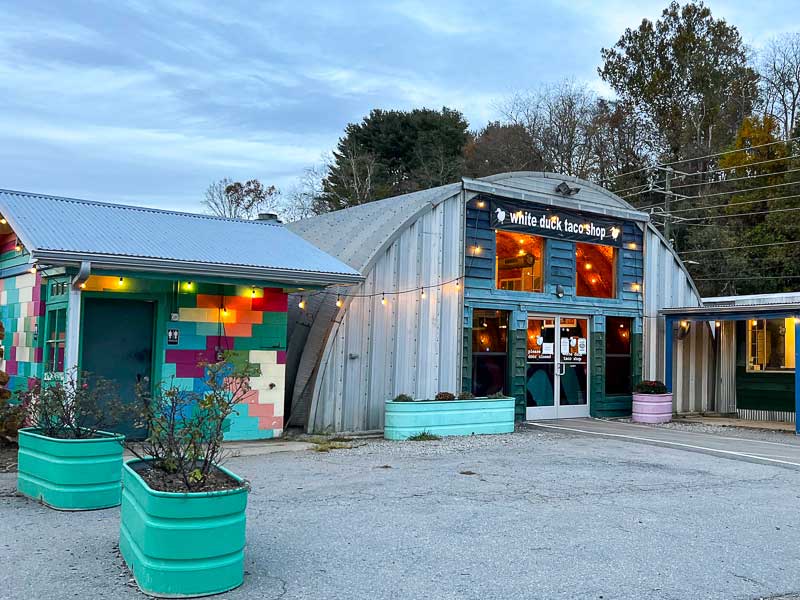 White Duck Taco Shop: A very popular taco shop in Asheville (for good reason.) There are three locations around the city, this being kind of the original. 'Kind of' in that White Duck relocated from its original River Arts location to this three-acre spot in 2018. There's a beach where you can pull up via river tube (or while bar-hopping via kayak!!), which is just awesome. Disclaimer: I'm not even sure if this can be considered in the RAD anymore but I don't know where else to put it so, here it shall stay!
Bull and Beggar: Synonymous with "best burger in Asheville." No other info needed, right?
Baby Bull: Just north of the RAD you'll find the latest restaurant by the same folks behind Bull and Beggar. Here you'll find a simplified menu from the original restaurant (and yes, the burger is on it!) Oh, and this is in the original White Duck Taco shop location mentioned above. Hatchery Studios is located in the same building (and the Stay True silo is nearby, too!)
12 Bones Smokehouse: Oh, just the best ribs in Asheville and President Obama's go-to on his Asheville visits. They have several varieties, but we really love their brown sugar rubbed ribs. Their corn pudding is also A+ and I wouldn't typically describe myself as a 'corn pudding' person. They also have a south Asheville location in Arden.
All Souls Pizza: Wood-fired pizzas and excellent salads. It's not an extensive menu, which is perfect for my indecisive self. They typically have one to two salads available and around ten pizzas to choose from. Everything is always exceptional, including their outdoor seating.
Vivian: Upscale European-influenced but with a downright southern proper Thursday night special of fried chicken and mashed potatoes. Speaking of, you can order that chicken to go on Thursday nights! It's the only night they offer takeout for now.
Fresh Wood Fired Pizza West: a fun, no-frills pizza and beer restaurant. It makes a great stop while shopping around the RAD.
Chop Shop Butchery Food Truck: Local butcher shop Chop Shop Butchery (located in North Asheville on Charlotte St) opened a burger food truck at Wedge at Foundation and it's just delightful. You can always count on excellent burgers and waffle fries.
Coffee in the River Arts District
You can find several coffee shops in the River Arts District, including PennyCup's roaster location. ALL of these coffee shops are listed on our guide to the best coffee shops in Asheville. It's a fun list and provides all the details on the various coffee shops around town.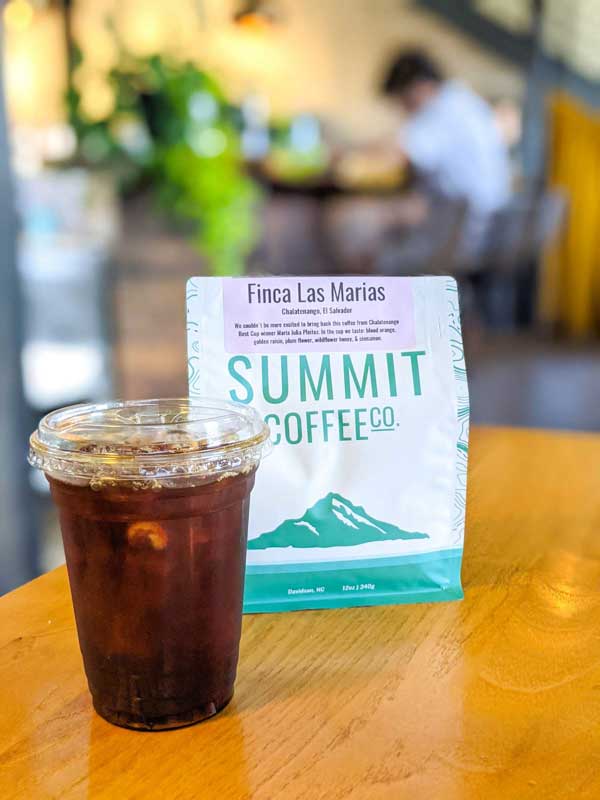 Summit Coffee Co: A coffee roaster out of Davidson, NC. They have a second location downtown in the Grove Arcade. I like to buy coffee beans for home from them when I'm in need. The best part: buy a bag of beans, get a coffee!
PennyCup Coffee: A small-batch coffee roaster and cafe with several locations around town. You'll find their roaster and a tasting room at their RAD location. We love spotting their bags of coffee at various retailers and equally love giving it to friends and family as a local Asheville gift.
Ultra Coffeebar: Another great coffee shop in the River Arts District. You'll find North Carolina favorite Counter Culture brewing and a cafe section on the menu with breakfast and lunch served all day. They have amazing bagel sandwiches and pastries! There's a great outdoor seating area out front– it's a perfect stop when out strolling around RAD.
Grind: A newcomer to the scene as of fall 2020, GRIND has already made its mark on the Asheville coffee scene. Great coffee and pastries (by The Rhu, no less!) and to top it off, it's Asheville's first Black-owned coffee shop!
Breweries, Bars and Wineries in the River Arts District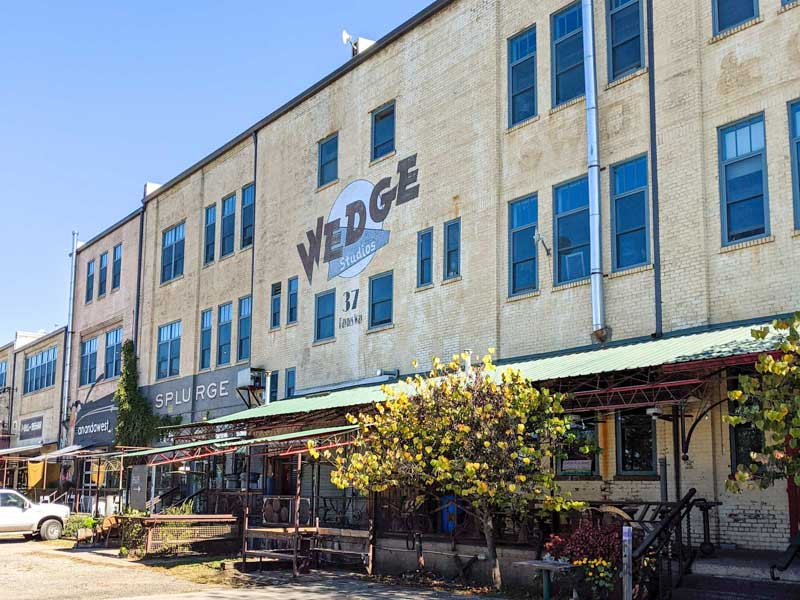 Wedge At Foundation: You can't beat a spot that always has ample parking and space to enjoy a beer outside. We love coming here for a casual beer and grabbing a burger and waffle fries from the Chop Shop food truck that is permanently on location.
Wedge At Wedge Studios: The iconic Wedge Brewery at Wedge Studios (their OG location) is a great local spot to grab a beer with friends. They have a rotating food truck schedule Tuesday through Sunday, so be sure to check out their website or instagram for the latest.
Hi-Wire Brewing RAD Beer Garden: As cool as it sounds! This is Hi-Wire's third location in Asheville and is a taproom and distribution center. The taproom is an outdoor beer garden constructed from upcycled shipping containers. There's some indoor seating as well where you can watch the distribution center in action.
Plēb Urban Winery: While Asheville is known for its beer and breweries, you can also find a few top notch wineries in town. Having a different vibe than your stereotypical winery, Plēb is a refreshing change of pace. Check out their wine flights for a sampling of their wines, and of course pair with a charcuterie box that they offer from South Slope Cheese Co.
Asheville Guitar Bar: This spot is a must stop for music lovers. It has a great vibe (it's on the first floor of the historic Cotton Mill Studios) and is so welcoming to locals and visitors alike. Be sure to check out who's in the line-up on their Facebook page.
Galleries and Studios in the River Arts District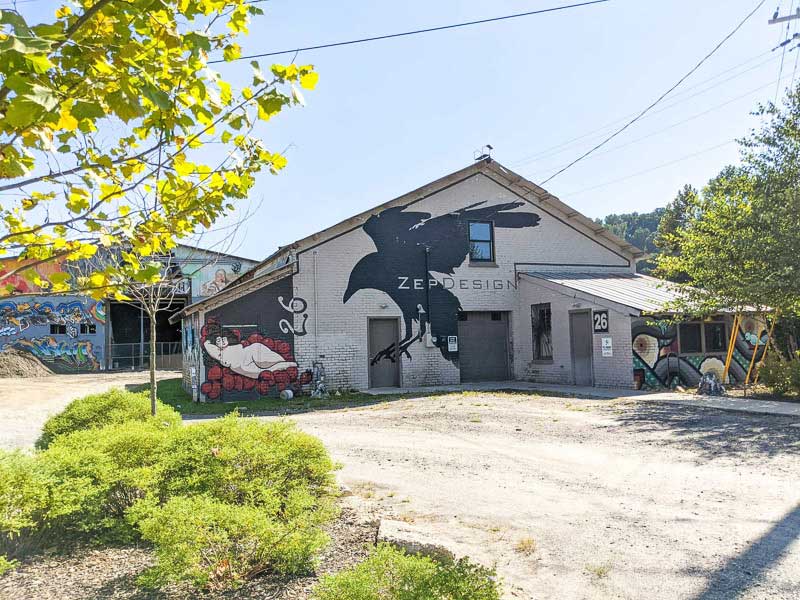 There are tons of working studios in the River Arts District and it's always a treat to see an artist in their element. We've listed a few studios and galleries below, but be sure to check out the official River Arts District site for a full overview!
North Carolina Glass Center: Not only can you catch a glimpse of their glassblowing technique, but they also offer classes. And, of course, you can shop there too!
Mark Bettis Studio Gallery: A working studio with paintings, sculptures, glassworking and more. It's fun to stumble upon a work in progress and occasionally even meet an artist.
Hofman Studios: An artist-owned pottery studio featuring handbuilt porcelain that uses antique lace to create patterns. All of the pieces are just so beautiful and unique there. It's a great place to grab a special souvenir.
Curve Studios: A working studio that is home to over ten artists in fiber, clay, landscapes, jewelry and woodworking, among others.
Pink Dog Creative: Home to over 30 artists and features a mix of work, including handcrafted jewelry, portraits, mosaics, landscapes, watercolor and the most beautiful Ukrainian pysanky eggs. Pink Dog is a five-minute walk from Curve, and you'll find a couple of restaurants (Vivian, Fresh Wood Fired Pizza), coffee shops (Grind, PennyCup) and a few more studios there.
Riverview Station: A large, two-story building that features the work of over 60 local artists, craftspeople and entrepreneurs. There you'll find jewelry, paintings, photography, textiles, ceramics, sculptures and glass. Riverview Station is located toward the south end of the area, near 12 Bones and Summit Coffee.
Other Things to do in the River Arts District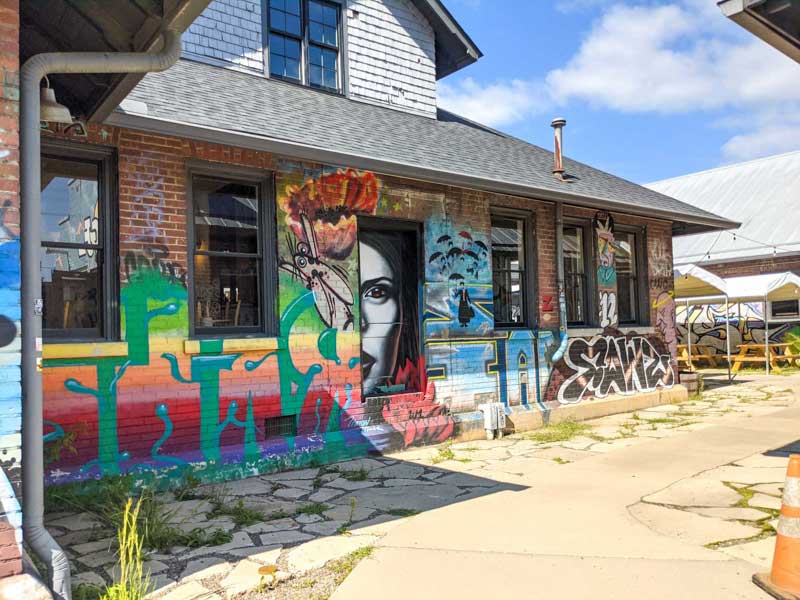 Shop at the Wednesday RAD Farmers Market: You'll find a weekly farmers market on Wednesday afternoons in the Foundy Street part of River Arts DIstrict. Located right at Pleb Urban Winery (and sometimes in Pleb…), this weekly farmers market is a great place to stock up on provisions (produce, cheese, meat, bread…) and grab a treat or two like a famous Asheville Buggy Pop popsicle or new-comer Gospel handmade ice cream. The market's hours vary with the season, so make sure to check the official RAD Farmers Market site for the most up-to-date info. If you love visiting farmers markets, make sure to check out our guide to the various farmers markets around Asheville!
Admire the street art: The River Arts District is an exceptionally colorful place to visit, with many murals and unique graffiti art filling every available surface of building exteriors. The art is ever-changing, and though not all of it is sanctioned, it's still really fun to check out.
Sunnyside Trading Company: A 12,000 square foot warehouse full of antiques, rugs, architectural components and other fun finds. Sunnyside imports from Thailand, India, Morocco, China and Turkey. It's so neatly organized and clean, which isn't always the case in warehouses like this!
Marquee Asheville: A marketplace of vendors offering antiques, vintage, decor, jewelry and items for your home and garden.
Second Saturdays: The River Arts District holds demonstrations, workshops, live music, wine tastings and more every second Saturay of each month.
Studio Stroll: A semi-annual event where artists open up their doors for demonstrations, events, workshops and receptions.
Getting to and Around the River Arts District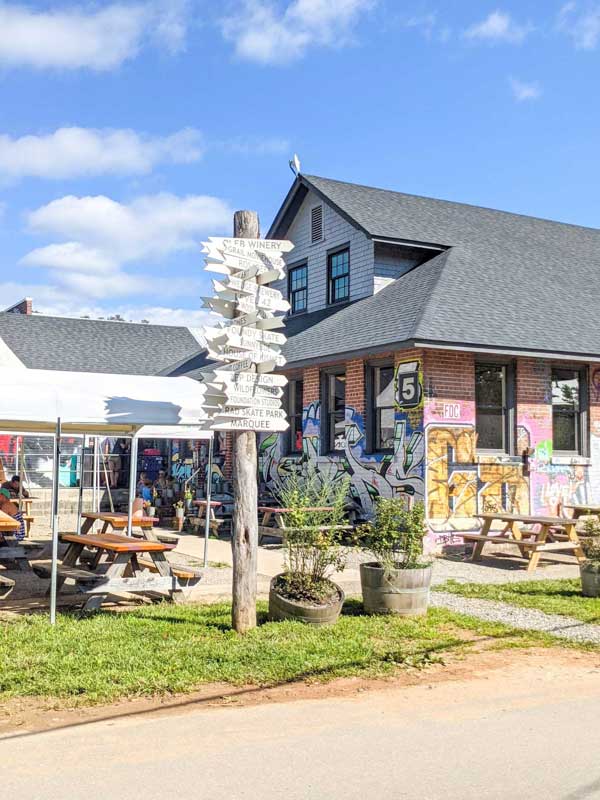 Location details: The River Arts District is along the French Broad River, southwest of downtown. It is on the east side of the river, with West Asheville being on the west side.
Parking details: Parking is free! There are spots along the streets and several studios have dedicated parking lots. We have occasionally run into trouble parking around the Clingman/Lyman area but haven't ever had any issues around Foundy Street. Check out this map for a guide to the various parking lots.
The Gray Line Trolley stops at two different River Arts District locations before continuing on to the Biltmore Village area. It's a great way to see the city!
Is the River Arts District Walkable
Technically, YES, the River Arts District is walkable. But I have never walked the full area and instead visit one section at a time, driving between each as needed. Below are the four distinct areas of the River Arts District.
North of Clingman/Haywood: Here you'll find Baby Bull, The Hatchery Studios, Riverside Studios and Cottonmill Studios.
South of Clingman/Haywood and North of Lyman: There's a ton going on in this section of the River Arts District. You'll find several studios and artists (Mark Bettis, Phillip DeAngelo, Odyssey Claywords, North Carolina Glass Center, Hofman Studios and CURVE, among others), as well as The Bull and Beggar, Wedge Brewing Company and Ultra Coffeebar. This is the first of two Gray Line Trolley stops in the area.
Depot Street: The galleries, shops and restaurants of Depot Street are only a 5 minute walk from the south end of the second area mentioned, so you could definitely group it all together. Depot Street has its own vibe, though, so I wanted to separate it out. Here you'll find The Lift Studios, Pink Dog Creative studios, PennyCup, Grind, Fresh Wood Fired Pizza and Vivian.
Foundy Street: You'll find shops, restaurants, studios and galleries at the far south end of the RAD. It's a 3 minute drive from Depot Street and a 20 minute walk on the greenway. There isn't much to see on the way and it's a pretty busy road, which I why I say it's technically walkable but not something I have done. Foundy St is one of our favorite areas of the RAD, though, and definitely not to be missed! There are great antique/furniture stores (Sunnyside Trading Co, Antiques at Riverview Station), the Grail Moviehouse, Riverview Station and the Art Garden. As far as food and drinks go, 12 Bones Smokehouse, Wedge at Foundation, Summit, Rosabees and Plēb Urban Winery are all located in the Foundy Street area. This is also the second of two Gray Line Trolley stops in the area.