Whether you're visiting Asheville for the weekend or you're a local looking for a fun night out, there's nothing quite like sipping a cocktail on a rooftop bar with a view of the mountains. And lucky for you, there are a number of great rooftop bars in Asheville, each with its own unique atmosphere.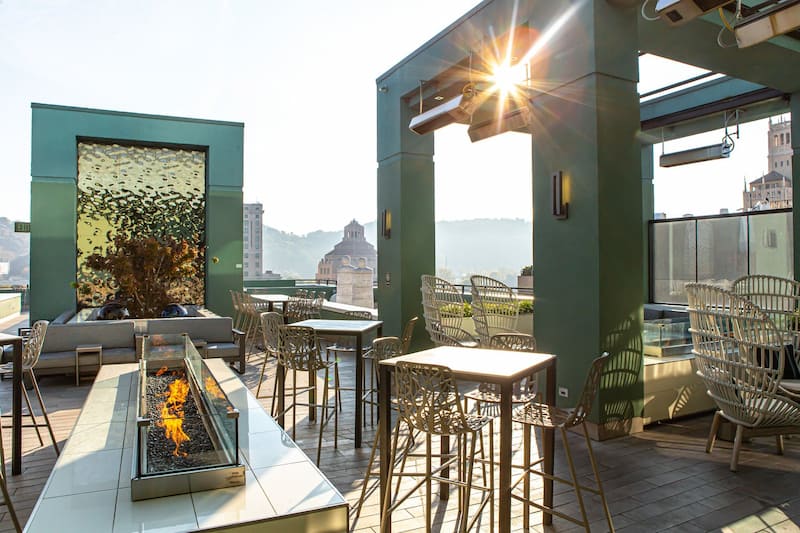 This guide to rooftop bars in Asheville shares all of the places where you can sit back and relax with a drink and a wonderful view.
We share details on each, from the views you can expect to the food options. Whether you're looking for a romantic evening or a fun night out with friends, you're sure to find the perfect rooftop bar in Asheville.
This guide highlights rooftop bars in Asheville. If you are looking specifically for rooftop restaurants, check out our guide to restaurants in Asheville with a view.
This list starts off with a look at rooftop bars in Asheville. Though there are a few restaurants below, most of these places are true cocktail bars with great signature drinks and limited food menus. They make great a great stop either before or after dinner.
Let's start the fun with Asheville's newest spot: The Observatory!
---
We realized that many of the rooftop bars in Asheville are actually located at breweries. This makes sense, given the number of breweries in the city. Below is a roundup of breweries in Asheville that offer a rooftop or patio-like place to enjoy a drink.
---
That wraps up our list of the best rooftop bars in Asheville. If you looking for more fun things to do, consider a brewery tour or maybe take a look at our list of the best craft breweries around.