Everything you need to know about apple picking near Asheville
There are several orchards near Asheville for picking apples. The area that surrounds Asheville is actually the heart of North Carolina apple country! Fun fact: North Carolina is a top ten producer of apples in the US.
So, if you are looking for opportunities to pick apples, come to Asheville! And if you need a nudge in the right direction, this guide to apple picking near Asheville should help. We'll start with a map and then dive right into a list of 8 orchards, the majority of which are u pick.
Map of Apple Orchards Near Asheville, NC
List of U-Pick Apple Orchards Near Asheville, NC
Jeter Mountain Farm
Jeter Mountain Farm is a 400-acre farm located near Dupont State Forest between Hendersonville and Brevard. The family-owned and operated farm is set in beautiful surroundings and is the perfect place for fall apple picking.
In addition to a U-Pick apple orchard and typical orchard attractions, including a farm market, fresh apple cider, and apple cider donuts, Jeter Mountain Farms also has a hard cider taproom, a BBQ smokehouse and a coffee house. This makes Jeter Mountain Farm a full-service attraction with activities, food and drinks!
Justus Orchard
With over 100 years of apple growing tradition, Justus Orchard was one of the first U-Pick orchards in the Asheville area and is still one of the most popular. They produce 19 apple varieties on the farm as well as blackberries and pumpkins.
In addition to picking apples, they have a great market and bakery as well as activities including a huge jumping pillow, picnic area and playground to keep the kids entertained.
The Orchard at Altapass
The Orchard at Altapass is a 280-acre orchard run by the nonprofit Altapass Foundation to preserve the land, wildlife and Blue Ridge Parkway views.
This is the lone U-Pick orchard in the Asheville area that is not located in Hendersonville County. Located in Spruce Pine near the Blue Ridge Parkway about 1 hour northeast of Asheville, this orchard has so much to offer. And because of its location, it is the one that feels like it is most in the mountains apart from Sky Top.
From tractor wagon rides to live music, there is plenty of fun to be had at the Orchard at Altapass.
Sky Top Orchard
Sky Top Orchard is another apple-picking oasis in the mountains. Located just south of Flat Rock in Zirconia (about 45 minutes south of Asheville), Sky Top is a fun destination for the entire family. Starting out as a commercial apple orchard, Sky Top converted to a U-Pick orchard years ago to share the orchard apple picking experience with the public.
Sky Top Orchard is a great place to spend a few hours picking apples, shopping at their fruit stand and letting the kids play, mine for gems, and see the farm animals.
Stepp's Hillcrest Orchard
With 21 apple varieties growing on a 38-acre orchard, Stepp's Hillcrest Orchard is Henderson County's first U-Pick apple orchard. The 4th generation farm is a great place to visit, pick and play.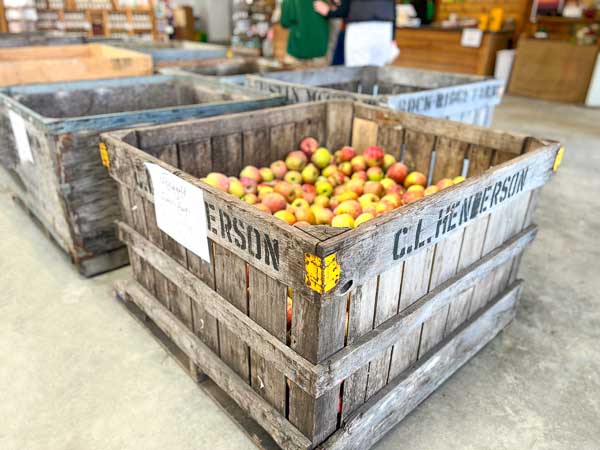 In addition to apples they also have U-Pick grapes and plenty of other activities for the family. The orchard is even dog friendly, so bring your pup along!
Creasman Farms
This family farm is a hidden gem, attracting less attention from visitors than some of the more well-known orchards in the area. Creasman Farms is a third-generation farm located in the rolling valley land between the Dana and Edneyville communities. In addition to apples, the farm produces peaches, berries and vegetables that are sold at Farmers Markets in and around Asheville.
Coston Farm & Apple House
Coston Farm and Apple House is a family-owned and operated orchard. It's a great place to pick your own apples and fun for the entire family. In addition to picking apples, you will not be able to resist their delicious apple baked goods ranging from fried apple pie to apple bread. They also make their own fresh apple cider and apple butter (try the cider slushy on if you're picking on a warm day!)
Their gift shop is full of other apple tools, decorations, sauces, honey and yummy treats. If you happen to miss peak apple season, check out their pumpkin patch for your fall pumpkin needs!
Grandad's Apples – No U-pick
Last one on the list! The 120 acre Grandad's Apples is not a U-pick but we wanted to include them because it's still a fun outing with plenty to do. It's a popular spot for locals and tourists and very easy to get to (just off Chimney Rock Road near Hendersonville.)
Crowds flock to Grandad's Apples for their hot apple cider donuts. From their corn maze to playground and farm market to bakery they have something to keep everyone in the family entertained!