Asheville is brimming with delicious brunch restaurants. You'll find everything from gourmet farm-to-table brunches to breakfast ramen, rooftop mimosas and even a weekly drag brunch party.
Honestly, there are so many fantastic brunch options in Asheville that it's easy to get overwhelmed. This is especially true if you are visiting for a weekend and have limited time to try it all.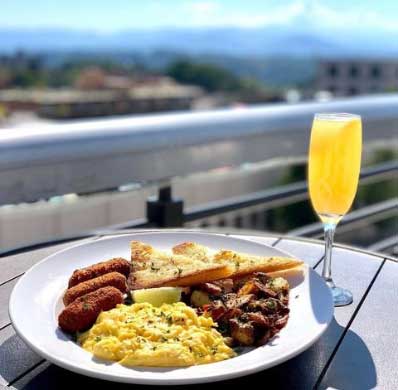 To help you make this very important dining decision, we have compiled a list of the various restaurants in Asheville that offer brunch, whether it's daily or just a weekend special. This guide shares the type of food each restaurant offers, what makes the restaurant so special and even what to order for brunch!
The following list features the best brunch spots in Asheville. Make sure to check out our top picks for breakfast in Asheville— it includes diners and casual spots around town with daily breakfast.
This list includes a variety of restaurants with brunch offerings. Some have a daily brunch and others are Sunday-only kind of places.
Most have breakfast cocktails on the menu, though a few are more casual neighborhood spots that don't serve alcohol. A few of the restaurants are counter-service and we have highlighted that accordingly.
Whatever type of brunch you are looking for in Asheville, this list should include it! Happy brunching!