From James Beard Award-winning restaurants to locally-driven menus, Asheville's food scene is sure to impress.
Whether you are in search of Carolina BBQ, wildly good vegan food, restaurants with mountain views or the best brunch around, Asheville is the place for you. In fact, Asheville was named as the number one foodie city in the US by Yelp in 2022. Two of Yelp's standout restaurants are Cúrate and Chestnut, though we think you can't go wrong dining anywhere in Asheville!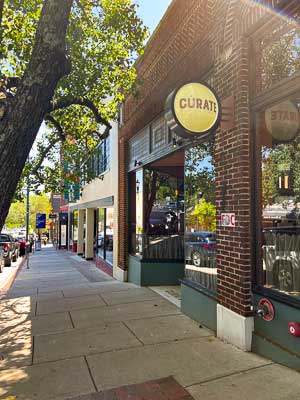 Apart from the remarkable food scene, you'll also find tons of local breweries, wineries, cideries, distilleries and coffee roasters in Asheville.
Speaking of breweries– did you know that Asheville is home to the most breweries per capita in the US? You can definitely feel it when you are in the South Slope area of downtown (aka Asheville's brewery district.)
There are breweries every direction in South Slope— from Wicked Weed's Funkatorium serving up sours to Burial Beer's biergarten-style outdoor area. Outside of South Slope you'll find several local craft breweries as well as the bigger guys like Sierra Nevada and New Belgium.
Asheville's food and drink options are endlessly delicious. Check out our various guides and articles below to get you started on your next dining experience in this great city.
The locals guide to the
Best Restaurants in Asheville
Check out this fun list of our favorite restaurants in Asheville. The places mentioned are the ones where we love dining as locals.
From our favorite place to take our friends to our go-to date night spot, this list covers a ton of categories and food types.
asheville Restaurants & eats
Explore by Type of Food
Asheville Eats
Other Food Guides You May Be Interested In