Welcome to our guide to Italian restaurants in Asheville, highlighting the many unique and delicious eateries with Italian food in the city. Each restaurant on this list is charming in its own way, whether it's the handmade pasta, the dimly lit dining rooms or the extensive Italian dessert lists.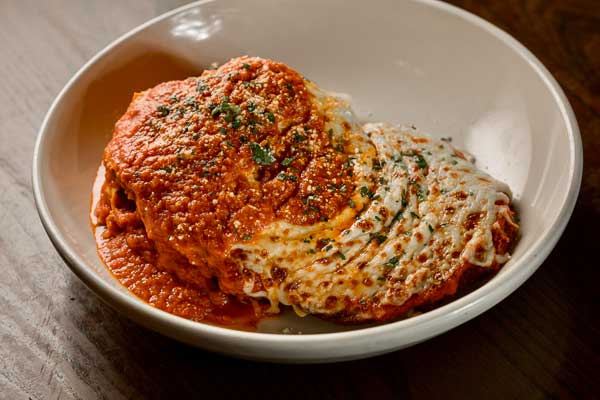 From family-run restaurants to upscale date night spots, perfect chicken parm to a rooftop patio where you can watch downtown Asheville go by, you are sure to find something perfect for your next Italian dinner in Asheville.
Where To Get Italian Food In Asheville
We always find maps useful, especially if you are looking for an Italian restaurant near you. Below is a map of all of the Italian restaurants highlighted in our guide. Happy dining!
This guide focuses on restaurants with classic Italian fare. If you are looking for pizza specifically, check out our list of must-try pizza places in Asheville. It includes both Italian and non-Italian restaurants that serve pizza in Asheville.
A Guide to the Best Italian Restaurants in Asheville
Below you'll find our roundup of excellent eateries in Asheville with Italian fare.
There are so many great eateries in the area worth trying, so be sure to check out our list of recommended restaurants in Asheville. But if you're specifically looking for Italian restaurants in Asheville, read on!
1. Vinnie's Neighborhood Italian
Delicious Italian food in a casual setting
Vinnie's is a quintessential Italian eatery in Asheville, with dim lighting, shareable entrees, and a welcoming atmosphere. The staff is friendly and attentive, and the food is delicious.
We especially love their chicken parmigiana, pasta al funghi and spaghetti with their signature Sunday Gravy. Their chicken marsala and twice-baked meat lasagna are also crowd favorites. And whatever you do, don't miss dessert! We especially love their NY ricotta cheesecake and cannoli.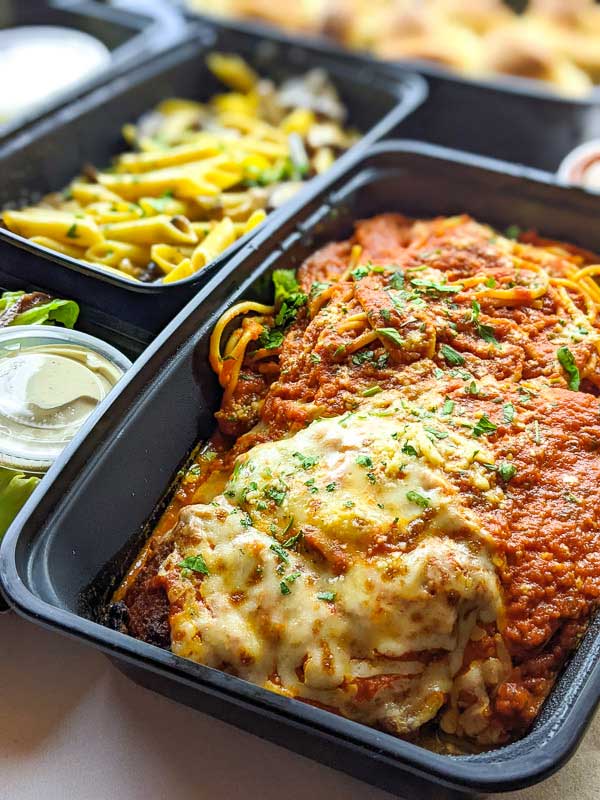 For the younger diners, Vinnie's has a kids' menu with spaghetti, chicken tenders and baked ziti. Everyone in our family loves Vinnie's, whether dining in or for a special Italian takeout night.
One of the things that makes Vinnie's special is that you can order many of the entrees family style, which is a great option for groups. The restaurant also has a daily specials menu, so be sure to check their Instagram for the latest offerings.
Vinnie's is a casual restaurant that doesn't accept reservations, but the wait is worth it. Even though it's not a fine dining spot, it's still a great restaurant for a date night or a birthday celebration.
A hidden gem Italian restaurant with a fine dining feel
Semi-new to the Asheville dining scene, Gemelli quickly made a go-to for locals looking for homemade pasta. Not only that, but they have the best Italian breakfast in Asheville. And it's daily!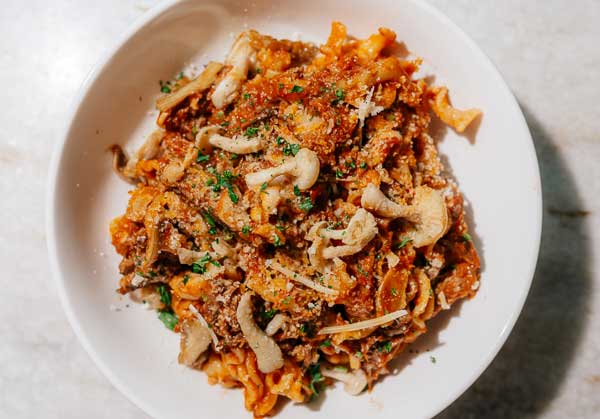 We recommend the burrata and housemade focaccia for a divine start to your meal. After that, choose from a handful of housemade pasta, as well as risotto and pizza. The signature Gemelli pasta with lamb sausage and lamb-anchovy butter is bursting with flavor. It's excellent when paired with their Caesar salad.
Of course, you can't go to an Italian restaurant without dessert, and Gemelli delivers here too! We love their bombolini donut holes, the NY cheesecake and the blueberry lemon panna cotta.
Gemelli is just over the 240 bridge from downtown in the Westgate shopping center. It's kind of an interesting place because it's located in a strip mall anchored by EarthFare but inside has a very elevated, fine dining feel. Breakfast and lunch are ordered at the counter, but you'll be waited on for dinner.
Upscale Italian eatery in downtown Asheville with a tasting menu
Cucina24 is an excellent Italian restaurant in downtown Asheville. Their menu includes handcrafted pasta and exquisite entrees. The restaurant itself has a cozy and intimate atmosphere, with low lighting, hardwood floors, and exposed brick walls.
To start your meal at Cucina24, we highly recommend indulging in their focaccia with olive oil, paired perfectly with a side of olives. As for the entrees, the tagliatelle al ragù never fails to impress. And they always have excellent specials on the menu.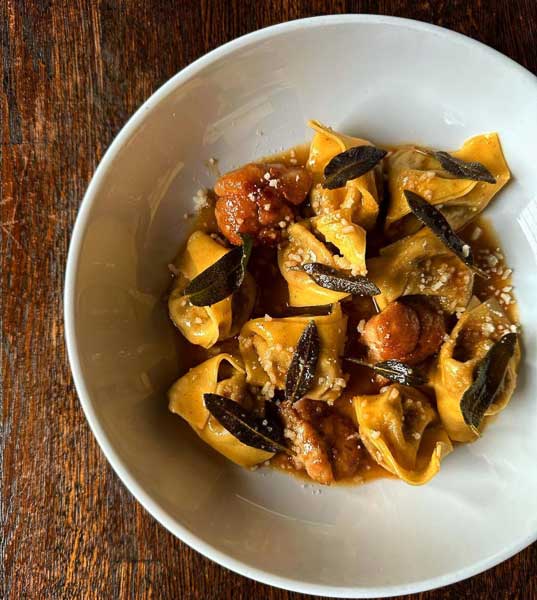 For a really fun evening out, opt for the tasting menu! This allows you to sample a variety of appetizers, a pasta dish, an entree, and a mouthwatering dessert. Speaking of dessert, don't miss out on their ricotta zeppole— it comes paired with six sauces! And if you're in the mood for something cool and refreshing, their gelato and sorbet are sure to delight.
Reservations at Cucina24 are recommended.
Cozy Italian restaurant with a pizza-centric menu
Just one storefront over from Cucina24 you'll find their sister restaurant: Contrada. While Contrada's menu is more pizza-based, we wanted to include them on this list of Italian restaurants because their small plates ('antipizza') and dessert menu are heavily Italian-influenced.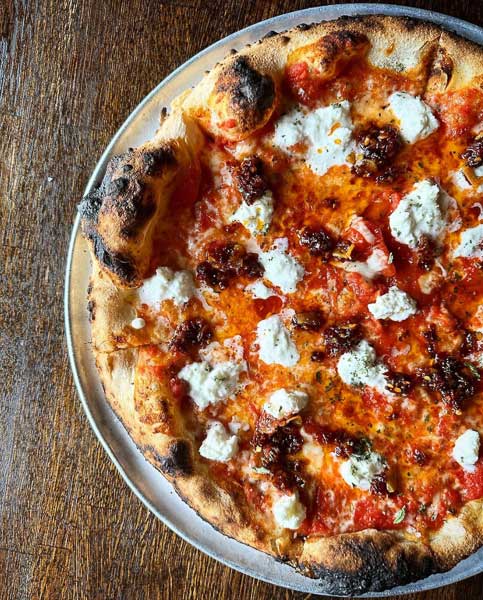 Choose from a handful of pizza options, like their puttanesca pizza with anchovies and olives, or their patate pizza with potatoes and rosemary. In addition to its food, Contrada also has a great selection of Italian wines, as well as cocktails and Peroni. Don't forget to end your night out with Sicilian pistachio gelato!
Contrada is very cozy with only a couple of seats, making for an excellent date night spot in Asheville.
Classic trattoria in the heart of downtown Asheville
Strada in downtown Asheville is a great spot for hand-tossed pizza, housemade pasta and the smell of fresh bread. Speaking of bread, try the garlic ciabatta bread!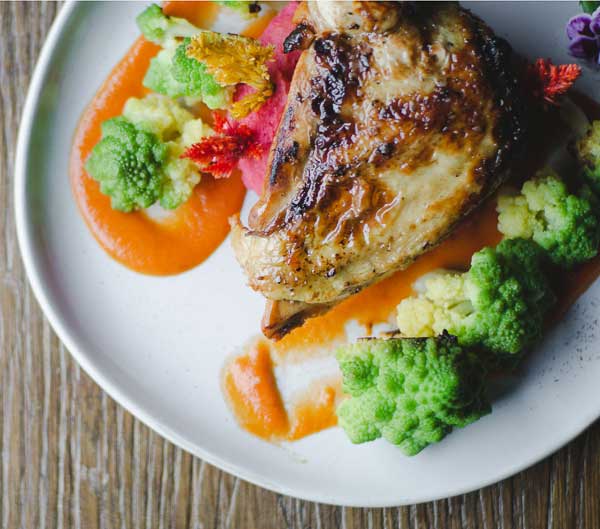 Their menu is extensive and features a variety of regional Italian cuisine. Whether you opt for their lasagna (or vegan lasagna), fig & goat cheese pizza, Tuscan duck or their beef tenderloin entree, you are sure to enjoy your meal. Every dish is beautifully plated and bursting with flavor.
Strada is as good for a date night as it is for a dinner with kids in Asheville. They have a romantic atmosphere with dim lighting and soft music, making it a great spot for couples. However, Strada also has a kid-friendly menu and a spacious dining room, making it a comfortable place for families.
Strada and Gemelli are both owned by Chef Anthony Cerrato. You can make reservations here.
Upscale Mediterranean and Italian restaurant with housemade pasta
Bargello is a modern and chic fine-dining restaurant located at the Kimpton Hotel Arras with excellent Italian fare. The menu is also inspired by Mediterranean flavors, so in addition to Italian fare you'll also find menu items like Moroccan Duck.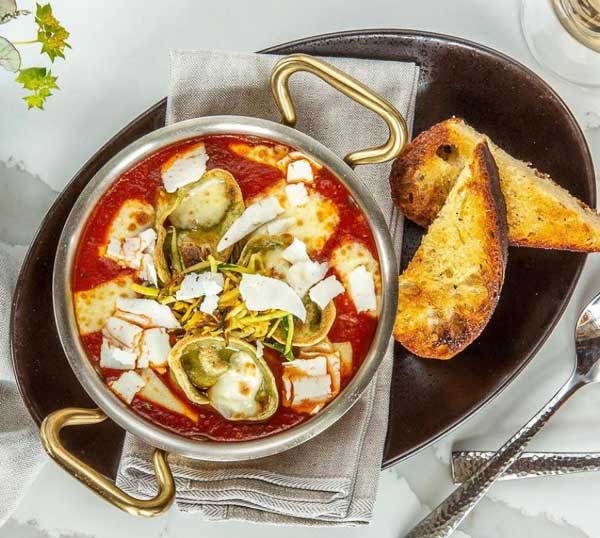 Housemade pasta is the star of the show, though they also have pizza, charcuterie and entrees like beef short ribs and seared scallops. For pasta, we love the short rib pappardelle and the ravioli with mint dough and lemon brown butter.
Bargello is spacious and bright thanks to stunning floor-to-ceiling windows. There's also an open kitchen with a view of the open-fire pizza hearth. There is plenty of seating inside and a patio at the corner of College Ave and Biltmore Ave.
Plan to make reservations at Bargello in advance.
Family-run New York-style pizza joint in North Asheville
Don't let the 'pizzeria' part of 828 Family Pizzeria mislead you– their extensive menu firmly places them in the Italian restaurant category. While they do have excellent New York-style pizza, they also have classic Italian favorites like lasagna, ravioli, ziti and chicken parm. Their stromboli is also a crowd favorite.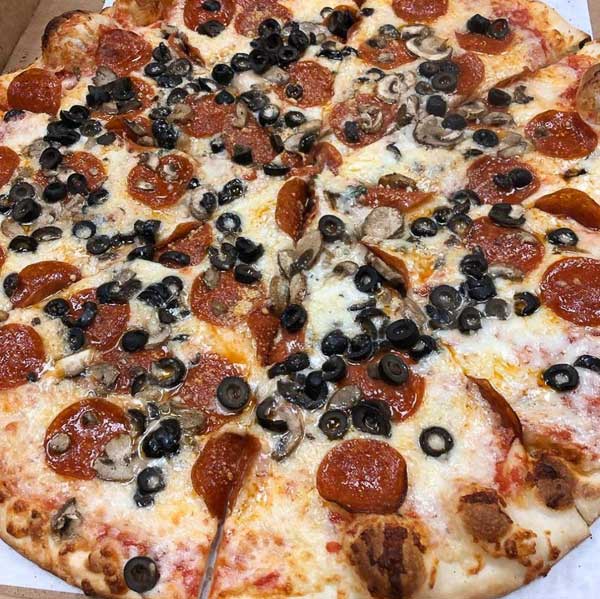 And in true New York-style Italian restaurant fashion, 828 has several hot sandwiches. We love their Italian Hero and the meatball parm! We also can't mention 828 without calling out their gas-fired oven they use for making pizza. Expect perfectly cooked pizza with a crispy crust and a delicious, gooey center.
Quick spot for New York-style pizza by the slice and Italian favorites
Manicomio is a great destination for pizza by the slice and quick Italian cuisine in downtown Asheville. It's a casual spot where you order at the counter and can either dine inside or snag a seat at the patio on the side.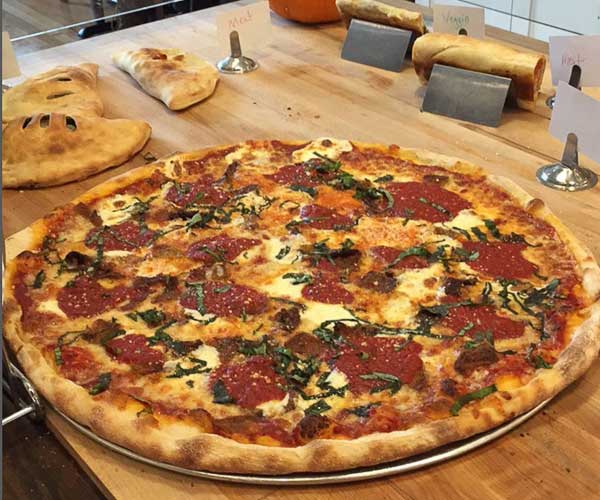 Manicomio has several pasta dishes on the menu, like chicken parmesan, baked ziti and tortellini. They also have great pizza that can be ordered by the slice or as a whole pizza. If you are in the mood for a hot sandwich, try the crowd favorite reuben with house-cured pastrami. The garlic knots are also great.
Our one last piece of advice: get a slice of the pistachio cheesecake if they have it!
Authentic New York-style Italian cuisine at a family-run eatery
Del Vecchios is a family-run pizza joint with authentic Italian pasta dishes, calzones, stromboli, paninis and subs. As far as pizza goes, they have traditional NY-style pizza, Chicago Stuffed pizza and a square Sicilian pizza. Yes, that's a lot! Del Vecchios is actually one of the few places you can get a Chicago deep dish pizza in Asheville.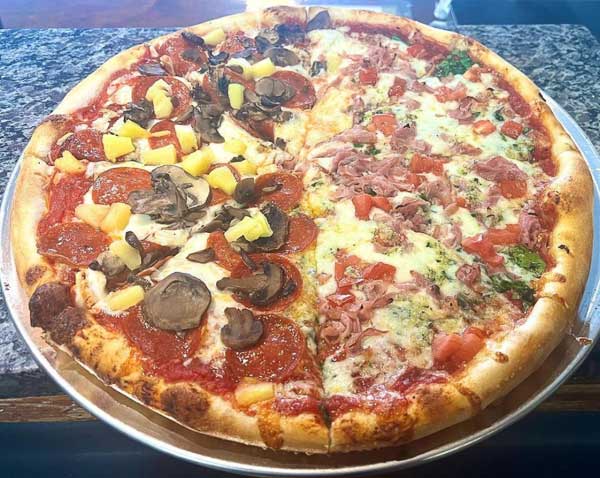 Apart from pizza, Del Vecchios also has a great pasta menu with Italian classics like lasagna, chicken parmesan, chicken marsala and ravioli.
And if you are looking for a sandwich, you are in luck! Their sandwiches are made to order on fresh baked bread. Our favorites are the Italian, meatball parm and the club panini.
Del Vecchios has two locations in Asheville. The original is in North Asheville and the newest is in South Asheville (where Iurato's previously was.) We especially love their South Asheville location because it has a great patio on the side with covered picnic tables. It's a fun spot to bring the kids!
Relaxed restaurant for Greek and Italian food
Apollo Flame is a casual family-friendly restaurant serving up Greek and Italian food to a pretty local crowd. It's a fun spot for a group because the menu has a wide range of options. Choose from Italian specialties like lasagna and spaghetti, a pizza menu with several signature pies or go Greek with a chicken gyro platter or their famous Greek salad with chicken.
Their most popular Italian dishes are lasagna, chicken parmesan and spaghetti with meatballs. Pasta dinners at Apollo Flame come with salad and garlic bread.
Gluten-free pizza is on the menu as well as several vegetarian dishes. And if you have room for dessert, they have baklava on the daily menu!
Apollo Flame has two locations in the Asheville area. One is close to the Biltmore Estate on Hendersonville Rd and another is near the Asheville Outlets on Brevard Rd.
12. Pomodoros Greek & Italian Café
Greek and Italian eatery with hearty pasta dishes in East Asheville
Another Greek and Italian-inspired restaurant, but this time in East Asheville! Pomodoros has a very interesting mix of dishes on the menu. They have Greek stuffed eggplant (Melitzanes Papoutsakia) tucked right in between eggplant parm and seafood pasta. And gyros and a meatball sandwich. Baklava ice cream and NY cheesecake! It's honestly delightful.
With several types of stromboli to delicious lasagna and four types of ravioli with choice of sauce, you're sure to enjoy your meal at Pomodoros.
---