If you are on the hunt for Indian food in Asheville, you are in luck! There are actually a surprising amount of Indian restaurants in town. Not only does Asheville have fine dining spots with Indian fare, but also two places for Indian street food and multiple Indian lunch buffets.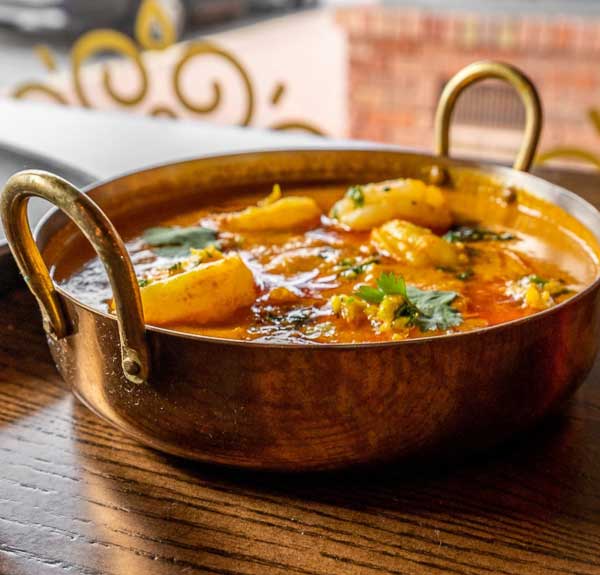 Whether you are looking for a romantic night out with a Tandoori special, a relaxed place the whole family will love or just a few quick chaats (Indian street snacks), our guide to Indian restaurants in Asheville will point you in the right direction. So, grab a mango lassi and let's explore!
What You'll Find In This Article
Where To Get Indian Food In Asheville
Below is a map of all of the Indian restaurants highlighted in our guide. As you'll see, more than half of the restaurants are located in downtown Asheville.
For other nearby regional cuisines, check out our guides to Chinese food and Thai food in Asheville.
A Guide to the Best Indian Restaurants in Asheville
Below you'll find our roundup of excellent eateries in Asheville with Indian fare. For more dining inspiration, check out our list of must-visit restaurants in Asheville. But if you're specifically looking for Indian restaurants, read on!
1. Chai Pani
A When In Asheville Favorite
Award-winning Indian street food restaurant in downtown Asheville
Chai Pani, the Indian street food restaurant that won Outstanding Restaurant at the 2022 James Beard Awards, is the darling of Asheville's Indian food scene.
Everything about it exceeds standards, from the inviting, casual and colorful interior to the crispy masala fish sandwich. The people, the branding, the spices– everything is sure to delight!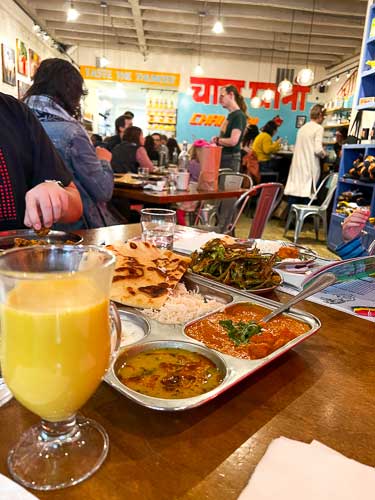 Though we have loved everything we have tried, the kale pakoras, okra fries, vada pav, masala fish roll and butter chicken are true standouts.
Chai Pani does not take reservations, but they do have a waitlist and keep you informed of your position. We typically walk around the area while waiting and check out nearby shops like Woolworth Walk for local art, Malaprop's for books and Curio toystore if we are with our kids.
Speaking of kids, Chai Pani is a great restaurant for the whole family. They even have a kids' menu with rice, chicken and uttapam.
PS: make sure to check out the Spicewalla pop-up shop just across the way at Grove Arcade. Both Chai Pani and Spicewalla are owned by Chef Meherwan Irani.
2. Andaaz
A When In Asheville Favorite
Amazing Indian fare served in a gorgeous, upscale atmosphere
Andaaz is an excellent fine dining restaurant with Indian fare located just a few miles south of downtown. The atmosphere, service, presentation and flavors are all what you'd expect of a fancy restaurant in Asheville. It's absolutely gorgeous inside and you'll feel special from the moment you enter.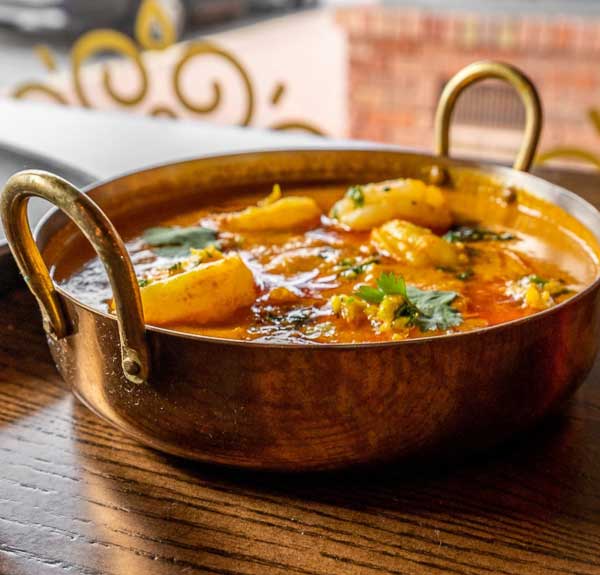 The menu features a wide variety of traditional Indian dishes, including Tandoori Chicken, Biryani, Vindaloo, and more. They also have a vegetarian and non-vegetarian Thali platter, which is a great way to try a little bit of everything. If you're feeling adventurous, try the goat meat curry!
We also love all of their appetizers, like the Gobi Manchurian (fried cauliflower) and Masala Crab Cakes. Andaaz offers a daily lunch buffet with Indian fare. It's $15.99 during the week and $21.99 for the weekends.
Reservations at Andaaz are recommended, as Andaaz can get quite busy, especially on weekends.
Nicer Indian restaurant with white tablecloths and colorful decor
Mehfil is another upscale Indian restaurant in Asheville, though it's not quite as 'fancy' as Andaaz. It's on Biltmore Ave in downtown Asheville and serves traditional and authentic Indian fare.
You'll find classic favorites on the menu like butter chicken and tandoor chicken to more regional dishes like lamb vindaloo. Their signature dish is Chicken Mehfil— it's a chicken curry in tomato and onion sauce.
One of the things we love about Mehfil is the creative variations on classic menu items. For example, they offer six different types of rice, including lemon rice and keema rice with smoked lamb. They also have a variety of naan breads, including garlic naan, rosemary naan, bullet naan with spicy green chilies, and a sweet peshawari naan.
Some of the dishes at Mehfil are spicier than you might expect, so we recommend starting with a milder dish if you aren't sure and adding more spice as needed.
The atmosphere at Mehfil is relaxed and elegant, with colorful artwork, umbrellas hanging from above, and white tablecloths.
4. Dilbar
A When In Asheville Favorite
Colorful Indian street food restaurant with Chinese-inspired dishes
You'll find Mehfil's sister restaurant Dilbar just next door to Mehfil in downtown Asheville. But don't expect the two to be similar! Dilbar's menu is full of Indian street food and has a full section dedicated to Indian Chinese food. It's also very vibrant, super casual (order at the counter!) and has fun Bollywood music playing throughout.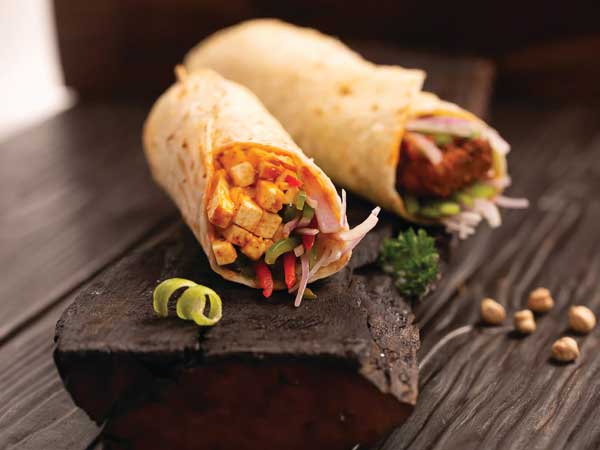 While we hadn't heard of 'Indian Chinese' food before dining at Dilbar, just one taste got us hooked! Many of the dishes on this part of the menu include stir-fried noodles with an Indian twist. We love the Chicken Szechuan Noodles. They also have five varieties of fried rice. It's an unexpected spot for Chinese food in Asheville!
Another fun menu item is their traditional Mumbai street food sandwich-like offering: a Frankie. The best way we can describe it is an Indian burrito filled with your option of vegetables, lamb, paneer or chicken.
Dilbar is also home to some of the best dosas in Asheville. THere are so many to choose from like a chicken tikka masala dosa and a minced lamb keema dosa. They also have things like vada pav and chicken pakora.
5. Mela Indian Restaurant
Indian lunch buffet in downtown Asheville
Mela is an Indian restaurant in downtown Asheville with a daily lunch buffet. The buffet offerings rotate but you can typically expect classic Indian favorites like tandoori chicken, saag paneer and chicken tikka masala.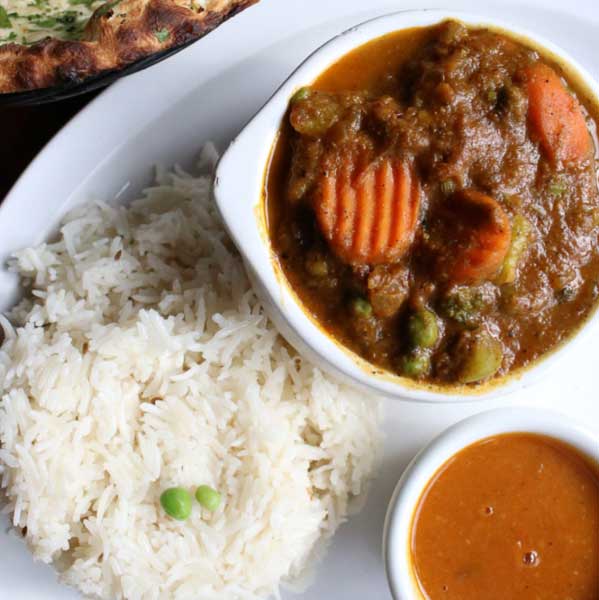 Mela also has a daily dinner with tandoori oven specialties, seafood dishes, vindaloo and appetizers. It's a great spot for vegan food in Asheville. They have a vegetarian section on the menu and most of it is vegan and gluten-free. Dietary options are all clearly marked, too, which helps!
You can make dinner reservations at Mela in advance to avoid a wait.
Relaxed Indian restaurant with the
If you are in search of Indian food in South Asheville, head to Cinnamon Kitchen! It's in a great location with tons of parking by the Publix shopping center.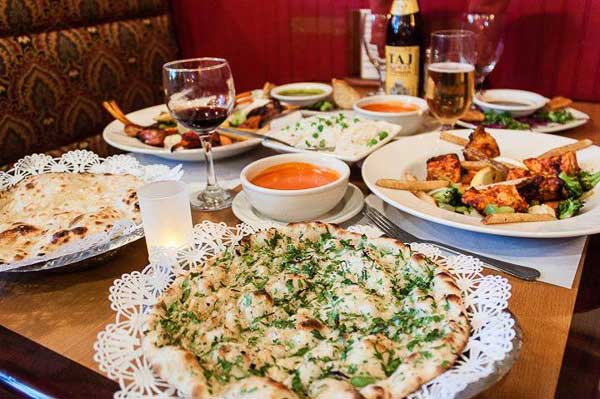 Their menu features curries, salads, soups, samosa, Tandoori kababs, biryanis, filled naan and desserts. For dessert, try the mango kulfi or rolled cheesecake. For entrees, the tikka masala is a crowd-favorite, but we also recommend the mango wala and the lamb biryani. We also really like the chicken 65 as an appetizer. And of course, the garlic naan is amazing.
One thing that always stands out about Cinnamon Kitchen is the perfect balance of spices and flavor. Even when we talk to other people about the restaurant this always comes up!
7. India Garden Restaurant
Indian cuisine in East Asheville with several vegetarian options and a weekend lunch buffet
India Garden is an unexpected find in East Asheville. It's in the middle of a shopping center with Home Goods on one end and Ross on the other. But inside you'll be greeted by wonderful smells and a friendly atmosphere.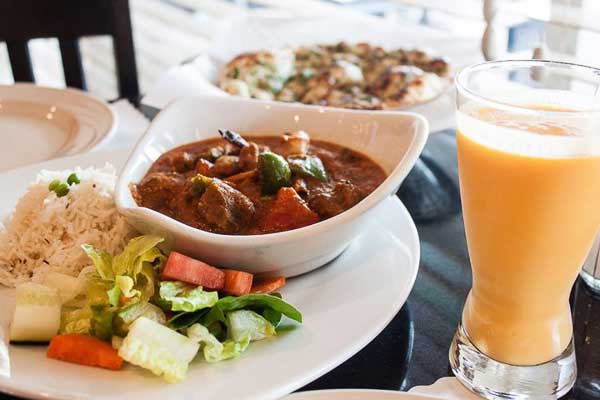 Like the other Indian restaurants in town, you'll find all of the classics on their menu. Though there are a few standouts like chicken tikka masala and their amazing tandoori chicken. They also have several options for vegetarian Indian food.
Indian Garden has a weekend lunch buffet (Friday to Sunday) from 11:30 to 2:30. They also have a full bar with imported Indian beer.
---