A complete guide to the Gray Line Trolley Tour
Welcome to our guide on the Asheville Trolley Tour! While it's officially the 'Gray Line' trolley, everyone here knows and loves it as THE trolley. I love spotting trolley tours when I am around town– and this happens a lot because the trolley stops all over the place.
This guide to the Asheville Trolley details stops, the schedule, pricing and more.
From experience, we highly recommend the trolley for both visitors and locals. It's such a great way to explore Asheville and get the lay of the land. You'll enjoy the sights, hop around as needed and also learn a little while doing so.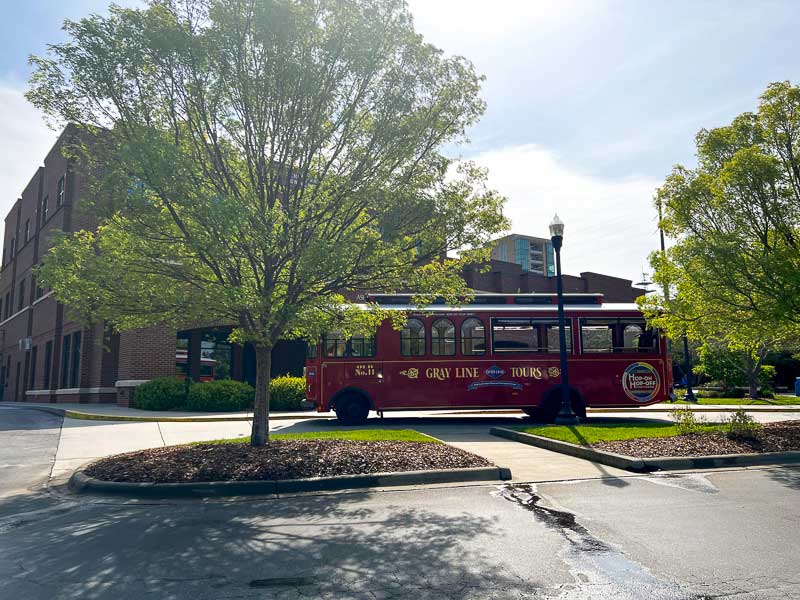 Not only is it a novel experience for kids (and people who used to be kids!), but it also takes away any worry about getting around the city or parking. You can just sit back and relax while seeing what the city has to offer. We love it so much that it's on our list of favorite things to do in Asheville!
Asheville Trolley Guide Table of Contents
Stops on the Asheville trolley
There are ten trolley stops total, taking you as far north as the Omni Grove Park Inn and as far south as Biltmore Village. The trolley tour officially starts in Montford at the Asheville Visitor Center, though, as the name implies, you can hop on anywhere!
Below you will details on the stops along with information about each area.
Trolley Stop 1: Asheville Visitor Center (Montford)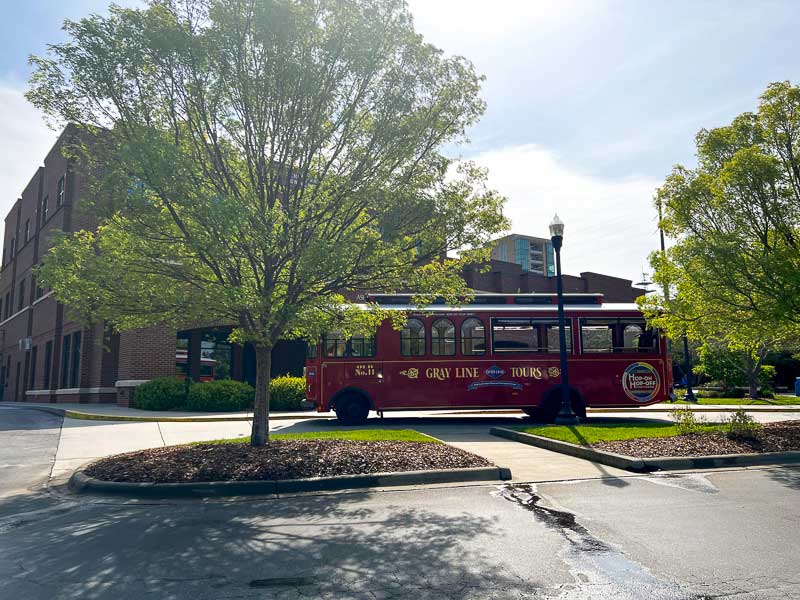 The Asheville Visitor Center is a great place to begin the tour if driving in because you'll find free parking at the visitor center. You can also pick up local brochures and coupons, as well as get ideas for things to do from the volunteers there.
If you want to stroll a bit, head down Montford Ave to check out the magnificent historical homes on the tree-lined street. You can grab a coffee or bite to eat any time of the day at All Day Darling before heading back to the visitor center for your next trolley stop: The Omni Grove Park Inn.
Trolley Stop 2: Omni Grove Park Inn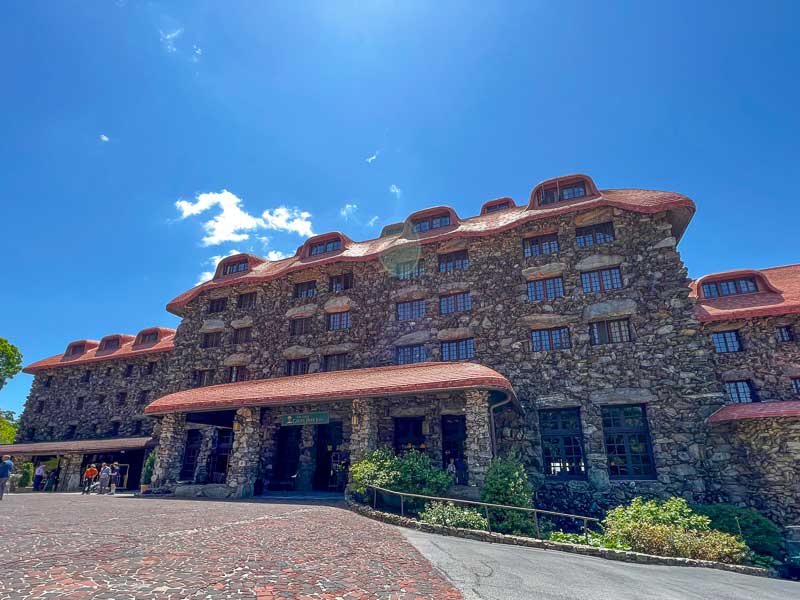 What a stop! Whether you are checking in for the night or just want to soak up the view, you are sure to enjoy your time at the Omni Grove Park Inn.
There are restaurants on the premises (make sure to make a reservation), nearby galleries and even an antique car museum. Trolleying in is great because parking can be a bit tricky at times. Don't miss the mega fireplaces and beautiful views.
Trolley Stop 3: Renaissance & Four Points Hotels in downtown Asheville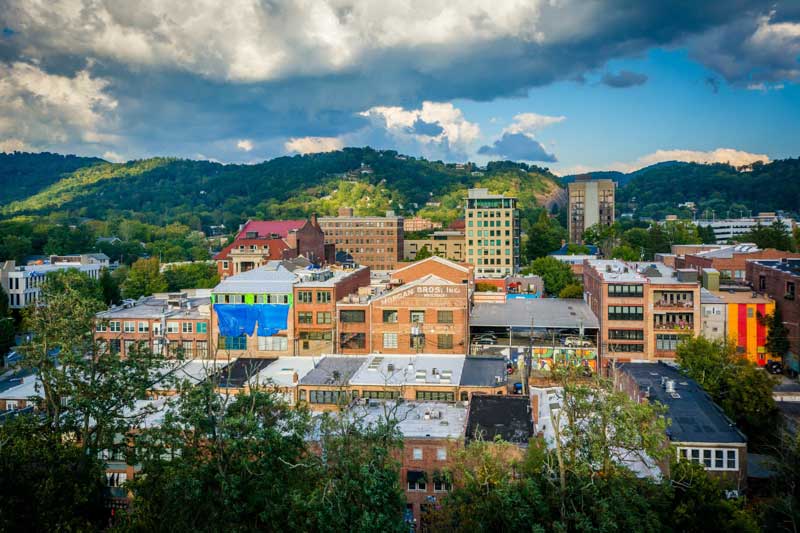 After your visit to the Omni Grove Park Inn, you'll head south on the trolley to the downtown Asheville area. There are actually four stops downtown, so no need to hop off at the hotels unless you are staying at one.
You will get closer to downtown's shops and restaurants on the next few stops. But bonus points for these hotels being on the tour! It definitely makes getting around the city easier when visiting.
Trolley Stop 4: Pack Square
Welcome to downtown Asheville! There are so many great local shops and eateries here. When the weather is nice you'll also enjoy the sound of buskers.
The first stop downtown is at Pack Square. You'll love this stop if French Broad Chocolate is on your must-visit list. And if it's not, well, add it!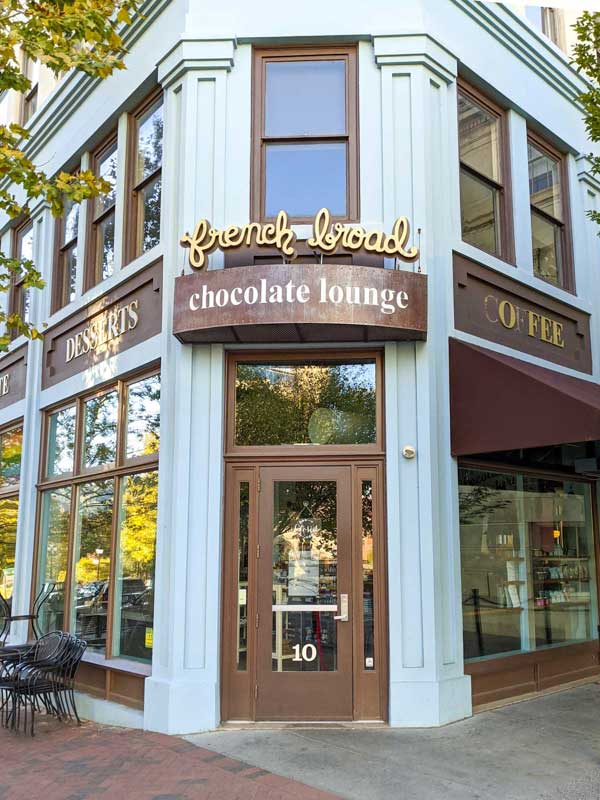 The Pack Square stop is a great place to begin your downtown exploration. There is plenty within walking distance, including Stay Glazed Donuts (they are on our best donut shops in Asheville list!), The Rhu for a breakfast pastry or sandwich and Mast General Store for shopping.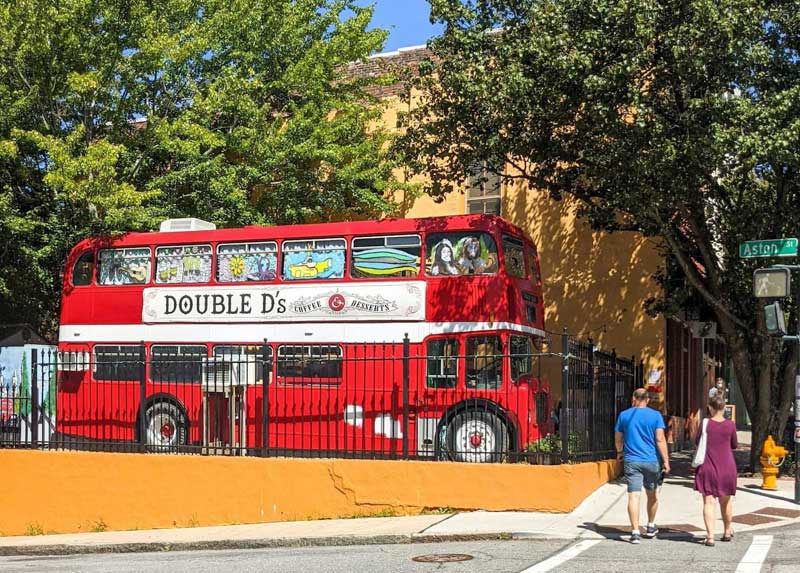 Stop by Double D's Coffee if having coffee at the top of a parked double-decker bus is on your Asheville bucket list! And if it's lunchtime and nice out, Salsa's offers an exceptional meal with great patio seating in the alleyway.
Just across the street from Salsa's you'll find Kress Emporium, featuring the work of over 80 local artists. It's a great spot for fun jewelry finds, art, candles and things you didn't know you needed but can't live without.
The Asheville Museum of Science (AMOS) is just a few shops down from Kress. It's a great stop if you are traveling with kids and need to give them time to burn off energy. You can read about our trip to AMOS with our two kids here!
There are two more stops downtown before the trolley heads to the River Arts District. You can either hop back on the trolley at the Pack Square stop or do a walking tour and meet it again at a stop further down the line.
Downtown is very walkable and you'll pass by tons of great shops and restaurants if you walk to the next stop, including S&W Market.
The S&W Market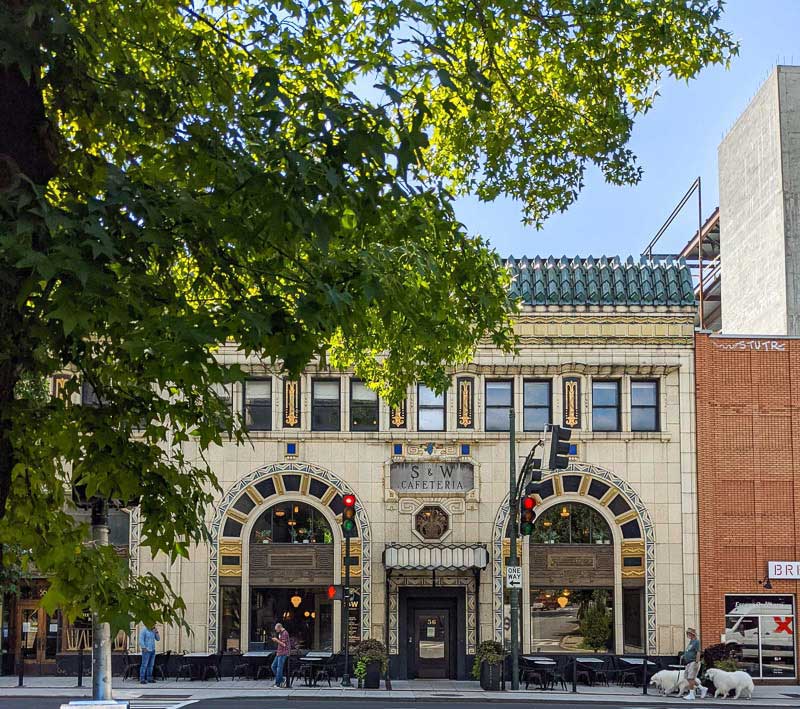 S&W is a food hall and taproom with several great restaurants to choose from. It's a great stop for groups because everyone can grab their favorite type of food! We absolutely love getting chicken sandwiches from Buxton Chicken Palace and steamed buns from Bun Intended. Read more about the S&W Market here!
Trolley Stop 5: Haywood Park Hotel
If you decided to take the trolley from Pack Square instead of walking, you won't go too far! The trolley stays downtown, stopping again at the Haywood Park Hotel. This is another area of town filled with shops, restaurants, coffee shops, dessert shops, galleries… ok, you get the picture. It's also another great base for adventuring out.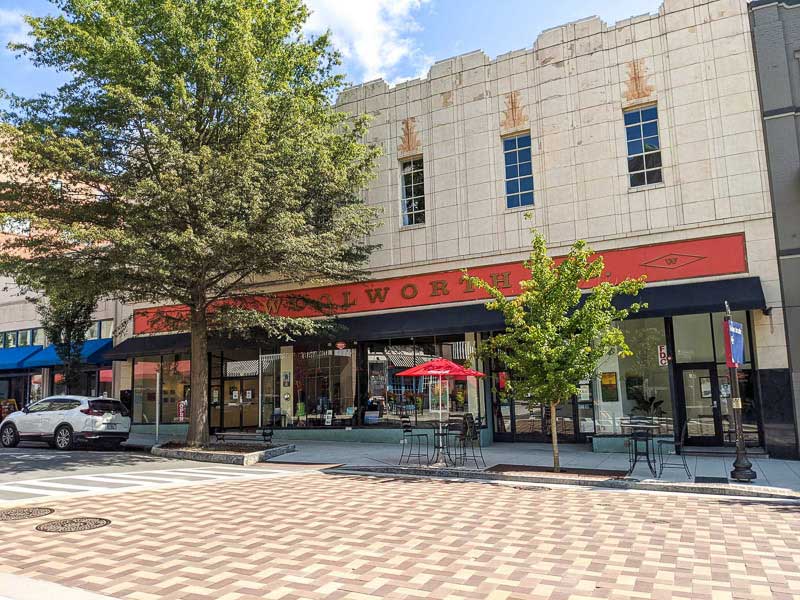 Don't miss the Woolworth Walk just across from where the trolley stops. It's a two-story art gallery and emporium, complete with a nostalgic vintage soda fountain and diner inside.
You'll find Malaprop's Book Store just down the way, which is locally owned and filled with great finds. We love their selection of kids' books! There are also a ton of other local shops around here as well as the iconic flat iron sculpture.
If you haven't stopped in Moonlight Makers yet, take a quick trip down the hill behind Malaprop's to do so! We love this gift shop because there are so many great local Asheville finds, as well as punny screen printed shirts, dishtowels and bags, clever mugs, stickers and unique gifts.
Across from the Haywood Park Hotel stop is James Beard Award-winning restaurant Chai Pani. Expect excellent Indian street food and a cool vibe. It's next to Kilwin's if you are in need of fudge, ice cream or other sweet treats.
Trolley Stop 6: Grove Arcade
There's one more stop downtown before the trolley heads to the River Arts District- and it's a good one: The Grove Arcade.
The building itself is a work of architecture and the shops and restaurants are just as charming. Inside you'll find tons of local stores, like Asheville NC Home Crafts and the Mission at the Grove. It's a great place to find a souvenir or two.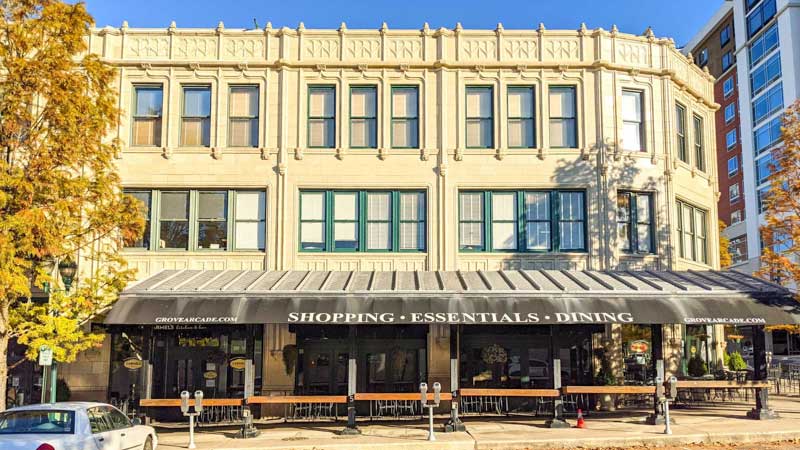 There are several restaurants located at the Grove Arcade that have outdoor seating along Page Ave (Modesto, Burgerworx and Carmel's Kitchen.) You'll find great food and excellent people-watching! One of our favorite spots to grab lunch at the Grove Arcade is the Middle Eastern grab-and-go Baba Nahm. You can order online and it's always fresh and delicious.
Summit Coffee is also located in the Grove Arcade. They are a roaster out of Davidson, NC and have great blends that are always a part of our mornings at home! Oh, and don't miss Battery Park Book Exchange! It's a great spot to grab a book, a latte or a glass of champagne if you're feeling fancy.
This stop is just down from Haywood Park Hotel and you can easily walk between the two. No need to wait for the trolley to make your way to the Grove Arcade,
Ok, that's it for downtown stops on the trolley! Next up is the River Arts District!
Trolley Stop 7: River Arts District (North)
The Asheville Trolley stops twice in the River Arts District (RAD), which is great because there are two distinct parts of it. It's walkable, though, but just…. bring your walking shoes if you decide to do that instead of taking the trolley! We'll highlight a few things about the RAD here, but if you want all the details then hop over to our full guide to the River Arts District!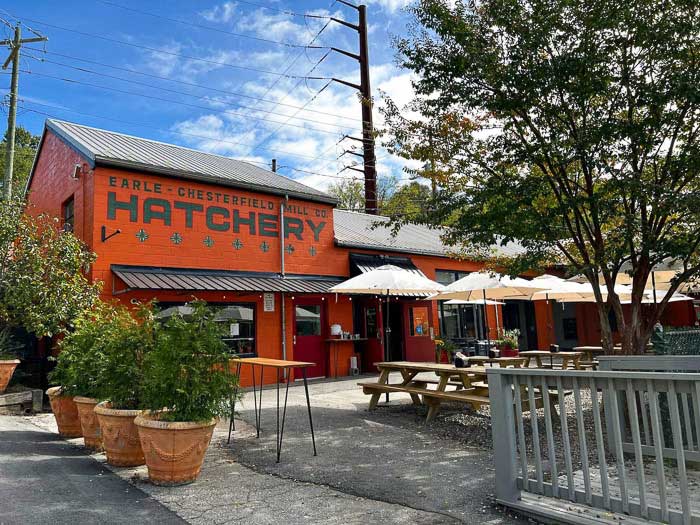 The first stop in the RAD takes you to the northern part of the district. Here you'll find one of my favorites to peek in and watch in awe: the North Carolina Glass Center. Not only can you catch a glimpse of what they have going on, but they also offer classes, like the 30-minute make-your-own ornament or paperweight class. And, of course, you can shop there too!
In addition to the glass center, there are a ton of other studios and galleries around. We love checking out the working Mark Bettis Studio Gallery. There you'll find paintings, sculptures, glassworking and more. Close by is the Hofman Studios, an artist-owned pottery studio featuring handbuilt porcelain that use antique lace to create patterns. All of the pieces are just so beautiful and unique there. It's a great place to grab a special souvenir.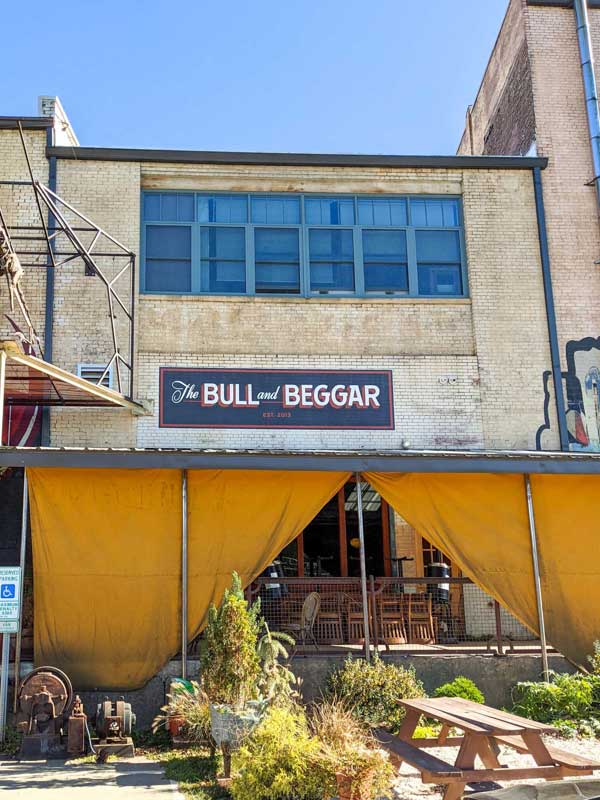 As far as eats and drinks go, Ultra Coffee has awesome coffee and breakfast sandwiches! The Bull and Beggar is also in this area, though it's only open for dinner. Wedge Brewing Company has two locations in the RAD, one of which is in this area. They are open in the afternoons and feature a rotating list of food trucks. If you are looking for a grab-and-go lunch option, check in to the newly opened MOTHER Bread to see if they have a jambon beurre sandwich (ham and butter!) ready to go. They also make great pour-overs.
Explore a new area of the RAD
Now, here's where you decide if you want to backtrack to take the trolley from where you were initially dropped off in the RAD or if you will continue your walking tour to another mini-part of the area. If you opt to walk, you'll pass by several more studios and restaurants that you would otherwise miss. We recommend it if you have time!
If you decide to explore, take a stroll down toward the Lyman St traffic circle. Take a right there to check out CURVE studios or continue straight to get to another set of studios and eats. Fresh Wood Fired Pizza, Grind AVL coffee shop and PennyCup Coffee are all located on the way. Psst: both coffee shops are on our best coffee shops in Asheville list! The restaurant Vivian is also located here and is a great spot for dinner or brunch!
You'll have to turn around to get to the next area of the RAD, and then you can either hop on the trolley to get to the next stop or walk. If you walk, take the traffic circle from Lyman Street toward Riverside Ave. There's a river walk there that will take you down to the next area of the RAD. It would be fun on a really nice weather day to stretch your legs, but you may want to skip the walk and take the trolley back. Either way, next stop: River Arts District part 2!! 🙂
Trolley Stop 8: River Arts District (South)
This is such a fun stop on the Asheville Trolley! Here you'll find art studios, eateries and a ton of large graffiti murals. Woodworking, glassworking, galleries, antique stores and even an indoor skatepark are all within walking distance.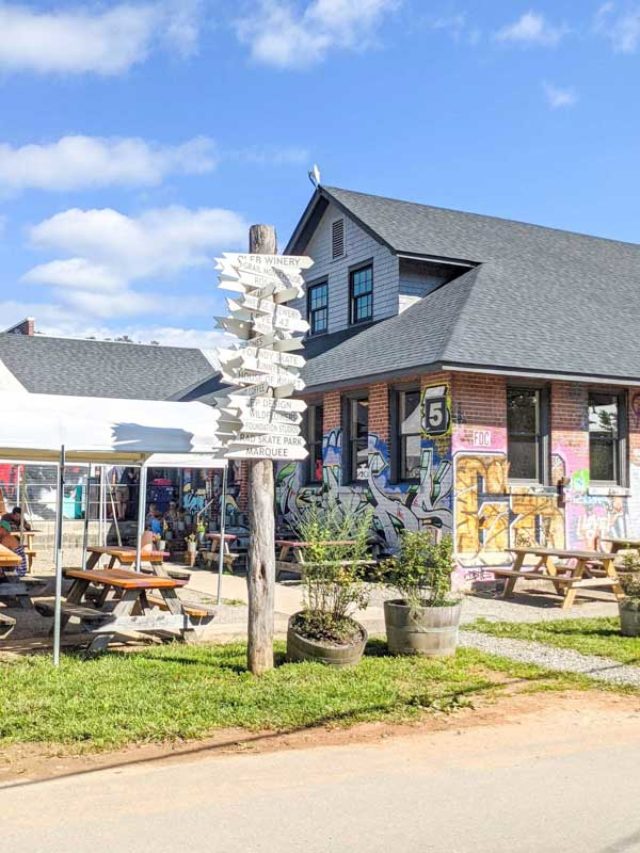 Riverview Station is a large, two-story building that features the work of over 60 local artists, craftspeople and entrepreneurs. There you'll find jewelry, paintings, photography, textiles, ceramics, sculptures and glass. Marquee is also a great stop for art, antiques, decor and jewelry. Marquee has grab-and-go food and a taproom!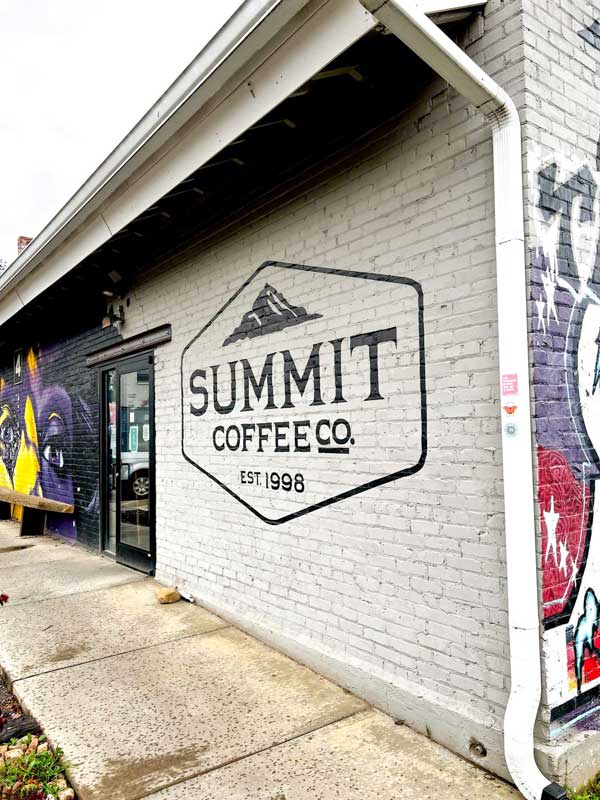 Speaking of eating, 12 Bones Smokehouse (ribs!!), Summit Coffee and Wedge Brewery's second location are all located pretty close to one another in this area of the RAD. We love grabbing a beer at Wedge Brewery at Foundation and a burger from the Chop Shop food truck there. A+ beer, burgers and outdoor seating! Unlike the rotating food truck vendor list at Wedge Brewery at Wedge Studios (north RAD), their Foundation location features the Chop Shop's truck daily. Further south, you'll find Rosabees and Plēb Urban Winery.
Whew, what a day so far! Next up: Biltmore Village! Well, kind of….
Trolley Stop 9: DoubleTree Biltmore Village
No need to hop off at the DoubleTree stop unless you are staying at the property! I really do love that the trolley stops at several hotels along the way- it makes it so easy for visitors.
Trolley Stop 10: Biltmore Village
Alright so here's the real stop for Biltmore Village. You'll be dropped off right in front of the Olde World Christmas Shop, so be prepared to feel festive.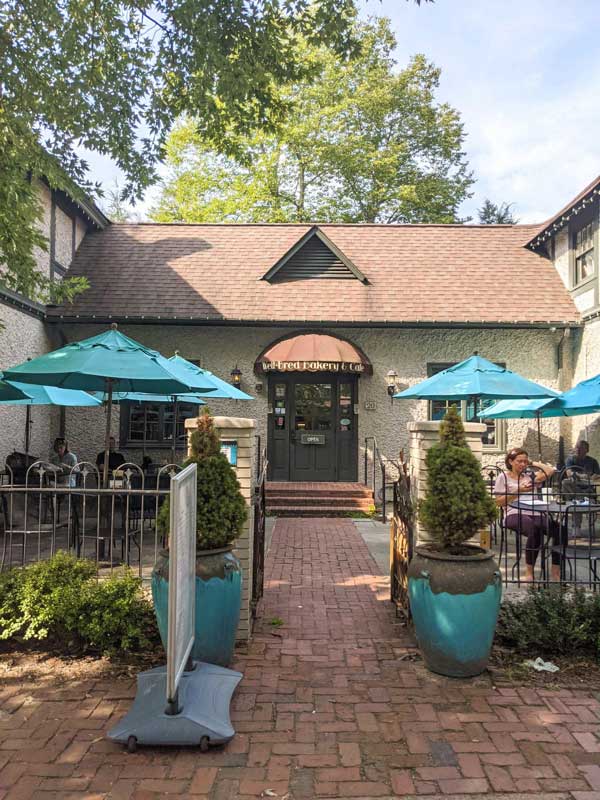 Biltmore Village is a historic area and just as charming as can be! It's across from the Biltmore Estate entrance and was originally built to house the employees. Today it is full of shopping and dining opportunities. You'll find everything from local shops like Dogwood Darlings Children's Boutique and Provisions Mercantile to bigger stores like Williams-Sonoma and Lululemon. Finch and Well-Bred are both great places to pop in for an afternoon treat, and Cantina has excellent Mexican food!
That's a wrap!
What a day! This is the last stop of the tour before the trolley heads back to the Asheville Visitor Center in Montford. And then you can do it all again!
Speaking of, did you know your ticket is good for TWO days on the trolley? This is awesome if you missed something and want to circle back or maybe you just want to try different restaurants this time around. Having two days definitely takes the pressure off of needing to see it all the first time.
We hope you enjoy your trip on the trolley! See below for details on the trolley's schedule, pricing and answers to a few things you may be wondering about the Asheville Trolley. Happy riding! 🙂
Asheville Trolley Schedule
The Trolley schedule changes with the season, so make sure to check their site for the most up-to-date info. Below is the schedule as of winter 2023. The exact hours for each stop are listed on their site!
January-February: Monday, Thursday-Saturday (limited schedule)
March: daily (limited schedule)
April-October: daily (full schedule)
November-December: daily (limited schedule)
They do not offer tours on New Year's Day, Easter, Thanksgiving, Asheville Holiday Parade Day (November 18, 2023), Christmas Eve and Christmas Day.
Asheville Trolley Pricing
As of winter 2023, child tickets (ages 5-11 years) are $15 and adult tickets are $37. These prices include TWO DAYS and unlimited hop-on/hop-off privileges. Children under 5 ride free.
Are you local to Asheville? Check out the Gray Line's Ambassador Pass program where locals ride free with the purchase of 2 adult full-fare tickets. This is a great option if you have visitors in town and want to show them around. Full details on their ambassador program can be found on their site.
Short on time but still want to ride the trolley? Purchase an overview tour ticket instead of the hop-on/hop-off one! The overview tour offers a complete tour of Asheville without hop-on/hop-off privileges. Overview tickets are $32 for adults and $14 for children and must be purchased at the Asheville Visitor Center.
Frequently Asked Questions about the Asheville Trolley
Are kids allowed on the Asheville trolley?
Yes! Kids under 5 ride free and those between 5 and 11 are $15 each. This price includes two days.
Are dogs allowed on the Asheville trolley?
Kind of. Service dogs are, of course, welcome to ride! Dogs under 25 pounds and up to date on their vaccinations can also ride in their owner's laps. According to their site, passengers with pet dogs can only get off at the Omni Grove Park Inn if they are guests there.
Do I need to wear a mask on the Asheville trolley?
Face masks are optional for all tour guests.
Does the trolley in Asheville run year-round?
Yes! But their schedule changes regularly so make sure to check their site for the most up-to-date info.