Asheville Holiday Gift Guide
Asheville has so many amazing small businesses with the perfect gifts in stock. And trust me, they would be tickled red and green to have you shop there this season!
We had so much fun putting this list together and we hope it inspires your own adventures to get out and keep it local this season!
When reading through the guide, please keep in mind that what's listed is just a sampling of all of the wonderful shops and locally made products available in Asheville. There are too many to count (which is one of the reasons Asheville is so great!)


Asheville Gift Guide Table of Contents
Asheville Gifts for Food Lovers
We are kicking off the guide with our favorite category: FOOD! And Asheville sure does deliver! We had such a tough time making this list because we love everything about Asheville's food scene. Obviously, a great local food gift is a gift card to a restaurant, but we focused more on actual local Asheville food items in this guide. Here you'll find a few local bakeshops, local food brands and even a fun food experience!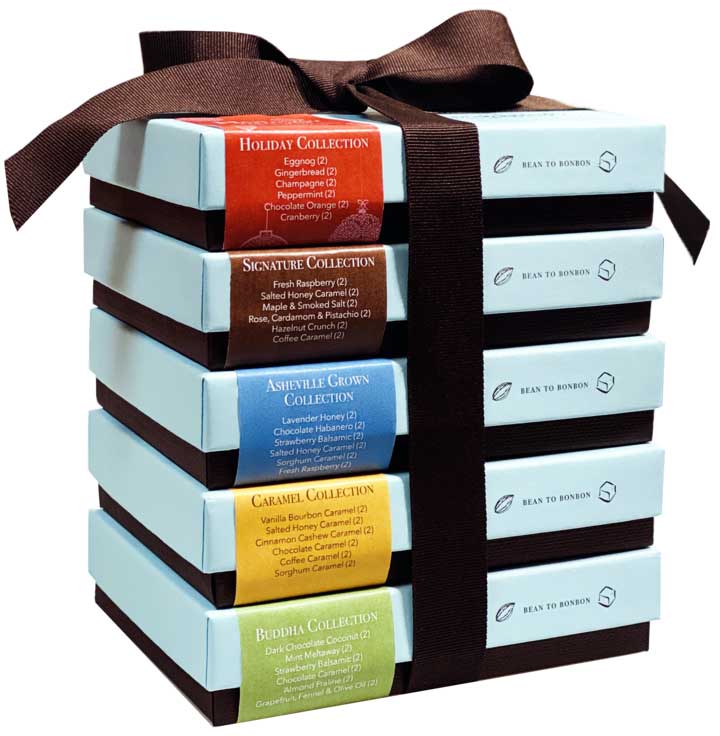 Treat someone with a box of chocolate bonbons: French Broad Chocolate has the cutest gift boxes all wrapped up and ready to go. Oh, and insanely delicious chocolate. You really can't go wrong, especially if your box includes their strawberry balsamic chocolate! Their Holiday Collection is a great place to start (12 pieces for $39 // 24 for $64.) Need an especially indulgent gift? Check out their Holiday Cheer Gift Set (12 bonbons, sipping chocolate and peppermint bark for $100.)
Send your favorite foodie on a food tour: The tours offered by Eating Asheville all sound divine! They range from $79 to $85 and are 2.5 hours and even include a brewery option. Sign me up!
Give a flavor-full gift with Spicewalla: I love everything about Spicewalla! Their product, their brand, their Asheville roots and the fact that their spices are packaged in containers that I actually want to sit out on my counters. If you are looking for something right at $20, check out Spicewalla's assortment of 3 packs. Need a bigger present? Spicewalla's Kitchen Essentials collection is priced at $84.99 and includes 18 commonly used spices.

Inspire with a local cookbook: So many great restaurants around town have published their own cookbooks! I see them all over, most recently I spied a few at Mountain Merch (along with some Biscuit Head jam!)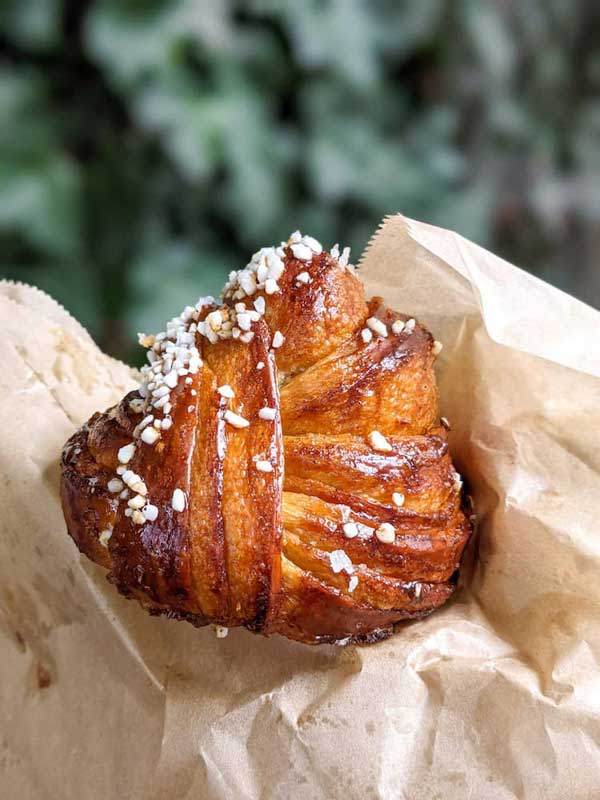 Bring someone (cough… your coworkers) pastries: If you want to show someone how much you love them, wake up early and go stand in line to be one of the first to get baked goods from OWL Bakery. Not only are their pastries delightfully beautiful, but they are also delicious. Their almond rose croissants are among my favorites, though my absolute favorite is their apple turnover. A box of Vortex Doughnuts will also do the trick!
Keep it cute with Poppy Popcorn: I spied a few of Poppy Popcorn's holiday packaging recently at Provisions Mercantile and it stopped me in my tracks. The holiday-themed cylinders are so cute and would make such a fun gift! I'm partial to their Reindeer Crunch (salted caramel popcorn with caramelized walnuts, pecans and cashews, all drizzled with French Broad Chocolate™ craft dark chocolate), though all their flavors are great!
Build your own trail mix treat: Speaking of Provisions Mercantile, their trail mix bar at their Biltmore Village location is such a fun idea! Provisions has tons of other cute gift ideas too– things like charcuterie supplies (think: teeny tiny gold spoons!), ABLE bags, Chappy Wrap blankets, fancy hand soap, local snacks, puzzles and coffee table books.


Delight with a mini charcuterie box: Asheville Charcuterie Co makes the absolute cutest platters, boxes and, yes, even grazing tables. If you have several people on your list, consider gifting mini charcuterie boxes for $20 each (minimum of 3 per order.) What an easy and unique holiday treat!
Hosting a holiday party? A grazing table from Asheville Charcuterie Co sounds like the perfect addition! They have options starting for groups of 25 and go up to groups of 150.
Asheville Gifts for Coffee and Tea Lovers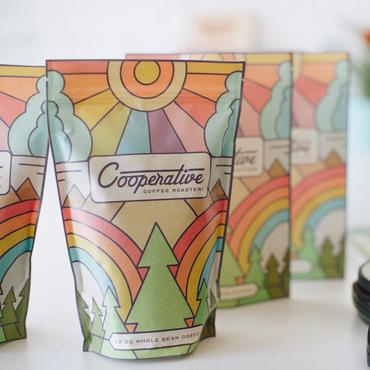 Gift a coffee subscription from Cooperative Coffee: Oh, I love this one! It's a really fun gift for your coffee loving spouse or bestie. You can choose frequency and duration, starting at weekly bags for one month for $60. You can also buy Cooperative Coffee bags individually either through their site or from a local retailer. We typically pick up a bag when we visit Liberty House Cafe.
Level up with an East Fork coffee mug + local bag of coffee or tea: If your budget is around $60 and you are feeling fancy, I love the idea of pairing *The* Mug from East Fork Pottery ($38) with a bag of local coffee or tea. PennyCup is always a good idea for coffee! If you want to be smart about it, buy your PennyCup coffee at The Rhu and pick up two brownies while you are there. One to add to your gift and one for yourself. You're welcome.

Everyone gets a High Five Coffee espresso drink card (Oprah-style!) What a fun idea for a group of friends or coworkers! Each card is $5 and allows the recipient to get any classic espresso or tea beverage under $6 on High Five's menu.
Make it festive with Asheville Tea Company's Holiday Trio gift box: And now let's talk tea! Asheville Tea Company's Holiday Trio gift box includes three limited edition tea blends (Snow Day, Winter Wonderland and Spiced Apple Butter), each with 20 pyramid tea bags. The trio is $45 and comes in a cute package and ready to gift!
Bring a moment of bliss with a tea blend from The Herbiary: Downtown Asheville's The Herbiary has a great selection of teas, spices and other fun finds. We love gifting their women's blend (Milky Oats, Nettle Leaf, Alfalfa Leaf, Raspberry Leaf, Dandelion Leaf) to my tea-loving mother-in-law. All of their tea ingredients are grown locally or organically harvested.
Asheville Gifts for Beer Lovers (and Other Dirnks!)
Well of course this is a category! Local Asheville beer is our go-to gift for my brother and two brothers-in-law. Suffice it to say, we are their favorites in the family. Several of the breweries in Asheville offer online ordering and curbside pickup if you are short on time. A handful also ship, though you'll need to make sure your final destination state allows alcohol shipping. See below for some of our favorite local breweries to gift from!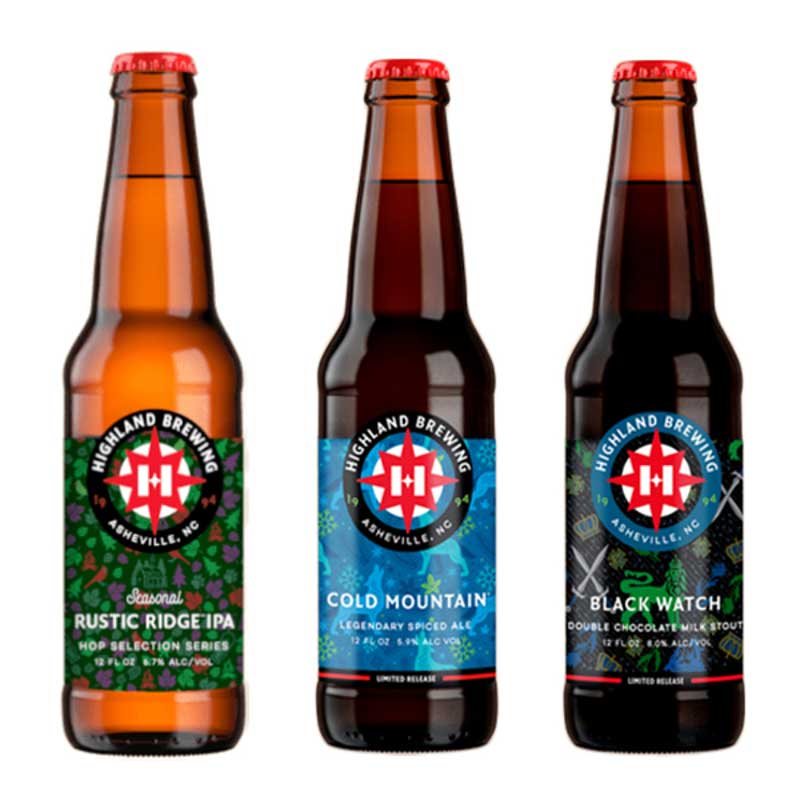 Bring cheer with Highland's seasonal brews: Highland just released their Cold Mountain brew (FOR THE 25TH YEAR!!) and it's available all month. This would be such a great gift or stocking stuffer. If you are looking for a really limited release, then you should try to get your hands on their Black Watch Double Chocolate Milk Stout available on Black Friday!
Make it fun with Bhramari's unique brews: Bhramari is one of the most creative brewers in the city. They are behind my favorite sour (The Good Fight) and tons of other fun flavors and collabs. If you are feeling fun, check out their Face Taker — Berliner Weisse w/ Peach Rings, Gummy Worms, Cotton Candy & Salt Water Taffy. If you are looking for something a little less wild, check out their Lorelai IPA. You can order your Bhramari beer for local pickup. You can also get candles, shirts, hats and even house fermented hot sauce!

Let's be fancy with Burial Beer's bottles! Burial is another great South Slope brewery with beer worth gifting. Their menu changes often, but they are guaranteed to have a few fun brews in some awesome packaging. I especially love the idea of gifting a 500ml bottle (starting at $17.) Shop their site here.
Keep it classy with a bottle of gin from Chemist Spirits: Speaking of gifting alcohol, we recently gave my father-in-law a bottle of gin from Chemist Spirits and he loved it! Not only is it local, but it also tastes great and is in such a giftable bottle.


Give an epic gift from Cultivated Cocktails: If gifting spirits is your game, then definitely check out Cultivated Cocktails in downtown Asheville. They are a local distiller and have so many fun options in their downtown Asheville bar and shop. We love the idea of gifting (or, uh, receiving…) their Ultimate Bloody Mary kit. If you are looking for something more in budget, they have a great selection of syrups, glasses and bar tools.
Asheville Gifts for Locals


Gift cards! Gift cards! Gift cards! Seriously, gift cards to ANYWHERE local! Restaurants, coffee shops, spas, gift stores, book stores…. you can't go wrong! These are great for local businesses and are sure to make the recipient happy.
Purchase a 2023 Go Local card: Not only will you be supporting local businesses and schools, but the card also comes with amazing discounts from over 600 local businesses. Each card is $20, half of which goes directly to a local public school of your choice. If you order ten Go Local cards, you save $20. That's a great way to knock out everyone on your list. Check their online directory to see which local businesses are participating.


Gift a glassblowing class: The NC Glass Center in the River Arts District offers tons of fun classes! Their 30 minute 'Make Your Own' classes are $70-85 and great for those over 13. Not only are you gifting an experience, but they'll also get to leave with a paperweight, ornament or glass.
Gift a candlemaking class: If you have walked past Hummingbird Candle Co's downtown Asheville location then you know it's one of the cutest shops around. But did you know they offer candle making classes? The experience is $45 total, with an initial deposit of $20 due at booking. You'll leave with memories and an 80 hour burning candle. Want to gift this to someone out of town? Send them an at home kit!
And now in a sharp turn, gift a butchery class! Chop Shop has several options, including whole hog butchery, beef hind quarters butchery and DIY sausage and beer. Definitely an unexpected gift!
Other Fun Asheville Gifts and Shops


Shop at a one-stop gift shop: I can't finish this guide without mentioning one of my favorite downtown Asheville shops: Duncan and York! On my last visit I grabbed a butter ornamant for a friend (and one for myself!), a Willie Nelson ornament for my dad, a Maileg superhero mouse for my niece, a John Muir essay book for my husband and Angel Dear Christmas pajamas for my kids. Mischief managed!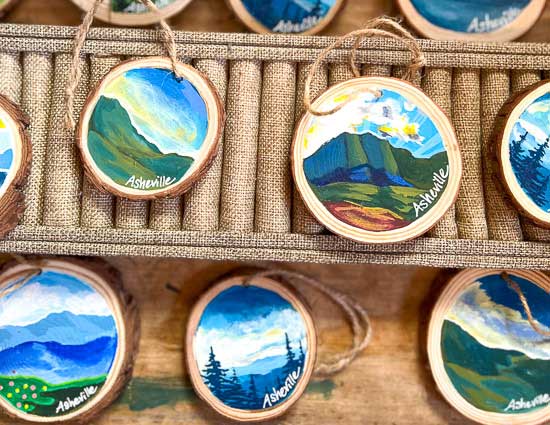 Speaking of ornaments… Mountain Merch has the cutest handcrafted Asheville ornaments around! Each are made of wood and painted in beautiful colors. Apart from that, you'll find a ton of other local goodies, like the kids book 'Have You Seen A Black Bear', Brother Nature Beard Oil, and products by Asheville Tea Company, Pisgah Coffee Roasters and Gourmet Chip Company. It's another one-stop shop to knock your list out!


Make your dry-humored friend laugh: Another fun downtown Asheville shop for unique gifts is Moonlight Makers. Known for 'shirts and giggles', you are sure to find something to make you smile. I went in this week and picked out a dish towel from their astrology line and two mugs that did, in fact, make me giggle.
Keep it green: West Asheville's Flora is full of gifting opportunities for the plant lovers in your life. They have something for every budget (including rare plants for the enthusiasts!) Grab a coffee from Forage while there!

Last but certainly not least, don't forget the kiddos! There are a ton of great toy shops around town, like the ever fun Curio in downtown Asheville. You'll see several brands you know and love (Lego, Melissa and Doug, JellyCat) and a bunch of new finds that you can't even dream up. It's a great place to stock up on Magnatiles, puzzles and construction-themed utensils (well, that's what I'm stocked up on at least!) We also love visiting Sparky's in West Asheville.