The perfect itinerary for your weekend in Asheville
Visiting Asheville, NC for the weekend and you don't know where to start? We can help!
You'll find all of our go-to recommendations for visitors to Asheville so that you can make the most of your trip. These are the things that we love to do as locals and we hope you will be inspired by our itinerary.
Read on for a detailed guide on how to spend the perfect weekend in Asheville!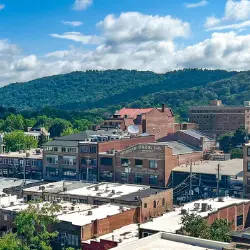 Friday (day 1 of your weekend in Asheville)
Friday Afternoon: Explore Downtown Asheville
I can't think of a better way to begin an Asheville weekend than spending time in downtown Asheville. There is so much to eat, see and do here.
You could spend the whole day in downtown Asheville and should definitely be prepared to fall in love. There are so many local shops, galleries, coffee shops, buskers and restaurants. It's a very walkable downtown, too.
A few of our favorite shops in downtown Asheville include Nest Organics for some beautiful home goods/accessories and kid items (think: Nancy Meyers movie set…), Woolworth Walk for local art (and there's a soda fountain inside!), Duncan & York for gifts for others and yourself, Madam Clutterbuckets for eclectic finds, East Fork Pottery for some world-famous made in Asheville pottery and Mast General Store for old-fashioned candy, jams and jellies and outdoor gear.
While you are walking around downtown Asheville, make sure to grab a latte and treat from Old Europe. They are hands down one of my favorite places in Asheville.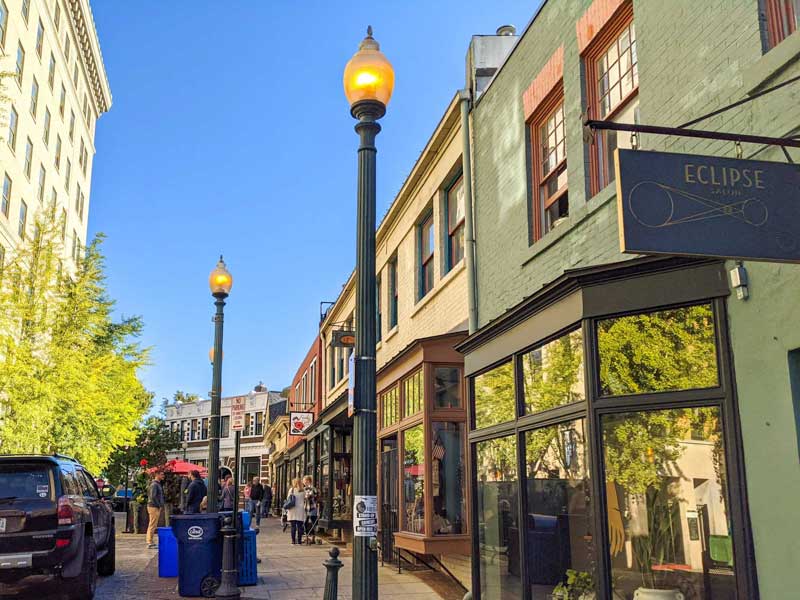 Below are a few more recommendations, though really you can just plan to meander around downtown and you are sure to find something you like.
If you are looking to just kick back and relax, check out Asheville Club at the corner of Battery Park Ave and Haywood Street. You'll find great people watching, coffee and drinks.
Another great place to unwind in downtown Asheville is the Highland Brewery taproom at the S&W Market food hall. It's just a block or so down from Asheville Club. There's a smaller bar downstairs and taproom with 18 taps upstairs. If you want a bite to eat, get a chicken sandwich in the food hall from Buxton Chicken Palace and take it upstairs!
And I can't leave Battery Park Book Exchange in the Grove Arcade off this list. Grab a glass of champagne + charcuterie and stay awhile!
Friday evening: Dinner in downtown Asheville
One quick note: you'll find the drum circle at Pritchard Park across from S&W Market on Friday evenings in warmer months. It's a fun stop on the way to dinner if you can time it right.
And now– time for dinner! We had a tough time narrowing down where we'd recommend for your first Asheville dinner. There are multiple restaurants that we love (it is Asheville, after all!) so we thought we'd give you a few ideas instead.
Have a date night at Limones
Just across the way from Cúrate is another great restaurant: Limones. We absolutely love sitting at the bar and enjoying their lobster nachos, warm churros and excellent drinks. Make reservations for Limones here.
Try THE mushroom at Ukiah
Chances are if you have heard of Ukiah Japanese Smokehouse in downtown Asheville, you have heard of their amazing Beech Mushroom Tempura. It's an excellent dish and alone makes the visit to Ukiah worth it. Their menu is inspired by Japanese soul food with influence from American BBQ. It's delicious! Make reservations for Ukiah here.
Saturday (day 2 of your weekend in Asheville)
Saturday Morning: Breakfast at Sunny Point Cafe
The first full day of your weekend in Asheville should definitely begin with breakfast at Sunny Point Cafe. I say this whenever I mention Sunny Point– yes, they are always the #1 breakfast place in Asheville but it's for a good reason. It's so good!!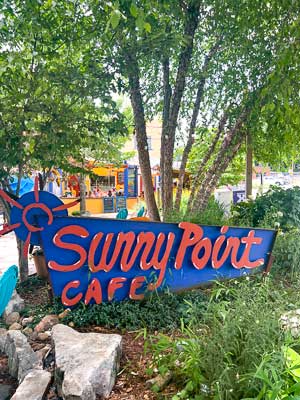 Go early to avoid a wait. They open at 8:30am Wednesday-Saturday. Sunny Point is also open for lunch and dinner, but I really love their breakfast. If you go, get the carrot hotcakes (with cardamom cream cheese!) for the table.
Saturday Afternoon: Go Explore!
This is going to be a 'choose your adventure' day. We'll give you a few ideas of where to spend the day in Asheville and you choose your fancy!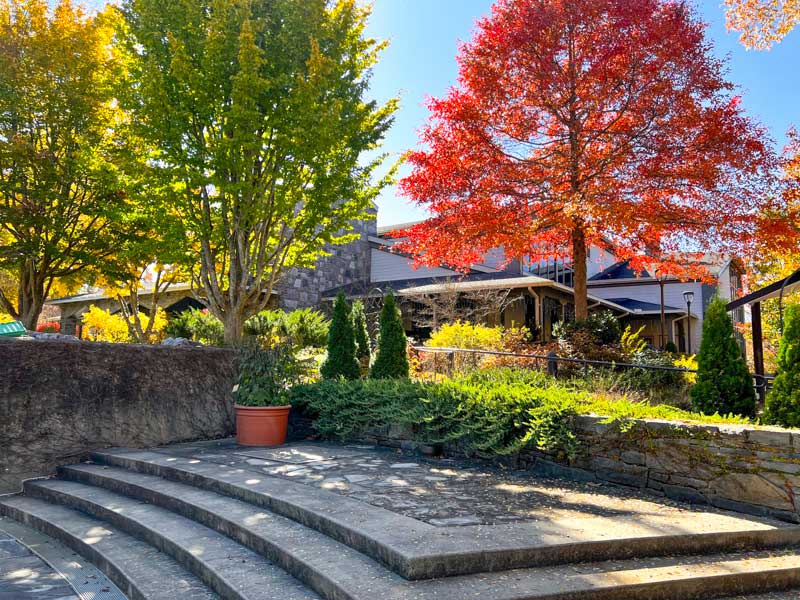 Spend time in the River Arts District: Here you'll find galleries, working studios, furniture shops, breweries and restaurants. You can even spy glass blowing in progress at the North Carolina Glass Center (or sign up for a class to do it yourself…)
Take a day trip along the Blue Ridge Parkway: This is a great way to take in the beauty that surrounds Asheville. The loop on our daytrip recommendation is a pretty quick roundtrip drive– especially if you don't go into Brevard— but has plenty of opportunity to stretch it out with views of waterfalls and opportunities for hiking. Helpful notes below if you plan on doing this:

If you want to take the exact route in our daytrip, map yourself first to The Velvet Cup (stop for coffee or donuts!) in Pisgah Forest, NC, then to Pisgah Inn and finally toward the NC Arboretum to make sure you finish off the drive on the Blue Ridge Parkway. The first part of the drive through Mills River isn't spectacular, but I really like the entrance to Pisgah National Forest in this area and I really, really like getting donuts at The Velvet Cup there.
My recommendation above is assuming you only have a few hours and don't have time to pop in Brevard, but if you do– head there before Velvet Cup!
Pisgah Inn is only open April to October. It is worth a stop if it's open, though! We like to get ice cream from the cooler in the gift shop and then take in the views on the rocking chairs. They also have restrooms available and phone service.
To shorten the trip, just drive there and back to Pisgah Inn via the Blue Ridge Parkway. You'll have spectacular views both on the Parkway and when you arrive. This would skip the entrance to Pisgah National Forest and Looking Glass Falls.
One other quick drive on the Parkway: Head northeast to Craggy Gardens. It's less than 40 minutes from downtown Asheville.

Step back in time at the gorgeous Biltmore Estate: This is a must-do for some visiting Asheville. It's a bit expensive, though, so whether it's worth it to you will depend on your interest in it. It's breathtaking– especially when it's decorated for Christmas. As locals, we love it because we can take our kids and dog to the gardens with our annual pass. Check out our full guide to the Biltmore Estate for details.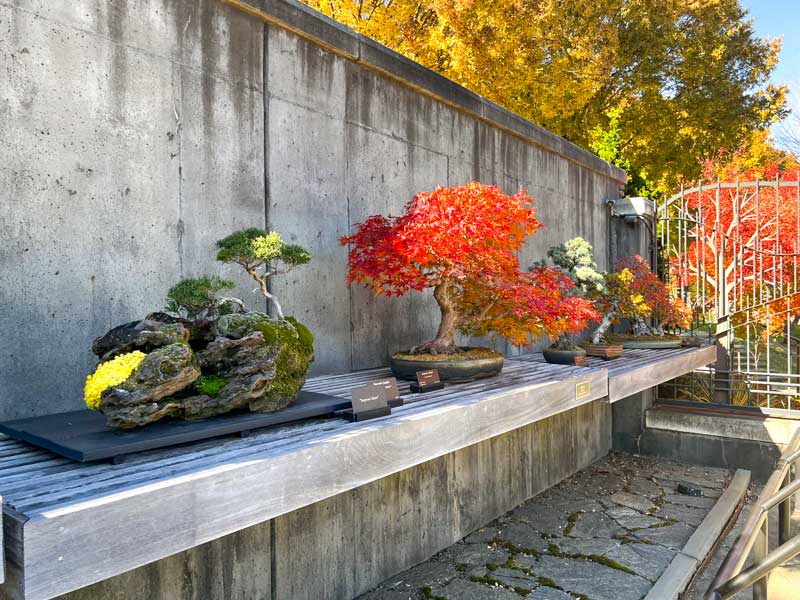 Stroll around the NC Arboretum: If you want to spend time in nature, the Arboretum is an excellent way to do this. They have various exhibits (I love the bonsai trees!), multiple trails and even a bistro where you can grab a bite to eat.
Shop local in West Asheville: There are a few different parts of West Asheville with a variety of local shops. To keep it simple, there's an area east of I-26/240 and another area west of it. A bridge connects both, but I typically drive between the two. Below is a sampling of shops you find in each direction. We also have a guide to West Asheville with additional details.

East of I-26: Check our Flora + Forage (plant shop & coffee), Whist gift shop and Mount Inspiration Apparel Co. They are all grouped together on Haywood Road in West Asheville. There's also an Early Girl Eatery there if you feel the need for great food and a mimosa flight.
West of I-26: Another great pocket in West Asheville! You'll find Provisions Mercantile (home, accessories, kids, men, food… everything), Sparky's Toy Shop, Reciprocity (women's new + secondhand clothing), and Revolve (vintage). There are also several restaurants and eateries here, including The Hop Ice Cream, Moo Cookie Company, Odd's Cafe and the famous Biscuit Head.

Check out downtown Asheville again: If you didn't get enough of downtown last night, go again! I promise you didn't see it all yesterday…
Go antiquing and thrifting: You'll need a car for the recommendations below but it makes for a fun afternoon.
Ride on the hop-on/hop-off trolley: Ok, this may seem too touristy but I did it recently with our four year old and we loved it!

The trolley officially starts at the visitor center in Montford, but as the name suggests, you can hop on anywhere.
The route has 10 stops, multiple of which are in downtown Asheville. It's a great way to see the city without a car because it takes you all the way north to the Omni Grove Inn and south to Biltmore Village.
Hop off where you want to spend some time and hop back on the next one.
Bonus: your ticket is valid for two days!
Saturday Evening: Dinner
Here's another choose your adventure-style list! We are hoping there will be something for everyone by presenting it like this.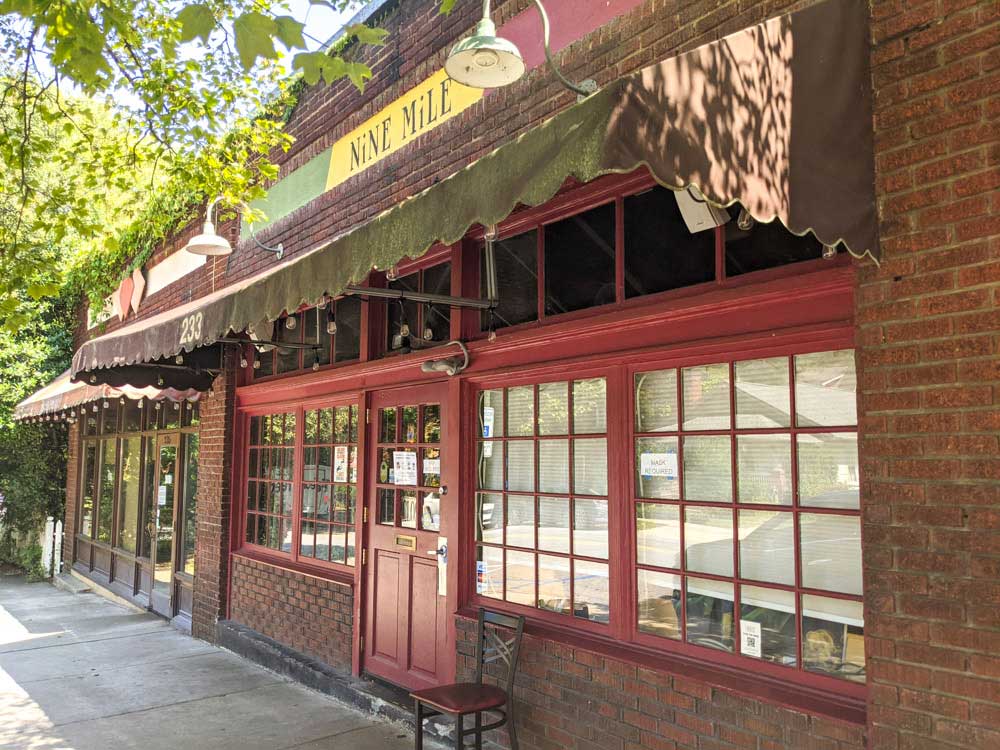 For an amazing dinner in a place locals love, look no further than Nine Mile. The best part is that they have locations all over town, so no matter where you are you should be near one. Nine Mile's menu features a ton of vegan and vegetarian plates and they do a great job of calling out which dishes are dairy-free, gluten-free, etc.
My favorite dish at Nine Mile is their Mayfield Falls– Mahi Mahi in a creamy, somehow dairy-free, ginger, coconut sauce over pasta. You can also get it gluten-free if needed or preferred. I don't even typically like Mahi Mahi so that should say enough.
For the best takeout in Asheville, head to Gan Shan West in West Asheville. It is hands down our favorite place to get takeout. We love their GSW Rice Bowl with Korean BBQ and their pork + chive dumplings. Their online ordering system is so easy and they are quick! We have a list of other great takeout restaurants in Asheville if you need more inspiration.
For a date night, check out The Admiral in West Asheville. Especially if the weather is nice and you can enjoy their picnic table outdoor seating. I know, picnic tables don't sound date night-worthy– but don't worry, the bistro lights overhead make it charming.
For a quick and delicious bite, get a burger and fries from Baby Bull in River Arts District. Counter-service, picnic tables, milkshakes. Perfection.
For dinner at a local brewery, we can highly recommend Burial Beer in South Slope. Awesome beer and great food! See here for a review of dinner at Burial Beer.
Sunday (day 3 of your weekend in Asheville)
Sunday Morning: Breakfast and Hike
One of my favorite things to do in Asheville is to grab a quick breakfast and head out for a hike.
My top recommendations for quick breakfasts are below. All are in West Asheville and open at 8am.
Taco Billy has amazing breakfast tacos that would certainly fuel you up for a hike.
OWL Bakery has a ham & cheese croissant that we absolutely love and awesome coffee.
And Hole Doughnuts… well, has excellent hot and fresh doughnuts. Perhaps you should combine Taco Billy and Hole– they are just across the street from one another, after all. You can order both online (Taco Billy // Hole Doughnuts.)
You can also check out our best on-the-go breakfast sandwiches list (and then skip them all and try the $16 Bikini Croissant from La Bodega by Cúrate.)
After breakfast, head to the mountains!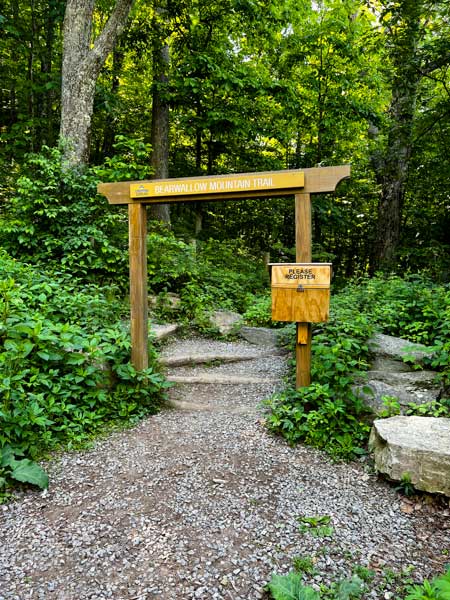 Our recommended trail for today is Bearwallow Mountain Trail. It's close by (the trailhead is about 35 minutes from West Asheville), offers a great view at the end and really gets you in the woods. It's also great for kids and comes highly recommended by our 4 year old. Bring a picnic lunch and enjoy the views from up top (or keep reading for brunch ideas.)
If you are looking for a less steep hike, head to the Carolina Mountain Trail at the NC Arboretum or the loop around Lake Powhatan. Both are about 15 minutes away from West Asheville.
Sunday Afternoon: Brunch
If time allows, grab brunch at one of our many great breakfast places in Asheville.
If you are looking for a more typical brunch, check out Vivian in River Arts District or Benne on Eagle in downtown Asheville. They both take reservations and both feel very 'local'.
Where to stay for a weekend in Asheville, NC
For this weekend in Asheville itinerary, we recommend staying near downtown Asheville.
Now, we love a good cabin moment but this itinerary is pretty jam-packed and you'll want to be close to the action so you aren't driving too much. Staying in the downtown area will mean you can easily walk from your hotel to shops and restaurants.
Hotels in downtown Asheville that we love
If you want a cabin experience, Mars Hill isn't too far from town (~25 minutes.) We have stayed in the area multiple times and enjoy the slower pace of life there. Black Mountain is also a great place to look for a cabin or Airbnb.
And of course, you can look for an Airbnb. There are short-term rental laws in place, though, so you'll typically find a private room instead of the entire place if in city limits.
Now, that's it! Enjoy your weekend in Asheville!!