South Slope has quickly become the brewery district of Asheville. The area is also home to some great restaurants like Buxton Hall and Little Chango, a fun cheese shop and some of the best donuts in Asheville.
What it's like:
hoppy · walkable · vibrant

Known for:
breweries · nightlife · restaurants

Location:
Just south of Downtown Asheville


Check out our South Slope guide below and don't miss our Asheville city guide!
South Slope Guide Table of Contents
Restaurants in South Slope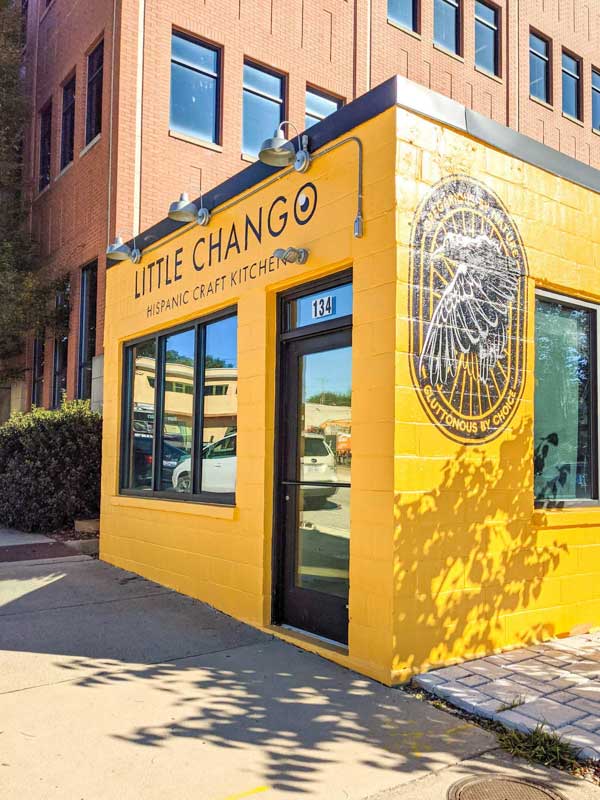 Buxton Hall Barbecue: We'll always sing the praises of Buxton Hall. Collard greens, pulled pork and hash brown casserole, please! And THE chicken sandwich that led to the opening of Buxton Chicken Palace is also served up here. Buxton is featured on our best BBQ in Asheville list!
Pie.zaa Pizza: If you like ginormous New York-style pizza, don't miss Pie.zaa! They don't have a crazy menu and instead just focus on the good stuff. You'll find cheese, pepperoni, sausage and veggie pizzas. My personal favorite pizza there is the Sweet Caroline with ricotta, pesto, basil and honey! Be prepared for mega slices and gigantic pizzas. Pie.Zaa is featured on our best pizza shops in Asheville list!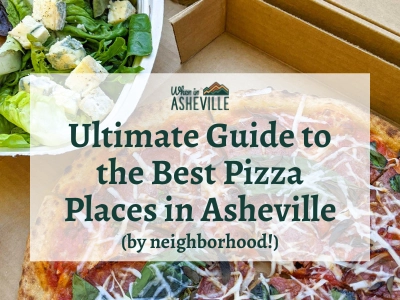 Bear's Smokehouse Barbecue: A permanent BBQ food truck (err.. bus…) on Coxe Avenue. Their menu is as fun as their appearance. They have a few wild menu items, like their bear ball appetizer: mac & cheese, cornbread and pulled pork covered with cheese sauce and bacon. They also sell pulled pork by the pound and other bbq sides by the pint. Bear's is featured on our best BBQ in Asheville list!
Little Chango: A new-ish addition to the South Slope scene that we are LOVING!! Little Chango is a casual Hispanic kitchen serving up the best arepas in town! We can't get enough of the Ropa Vieja (shredded flank steak, sofrito black bean mash, sweet plantains, queso fresco) or the flan! Little Chango also takes online orders if you can't hang around.
Storm Rhum Bar: A wonderful restaurant off the beaten path. You can get everything from smash burgers (10/10) to an artisanal cheese plate (10/10) to braised brisket (10/10). They also have a kids menu and take online reservations.
Well Played Board Game Cafe: Choose from over 700 games, grab a beer, wine or coffee and settle in! They also have a food menu with comfort food, snacks and dessert. And breakfast, too! Well Played features board game classics and new finds, so you are sure to find something perfect for you.
Coffee and Sweets in South Slope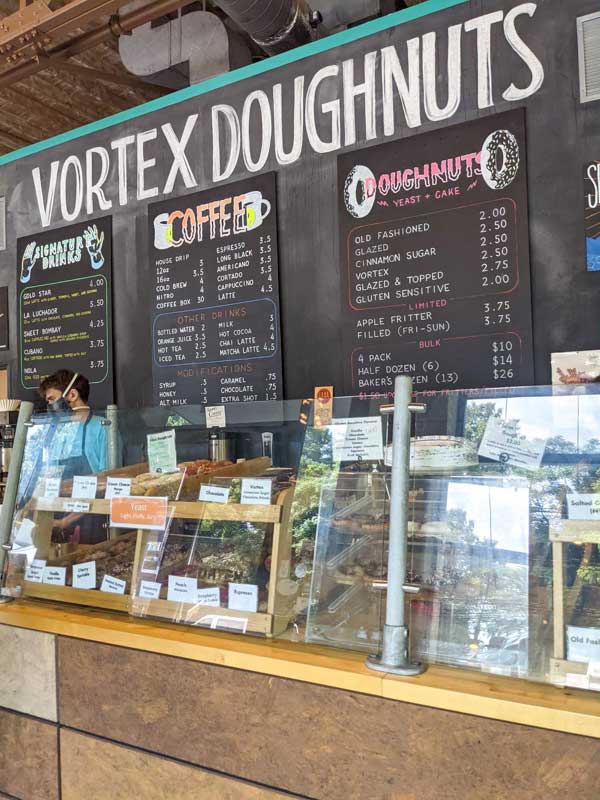 Vortex Doughnuts: A great place to pick up donuts, especially for your vegan friends! They have a ton of fun flavors and two types of dough (cake and sourdough) daily. We can never decide so we typically opt for at least a half dozen. Definitely snag an apple fritter if you can! PS We love their coffee as much as we love their donuts (and they are on our best coffee in Asheville list!) Vortex is one of our favorite donut shops in Asheville, as evidenced by our glowing review of them in our guide to the best donuts in Asheville.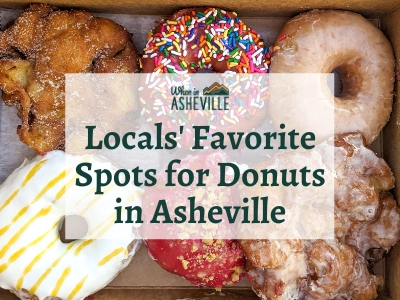 Farewell: A perfect coffee shop! We love everything about it. You'll find amazing coffee that rotates frequently, a nice selection of bites, and awesome seating both indoors and out. They have a ton of windows that allow in natural light and even open a large garage-style one when weather permits. We love Farewell and highly recommend it. Farewell is featured on our best coffee in Asheville list.
Breweries, Cideries and Distilleries in South Slope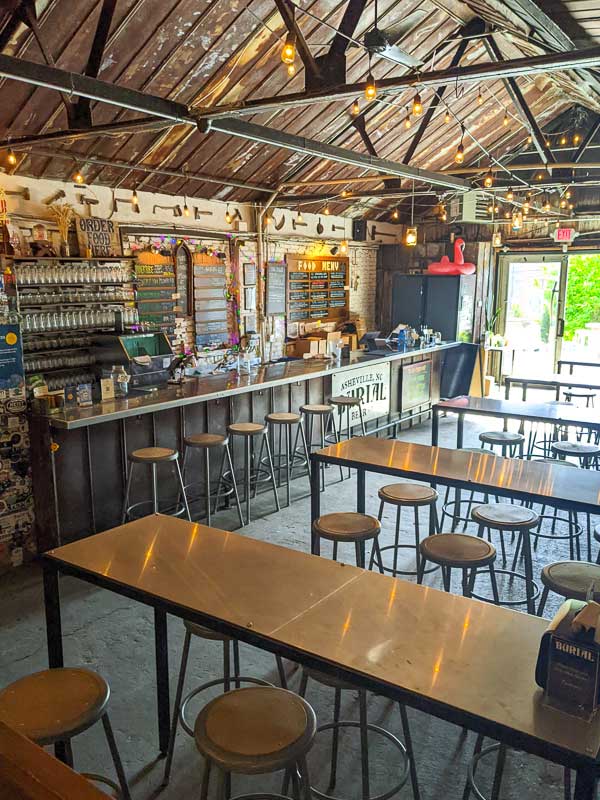 Burial Beer Co. Taproom & Kitchen: We love Burial's taproom and kitchen in South Slope! It's kid-friendly and they have a great selection of beer, wine and food (cheeseburger, fish & chips, pasta salad, bacon egg + cheese…) Their outdoor seating feels like a proper biergarten. There are several old vehicles mixed in amongst the picnic tables. Our kids love exploring them while we hang back! Want more details? Read about why Burial is one of our favorite breweries.
Hi-Wire Brewing: Tons of beers on tap including my personal favorite SOURS! This location focuses on small-batch beers and it's a very Instagram photo-worthy building.
Wicked Weed Funkatorium: A rustic pub serving up Wicked Weed's famous sour and funky beers. It's dog-friendly so don't forget your pup!
Catawba Brewing Company: Great outdoor seating and equally enjoyable beers. They don't have a kitchen, but they often have food trucks. They are also next door to Buxton Hall BBQ.
Asheville Pizza and Brewing: Good pizza and good beer, located in an open-air courtyard. It's dog-friendly, of course!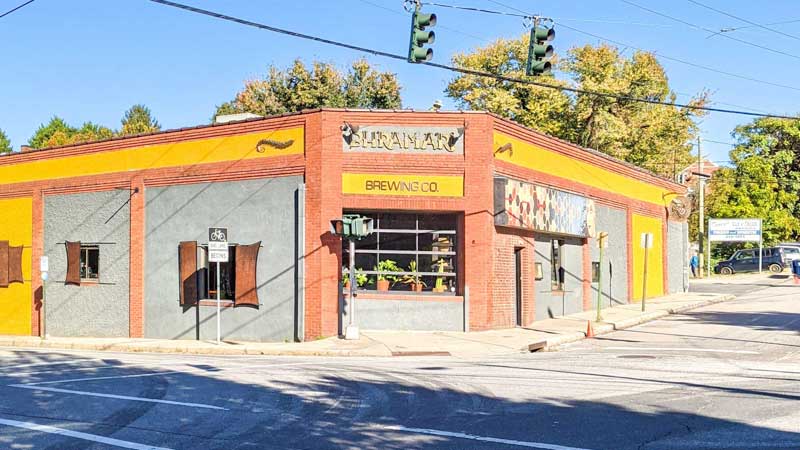 Bhramari Brewing Company: Currently closed! 🙁
Green Man Brewery: Great drinks! They don't have a dedicated kitchen but do sell snacks. Green Man is in a three-story building and the top level overlooks the brewery portion. You'll find tons of seating throughout, with a covered patio on the second floor.
Twin Leaf Brewing: A fun place to grab a craft beer. Not much in the way of food, but it's within walking distance of several other breweries and restaurants.
Urban Orchard Cider Co: Great cider selection as well as beer and wine. Tons of booths, a few tables and couches, and a long bar to cozy up to. They also have a snack menu with pimento cheese, hummus and chips.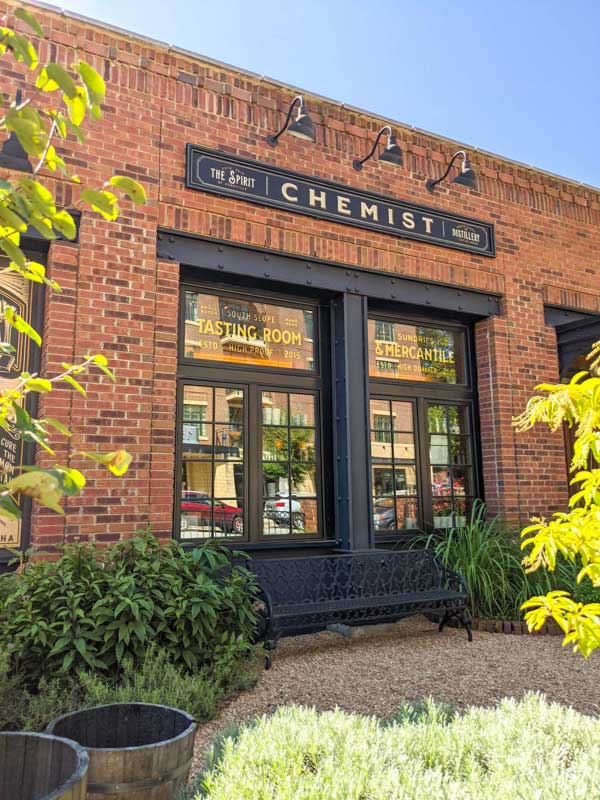 Chemist Spirits: A rare gin distillery located amongst all of the South Slope breweries. It's worth checking out if you like gin. You can do a tasting there as well as pick up a few bottles (perfect gift idea!)
Antidote at Chemist Spirits: You'll feel like you were transported back to the 1900's in this prohibition-themed cocktail bar. It's owned by the gin distillery Chemist Spirits next door. Antidote has great drinks and a fun outdoor setting.
Other Things to do in South Slope
Well Played Board Game Cafe: We mentioned Well Played above in the food section but wanted to call it out here too! This board game cafe is a great option if looking for something fun to do in Asheville.
South Slope Cheese Co.: a cute shop featuring cheese, meats, nuts, jam, cheese crisps and all the fun things for the best charcuterie board on the block. They also sell ready-to-go charcuterie boards if you're in a hurry or not feeling up to the task. Oh, and lots of wine! South Slope Cheese Co makes entertaining easy!
Rabbit Rabbit: A partnership made in heaven between Orange Peel Events and Asheville Brewing Company. Here you'll find a ton of events all month long like silent discos, live music and even the occasional Kid Hop Hooray kid dance event. Check out their calendar of events here.
Getting to and Around South Slope
Location details: South Slope is located just south of downtown Asheville and you can easily walk between the two areas. Downtown kind of just flows into the South Slope area, so much so that we almost grouped it all together in one guide. There's just too much going on in South Slope to do that, though!
Walkability: South Slope is very walkable, with everything pretty close by and pedestrian-friendly streets. There is constant construction, though, so be prepared for that.
Parking in South Slope: Parking can be hit or miss. During the day you can usually find street parking, but it can get pretty busy at night. Taking a ride share in is always a good idea (for multiple reasons)! There's a parking lot across from Buxton Hall/Vortex, and though it's shared with a construction site we can typically find a spot there.