Your Guide To West Asheville.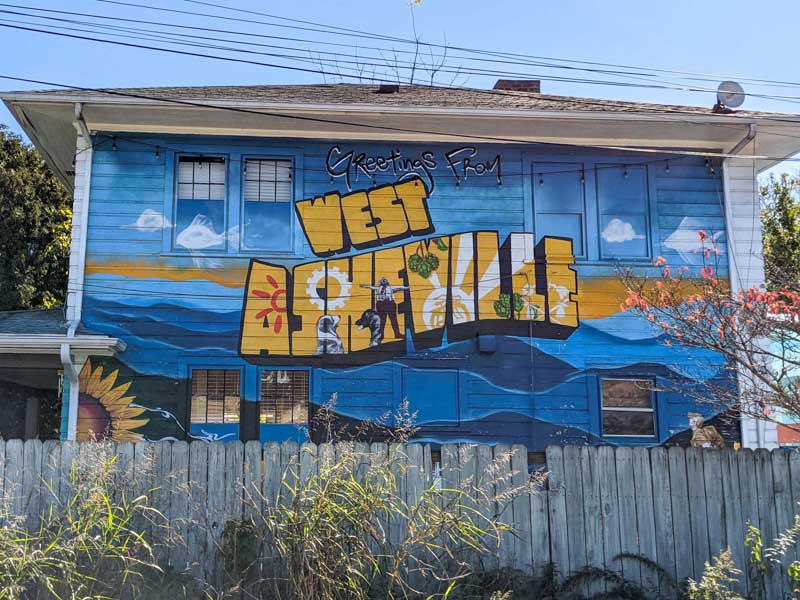 Known for busy brunch spots and local shops, the eclectic West Asheville up-and-came in the last decade.
Here you'll find breweries, music venues, bookstores, dive bars and vintage clothing shops. Haywood Road is the main corridor in West Asheville, connecting the neighborhood with the River Arts District.
About West Asheville
What It's Like
Hip · Lively · Vibrant
Known For
Vintage Finds · Restaurants · Local Everything
---
Guide to West Asheville Table of Contents
We have broken the guide to West Asheville into several sections to help you navigate as needed. See below for a table of contents.
West Asheville Restaurants
Some of the best restaurants in the city can be found in West Asheville. We've highlighted a few of our favorites below (in no particular order!) And make sure to check out our ultimate guide to dining in West Asheville for all of our recommendations.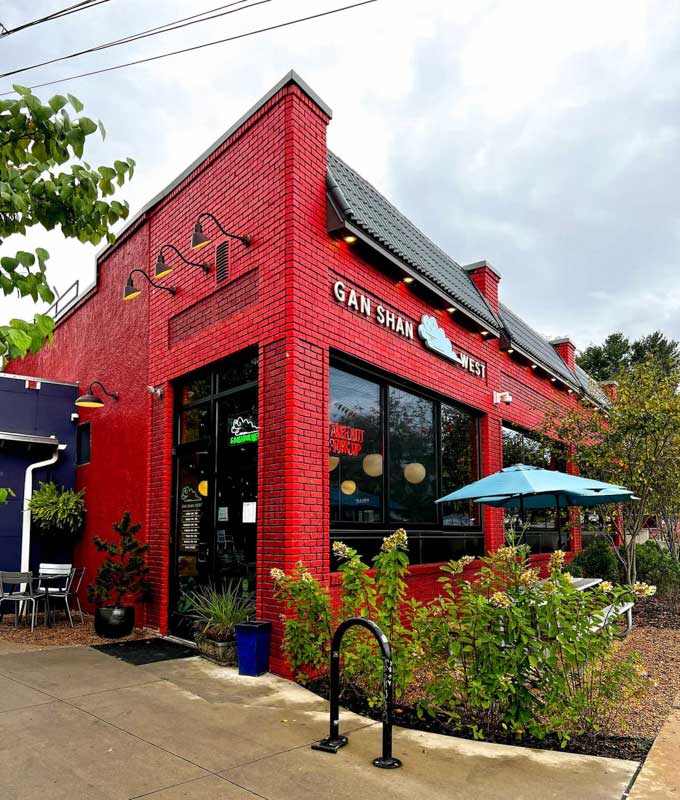 Gan Shan West: An awesome Asian fusion restaurant with easy online ordering and outdoor seating. Their GSW bowl rice is always a great choice– we like to add Korean BBQ to it. The pork and chive dumplings are also a family favorite. Gan Shan is on our best takeout restaurants in Asheville list.
Jargon: A favorite spot of ours fun an intimate date night. Jargon is the perfect mix of great ambiance, an excellent menu and stellar cocktails.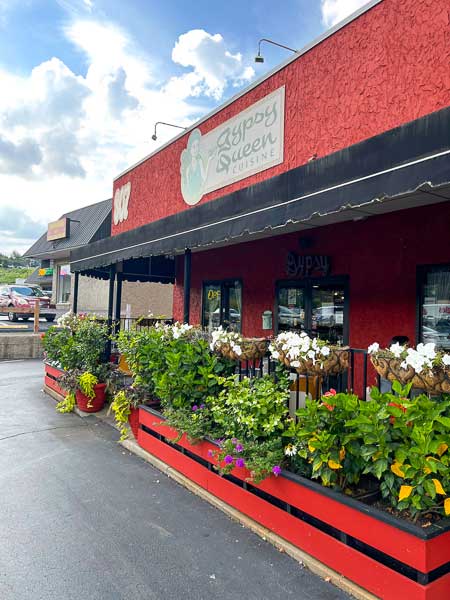 Gypsy Queen Cuisine: The place to go for delicious Mediterranean / Lebanese food. You can order online or eat there (indoor and outdoor patio seating.) They also have a marketplace with imported goods and wine. We love their lamb kafta, hummus and fried brussels sprouts + cauliflower.
Gan Shan West, Jargon and Gypsy Queen are featured on our favorite restaurants in Asheville list. Check it out for a fun list of places where locals love to eat.
The Admiral: Fine dining, West Asheville-style. It's a relaxed and casual spot (but in a date night kind of way…) with spectacular food and a short menu that isn't overwhelming. Come for the steak, stay for the panna cotta!
Itto Ramen Bar and Tapas: A Japanese Ramen bar with 8+ various ramen dishes. Great food (the broths are always amazing!) and fun menu items, like a Ramen Burger, Curry Ramen and Miso Eggplant. They also have a location downtown.
Haywood Common: Another West Asheville spot known for great food and local ingredients. The menu changes seasonally, but you can always count on boiled peanuts and a great burger. Random, but that's my go-to!
Nine Mile: A Caribbean-inspired restaurant that has tons of vegetarian, vegan and gluten-free options. Their Live & Give appetizer is always great– tortilla chips, queso, hummus and salsa. And I absolutely love their mahi mahi! PS they sell their hot sauces by the bottle (a great gift or souvenir!)
Jump back to the table of contents
Quick Bites and Delis in West Asheville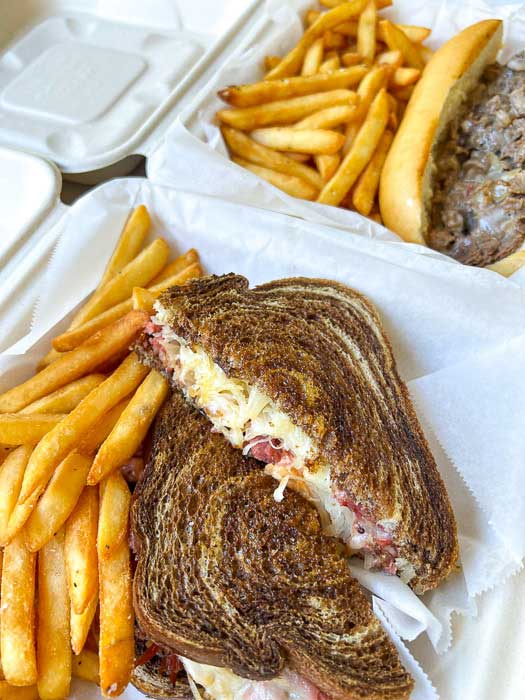 Home Ground: A great local spot to get a classic deli sandwich. This and Gypsy Queen are the only restaurants listed that are NOT on Haywood Road. Order online and pick up for a picnic at one of the many nearby parks. Tons of deli sandwich options, salads and coffee drinks.
Asheville Sandwich Company: A great place to grab a deli sandwich, burger or Philly cheesesteak! They offer online ordering and a killer Reuben. They also have a ton of vegan options (including a vegan reuben!), french fries, milkshakes, cookies and pre-packed trail boxes for your next hike.
Jump back to the table of contents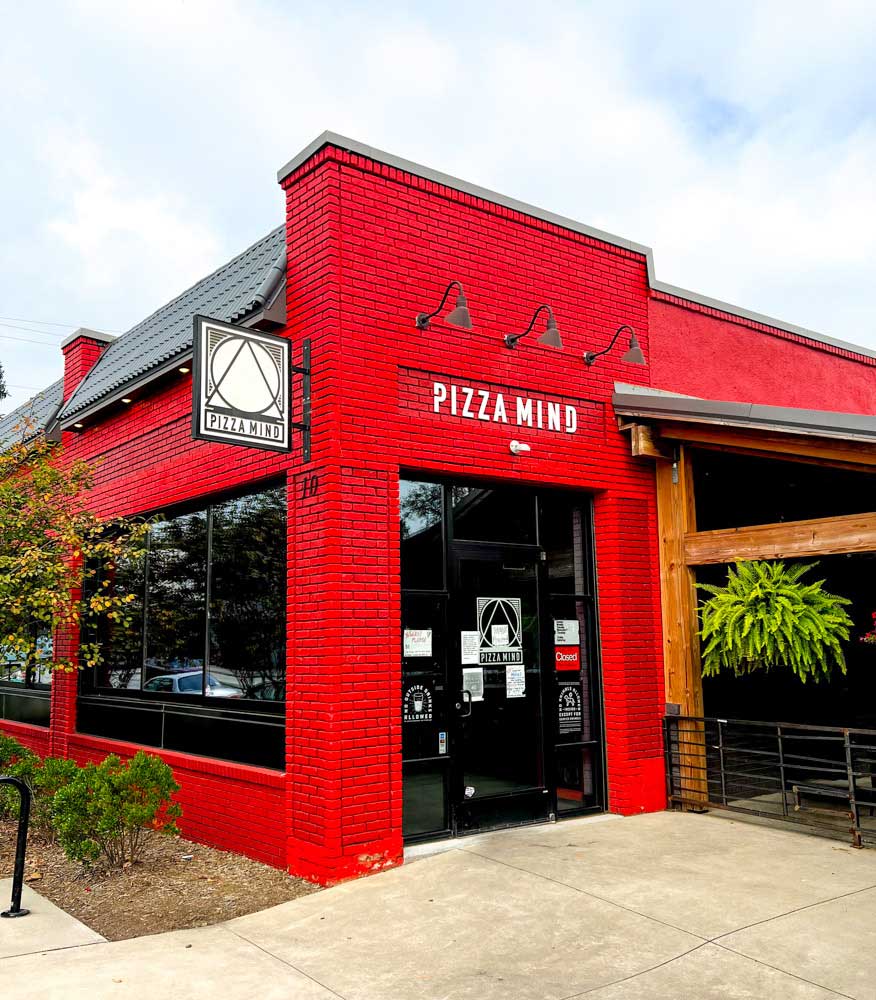 Jump back to the table of contents
Breakfast and Brunch in West Asheville
A few of the places mentioned below also serve lunch (and dinner) but we wanted to call out that they are breakfast spots!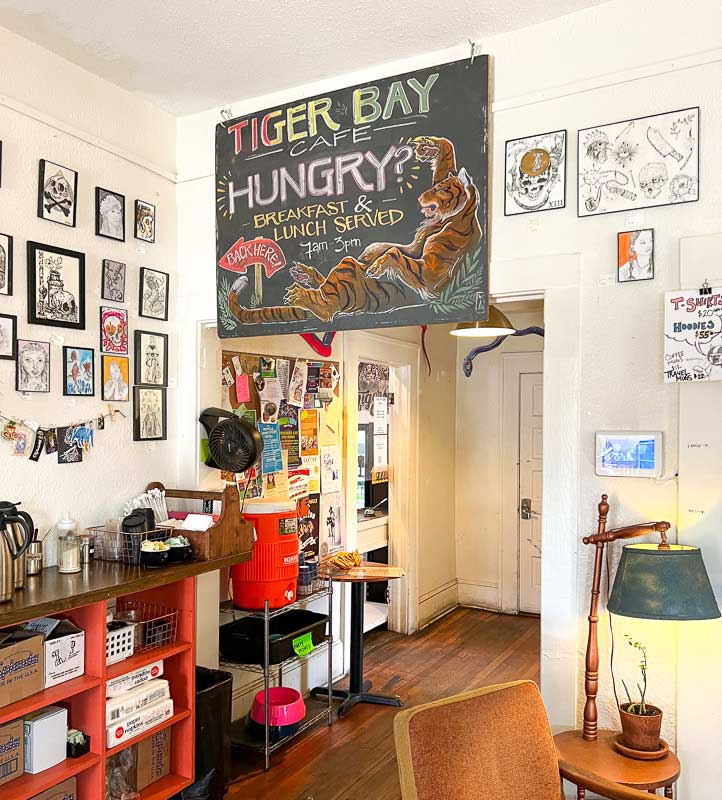 Tiger Bay Cafe: A funky spot to grab to-go breakfast and lunch located in West Asheville's BattleCat Coffee Bar. They make an awesome breakfast bagel and panini. Order online and they'll have it ready to go. Tiger Bay is also Black-owned and female-owned! You can read more about our latest visit to Tiger Bay Cafe and why we love it so much here!
Taco Billy: Quick, casual and delicious tacos— including breakfast ones! Try their plantain tortillas as an alternative to the traditional flour and corn. Great salsa and guacamole, too!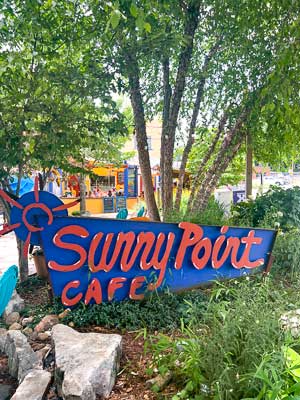 Sunny Point Cafe: Grab breakfast, lunch or dinner at the very well-loved Sunny Point Cafe. It's a great garden-to-table restaurant and has some of the best breakfasts around. It's true– they were recently voted number one again for both best breakfast and best brunch in Asheville by the readers of Mountain Xpress. Try their shrimp and grits and enjoy their great outdoor seating!
Early Girl Eatery: Another all-day breakfast, lunch and dinner spot. You'll find a few gluten-free and vegan options, as well as your classic downhome-style breakfast plates. Their menu focuses on local, organic, seasonal items.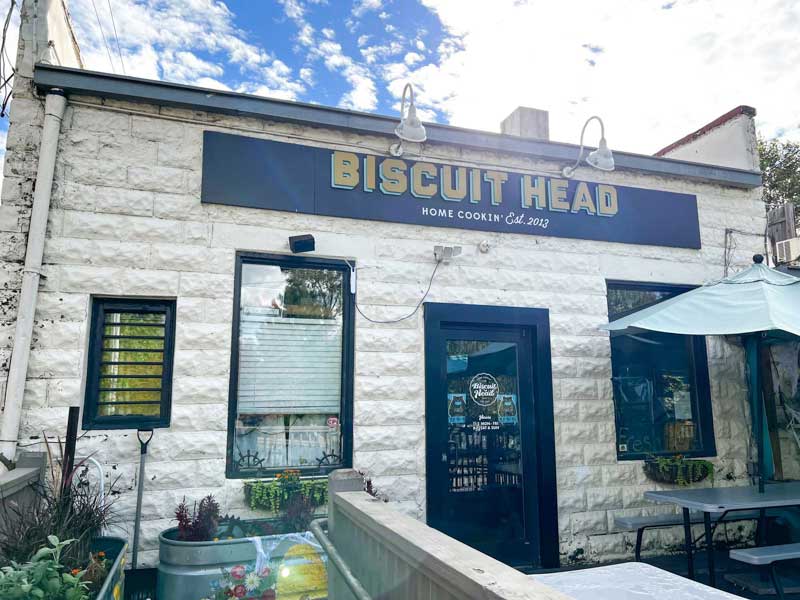 Biscuit Head: Yes, THE Biscuit Head. A tourist favorite and voted second best breakfast and brunch in Asheville by the readers of Mountain Xpress in 2021. Prepare to stand in line because of it! They have a ton of mega-loaded biscuit specials on their menu that will make even people who are decisive have a hard time choosing. They have multiple locations around town and you can order online.
Asheville Sandwich Company: We mentioned them above, but they belong here, too! They have breakfast starting at 9am. You'll find pancakes, french toast, breakfast burritos and even an Elvis sandwich (Brioche French toast stuffed with peanut butter. Topped with bananas, powdered sugar, and maple syrup.)
Jump back to the table of contents
Coffee, Bakeries and Sweets in West Asheville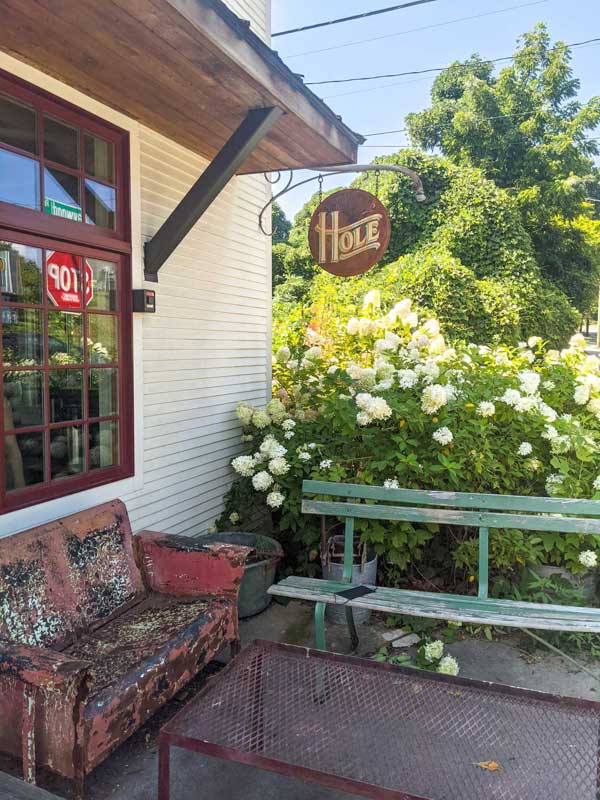 Hole Doughnuts: A West Asheville must for doughnuts. Order online and pick up from the cutest shop around. Hole is on our guide to the best doughnuts in Asheville, by the way! And it may be the actual best place to grab doughnuts in Asheville…
OWL Bakery: A lovely bakery with the best baked goods in town- but you better get there early! Definitely try a morning bun and/or cardamom bun. And an almond rose croissant! And a chocolate chip cookie! They also have excellent coffee– so much so that we added them to our best coffee shops in Asheville list even though they aren't technically a coffee shop. Their coffee shouldn't be missed, though!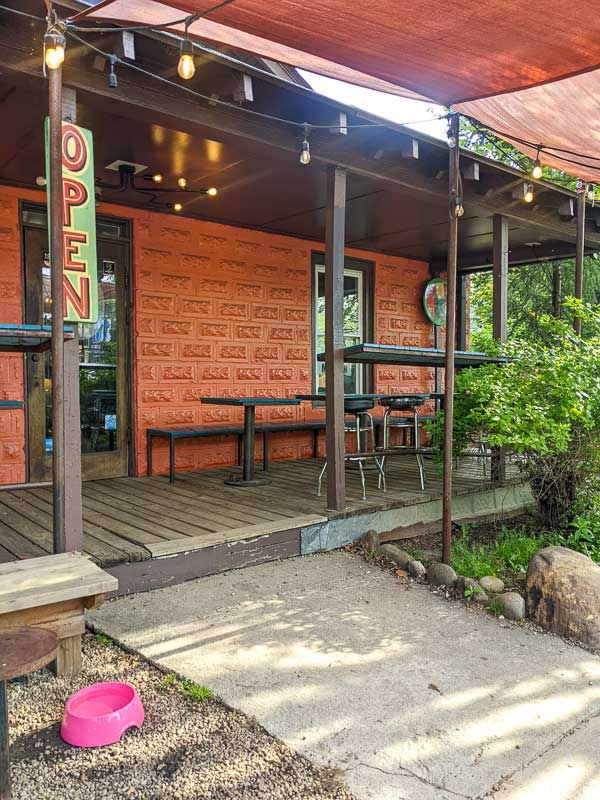 BattleCat Coffee Bar: Coffee, breakfast and local artwork served up in a cozy + eclectic house. BattleCat is on our best local coffee shops in Asheville list! You can also read about why we love BattleCat and the in-house Tiger Bay Cafe here.
Forage: a botanical coffee shop located inside of Flora. They serve Dynamite coffee, AppalaChai, organic tea, sparkling water, and sweet local treats, sourcing organic and local when possible.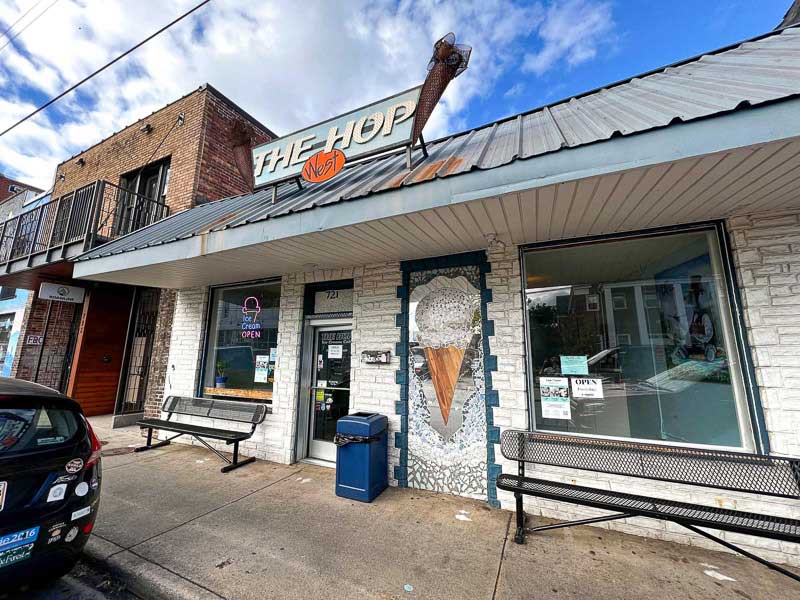 The Hop Ice Cream: So much happiness at this local ice cream shop. They actually have two locations in West Asheville– one is closer to the River Arts District ("the creamery") and the second is further west on Haywood toward Biscuit Head, Odd's Cafe, etc. You'll find the same great ice cream (both dairy and vegan-based) at each location, though!
Odd's Cafe: A local and loved establishment serving a variety of espresso drinks, teas, baked goods, hummus, NYC bagels, granola, local art pieces… you know, all the things. Odd's is on our best coffee shops in Asheville list— check it out if you need some Asheville coffee shop inspiration!
Jump back to the table of contents
Breweries and Bars in West Asheville
West Asheville isn't known as the brewery district (that's reserved for South Slope!), but that doesn't mean there aren't a ton of awesome breweries and bars in the area. You'll find everything from New Belgium Brewing to a craft beer collective in West Asheville.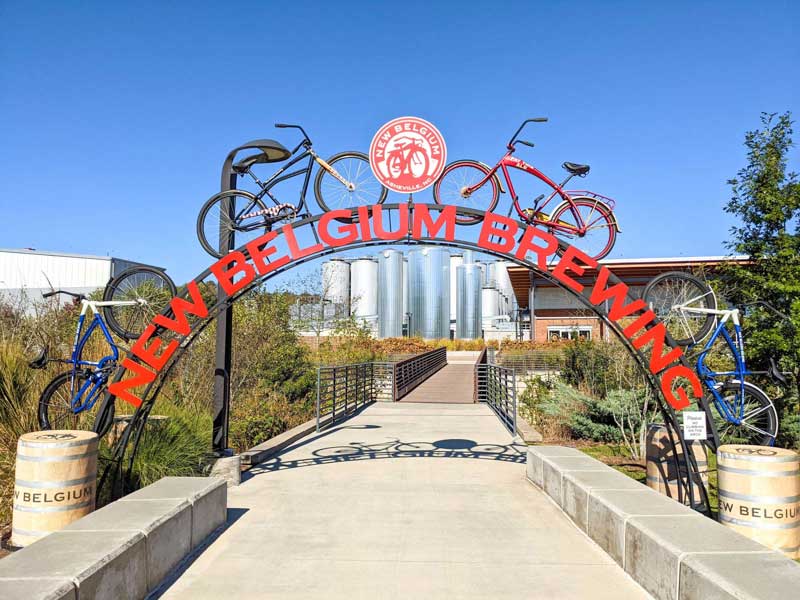 The New Belgium brewery makes a great stop if you are walking or biking along the river (or kayaking… see below!) They used to offer tours but that's on hold for now.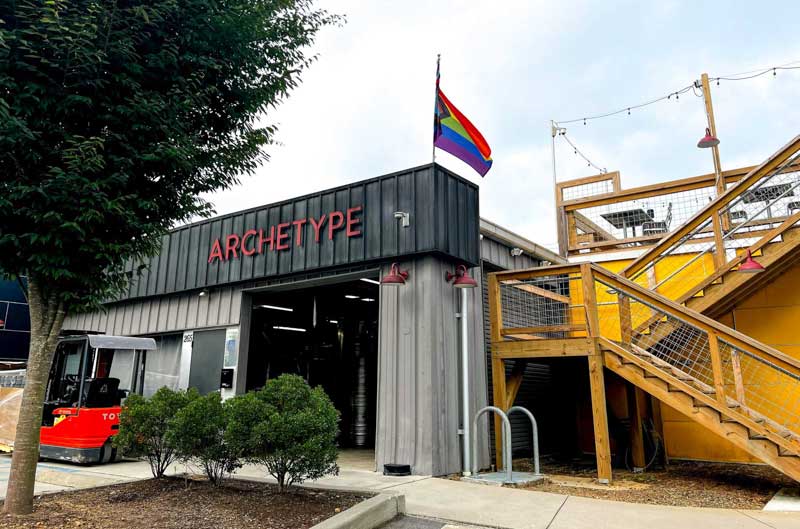 One of our favorite breweries! Maybe it's because of the great beer and dog-friendliness. Maybe it's the great indoor and outdoor seating. Or maybe it's because you can have Gan Shan West delivered right to your table with the quick scan of a QR code. Pizza Mind is also right there and offers takeout with online ordering.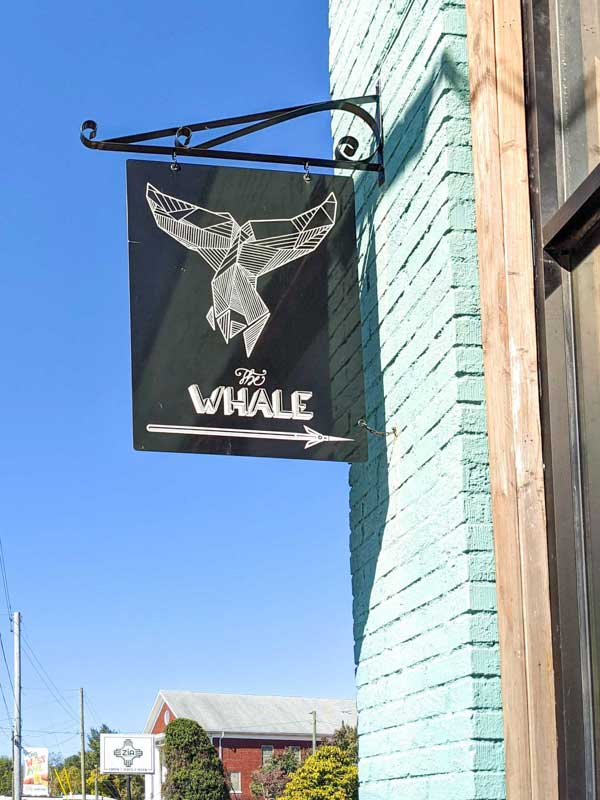 A craft beer collective with a focus on beer from around the world. They exist to bring sought-after beers ('whales') to those who would appreciate them. The menu changes often and is kept up to date on their website!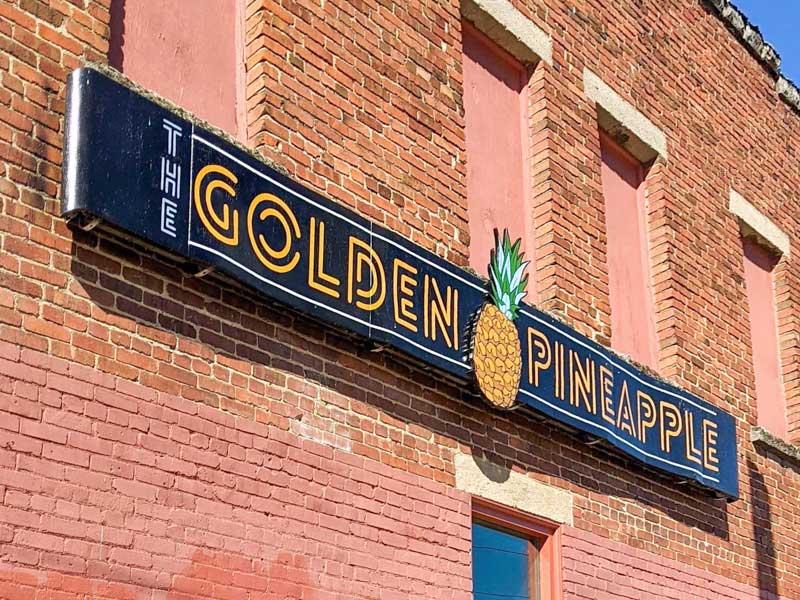 A cocktail bar just down the road from One World Brewing on Haywood. You'll find spirits, wine, beer, non-alcoholic options and a food menu with things like salads, wings, sandwiches and noodles. Several menu items can be made vegan (except not their every-Tuesday smash burgers…) Psst: there's a $1 membership charge.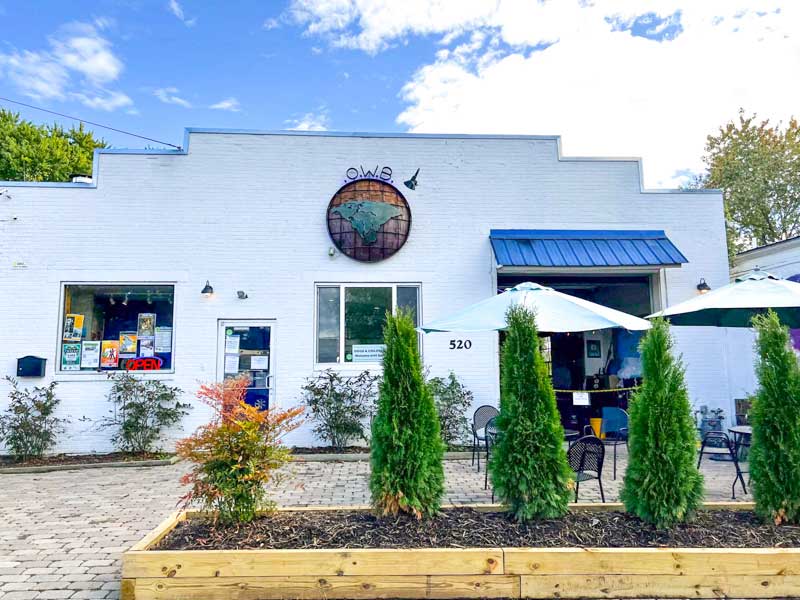 Great beer, fun events and a food truck, too! It's definitely worth checking out their event calendar because there's always something going on.
Urban Orchard Cider Co.: A fun taproom to try a variety of ciders aged a minimum of 8 months. It offers a nice change in pace if you've been hitting Beer City too hard! They also have a South Slope location.
Jump back to the table of contents
Shopping in West Asheville
West Asheville has a ton of great local shops. I can't think of a shop in West Asheville that isn't local actually. There are several vintage shops and book stores, as well as a great mercantile store with everything and a cute toy shop! Oh, and a few awesome plant stores.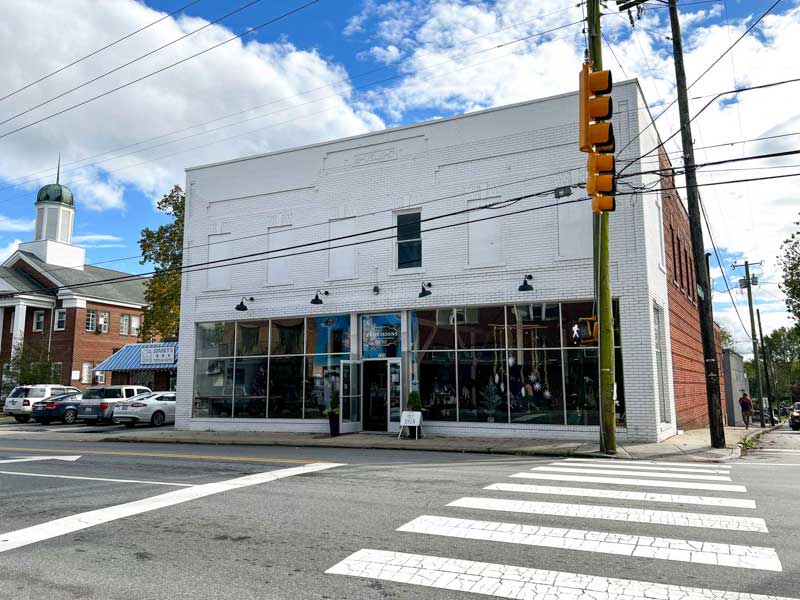 Provisions Mercantile: A modern-day mercantile that I can easily get lost in. Shop from both nostalgic and new products from around the world and just down the street. They do a great job highlighting their local Asheville brands, like Spicewalla and Poppy Popcorn. Provisions also has an impressive selection of items to spice up your next charcuterie board, from napkins to jams to the actual cutest serving utensils. Don't miss our Q&A with the owners about their favorite things to do in Asheville!
Sparky's Toys & Gifts: Oh, to be a kid again! Sparky's is an excellent stop for kids of all ages and the perfect place to snag a gift. They have a ton of board games and do a great job covering all ages. Our kids love visiting Sparky's, especially because The Hop Ice Cream is just across the street!
Twice Round Vintage: A great West Asheville shop for a fun vintage find. I am definitely not cool enough to shop here, but that hasn't stopped me yet. They have 80s windbreakers, Converse sneakers, clothes your mom wore and clothes your grandma wore. Basically, everything the kids are wearing these days.
Reciprocity: A West Asheville resale boutique specializing in brands like Madewell, Free People, Urban Outfitters, Anthropologie and J. Crew. They have such a great selection, especially of jeans.
Flora Botanical Living: Heaven. Actual heaven. Tons of plants, flowers and unique gifts for yourself (or others, I suppose.) I'm always inspired to bring a plant friend home, and they make it easy with very specific labels (i.e., sun required, pet-friendly, etc.) Last thing! Flora works with brides and others planning events to create floral wonders. Just something to keep in mind! 🙂
Palm and Pine: Another awesome plant shop in West Asheville! And they have a lemonade + ice coffee window in the summer. This one is tucked away in a neighborhood but they have some really great plants and home items. I love their hand-drawn zines and little touches around the store. The owners are very knowledgeable and there's typically a cute pup waiting to greet you!
The Littlest Birds: A sweet little shop for your sweet little ones. This West Asheville baby boutique sells tons of great baby finds, like carriers, clothing, shoes and blankets. They also offer cloth diaper classes and sell the supplies, of course!
Jump back to the table of contents
Things to do in West Asheville
Yes, there are a few other things to mention about West Asheville besides great eats, local shops and delicious beer! Oh, and the murals. You can't miss those! Below is a list of some other things going on West Asheville.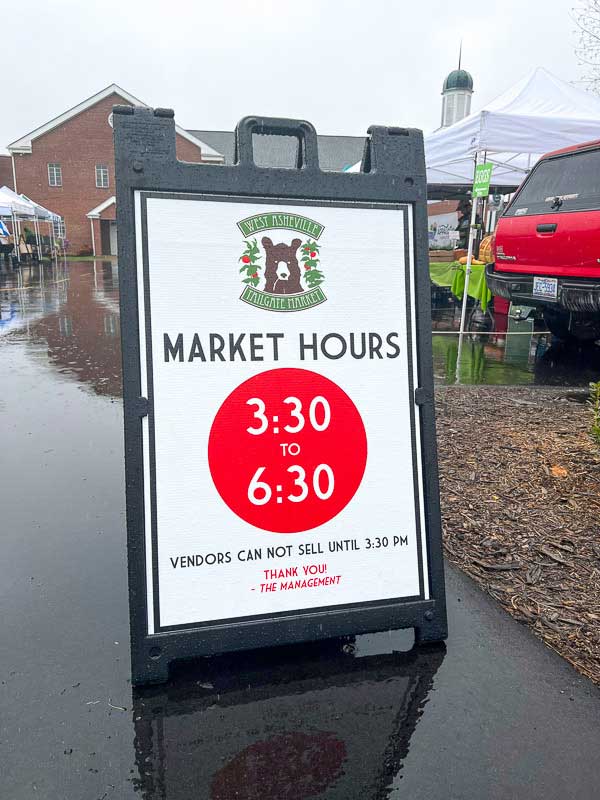 West Asheville Tailgate Market: Live like a local and pick up your week's provisions at this Tuesday afternoon farmer's market. Shop fruits, veggies, baked goods, eggs, and even meat, poultry and fish. You'll also find live music and activities for kids. If you enjoy farmers markets, make sure to check out our guide to the various farmers markets around Asheville!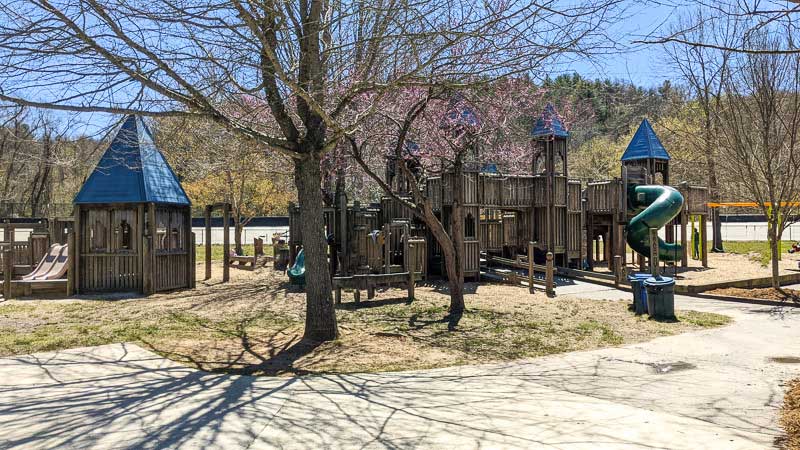 Carrier Park: A great park for all. You'll find tons of walking space, a playground, basketball court, sand volleyball court, a velodrome and a hockey rink. We love to picnic at Carrier Park and featured it in our guide to the best playgrounds in Asheville!
French Broad River Park: A fun park for you and your best doggo! Tons of trees make for a shaded park and there are several picnic tables scattered about. The park runs alongside the French Broad, so you get some good views while walking around. There are two fenced dog parks (small dogs and large) at the opposite side of the park from the parking lot.
Kayak Bar Hop (seasonal): Yep, add this to the list of things you can only do in Asheville! Starting in West Asheville at Amboy Road River Park, you'll take a French Broad beer tour with a kayak instructor. Choose from a kayak or stand up paddle board. Various stops include Wedge Brewing, Pleb Urban Winery, White Duck Taco, New Belgium and Getaway Tiki Bar. Book on Airbnb!
Getting to and around West Asheville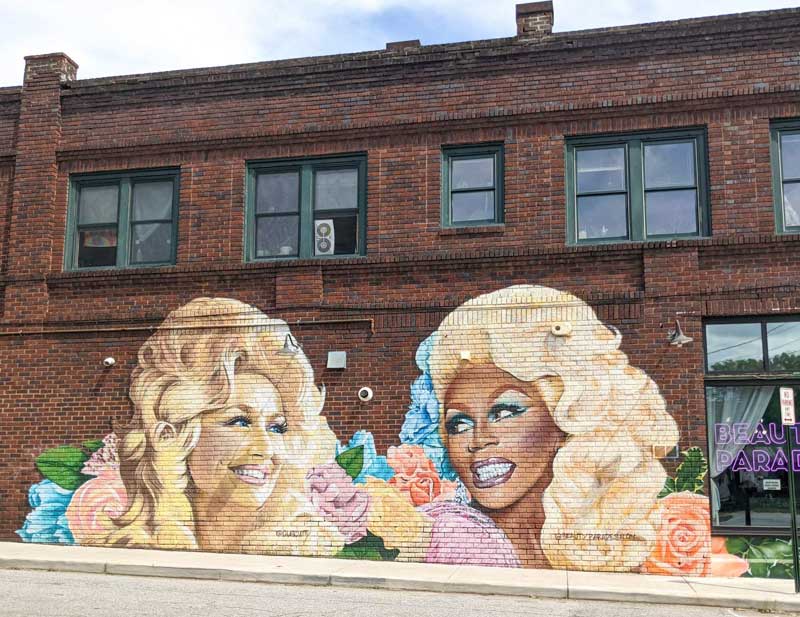 West Asheville is super accessible by I-240 (this is I-26 as it cuts through the city.) Just take exit 2 and turn in either direction to find something worth checking out.
You can also take Clingman Avenue in from downtown/the River Arts District. Clingman turns into Haywood Road, which is the main corridor in West Asheville.
Most everything we have listed in the guide is on Haywood, though the parks, Home Ground, Grata Pizzeria, Palm + Pine, Gypsy Queen and New Belgium aren't. The interstate divides Haywood, though, so some of these places are really spread out. There's a bridge over the interstate so it remains walkable, but you may find it easier to focus on one pocket at a time.
Speaking of walking… one last thing! Crossing the street in the really busy sections (and driving in the area) can be a bit stressful. Make sure to cross at crosswalks, especially ones at lights, to stay safe! And if you are driving, keep an eye out for walkers.