Complete Guide to Biltmore Village
Biltmore Village is a shopping and dining district in Asheville located just by the entrance to the Biltmore Estate. You'll find Tudor-style architecture, cobblestone sidewalks, local shops, national retailers, and a few restaurants sprinkled in. It's a relatively small area and can be easily seen in under a day.
What it's like:
historical · charming · small but mighty

Known for:
restaurants · shopping · architecture

Location:
just south of downtown Asheville


Check out our Biltmore Village guide below and don't miss our Asheville city guide!
Table of Contents
About Biltmore Village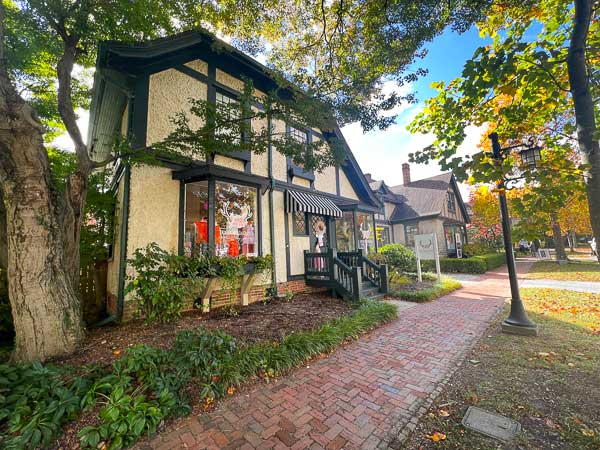 Biltmore Village was envisioned and brought to life by George Vanderbilt (yes, that George Vanderbilt) in the late 1890s. It was designed to house employees of the estate.
The plan was for it to resemble an English country village.
And it certainly does! It's a very picturesque part of town and feels like a totally different world.
Various architects of the Biltmore House were involved with the planning and design of the Village. Over the years, Biltmore Village was eventually comprised of the offices for the Biltmore Estate, thirty Pebbledash houses, All Souls Church, a train station, a hospital, a grade school and a variety of shops.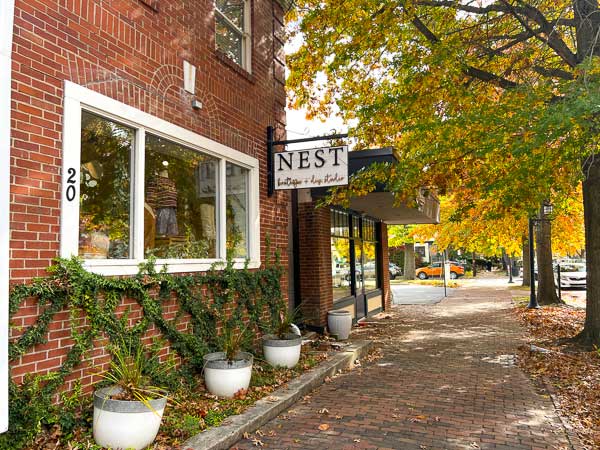 Today, you'll find local shops, national brands, restaurants, art galleries, a hotel and the original All Souls Church at Biltmore Village.
Biltmore Village is a national historic site and a local historic district. It's a great place for both visitors and locals to stroll, shop and enjoy the scenery.
As you may have guessed, Biltmore Village is located just at the entrance to the Biltmore Estate. Speaking of, if you are interested in visiting the estate, check out our guide to the Biltmore here. We also have dedicated articles on visiting the Biltmore with kids, dining on the Biltmore and even a list of things to do at the Biltmore.
Before we dive into our guide, one thing to note about Biltmore Village is that traffic around the area can be kind of crazy. With that in mind, keep an eye out when walking around. Especially if you are crossing Lodge Street / Brook Street. This is the road between the main area and where Williams Sonoma and Talbots are located.
Related note: go slow when driving here! It's hard to see whether a car is coming as a pedestrian, so people have a tendency to pop out at random places.
Things To Do in Biltmore Village
Stroll, shop and dine
I love spending time in the area just strolling along the cobblestone sidewalks and popping in local stores. You'll find a variety of shops and it's a relatively easy place to get around.
There's a main area with several shops and additional shopping areas along the side. Restaurants are mixed in amongst the shops. Check out our shopping section below for more details.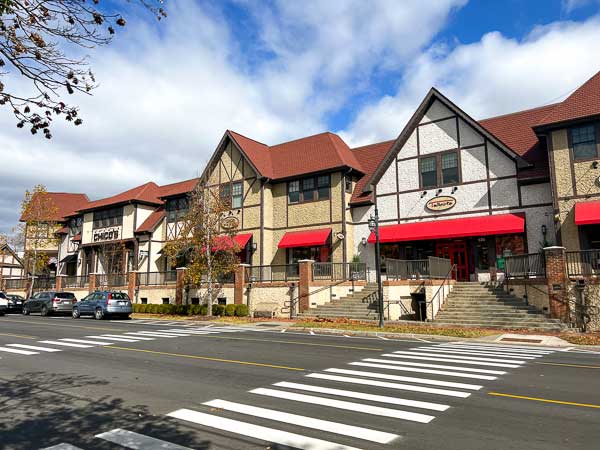 Hop on the trolley!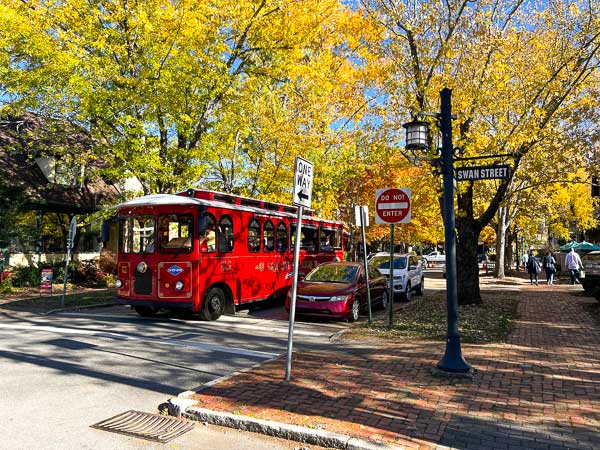 Biltmore Village is a stop along the hop-on/hop-off route of the Gray Line Trolley. You'll see it pass through regularly every day of the week. You can hop on or off the trolley in front of the Olde Time Christmas Shoppe.
The trolley is a great way to get around Asheville without worrying about traffic, parking or directions. And it's even kid-friendly!
Admire the architecture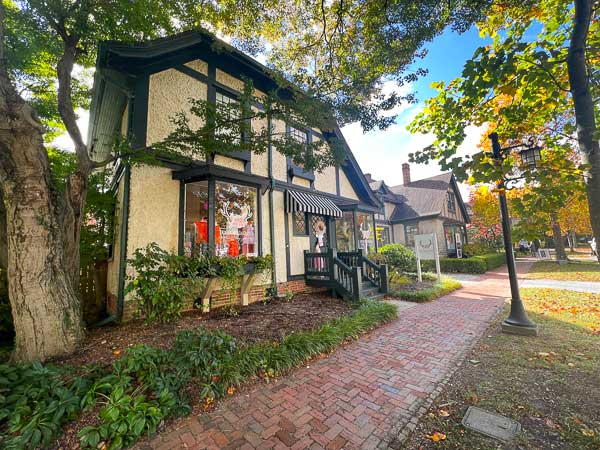 This is such a unique part of Asheville. You'll know you are there as soon as you spot the stucco pebbledash buildings adorning dark beams.
The area is anchored by All Souls Cathedral– the last surviving church of 6 designed by Richard Morris Hunt. There are cobblestone sidewalks, lamp posts and even the 'world's fanciest' McDonald's.
Attend a Christmas festival
If you are looking to get in the Christmas spirit, don't miss the Dickens in the Village festival held annually in Biltmore Village. You'll find a Christmas market, carolers, holiday lights, carnival games for kids and more.
The 2022 festival was on December 2 and 3. Read more about holiday events and markets in Asheville here.
Biltmore Village Restaurants, Coffee Shops and Bakeries
There are several restaurants worth a visit in the area. A few of our favorites include Corner Kitchen (for breakfast or dinner!), Fig Bistro for lunch, Finch for an afternoon charcuterie board and wine, and Well-Bred for a delicious breakfast sandwich or baked good.
Want more details on dining in Biltmore Village?
We have compiled a list of all of the restaurants, bakeries, cafes and breweries in and near Biltmore Village.
Biltmore Village Shopping
There are several shops to pop in when strolling along the cobblestone streets. You'll find a mix of local stores and national retailers.
It's actually kind of interesting just how many national brands there are here compared to other parts of town. Yes, we have our areas of town with big box retailers, but most of downtown, West Asheville and the River Arts Districts are comprised of locally owned shops.
With Biltmore Village, however, that's not the case. You'll find stores like Williams Sonoma, Lululemon, Fjällräven, J. Jill and more. It's almost kind of jarring to see so many 'bigger' brands in this charming part of town.
However, there are also several local shops mixed in amongst the bigger names.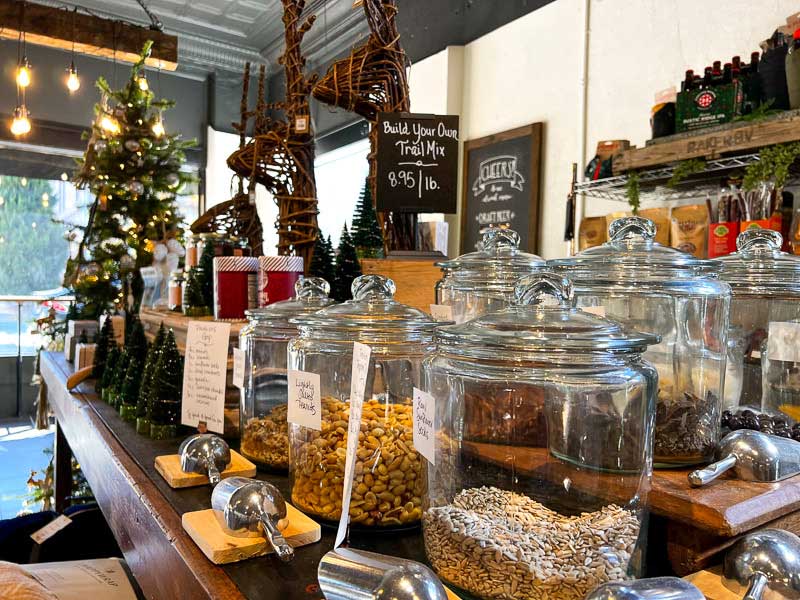 One of my favorite stores is Provisions Mercantile.
You'll find something for everyone at Provisions, whether it's a nicer kitchen item, a locally made candle, a coffee table book, a leather purse or a bag of local Asheville brand Poppy Popcorn.
And if you are strolling along with someone who is ready to kick back for a bit, they can grab a beer or wine (and a premade charcuterie box!) in Provisions while you look around. Win/win.
Another fun stop is the year-round Olde World Christmas Shoppe.
You'll feel in the spirit no matter the season once you step in their store. It's especially charming at Christmas time and feels right at home in the picturesque Village.
The Asheville Trolley stops just in front of here to drop off and pick up passengers.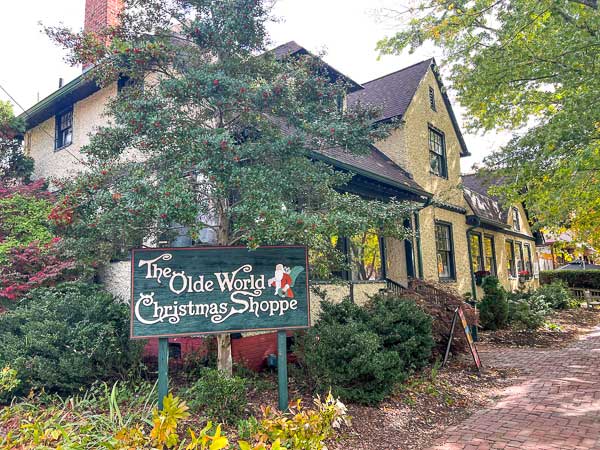 You'll also find art galleries, boutiques, spas, a children's clothing shop and antique shops.
Where to stay in Biltmore Village
If you are planning a trip to Asheville, you may be thinking about staying in or near this area. It's a pretty good location within town– safe, just a few miles from downtown, near shopping and dining and just at the entrance of the Biltmore Estate. It's also easy to access the Blue Ridge Parkway.
Though several properties claim to be in Biltmore Village, the Grand Bohemian Hotel is the only hotel within the true area. There are several hotels within walking distance to the area, though. They are close enough to be considered a part of the Village but technically not within the true limits.
If you want to truly be in the mix, check out Grand Bohemian or Home2Suites because neither requires a walk down a busy road. A railroad track divides Home2Suites from the shops, but it's easy to get around it on Hendersonville Rd.
Holiday Inn is a bit south of the main area and you'll have to walk along a busy highway but it's pretty close and wouldn't take too long. The same goes for DoubleTree, Hampton Inn and the Baymont Hotel.
Apart from hotels, there are also a few Beds and Breakfasts nearby.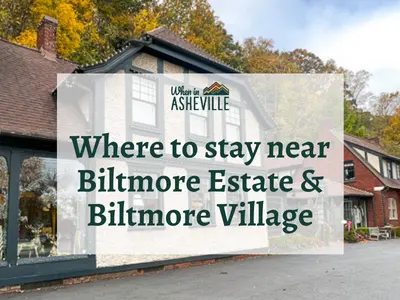 Want more details on where to stay?
We have compiled a list of hotels, beds and breakfasts and even a fun Airbnb option for you.
Biltmore Village FAQs
Can you walk to the Biltmore Estate from Biltmore Village?
No, I wouldn't plan on walking to the Biltmore Estate from Biltmore Village. Now, you can easily walk to the entrance as it's located just across the street. But from there it's about a mile to the Reception & Ticketing Sales Center. There's not a walkway here, so you'd be walking along the road.

However, if you make it to the Ticketing Sales Center, you can hop on the Biltmore shuttle. It's $15 per day to ride the shuttle. Kids under 9 ride free. The shuttle travels between Biltmore's Reception and Ticketing Sales Center, Biltmore House, Antler Hill Village, and Amherst at Deerpark®.
Is Biltmore Village inside the Biltmore Estate? Is Biltmore Village the same as Biltmore Estate?
No, Biltmore Village is a shopping and dining area located outside of the entrance to the Biltmore Estate. This area of Asheville is not affiliated with Biltmore Estate.
Is Biltmore Village free?
Yes, Biltmore Village is free to visit. It does not cost any money to visit.