A guide to Biltmore Village restaurants
We are excited to share a guide to Biltmore Village restaurants and eateries. Though the area itself is rather small, there are several great spots to grab a bite.
You'll find everything from an Indian lunch buffet to a charming bistro, delicious baked goods and even fun place for nachos and a margarita.
This guide to restaurants in Biltmore Village also includes a few local places nearby that are worth a visit.
Map of restaurants in and near Biltmore Village
Biltmore Village Restaurants and Eateries
Corner Kitchen: A nice bistro located in the heart of Biltmore Village serving brunch (9am – 2pm) and dinner starting at 5pm. I always make sure to get a cinnamon bun for the table– they are giant!
They have great outdoor seating when the weather is nice. I love watching the trolley drive by when dining outside!
You can make reservations here or order takeout here. Corner Kitchen is my number one recommendation if you are looking for dinner in Biltmore Village.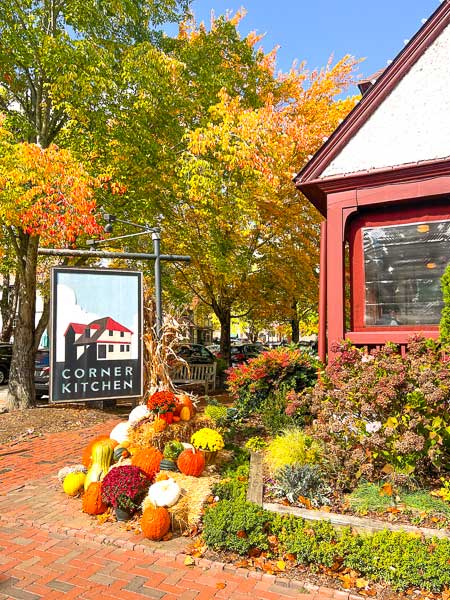 Andaaz: A fine-dining Indian restaurant with an extensive menu. You'll find Biryanis, Indian flat-breads and even a lunchtime buffet. Order online for pickup or make reservations to dine-in.
Red Stag Grill: Located inside the Grand Bohemian Hotel, Red Stag Grill is as unique as they are delicious. It's a chophouse at its heart, so expect a pretty wild game menu (think: rack of lamb, elk loin, bison sirloin…) You'll also find great salads, soups and small bites on the menu. As far as atmosphere goes, prepare to be delighted. It's like a classy hunting lodge.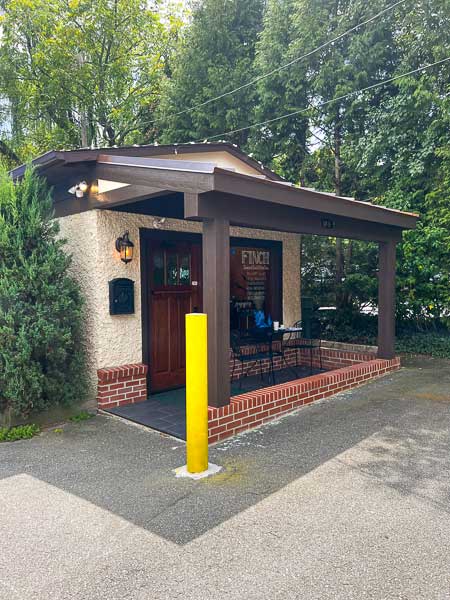 Finch: A favorite lunch spot! Finch is my go-to recommendation if you are shopping around Biltmore Village and want a place to relax for a bit. Especially when the weather is nice!
You'll find all outdoor seating (with heat lamps when needed), an excellent menu with sandwiches and charcuterie boards, a great wine list and the cutest lemon wallpaper around.
I typically order a cookie and latte on my way out. It's counter-service which is a plus in my book (especially when dining with kids.)
Fig Bistro: A cute lunch and dinner bistro at the edge of Biltmore Village that is not to be missed. Their menu changes seasonally, but you can always expect southern dishes with a European twist. Think: cheese plates, salads, mac and cheese with jarlsberg and panko, short ribs and even mussels.
Well-Bred Bakery and Cafe: Well-Bred is a great place for both breakfast and lunch in Biltmore Village. I love their bacon, egg and cheese on a croissant so much that I order it for lunch, too.
Apart from sandwiches and quiche, you'll also find a large pastry case filled to the brim. While everything we have tried has been exceptional, their pumpkin cheesecake will forever be a favorite.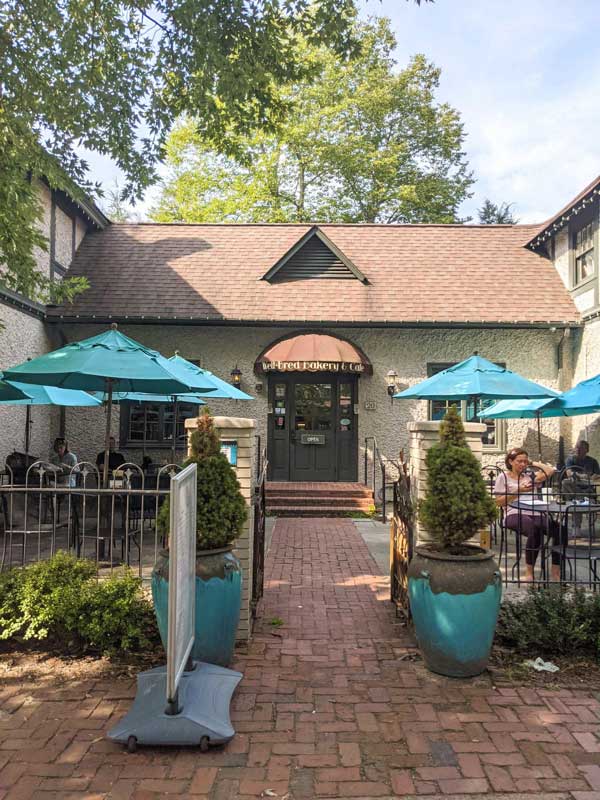 Village Wayside Bar and Grille: An American restaurant serving up wings, burgers and pub bites. It feels like a bar but has some funky decor to make it truly unique. I always tell people that it's the perfect cozy place to escape the cold of winter. You can order online here.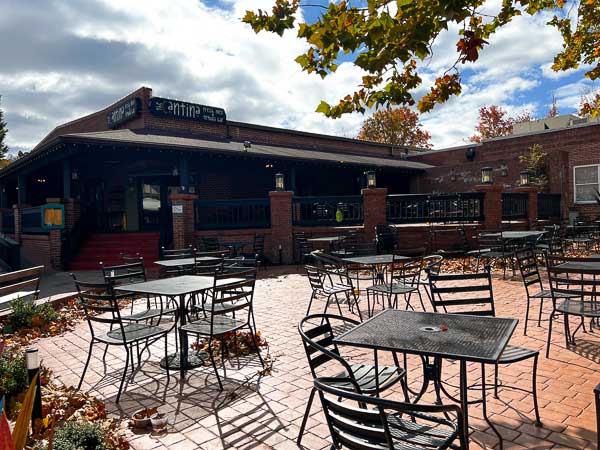 The Cantina: A fresh Mex and tequila bar located in Biltmore Village. Start off with unlimited chips and salsa ($2.99 per table) and try a stuffed avocado. They have all of the classics (sopas, enchiladas, chimichangas, quesadillas, tacos, burritos, fajitas…) and a great salad menu.
Their kids menu includes nachos, a quesadilla and even a corn dog. They have great outdoor seating when the weather is nice. Order online here.
Ruth's Chris Steak House: If you aren't already familiar with Ruth's Chris butter-topped beef, well, here's your chance. This is the only national restaurant chain in Biltmore Village but I wanted to include it in case you were looking for a nice evening out.
Provisions Mercantile: While Provisions isn't exactly a restaurant, it is a great place to grab a bite when in Biltmore Village. They partner with Asheville Charcuterie Co and have grab-and-go containers available in their refrigerator section. They also have beer, wine and delicious packaged good snacks like local Asheville brand Poppy Popcorn.
Where to find coffee in Biltmore Village
If you are walking around Biltmore Village and in need a coffee or latte, head to either Finch or Well-Bred.
Well-Bred has coffee urns as well as an espresso machine, while Finch has an espresso machine only.
As far as treats go, Finch has amazing Levain-style chocolate chip cookies while Well-Bred has a full pastry case with delicious treats. You can't go wrong at either!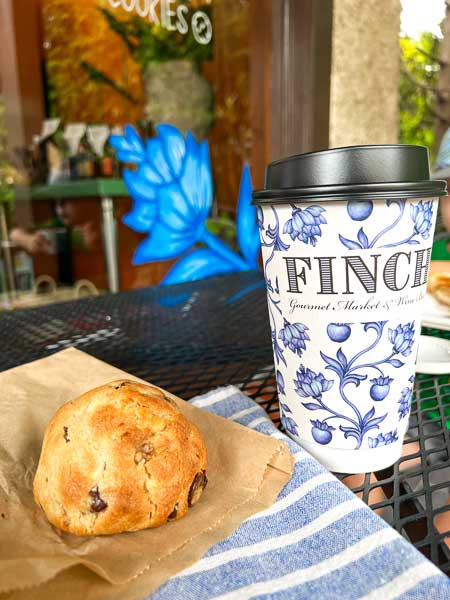 Restaurants near Biltmore Village
There are a few restaurants and breweries so close to Biltmore Village that I wanted to include them on this list. Catawba is essentially right next door, while Moe's and Hillman are just down the road. Ichiban is the opposite direction but just as close. All are great options!
Burial Beer Forestry Camp: This is without a doubt one of the coolest places in Asheville. It's such a unique place and feels like a hidden gem. You'll find over 24 taps, a full-service kitchen with delicious fare, an extensive cocktail list and a highly-curated selection of wine. The location itself is amazingly cool– the only way I can think to describe it all is that the name 'Forestry Camp' is really spot-on.
Catawba Brewing Company: Enjoy a flight at this dog-friendly tasting room located just by Biltmore Village. They have garage doors that are open during the summer, as well as unique brews that are definitely worth a try. This is their smaller tasting room in Asheville and they have a second location in South Slope.
Moe's Original BBQ: An Alabama-style BBQ restaurant with a great sides menu and delicious food. Including dessert! You can read more about Moe's Original BBQ on our guide to the best BBQ in Asheville.
Hillman Beer: Awesome food, awesome beer, awesome outdoor seating. What's not to love about Hillman! You'll find small bites, sandwiches and salads on the food menu and everything from a German Kölsch to a coffee milk stout on nitro. We recommend building a flight of four!
Ichiban: A Japanese steakhouse and sushi restaurant located just north of Biltmore Village. You can dine-in or order online for takeout. And yes, you can opt for a tepanyaki-style meal where they prepare your hibachi at the table.