Thai food in Asheville is perhaps our favorite food category of all. We can't get enough of coconut-based curries, sweet or spicy noodle dishes, classic pad Thai and mango rice desserts.
The spiciness! The sweetness! The intense flavors! Thai food hits all the notes we love, and luckily for all of us, there are a ton of great Thai restaurants in Asheville.
Most of the restaurants on this list stick to traditional Thai cuisine, though there are a few spots that put their own spin on it.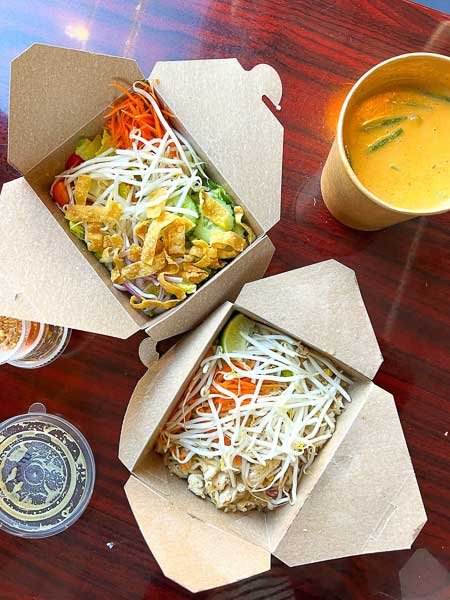 Below you'll find our guide to Asheville's top restaurants for Thai food. From local favorites like Little Bee to casual eateries like Thai Pearl and Suwana's Thai Orchid, the city's go-to for Thai street food Bun Intended and gas station favorite Pon's Thai.
While our list of where to get Thai food in Asheville is unranked, you'll notice that we have added a 'favorite' callout to the first few. These are the ones that we typically recommend if you can only eat at one Thai restaurant, though if you're local you should make a goal to try them all!
Where To Get Thai Food In Asheville
Below is a map of all of the Thai restaurants highlighted in our guide. We love making these because it helps us quickly see where the closest restaurant with Thai food is.
For other nearby regional cuisines, check out our guides to Indian food and Chinese food in Asheville.
A Guide to the Best Thai Restaurants in Asheville
Below you'll find our roundup of excellent eateries in Asheville with Thai fare. For more dining inspiration, check out our list of top restaurants in Asheville. But if you're specifically looking for Thai restaurants, read on!
1. Little Bee Thai
A When In Asheville Favorite
A go-to for Thai food in Asheville
Little Bee Thai is at the very top of our top Thai restaurants in Asheville list for a reason. They have absolutely amazing Thai food in a relaxed and cool spot. It's in downtown Asheville but on the outskirts so you shouldn't have any issues parking.
The menu at Little Bee is pretty small compared to other Thai spots, but it should have what you are looking for. Their Pad Thai is a great option if you don't like a lot of spice. We typically add chicken or tofu to it.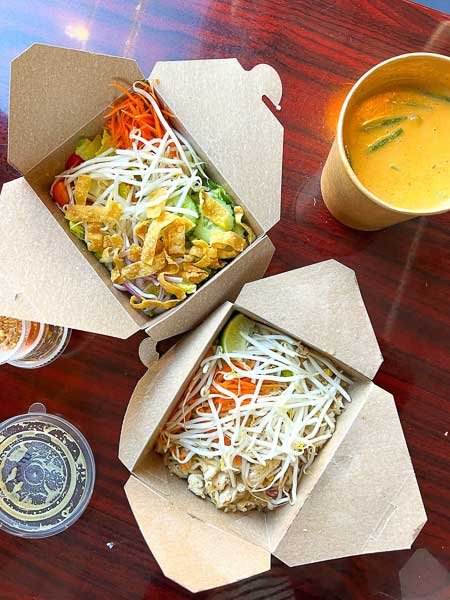 If you are looking for some heat, check out their green curry! The red panang curry is a bit less spicier than the green, and you'll see this all marked on their dry-erase menu. One thing to note is that you can't order a specific heat with your dish.
We also highly recommend their salad with the house ginger dressing. It comes with more than enough dressing so we like to bring it home and use it throughout the week. And our kids can't get enough of the mango sticky rice!
Little Bee is one of our go-to restaurants for Thai takeout in Asheville. You can't order online but you can call for a takeout order. If you plan to eat there, order at the counter and grab a seat inside or on their outdoor patio.
2. Thai Pearl
A When In Asheville Favorite
Fantastic Thai restaurant in West Asheville with large portions
Thai Pearl is a great place for authentic Thai food in West Asheville. Like Little Bee, it's another that we have to actively stay away from so that we can continue to try all of the Thai spots in town. It's definitely a go-to restaurant for many locals, both for casual date nights and for takeout.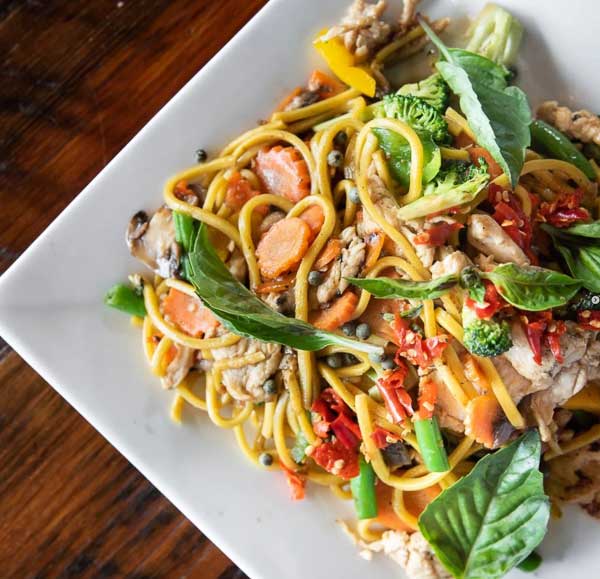 The dishes at Thai Pearl are packed with flavor, whether you get their crowd-favorites like drunken noodles and Tom Kha soup or one of their many curries. Speaking of, their curries start at level 1 and you can specify your spice level all the way up to five aka 'Thai hot.'
You can call in for takeout or get it delivered by Takeout Central or Kickback. It's worth noting that owner and Executive Chef May trained and cooked at The Royal Palace in Bangkok before opening Thai Pearl in 2020. She is also a co-owner of the amazing Boon Choo Thai Express in Flatrock.
Downtown Asheville's only traditional Thai restaurant
If you are looking for Thai food in downtown Asheville, head to Suwana's! It's in the heart of downtown just across from the AC Hotel. It's a casual spot but you can tell they put a lot of thought and effort into each of their dishes.
They make my favorite massaman curry in Asheville. I order this dish at every Thai restaurant we go to and I love Suwana's use of diced tomatoes in it. We also like their panang beef, but we scale back spice level to a medium. The spicy fried rice is also delicious.
Parking in downtown can be tricky depending on the day of the week and time of day. If you want to park in a garage, check out the one across the street at AC Hotel. There's also a Car Park lot just around the corner on College Street. And if you are picking up takeout, try to snag one of the 10-minute spots just out front.
Thai restaurant in East Asheville with Japanese offerings
Suwana Asian Cuisine is a great place to get Thai food in East Asheville. If the name sounds familiar, the original location is Suwana's Thai Orchid mentioned above. Their latest venture opened in 2022 and didn't miss a beat.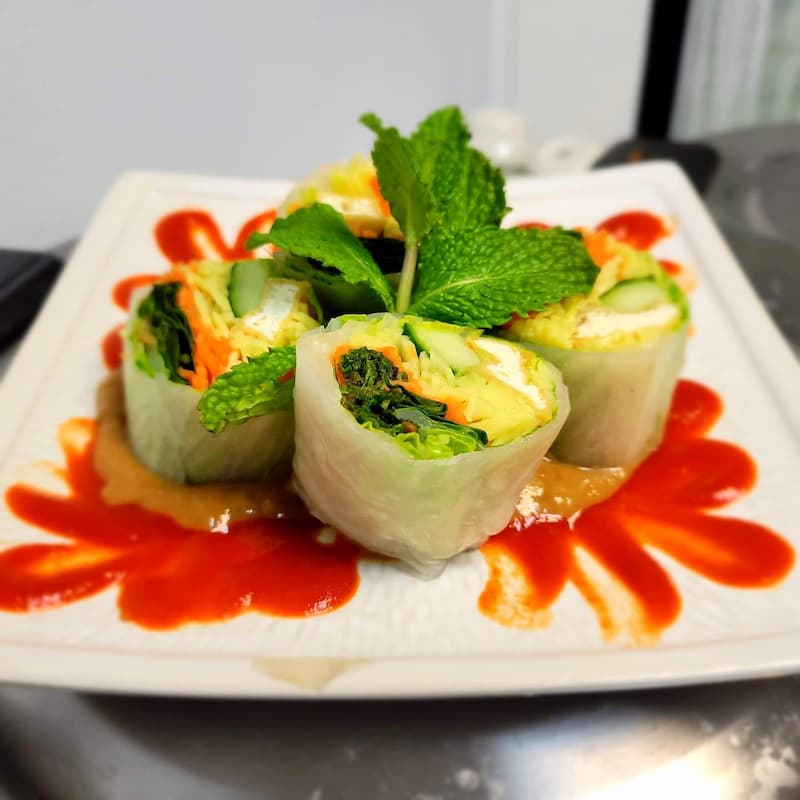 While this one has the same Thai favorites you'd find at their downtown location, it also has a whole Japanese section to the menu. You'll find hibachi, sushi, teriyaki, miso soup, gyoza and even bento boxes on the menu.
They have a second Suwana Asian Cuisine location in Waynesville, NC. The East Asheville restaurant is located in the former Mikado Japanese building.
Hidden gem Thai restaurant near the Asheville outlets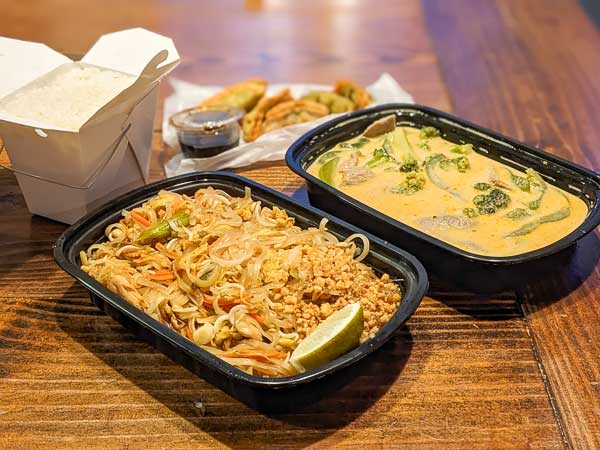 Pad Thai is an excellent spot for Thai takeout in South Asheville. They have a small space for dining in, but we love them for takeout because they have online ordering and are always quick.
Not only do they have several types of curry (get the pineapple one to switch it up!), but they also have Vietnamese Pho. And, as their name suggests, they make excellent pad Thai.
We also really like their pineapple fried rice and Thai fried rice. Honestly, you can't go wrong! the ingredients are fresh and everything is delicious.
All of their Thai curries can be made vegan or vegetarian upon request.
Thai street food in a food hall setting (plus a food truck!)
Bun Intended is a food truck and food hall restaurant in Asheville serving Thai street food. They started as the truck and opened their first brick-and-mortar when S&W food hall opened in 2021.
Bun Intended specializes in steamed buns. The food hall location has a build-your-own rice bowl and a few snacks like tofu bites and green papaya salad.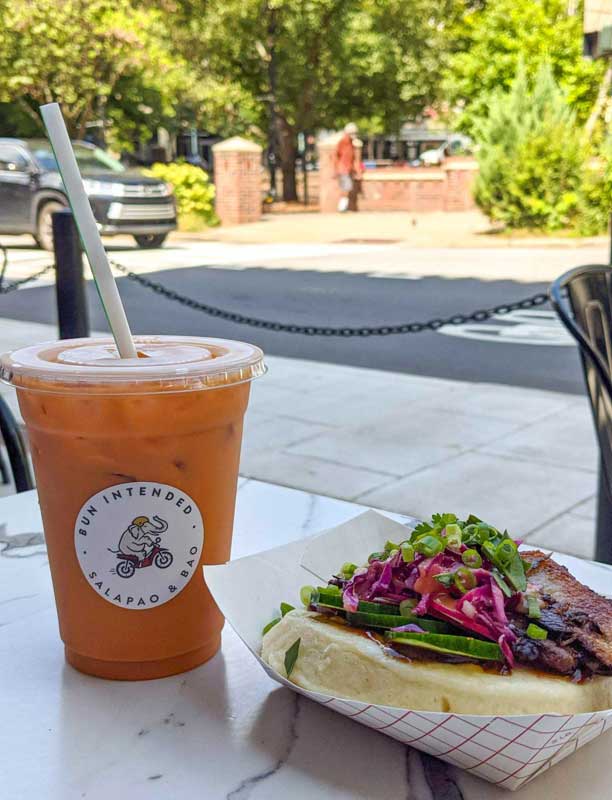 You can't order the build your own own rice bowl at the food truck, but they do have a few options for rice bowls, like their spicy curry one. We love their rice bowl with pork and the curry chicken salapao (steamed bun.) They also have Thai iced coffee that is as sweet and delicious as you'd imagine!
We love dining at S&W and getting food from a variety of vendors, including Bun Intended. It's the perfect place for families or a group of people when everyone wants something different.
Check their site for the food truck schedule. It's typically found at New Belgium and special events around town.
Traditional Thai favorites at a casual spot in South Asheville
Baan Thai is a casual, family-owned Thai restaurant in South Asheville. They have a menu full of traditional Thai dishes.
The pineapple fried rice is always delicious, as is the panang curry, the tom yum noodles and their pad Thai. You can specify your spice level from mild to Thai spicy. We typically stick between mild and medium. And make sure to try their mango rice!
Bann Thai switched owners in 2023 but still has their signature warm and friendly service. They are very accommodating of dietary preferences, so it's a great spot if you are looking for vegan food in Asheville.
Baan Thai is located in the same shopping center as Wild Ginger and the Skyland post office. There's a shared parking lot right out front with plenty of spaces. And the "now open" sign has been there for years!
Thai restaurant in North Asheville for a casual dinner or takeout
While Thai Kitchen is not the fanciest place on this list, it's a great spot for tasty, quick and affordable Thai food. It's located in North Asheville mixed with a ton of residential areas, so it's a popular spot for Thai takeout. You can call an order in or order online.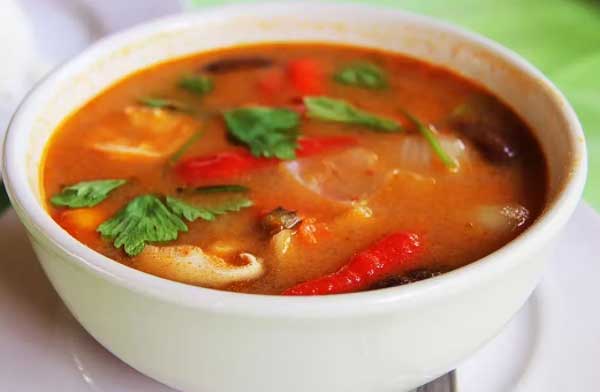 Their menu includes all of the classic Thai dishes you'd expect, from five types of curry to several noodle dishes. The yellow curry is always a treat and I love their massaman curry topped with peanuts. Other popular dishes include pad Thai, spring rolls and mango sticky rice.
A small Thai restaurant tucked away in a corner gas station
Pon's Thai is a hidden gem in South Asheville. This tiny restaurant is located in a not-so-fancy gas station, but don't let that fool you. The food is delicious!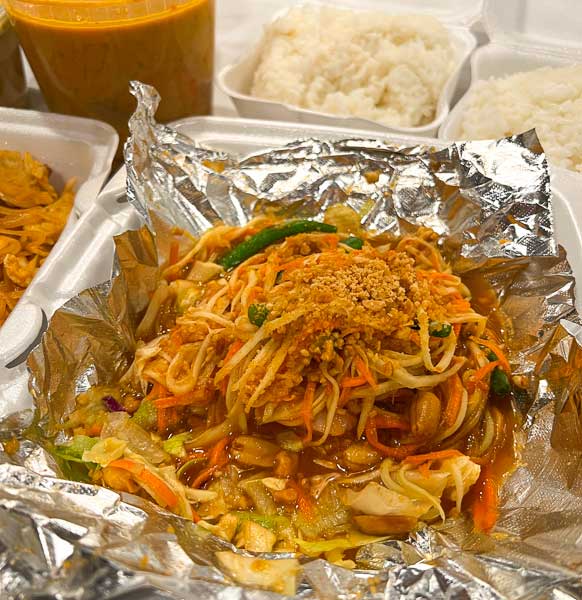 The pad Thai is sweet and a crowd favorite for locals. The red curry and chicken satay are also delicious, as is the Pon Thai fried rice with a special sauce.
Pon's is basically a one-woman restaurant, so if there are a lot of takeout orders it can get backed up. Just be patient, and don't forget to tip Pon!
Pleasant Thai restaurant in Arden/South Asheville
Khao Thai is a small Thai restaurant in Arden that opened in 2021. They have a great menu in a casual spot with table service. It feels like the perfect destination if you live in the area and are looking for your go-to for both dining in and takeout.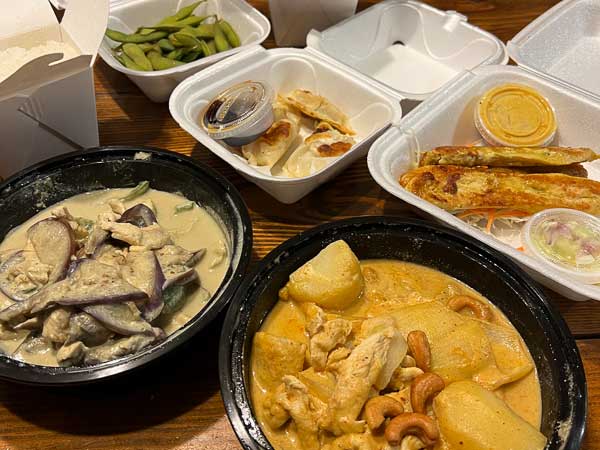 Curry puffs are a Khao Thai specialty and one we haven't seen on any other menus in Asheville. They are tiny hand pies filled with chicken, potato, onions, and peanuts. The puffs are served with the restaurant's peanut sauce, which creates a delicious combination of flavors and textures. Our whole family loves them, and we think you will too.
Khao Thai also serves excellent gyoza and chicken satay. We highly recommend all three dishes.
Of course, Khao Thai has the standard curries and noodle dishes you'd expect. The first time we tried Khao Thai I had my go-to massaman curry, but I felt like it was heavy on the potatoes. I tried their pad Thai with chicken on my next visit and and it was a hit!
Casual place for Thai food in North Asheville
Siam Thai is a great destination for authentic Thai food in North Asheville. It's in a strip mall off Weaverville Rd and is a casual spot with table service.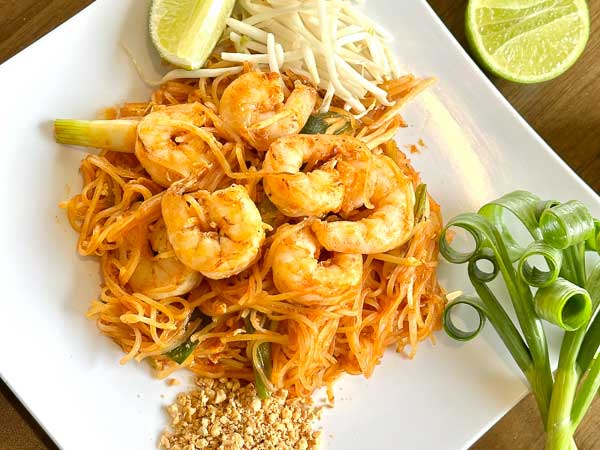 They have lunch and dinner menus and each includes the fun 'three buddies' appetizer with 2 spring rolls, 2 crab rangoon and 4 gyoza. It's a hit with our kids!
We really like their various curries, especially the panang with beef. Their drunken noodles are also delicious.
Apart from the traditional Thai dishes you'd expect, they also have a really great stir-fry section on the menu. You'll find everything from sweet & sour stir fry to spicy catfish.
12. Thai Chili Asian Bistro
Great Thai food in a new spot on Hendersonville
Thai Chili is the newest Thai restaurant on Hendersonville Rd in South Asheville. It opened in 2023 in the former Ziggy's Deli spot. Their original restaurant is in Ooltewah, TN.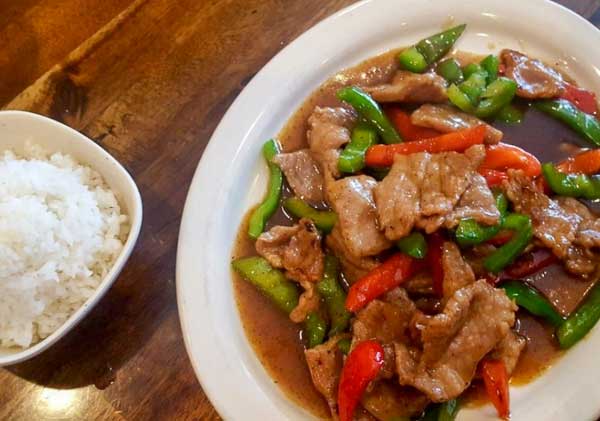 It's a popular spot for lunch, especially for the local businesses in the area. They offer lunch pricing and portions on many of their menu items, and you can even order online for pickup.
We tried their cream cheese and crab roll appetizer, pineapple fried rice, red curry, and Tom Yum soup. All of the dishes were delicious! The inside of the restaurant is bright and inviting, and there is an outdoor patio on the side.
---