Choosing and cutting a tree at one of the many Christmas tree farm near Asheville is such a fun holiday tradition.
There are many Christmas tree farms only 30-40 minutes from Asheville but they feel like a different world. It's a great way to shop local, enjoy an adventure and get in the Christmas spirit!
The best time to get a Christmas tree in Asheville is either just before or right after Thanksgiving. This is when the farms open for the season, after all. For the 2023 season, some open the week before Thanksgiving and others the day after.
Keep in mind that there is a national Christmas tree shortage. So, if you wait too long you run the risk of them selling out.
What You'll Find In This Article
About Western North Carolina's Christmas Trees
Most of the trees you'll find at Choose & Cut Christmas tree farms near Asheville are Fraser firs. This type of tree flourishes in the southern Appalachians above 3000 feet.
The cool temperatures and abundant rain make it the perfect place for Christmas trees to thrive. In fact, over 50 million Fraser firs are grown in North Carolina.
If you are looking for more fun things to do this holiday season in Asheville, check out our list of holiday events and markets.
Where To Get A Christmas Tree Near Asheville
Mehaffey Tree Farm is located in Waynesville, NC and is around 40 minutes from downtown Asheville. We visited Mehaffey in 2022 and were so impressed. We were immediately greeted after walking up and given details on picking out a tree. He showed us which area of the farm to find the height of tree we were searching for and sent us on our way with a pole for measuring trees.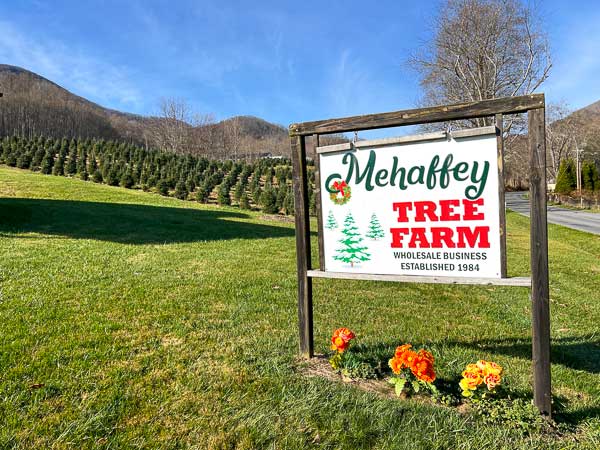 After exploring for a bit and finding the perfect tree, we just waved the measuring pole a few times until someone saw that we were ready. They drove over and cut the tree down with a chain saw.
We could have opted to cut the tree ourselves but it was easy enough to let them. The tree was taken back to the baler and then they tied it to the top of the car.
Location: 24 Corner Drive | Waynesville, NC
Dates: Mehaffey Tree Farm opens for the season on November 16. They are open from 9am-5pm Thursday to Sunday, including Thanksgiving Day. They may close the first weekend of December due to inventory. Check their Facebook page for details!
Other info: Leashed dogs are allowed. Hot chocolate and apple cider are available at the checkout booth. Trees start at $80 (4-5′) and go up to $250 for a 9-10′ Christmas tree.
Boyd Mountain Christmas Tree Farm
We love Boyd Mountain Christmas Tree Farm! It's where we got our tree in 2021. It would have been our pick for last year, too, but they didn't have the right size tree in the you cut area. The size tree we needed was located in an area on the farm that wasn't accessible. This changes annually!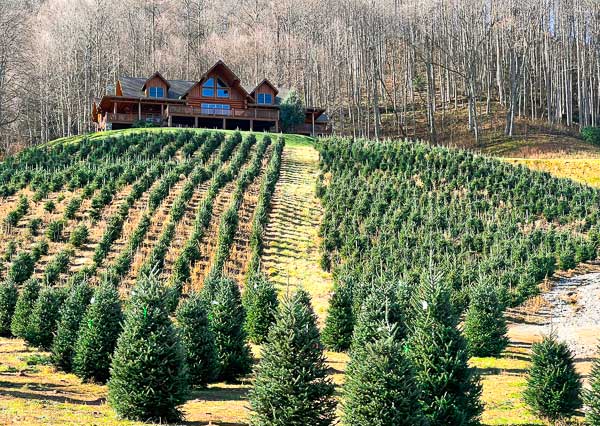 Not only are the rows of Christmas trees at Boyd Mountain Farms beautiful, but the land all around it is gorgeous. There are mountain views, a small stream and even a large pond with rocking chairs to sit and enjoy the view.
Apart from that, there are several gorgeous properties that are available to rent! This would be such a magic place to stay during a snowy weekend.
About Boyd Mountain Christmas Tree Farm
Location: Boyd Mountain's Choose and Cut farm is located at 445 Boyd Farm Road in Waynesville. Their retail location is also in Waynesville at 1373 Dellwood Road typically remains open through mid-December.
Dates: The choose and cut portion of the farm opens November 16th. Check their Facebook page before visiting to make sure they are still open.
Other info: You can catch Santa at the farm November 18th, 19th, 24th, 25th and 26th. There will also be a food truck on-site, as well as wreaths and a gift shop.
As of November 2023, dates for the 2023 have not been announced.
Sandy Hollar Farms is another great family-owned Christmas tree farm near Asheville! This one is in Leicester, which is about a 35 minute drive from downtown Asheville.
Not only will you find exceptional Christmas trees (8 feet and under), handmade Christmas wreaths and beautiful views, but you can also take a wagon ride to pick out your tree.
Location: 63 Sandy Hollar Lane | Leicester, NC
Dates: Sandy Hollar Farms has not announced 2023 dates yet. They are typically open for Thanksgiving, Thanksgiving weekend and the first two weekends in December depending on inventory. Their hours are typically 9am-4pm, with the last wagon going out at 3:45pm.
Other info: Christmas trees up to 8′ tall will be available for Choose & Cut. You can also enjoy hayrides and shop for fresh wreath, garland and other gifts.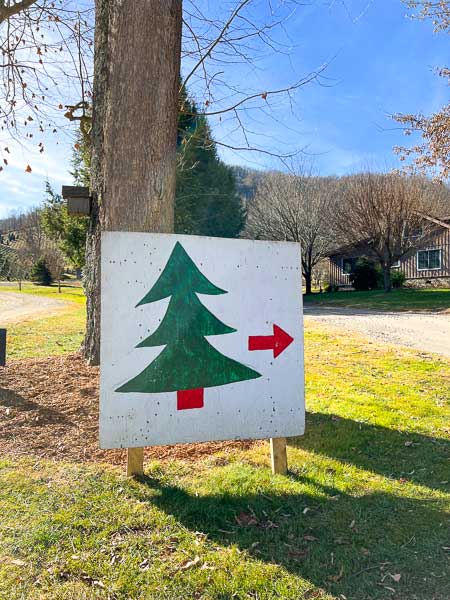 Duckett Christmas Tree Farm
Find beautiful Fraser fir trees near Asheville at the Duckett Christmas Tree Farm in Clyde, NC. They have cle firs from 5-13′ tall, so you are sure to find the perfect one for you!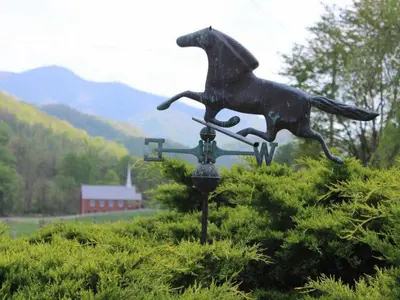 About Duckett Christmas Tree Farm
Location: 4033 Max Patch Rd, Clyde, NC 28721
Dates: Duckett Christmas Tree Farm opens November 17th (the Friday before Thanksgiving weekend.) They expect to sell out quickly this year. They sold out of trees Thanksgiving weekend in 2022.
Other info: Duckett Farm is a 500 acre working farm, with the Christmas tree part occupying just a small portion of it. They have raised beef cattle, horses, bobwhite quail and they even offer guided quail hunts on their preserve.
This last one on our list is a bit of a haul from Asheville (around 1 hour 30 mins), but it is such a magical spot that we wanted to include it in our roundup. Though it's called Chimney Pond Farm now, it was previously known as Tom Sawyer's Christmas Tree Farm and Elf Village.
Chimney Pond Farm is located in Glenville near Cashiers. It's a great option if you have kids around age 10 or so who wouldn't mind a longer drive from Asheville for a fun experience.
They'll start selling trees the day after Thanksgiving (November 24.) Their Choose & Cut farm closed December 5 last year due to demand, so plan for that to happen again in 2023.
Prices for Christmas trees in 2023 start at $90 for 3-4 feet, $171 for 7-8 feet and up to $458 for 12-13 feet.
Location: 240 Chimney Pond Road | Glenville, NC
Dates: Chimney Pond Farm opens November 24, 2023.
Other info: Plan to stay awhile! There is so much to see. Enjoy a hot chocolate, lunch and a visit with Santa!
---
We hope our list of great Christmas tree farms near Asheville helps inspire a Christmas tradition of your own! We will continue to update it as the season progresses to mark when the various tree farms close up for the winter.