Five Christmas Tree Farms We Love Near Asheville
Choosing and cutting a tree at one of the many Christmas tree farm near Asheville has become a holiday tradition for our family. I love that the tree farms are only 30-40 minutes from town but feel like a different world. We love taking the kids to various farms and getting in the Christmas spirit.
The best time to get a Christmas tree in Asheville is either just before or after Thanksgiving. This is when the farms open for the season, after all. For the 2022 season, some opened the week before Thanksgiving and others the weekend after.
Keep in mind that there is a national Christmas tree shortage. So, if you wait too long you run the risk of them selling out. Some of the farms on this list are already closed for the season!
If you are looking for more fun things to do this holiday season in Asheville, check out our list of holiday events and markets.
About Western North Carolina's Christmas Trees
Map of Christmas Tree Farms Near Asheville
Mehaffey Tree Farm
This is the Christmas tree farm we visited this 2022 season! It was a quick drive and we grabbed OWL Bakery on the way, of course.
We were immediately greeted after walking up and given all of the details by a… kid! This definitely wasn't his first tree season. He showed us which area of the farm to find the height of tree we were searching for and sent us on our way with a pole to measure the trees.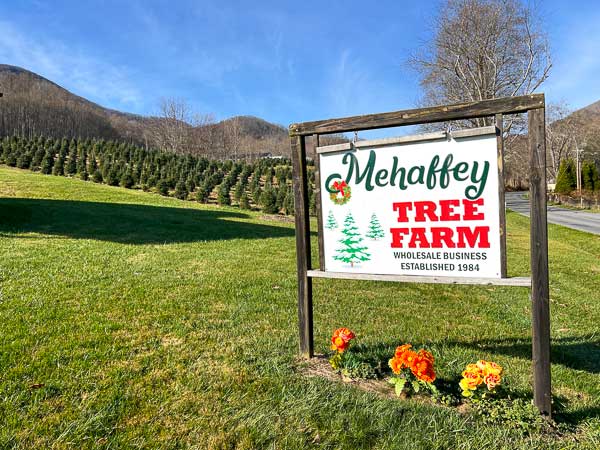 After exploring for a bit and finding the perfect tree, we just waved the measuring pole a few times until someone saw that we were ready. They drove over and cut the tree down with a chain saw.
We could have opted to cut the tree ourselves but it was easy enough to let them. The tree was taken back to the baler and then they tied it to the top of the car.
Boyd Mountain Christmas Tree Farm (our favorite tree farm near Asheville!)
Their choose & cut farm is closed for the 2022 season. They have a few 10-12′ trees available by appointment only. Their retail location will remain open through mid-December.
We love Boyd Mountain Christmas Tree Farm! It's where we got our tree in 2021. We would have returned this year but we needed a 7 foot tree and all of theirs were pre-cut for the season. These trees grew in a location on the farm that wasn't as accessible as the taller trees. This changes annually!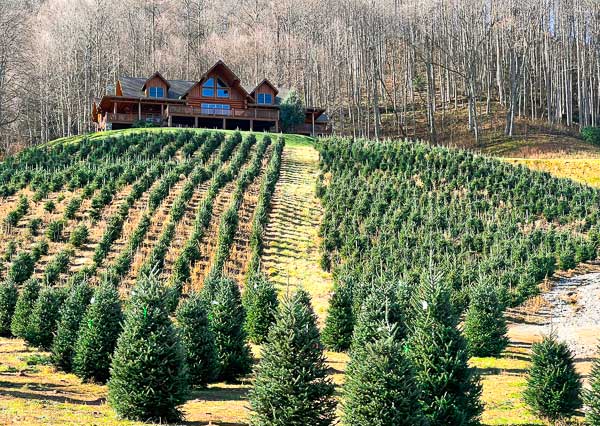 Not only are the rows of Christmas trees beautiful, but the land all around it is gorgeous. There are mountain views, a small stream and even a large pond with rocking chairs to sit and enjoy the view. Apart from that, there are several gorgeous properties that are available to rent! This would be such a magic place to stay during a snowy weekend.
Sandy Hollar Farms
Another great family-owned Christmas tree farm near Asheville! This one is in Leicester, which is about a 35 minute drive from downtown Asheville.
Not only will you find exceptional Christmas trees (8 feet and under), handmade Christmas wreaths and beautiful views, but you can also take a hayride!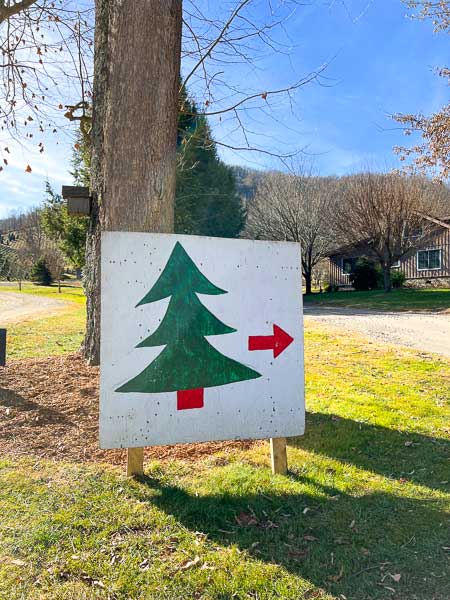 Duckett Christmas Tree Farm
Duckett Christmas Tree Farm is closed for the 2022 season.
Find beautiful Fraser fir trees near Asheville at the Duckett Christmas Tree Farm in Clyde, NC. They have cle firs from 5-13′ tall, so you are sure to find the perfect one for you!
Tom Sawyer Christmas Tree Farm and Elf Village
This last one on our list is a bit of a haul from Asheville (~1 hour 20 mins), BUT it is such a magical little spot! First of all, it has the words "Elf Village" in the name. But the elf village won't be open for the 2022 season. However, Santa will be there! And you can enjoy the rolling hills, ponds and over 80 acres of Fraser fir trees.
Not only can you enjoy selecting a tree, but you can also stay after for sweets and treats. Crossroads Custard will be on the farm offering coffee, cider, & sweets. Happ's Place will have chicken salad sandwiches, chili & pizza. There is also beer and wine, live music and carols, Santa, Elf games, lots of photo opportunities and more!
This is a great option if you have kids around age 10 or so who wouldn't mind a longer drive from Asheville for a fun experience.
We hope our list of great Christmas tree farms near Asheville helps inspire a Christmas tradition of your own! We will continue to update it as the season progresses to mark when the various tree farms close up for the winter.