A Fun Itinerary For a Day Trip From Asheville
One of our top recommendations for visitors to Asheville is to drive and hike along the Blue Ridge Parkway. We especially love recommending this day trip itinerary for a 'loop' from Asheville to Brevard to the Pisgah Inn that includes time on the Parkway and in Pisgah National Forest.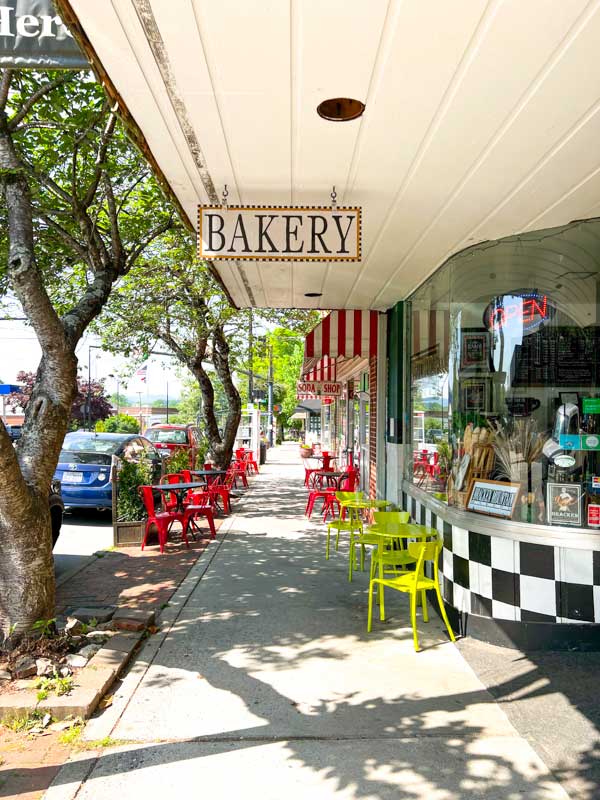 This itinerary includes shopping and dining in a small mountain town, picnic recommendations, several options for hikes and even a stop for ice cream with a view along the way. It's also customizable so that you can truly make the perfect day for you.
Itinerary Overview
We have mapped out a two-hour drive that starts and ends in downtown Asheville, taking you first to Brevard and then through Pisgah Forest and on the Blue Ridge Parkway.
Obviously, the amount of time you spend at each stop will determine how much time you actually spend out and about on your day trip. We included options all the way to dinner so you should be covered for wherever your day takes you!
You'll first tour around Brevard before heading to Pisgah National Forest and then onto the Blue Ridge Parkway. Driving on the Blue Ridge Parkway is near the top of our list of fun things to do in Asheville! It's a fun 'choose your adventure' day trip from Asheville and can be modified however you see fit.
We broke the itinerary into various stops, but you don't need to do everything on the list. Feel free to pick and choose to make the perfect itinerary for you and your group!
1. Spend the morning in Brevard
Brevard, NC is such a cute mountain town and worth visiting if you enjoy antiquing, cute local shops and great eats! There are a lot of great things to do in Brevard, from strolling downtown to spotting a famous white squirrel.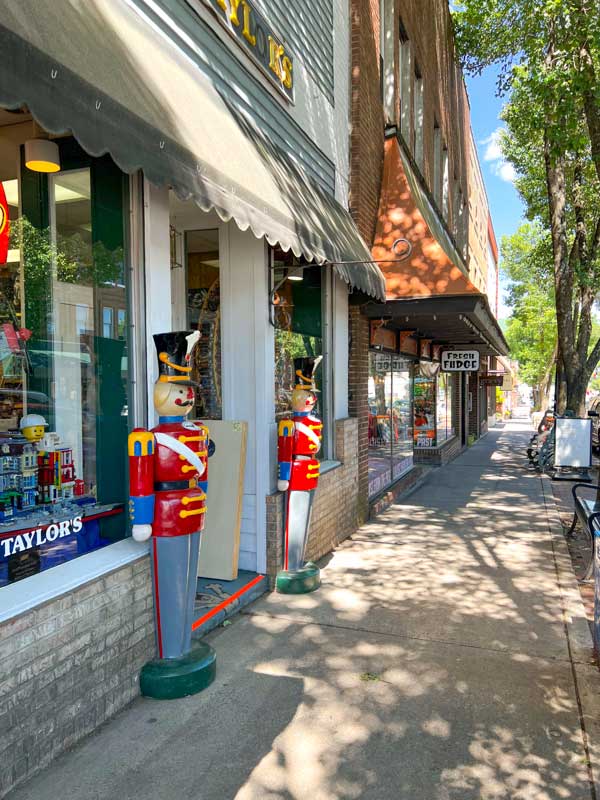 Their downtown area is quaint and you can definitely see it all in a few hours. Pretty much everything is in a few block radius downtown, so just find a free street parking spot and get to it!
Below are a few of the places we like to visit if you need a few ideas.
If you have kids in tow, don't miss the original O.P. Taylor's toy store! It's 6,000 square feet and sure to have something for everyone.
If you need a coffee pick-me-up, check out Cup and Saucer just down the block. It's a great place to work from if you need to catch up on emails– it's also a fun place to people-watch.
Bracken Bakery is a great breakfast spot to grab and go. Their pastries are awesome!
If you are looking for fudge or ice cream, stop by Kilwins! You won't believe the waffle cone smell!!
Roost Interiors & Gifts is a really cute shop with tons of fun finds. I always want to redecorate after stopping in!
Pop into local antique shops in Brevard— there are several in the downtown area
Our itinerary includes a picnic lunch at Sycamore Flats in Pisgah National Forest, but we understand if picnics aren't your thing and you prefer to eat in a restaurant! If that's the case, we recommend Mayberry's Soups & Sandwiches in downtown Brevard. Square Root is a great restaurant that is a bit more upscale.
The next few sections of this loop itinerary are in Pisgah National Forest. You'll enter it by The Hub in Pisgah Forest. To get there, you'll head north out of downtown Brevard on Broad Street and turn on Pisgah Highway. You'll then stay on Pisgah Highway until you meet up with the Blue Ridge Parkway.
2. Picnic At Sycamore Flats
You'll be ready for lunch after spending a few hours touring around Brevard! Our absolute favorite thing to do in the area is to picnic at Sycamore Flats right at the entrance to Pisgah Forest. It's a flat picnic area located on the Davidson River and makes for an especially good stop if you are traveling with kids.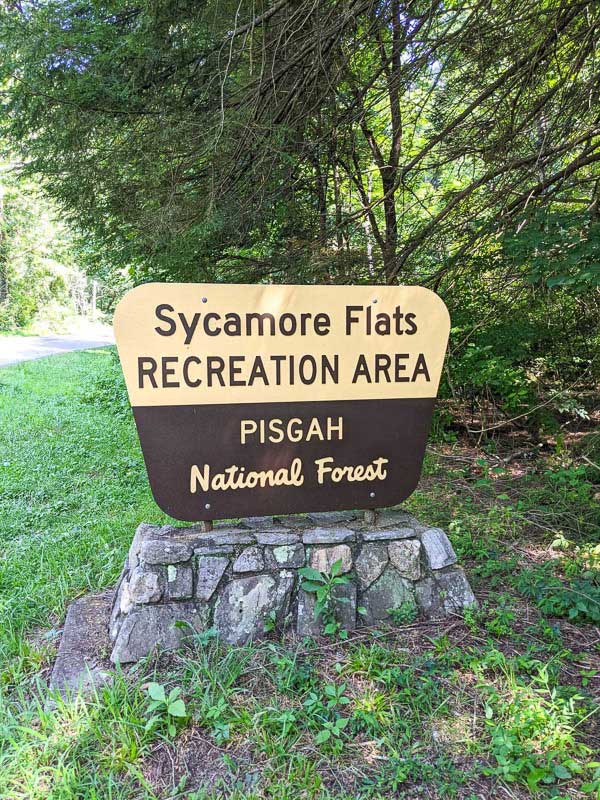 There are tons of picnic tables, a grassy meadow, restrooms and several access points to the river. You can tube, swim, splash or even fly fish! You'll also get cell phone service at Sycamore Flats which is always a relief. If you want to know more about the area, check out our post on the 7 things we love about Sycamore Flats.
Picnic lunch from Food Matters Market in Brevard
So, for picnic food we typically grab sandwiches and snacks from Food Matters Market and Cafe. It's a grocery store with a deli section, so you can get packaged goods and fresh produce in addition to your salad or sandwich. I love their various refrigerated items like smoked gouda pasta salad and housemade chicken salad.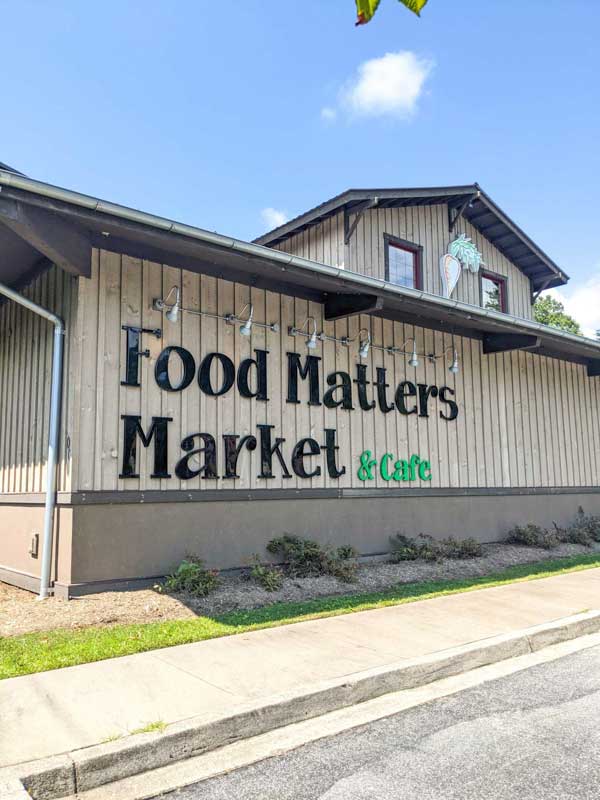 For sandwiches, we love their Reuben! You can also build your own sandwich just to your liking or pick up a fresh ready-made salad. Some of their packaged items can be a bit expensive, so you may want to bring your own snacks instead!
Other picnic and snack ideas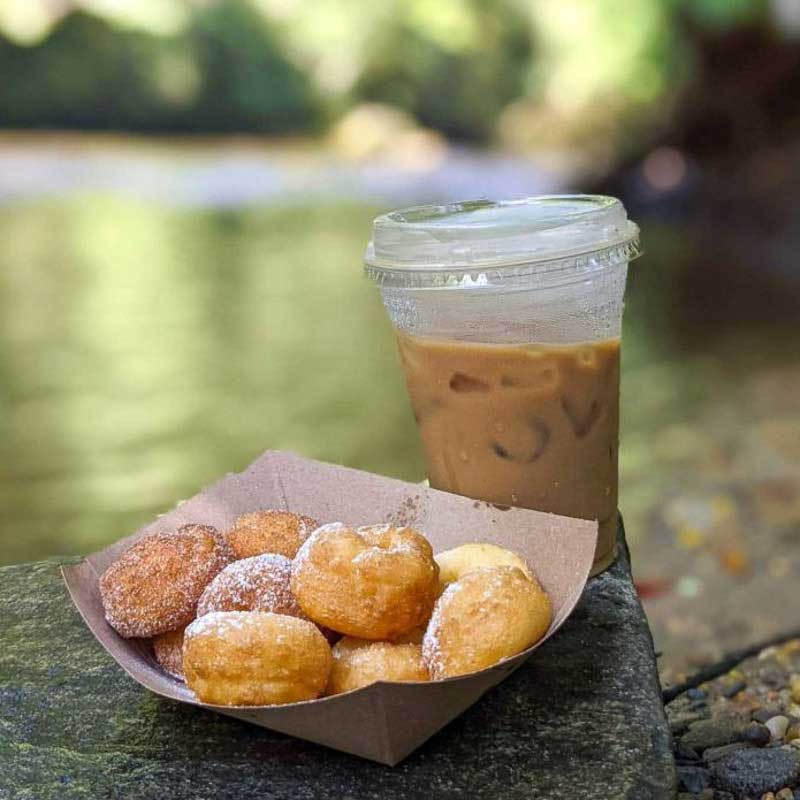 If you aren't in the mood for a sandwich, then we recommend grabbing Blue Smoke BBQ or Hog Wild BBQ for your picnic. Mayberry's in downtown Brevard would also be a good one and you can typically count on a food truck in the parking lot at The Hub right at the entrance to Pisgah National Forest.
Speaking of The Hub's parking lot— if you don't want to picnic at all but you want a little something sweet, stop at The Velvet Cup coffee trailer for mini donuts! It's the perfect little treat to eat at Sycamore Flats while overlooking the river.
3. Check out Looking Glass Falls
After you wrap up your lunch and have sufficiently explored Sycamore Flats, hop in the car and continue further into Pisgah Forest toward Looking Glass Falls.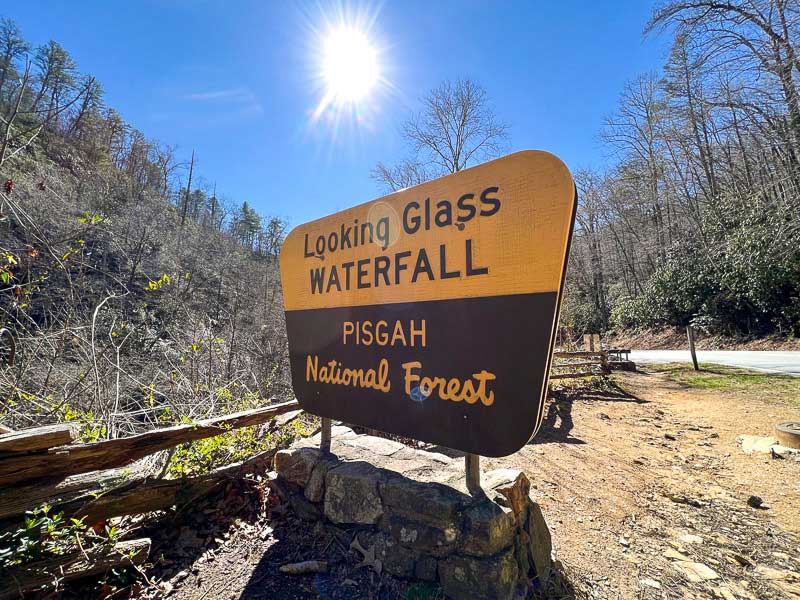 The Looking Glass waterfall is located just off the road and requires very little effort for something so beautiful! You can view it from up top or walk down a few flights of steps to the bottom.
Cell phone service can be a bit spotty, especially once you get closer to Looking Glass Falls. It will depend on your provider, though!
If you are up for it, you can walk out over the rocks to the swimming pool at the bottom of the falls. Be careful, though, because the water is powerful! If you want to know more, check out our post on everything to know about Looking Glass Falls! We cover where to park and what to expect when visiting the area.
4. Hike In the Pisgah National Forest
Not only will you pass several hiking trails on Pisgah Highway after Looking Glass Falls, but you'll also get really close to some of our favorites in Asheville once you hop on the Blue Ridge Parkway. We have highlighted several hiking options below (and have guides for each!)
The first three areas mentioned are along Pisgah Highway and the others are on the Blue Ridge Parkway.
Before we get started, I want to share that our recommendation for first-time visitors is to head to one of the hikes on the Blue Ridge Parkway. Not only will you get additional drive time on the Parkway, but a few have exceptional views. All mentioned below will get you in the forest and are enjoyable, though!
Moore Cove Falls
The first trail you'll pass after Looking Glass Falls is Moore Cove Falls. And yes, it's another waterfall! But this one isn't right off the road and it's also not quite as grand. The trail is a relatively easy 1.2-mile roundtrip, though, and it's kid-friendly.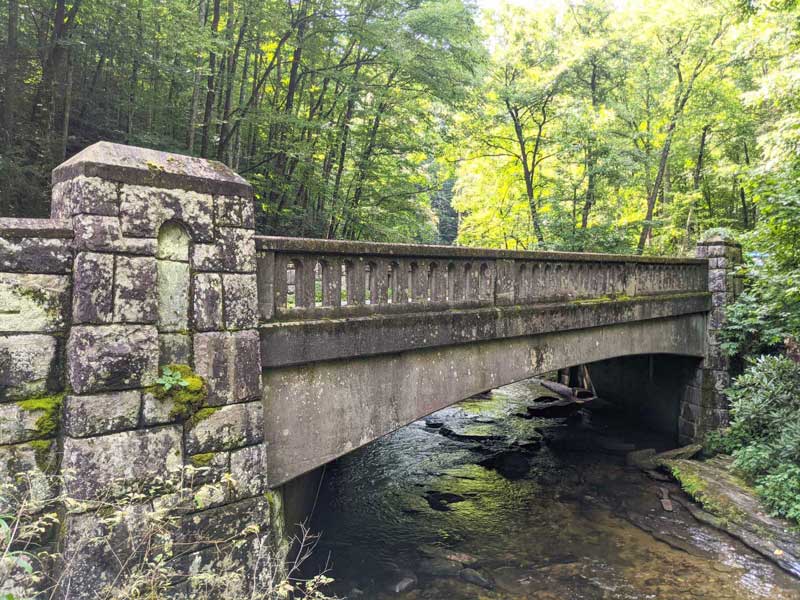 Moore Cove Falls is a great hike even on a hot day because of the shade from the trees! It typically takes us around 30 minutes to get to the waterfall with our kids. If you aren't doing it with young children you will probably be a bit more efficient, though!
Be warned that it's not as grand of a waterfall as Looking Glass Falls and can be quite sad when it hasn't rained in a while.
Pink Beds Loop Trail
You'll also pass the Pink Beds Loop as you drive along Pisgah Highway. It's a 5.3 mile loop that walks around a creek and a good option if you are looking to cover a bit more distance.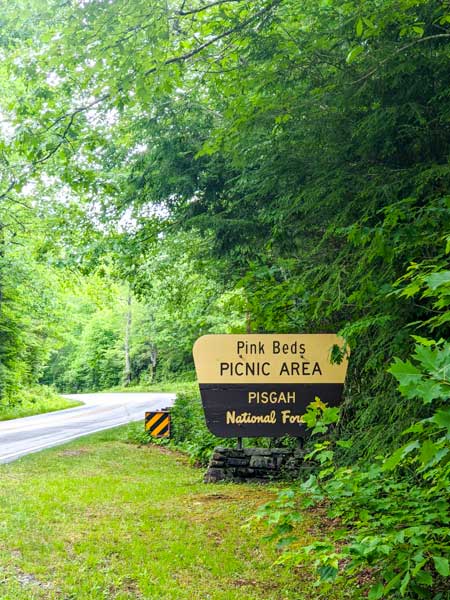 Though it's a longer trail than the one at Moore Cove Falls, there is little elevation change so it's a pretty easy hike. There is also a great picnic area at the trailhead just off the road. We have details on the hike in our guide to the Pink Beds Loop Trail, including ideas for how to make it a bit of a shorter hike if you are with kids.
Sliding Rock
So, this isn't a hike! BUT If you are taking this loop during the summer, you should check out Sliding Rock! It's a unique 60-foot run natural waterslide open to the public. Expect an exhilarating outdoor experience! There are three different runs, with the easiest being closest to the stairs.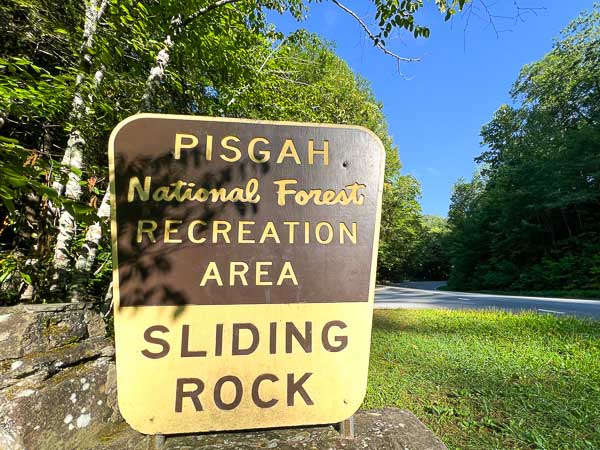 Sliding Rock is open year-round, though it's only staffed during the summer. Keep in mind that it may be closed after rain events if water levels are too high. There's also a fee to access Sliding Rock during the summer. It's $5 per person if a lifeguard is on duty and $2 per person otherwise.
Moore Cove Falls, Pink Beds Loop and Sliding Rock are on Pisgah Highway before it meets up with the Blue Ridge Parkway.
The following three hikes are accessible via the Parkway. You would take a left when you get to the Parkway to get to these. But if you want to skip a hike and keep trekking back to Asheville, take a right!
Graveyard Fields
Graveyard Fields is a short loop trail with waterfall spurs, swimming holes and even berries ripe for picking in late summer. It's located at milepost 418.8 on the Blue Ridge Parkway. There are restrooms located here but don't expect anything fancy!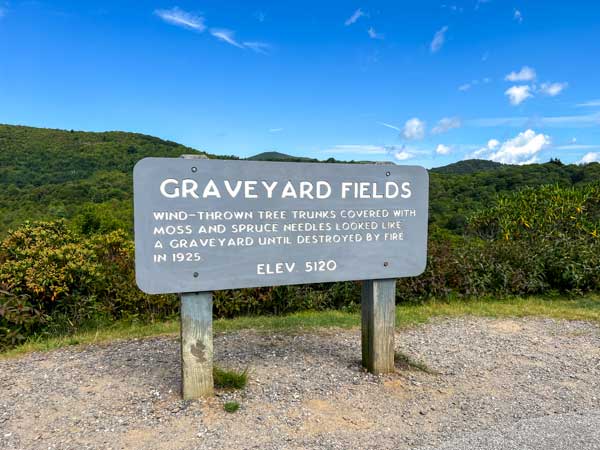 There are several options for hiking at the trail but all routes begin at the trailhead. You can either take the Graveyard Fields loop all the way around or add a stop at Lower Falls with a swimming hole or Upper Falls with a 40-foot waterfall.
Black Balsam Knob
A When In Asheville favorite hike! Black Balsam Knob takes you through a Balsam Fir forest to an open area with amazing views. After getting through the Balsam Fir trees you'll get to a beautiful mountain meadow and can see your target peak of Black Balsam Knob in the near distance.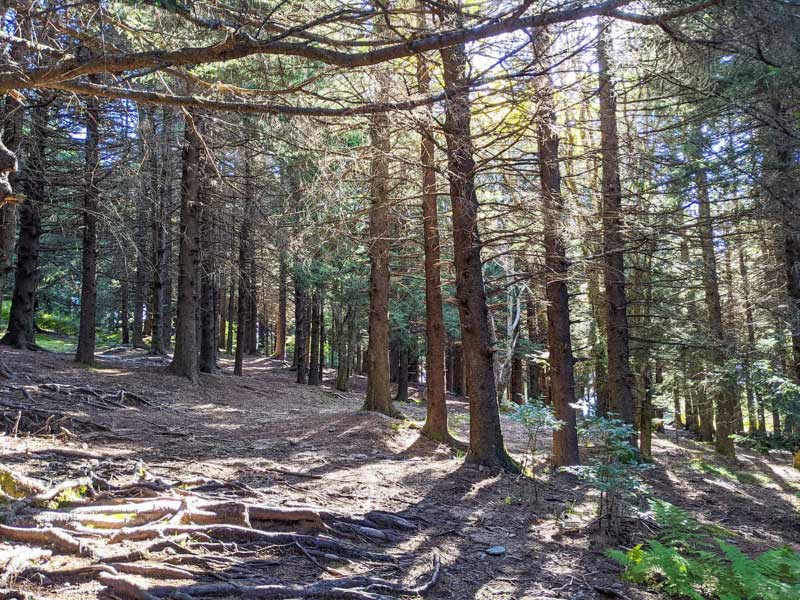 Black Balsam Knob is a 15. mile out and back trail with a few steep moments but overall it's not too difficult.
Devil's Courthouse
If you're looking for a quick (but steep!) hike to a spectacular long-range mountain view, look no further than Devil's Courthouse. It's .8 miles out and back but is straight up the whole way. The first part is paved and then it turns to gravel when it meets up with the Mountain to Sea Trail.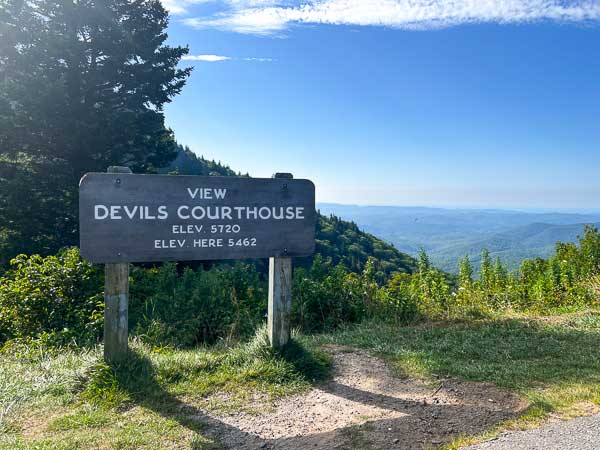 You'll eventually emerge at the peak onto a lookout area surrounded by short stone walls along the rocky cliff edges. From the summit, you have long-range views to the south, east and west. On a clear day, you can see four states: North Carolina, South Carolina, Georgia and Tennessee.
5. Catch a view at The Pisgah Inn
If you opted for a hike, you may be ready to rest your legs! So, sit back and enjoy the drive to The Pisgah Inn.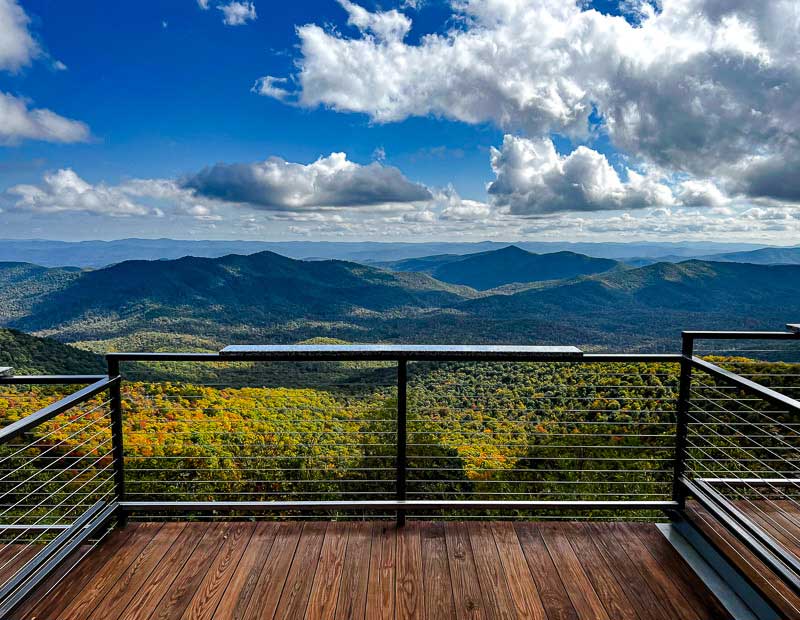 The Inn is open seasonally from April to October, so make sure to plan accordingly. And on that note– the Parkway closes with inclement winter weather! The Parkway toward the Inn was closed until early March of 2023, so you may want to stick with the Inn's schedule of April to October to be safe.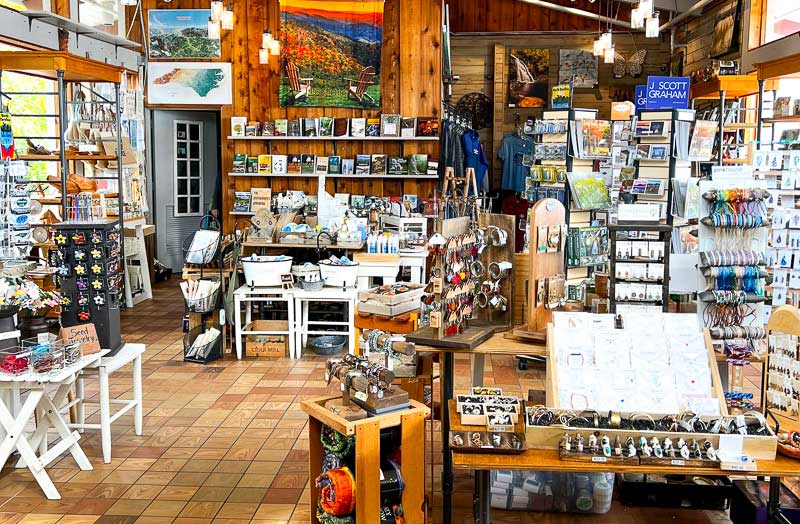 Pisgah Inn is a hotel at the top of the mountain with a restaurant, gift shop and cafe.
The Pisgah Inn's restaurant is reservations only and open to the public for lunch only. You can make lunch reservations online through Resy up to 30 days in advance. Breakfast and dinner at the hotel are reserved for guests only.
You'll find excellent views and observation decks at Pisgah Inn as well as several trails that you can wander down. They welcome both their guests and visitors for the day with open arms.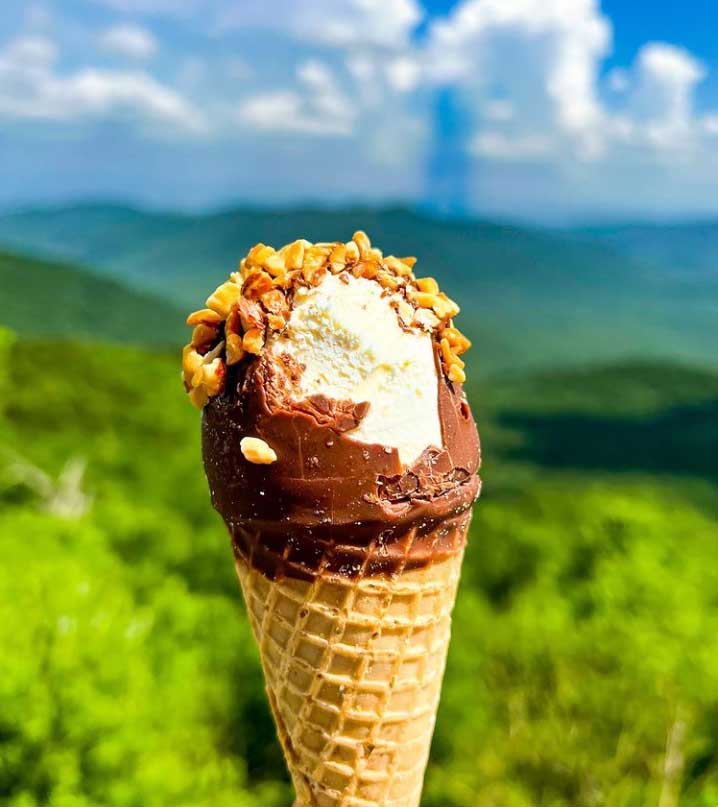 We always stop for the views, to stretch our legs and get an ice cream treat from the Deer Park Cafe. They sell ready-made sandwiches, salads, pastries and packaged goods at the cafe. It can be a bit expensive for picnic supplies (you are on top of a mountain, after all!), but it's nice when in a pinch.
6. Drive Along the Blue Ridge Parkway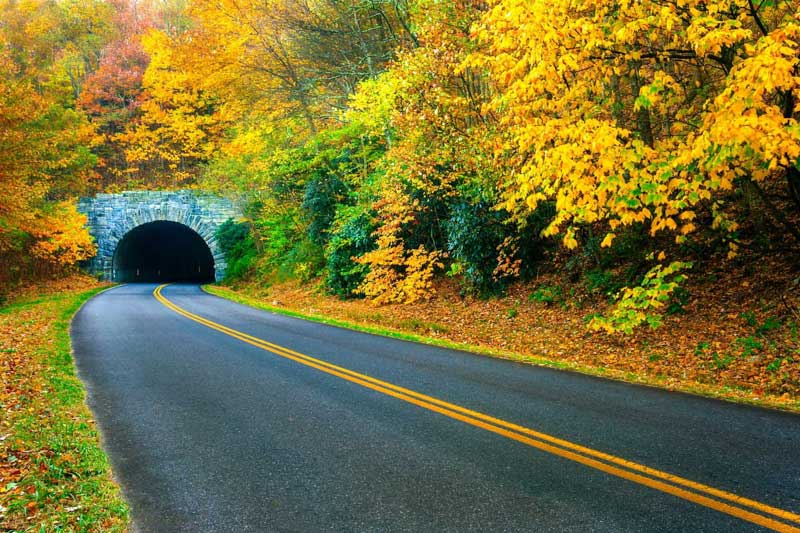 Once you have strolled around the property and really soaked in the views, hop back in your car to continue along the Blue Ridge Parkway. We love the stretch from Pisgah Inn down to the NC Arboretum.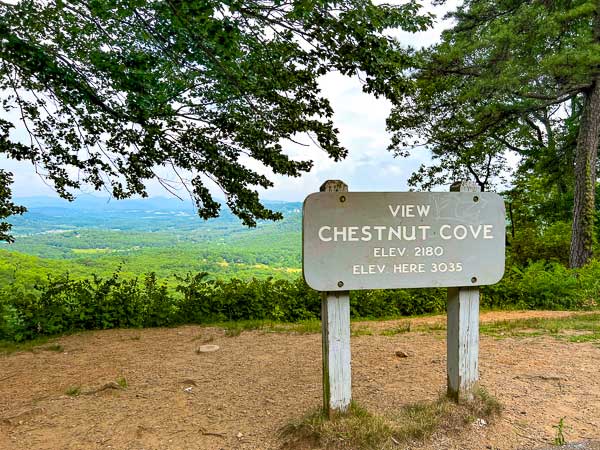 There are tons of lookouts along the way where you can admire the beauty of the Blue Ridge Mountains and snap a photo.
Several of the lookouts have wooded trails if you are in the mood for more hiking. You'll also pass through a few of the Blue Ridge Parkway's signature tunnels on your back toward Asheville.
7. Stop for dinner — and a beer!
Whew- what a day! You deserve some dinner and a beer if you fancy one. There are a ton of spots around town that will offer you just that, but we thought we'd list a few of our favorites starting with Sierra Nevada!
Sierra Nevada (Mills River)
If checking our Sierra Nevada's Mills River brewery is on your Asheville must-see list, you'll only be 15 minutes away when you get off the Parkway at the Arboretum! They have excellent food (and beer!) and tons of indoor and outdoor seating available.
The brewery and campus is absolutely stunning and unbelievably impressive. It's a fun place to kick back and relax after a long day. They host a ton of live music events, so make sure to check out their event calendar before going! There are free shows featuring local musicians every Saturday and Sunday from 2-5 at their outdoor amphitheater.
They also have a nature trail to the river that is beer-friendly! Even if it's just to see the drive past the gates toward the brewery… I'm serious when I say it's impressive!
Other dinner ideas in Asheville after your day trip
If you want to have dinner in Asheville, check out the South Slope district! Buxton Hall BBQ is one of our favorite spots in town and it's located right in the heart of South Slope. Another great spot (especially if you like sours!) is Wicked Weed's Funkatorium. They have so many fun flavors on tap and an awesome food menu.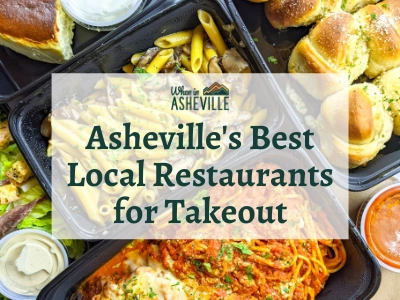 If you are ready to kick your feet back and order takeout, then check out our list of the best takeout restaurants in Asheville! A great restaurant to pick up from after your adventurous day is Luella's BBQ because you can order ahead and I always find that super helpful. They have a location in Arden (just ten minutes from the Parkway) and another in North Asheville on Merrimon. Both are great so just pick whichever is more convenient! We also really love Vinnie's Neighborhood Italian if pasta is calling your name and Gan Shan West for an amazing rice bowl.
No matter how you choose to spend your day, you're sure to enjoy the breathtaking scenery and the many outdoor activities that the Blue Ridge Parkway has to offer.
This itinerary is great for visitors to the Asheville area, but it's also fun for locals, too. We like to take this loop with our kids every few months between spring and fall. The colors and views change so much each season and we love checking out new restaurants and shops in Brevard.
It's an especially amazing experience during leaf season when you'll find some of the most amazing fall colors and views around. Keep in mind that it can get really busy during this time, though!