All the details on Asheville's best breweries
With over 30 breweries in Asheville proper and dozens more in the surrounding areas, there is ample opportunity for beer lovers to explore. This is Beer City, after all!
Not only is Asheville home to some of the nation's largest and most established craft breweries, but there are also several up-and-coming startups and small-batch breweries.
The smaller ones have a bit more flexibility to experiment and perfect, so you can expect a lot of unique brews and fun collaborations from them.
Not only that but there is even a dedicated school for brewers here. The Craft Beverage Institute of the Southeast ensures that brewers in the area have both theoretical and practical experience making top-quality beers. Speaking of, if you enjoy the technical side of beer making, check out our article on great brewery tours in Asheville.
Though it's awesome that we have so many breweries in the area, the Asheville brewery and beer scene can also get a bit overwhelming. But that's where we can help!
This guide to Asheville breweries will help you get the most out of what Asheville has to offer. Whether you are looking for breweries with great outdoor seating, kid-friendly breweries or the hidden gems of Asheville, you have come to the right place!
Table of Contents
Map of Breweries in Asheville
Breweries with wildly unique brews
And now onto our guide to the Asheville brewery scene, starting with a great category: breweries with wildly unique brews. Here you'll find several breweries that take their craft seriously, whether it's through ingredients, the process, the equipment or all of the above.
Well-known breweries in Asheville
Below is a list of the bigger, more well-known Asheville brands and even a few national brands with a production brewery here in Western North Carolina.
Local neighborhood brewery vibes
A laid-back neighborhood brewery with great beer and atmosphere
With not one but two locations in River Arts District and a taproom in Grove Arcade, Wedge Brewing has you covered all over town. Their laid-back taproom and beer gardens are great spots to meet for a beer.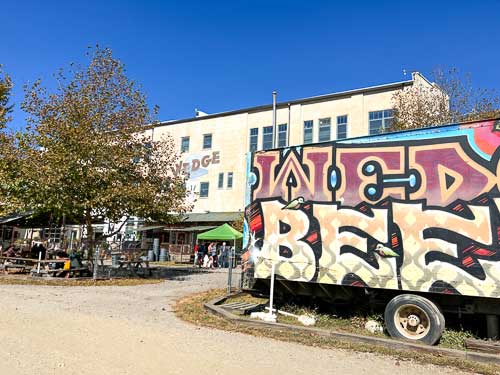 Honestly, you can't get more Asheville than Wedge Brewery at Wedge Studios. It's tucked in the dock level of an iconic building in the River Arts District. The building (a triangular-shaped wedge…) is over 100 years old. It was founded by a metal artist and features 20 working studios. It's a great place for art lovers to explore!
The brewery features rotating food trucks, a small taproom and great outdoor seating. You can't get a flight but they do offer half-pours.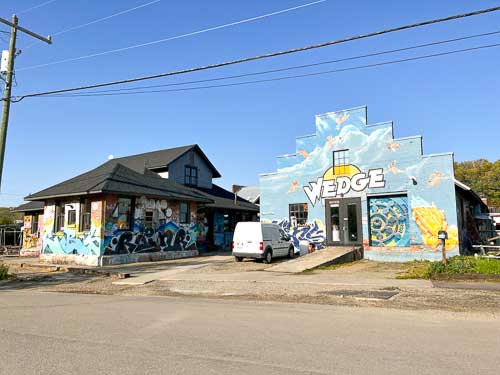 Just down from Wedge at Wedge Studios you'll find their other RAD spot in the Foundy St area. It's right next to 12 Bones BBQ and they also have the permanent Chop Shop food truck on site. We love the Carolina hot dog and their burger!!
We enjoy taking our kids here because it's pretty laid back. As far as beer goes, they have around 15 on tap at any time and also feature Noble Cider, wine and Ginger's Revenge.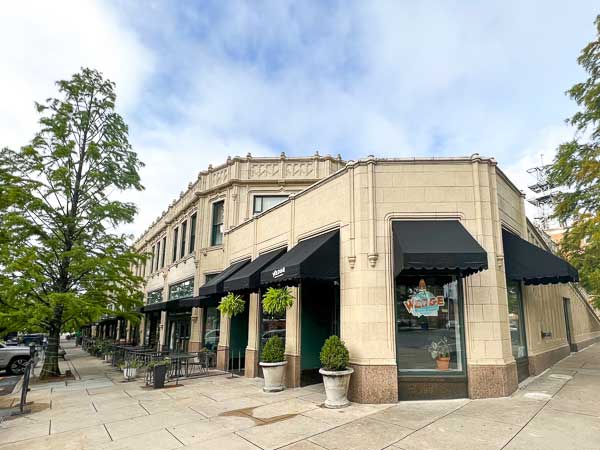 Wedge Brewery Downtown
Wedge's newest location is right at home in the Grove Arcade. Their taproom is the perfect place to escape the crowds. You'll find around 10 drafts available, including a few IPAs, a lager, a sour and even their take on the classic Belgian Saison when available. Ginger's Revenge is also on the menu, as well as wine and prosecco.
As far as food goes, you can either get a bar snack by the local catering company Red Fiddle Vittles or bring your own food. Wedge is located near a ton of great places that offer to-go food. One of which is Baba Nahm— it's a favorite of ours for delicious takeout.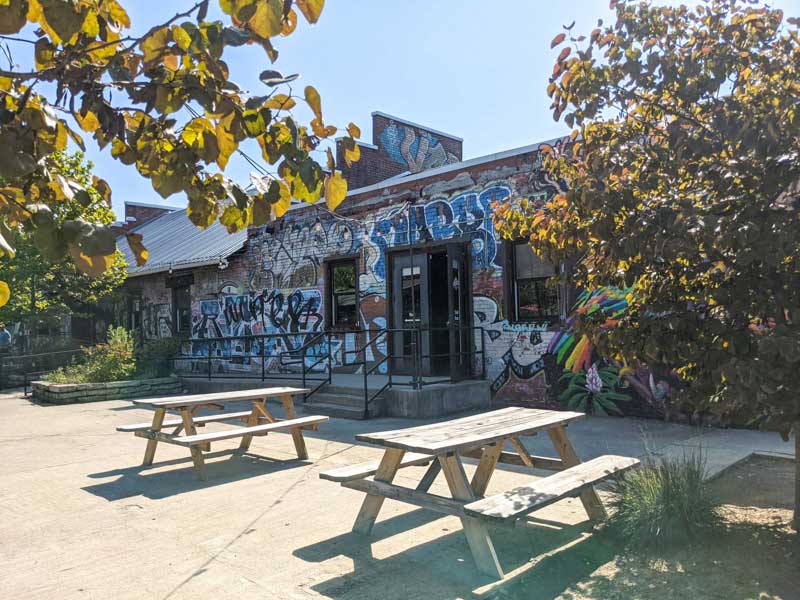 Wedge has an extensive beer list featuring IPAs, sours, stouts, and lagers. All three of their locations offer great places to hang out and enjoy excellent beer.
A brewery your kids will love as much as you!
This train-themed brewery does much more than just appeal to kids and the young at heart. While they have plenty of activities and things to see for kids, their beer is truly next level.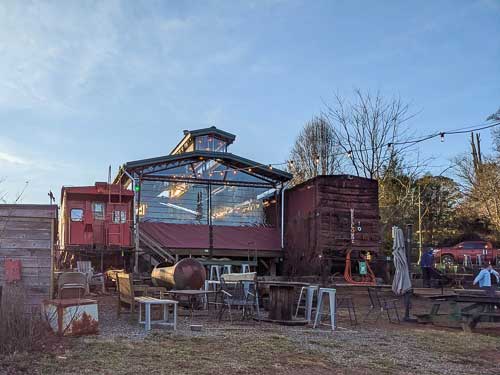 They brew some classic crushable brews including their flagship pale ale, Pale by Rail, and a ton of uniquely flavored beers like a Fruit Loops Milkshake IPA, an Orange Blossom Ginger Tripel and a Dark Choco Hazel Imperial Stout.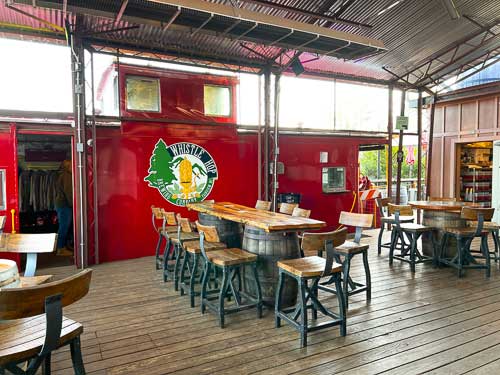 ---
And that wraps up our guide to Asheville breweries. It's pretty epic, right? There are so many great breweries to check out and we hope this list inspires you to try a new one!