There are so many great restaurants at Biltmore Park Town Square, from local favorites like Luella's to newcomers like Taco Boy and Leo's Italian Social.
You'll find a few breakfast spots, multiple ice cream shops and delicious Caribbean food at Biltmore Park. And it's all a very walkable area, whether you are just visiting the shopping center or are perhaps staying in the Hilton for the night.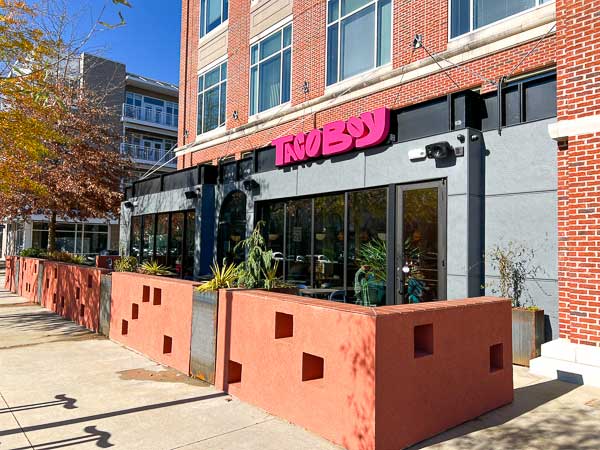 Make sure to check out our complete guide to Biltmore Park for additional details on the area, including where it is in the city, where to stay nearby and other things to do.
This guide to Biltmore Park restaurants shares our top picks, as well as what to order and other details that will help before your next Asheville dining experience.
What You'll Find In This Article
Where To Eat At Biltmore Park
Excellent BBQ, mac and cheese and outdoor seating in Biltmore Park
Luella's Bar-B-Que is typically our pick for dining in Biltmore Park. Well, Luella's and Nine Mile! We love the casual, order-at-the-counter atmosphere and the outdoor seating.
We recommend their pulled pork with a touch of vinegar sauce and a side of macaroni + cheese. It's truly one of the top BBQ places in Asheville and definitely worth a visit if you haven't been.
Not only is it great for dining in, but they have an excellent take out system. In fact, they are one of our most recommend takeout restaurants in Asheville.
---
Flavorful food at an Asheville institution
Nine Mile is an excellent Caribbean-inspired restaurant with three locations in Asheville. This location is in Biltmore Park and is the newest of the three. They have a great outdoor seating option here!
As far as what to order goes, start with the Live and Give appetizer! it includes queso, hummus and salsa. It's a fun way to start a meal and gives you time to peruse the entrees. What we love about Nine Mile is that several of the options are dairy-free and gluten-free.
If you are a fan of Mahi Mahi, make sure to try their Mayfield Falls entree. It's served in a dairy-free ginger + coconut sauce and is truly on another level. The classic Nine Mile dish with grilled jerk chicken is also fantastic.
---
Pub with outdoor seating, beer, hard seltzer and bites
If you are looking for a casual spot to hang in South Asheville, head to Thirsty Monk South in Biltmore Park. It's a great spot to grab a beer, catch up with friends and enjoy a delicious meal. You'll find a curated selection of craft beers, including a few house-made brews.
Their food menu includes soft pretzels with Lusty Monk mustard, chicken fingers, their 'Monk' burger and even a Nashville hot trout sandwich.
As far as drinks go, they have their Holy Water hard seltzer available in a variety of flavors, as well as their Holy Wit! ale, their Tricky Tripel and a few brews by Green Man. You can check out their current tap list if you want to see what's available.
---
Cafe with excellent breakfast and lunch sandwiches
Mosaic Cafe in Biltmore Park is the perfect place to start your day. We love their lumberjack breakfast sandwich. It's pretty epic, with bacon, sausage, ham, egg and cheese on a pretzel bun. The sandwich is hot, the cheese is melted and it's perfectly delicious.
Mosaic also has excellent lunch sandwiches and great outdoor seating with umbrellas. It's near the YMCA in Biltmore Park and just across from REI.
---
Southern fare in an upscale setting
Fork Lore is an excellent restaurant in Asheville's Biltmore Park that has a focus on all things local. The menu has Southern favorites like chicken pot pie, meatloaf, a pimento cheeseburger and a buttermilk fried chicken sandwich.
It's located at the Hilton Biltmore Park near several other restaurants and shops. They serve breakfast, lunch and dinner daily as well as a weekend brunch in Biltmore Park.
---
Steak, seafood and charm in Biltmore Park
131 MAIN is a steak and seafood restaurant in Biltmore Park. It's a charming spot, with gas lamps and a hickory wood fire grill.
Their seafood entrees include blackened scallops, cedar plank salmon and Maryland style crab cakes. They also have two steaks on the menu– a ribeye marinated in pineapple and soy, and an 8oz filet mignon.
If you are up for it, opt for a table at the Chef's table to view the kitchen in action. They also have a great outdoor dining area if the weather is nice. They do not take reservations for their outdoor patio.
---
Tacos, queso and outdoor seating (and a fun setting!)
Taco Boy is the newest addition to Biltmore Park's dining scene. It's a taco eatery originally out of Folly Beach, SC that has now expanded to a few other cities. The first Asheville location is in West Asheville in the former Zia Taqueria spot.
As you'd expect, you'll find several varieties of tacos on the menu. They have everything from a classic Al Pastor taco to a buttermilk fried chicken taco. Their tacos are served on in-house corn tortillas using heirloom blue corn.
Tacos are available individually or you can get a platter with either 2 or 3 that comes with Mexican rice and beans. You can also opt to make your tacos 'quesatacos' for an additional charge.
Apart from tacos, you'll find tortas, a burrito, enchiladas, quesadillas and salads on the menu. They also have a kids menu and brunch.
---
Daily brunch in Biltmore park
Another Broken Egg is a breakfast and brunch eatery in Asheville's Biltmore Park. Their dishes range the full gambit of breakfast foods so there is something on the menu for everyone. You'll find several varieties of eggs benedict, omelets, chicken & waffles and shrimp & grits.
They also have quite the 'indulgent' breakfast menu with french toast, pancakes piled with whipped cream and even lemon blueberry goat cheese pancakes.
Another Broken Egg also has a great brunch cocktail list. You'll find a blueberry margarita, a tequila sunrise and even a NOLA-style house-made punch on the menu, as well as several spiked coffees, a full bloody mary list and lots of champagne-based drinks. Apart from their cocktail menu, you'll also find drip coffee, tea, juice and soft drinks.
---
Self-serve frozen yogurt shop
Sweet Escape is a locally-owned frozen yogurt shop in Biltmore Park. It's a serve-yourself kind of place, where you pick your size cup and get to work. Their frozen yogurt wall typically has over 10 flavors and you can even opt for swirling some of them. You can see the full flavor list on their site.
After you've get your frozen yogurt you can get to work adding toppings. They have several varieties of cereal, sprinkles, chocolate chips, gummy snacks. It's a fun thing to do with kids in Asheville (and then you can pop in the nearby Biltmore Park shops after!)
---
Salads, sandwiches, smoothies and cold-pressed juice
Clean Juice is a juice shop and eatery located in Biltmore Park next to Club Pilates. Their juices are made with USDA-certified organic produce grown in California.
Not only can you get cold-pressed juice, but they also have coffee, salads and sandwiches. Their pick 2 special is pretty great– pick a half sandwich or salad and pair it with one of their 16oz smoothies. They have everything from a coffee smoothie to ones with whey protein.
Another menu item we love is their iced 'latte'. It includes cold brew, almond milk, dates, vanilla and maple syrup. It's so different than what we typically expect with a latte but very delicious!
---
Dim sum, sushi, noodles and beef with broccoli
P.F. Chang's is a family-friendly chain that serves a variety of Asian-inspired dishes and Chinese food. You'll find everything from hand-rolled sushi on the menu to traditional Chinese dim sum.
Their beef with broccoli is a crowd-favorite, as well as the sesame chicken and Chang's spicy chicken. They also have pad Thai, fried rice and Singapore street noodles.
---
That wraps up our guide to restaurants in Biltmore Park list! The only other thing to add is that Dolly Llama Waffle Master will be opening soon. It's located next to Taco Boy, where O.P. Taylor's previously was.
If you are looking for more information on the area, make sure to check out our neighborhood guide to Biltmore Park and our overview of Biltmore Park shops.