Your Guide To downtown Asheville.

Downtown Asheville is a true gem.
You'll love the quirky and eclectic shops, awesome galleries, funky bookstores, weekly drum circles, groovy music venues and exquisite bites.
Small businesses and specialty shops are mixed amongst the top restaurants in town, all set in the heart of the mountains.
About Downtown Asheville
What It's Like
Local · Big City Feel · Hip
Known For
Restaurants · Shopping · Architecture
Downtown Asheville Guide Table of Contents
Where To Stay In downtown Asheville
A guide to luxury hotels in Asheville. Experience refined amenities, exquisite dining, and exceptional service.
Discover the best family-friendly hotels in Asheville, where adventure and comfort await.
Restaurants in downtown Asheville
You'll find some AMAZING restaurants in downtown Asheville! There are tons of can't miss spots and you really can't go wrong. We broke this part of the guide into various sections to try to make it a bit easier to navigate– starting with date night restaurants!
Date Night Restaurants in Downtown Asheville
Limones: An elevated Mexican & Californian restaurant with a variety of fun dishes. The grilled street corn, lobster nachos, spicy margarita and churros for dessert is my type of meal!
Cúrate: A Spanish tapas restaurant by chef Katie Button. It's both cozy for a date night but also fun with a larger group if you want to share several small plates. We celebrated our engagement here so it will always be one of my favorite spots! The menu can be a bit intimidating at first but you'll get the hang of it. Just start with the chistorra & chips josé's way and take it from there!
5 Walnut Wine Bar: A local wine and cheese bar with nightly music. The interior is very cozy and inviting, with old wood floors and brick walls. It's a nice change in pace when in Beer City.
Salsa's: A delightful Mexican Carribean restaurant with great outdoor seating. It used to be a date night spot for us, but now it's where we take the kids when downtown for an early dinner. We love their fajitas and enchiladas!
Bouchon: French fare but make it comfort food and with a focus on local. You'll find Escargots, Boeuf Bourguignon, Steak Tartar (Thursdays only!) and roasted duck on the menu.
Isa's French Bistro: A fine dining spot for breakfast, lunch and dinner. We have never been disappointed with food or service at Isa's. For breakfast I love their bistro hash skillet and their NC Chicken and French Toast dishes. Steak Frites for dinner, always! PS half off wine on Wednesdays!
Rhubarb: Farm-to-table American fare with locally sourced ingredients and a new menu daily. Definitely worth a visit if you can snag a reservation.
Posana: Very cool space and a great menu featuring local meats and veggies. Their kitchen and menu are completely gluten-free.
Ukiah Japanese Smokehouse: A newcomer to the food scene but not to be missed! Japanese soul food meets American BBQ all done by a James Beard-nominated chef.
French Broad Chocolate Lounge: Ok so it's not technically a 'restaurant' but it's definitely an Asheville gem. I think all downtown Asheville dates should end with a rose, cardamom & pistachio liquid truffle from the chocolate lounge. And it's not just for date nights– the chocolate lounge is also a great place to take kids.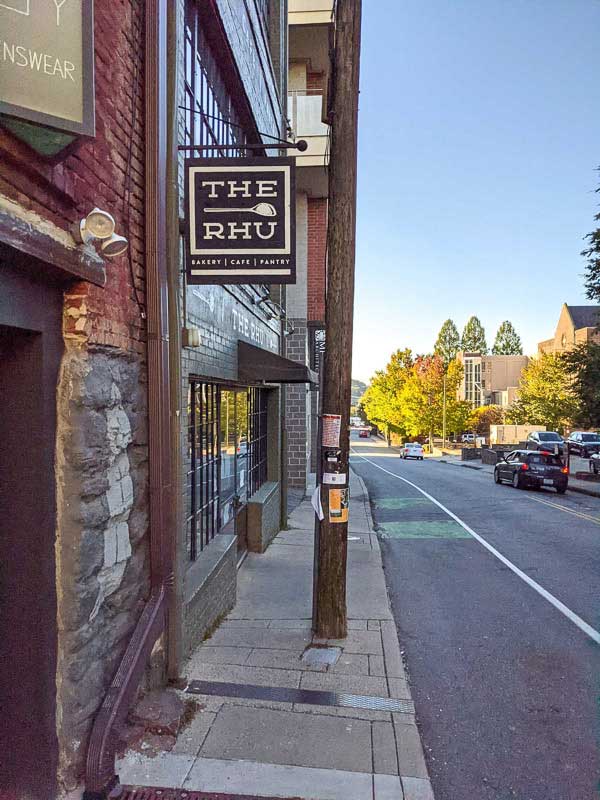 Breakfast and Brunch Restaurants in Downtown Asheville
Below are a few downtown breakfast spots, but be sure to check our full guide to breakfast in downtown Asheville for a complete list.
Early Girl Eatery: Local farm-to-table all-day breakfast spot. You can be as healthy or unhealthy as you desire. They have great gluten-free options and outdoor seating out front.
Tupelo Honey: An all-day spot serving up breakfast and southern comfort food. This is the original location and the restaurant is now in over 10 states.
The Blackbird (weekend brunch only): a southern eatery with a fun weekend brunch. Their omelets are always great and our son loves the french toast!
The Rhu: Some of the best pastries and bread around. They also have breakfast and lunch sandwiches and delicious coffee drinks. PS don't miss their pantry section full of products from local brands like Spicewalla and PennyCup.
Asian Restaurants in Downtown Asheville
Suwana's Thai Orchid: Really great Thai food for both dining in and takeout. We love the massaman curry and green curry, though everything we have tried has been great!
Red Ginger Dimsum: A fun Chinese restaurant putting their own modern spin on classic Chinese dishes. Red Ginger has its own vibe and I always feel like I am in a bigger city when there. The Shanghai-style pork dumplings are always a good pick!
Wasabi: A local favorite for sushi and hibachi. Order online and pick up for a fun night in or grab a seat at the bar to watch the chefs work! They also have a fun patio out front that is great for people watching.
Miyako House: Awesome sushi and other fresh Japanese staples. The service is always great and online ordering can't be beat!
Heiwa Shokudo: An off-the-beaten-path Japanese bistro serving ramen and sushi. The shiitake broth is great and they have a nice outdoor patio.
Chai Pani: Amazing Indian food in a laid-back spot. Matchstick okra fries are always a crowd favorite. And don't sleep on their 'Sloppy Jai'– a sloppy joe but with spiced lamb hash. If you aren't yet convinced, Chai Pani was voted one of New York Times' favorite restaurants in 2021!
Coffee shops in downtown Asheville
Downtown is full of coffee shops and all are great! In fact, you can find pretty much all of them on our best coffee in Asheville list. Below are some of our favorites with some quick details to help you find the perfect one for you the next time you are in downtown Asheville.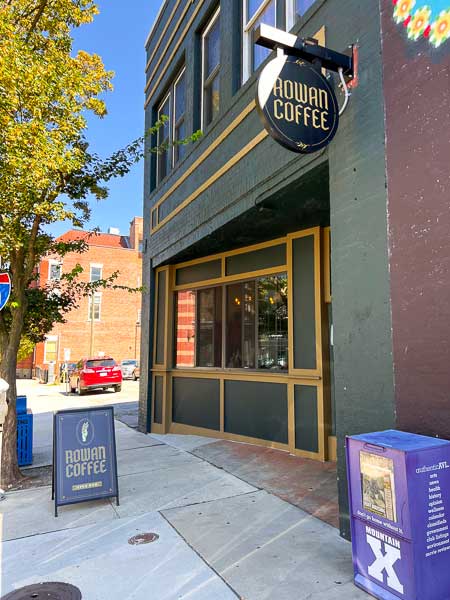 Rowan Coffee: Rowan is an awesome coffee shop!! Especially if you are looking for somewhere to pen your next great novel. They take their coffee seriously and have the most beautiful interior ever. It's like a prohibition-style coffee shop with dark and moody colors. Count on fantastic drinks and equally great music. As of 2023, Rowan Coffee is now a roaster.
Trade and Lore: Coffee, kombucha, beer and wine are all on the menu at Trade and Lore, as well as quiche, biscuits and pastries. It's in a great location down Wall Street, away from the hubbub of Haywood, Biltmore and Patton Ave. You can order online or place an order at the pickup window.
The Rhu: Mentioned above in our breakfast section but also including it here because they have great coffee! They are also known for amazing pastries and delicious sandwiches. There's an upstairs seating area that is another great spot to work from when downtown.
PennyCup: Great coffee and graffiti art! A bit off the main path but that may be why I like it so much. You'll find real penny tile in their bathroom!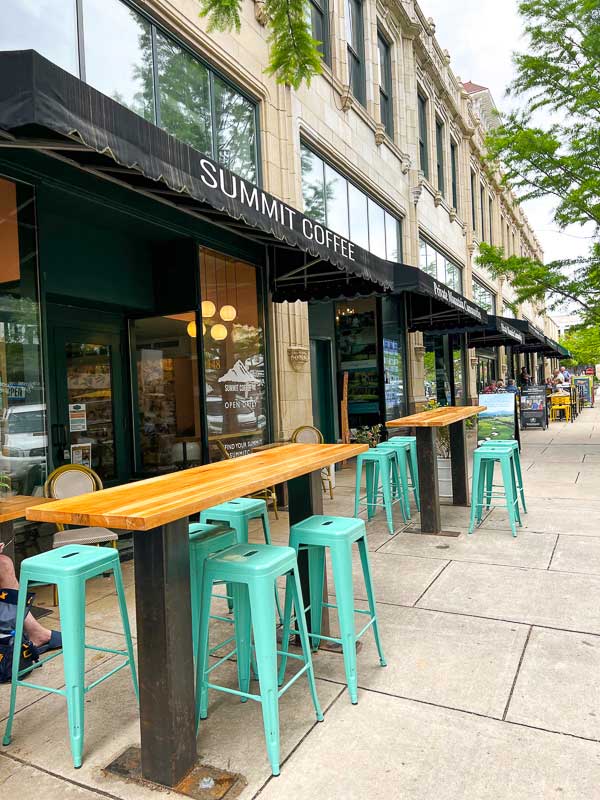 Summit Coffee: Another excellent coffee spot to fuel your day downtown! I love grabbing whole beans from there (buy a bag, get a coffee!)
High Five Coffee: An easy place to grab the perfect latte and a baked treat. It's a great coffee shop to work from. And bonus! They brew Counter Culture only.
Asheville Club: It may not sound like it would be a coffee shop, but that's part of the appeal. It's actually a coffee, beer and wine bar and it's such a fun place to spend an afternoon. They serve up espresso drinks, Counter Culture and have a great beer selection, as well as locally brewed ginger beer and ciders.
Double D's Coffee & Desserts: a double-decker bus parked on a corner lot serving up coffee and cocktails. Definitely a fun visit for tourists and kids!
Shopping in downtown Asheville
There are so many fun shops (over 200!) to check out when downtown. We won't list them all here, but will tell you about a few of our favorites, starting with art and furniture.
Woolworth Walk: One of several shops downtown that serve as a marketplace for local artists and makers. The Woolworth building is a two-story art gallery and emporium, complete with a nostalgic vintage soda fountain and diner inside.
Kress Emporium: Another local artist marketplace that we love. Kress showcases the work of over 80 artists and craftspeople, each with their own booth inside of the shop. Kress has a great variety of jewelry, clothing, furniture and art. I myself always swoon over the jewelry and can't leave without bringing at least one candle home.
K2 Studio: A cozy shop that sells furniture made in North Carolina, items sourced from all over the world and unique pieces by local artists. K2 is located downstairs in the Kress Emporium. You can also access it at the entrance on College Street.
Mission at the Grove: A shop full of swoon-worthy furniture, art and lighting located in the Grove Arcade. Which, speaking of, is a destination itself! There are tons of shops and restaurants located together, all in a beautiful building from the late 1920s.
Mountain Made Gallery: A great place to check out and shop for local art. They display locally made jewelry, pottery, ceramics, baskets, fiber arts, paintings and stained glass. You can also buy books by local authors and work by local musicians. Mountain Made is located in the Grove Arcade.
Battery Park Book Exchange: If you are into books, you'll love grabbing a latte or even a glass of champagne at this bookshop located at the Grove Arcade. They also have charcuterie boards, so you can definitely plan to stay awhile!
Malaprop's Bookstore: Another independent bookstore downtown, located near the Woolworth building. Malaprop's is a great place to pick up a new title, discover an old one or meet an author at a signing.
Nest Organics is full of organic and non-toxic finds for your home, babies and self. It has such a calming atmosphere and I can never leave empty-handed. Candles, baby clothes, home decor, jewelry.. they have it all!
Curio: A perfectly cute toyshop located in the heart of downtown Asheville. You'll find gifts for every age from brands you know and love.
Moonlight Makers is a great spot to grab a gift for your dry-humored friend. They have a ton of humorous screen printed shirts, as well as other fun finds like koozies, dish towels and tote bags.
Asheville Bee Charmer: small-batch honey and other bee-themed items that make a great gift from Bee City!
The Herbiary: a neighborhood herb shop that specializes in essential oils, teas and other items for your kitchen and your body. We love buying loose leaf tea from The Herbiary because it is sourced from nearby farms and comes in a variety of great blends.
Hazel Twenty is a great boutique filled with women, mens and kids clothing and accessories. Maisie Twenty is their kids boutique located in the same shop.
Mast General Store on Biltmore Ave is one of our favorite shops downtown. They have an awesome selection of vintage-style candy as well as outdoor clothes, packaged food, home goods and clothing, so you'll definitely find something you love. Check out why you don't want to miss Mast General Store here!
Things to do in downtown Asheville
Shop like a local at the Asheville City Market farmers market: The Asheville City Market is a Saturday morning farmers market (April to December) that features local farmers, bakers and makers. You can grab a bouquet of beautiful flowers, fresh veggies, local honey, handmade jewelry, a hot pizza, cup of coffee and great pastries. It's a fun market to shop around and live like a local in Asheville! Check out our full Asheville farmers market guide here.
Visit a distillery: Located across from the Grove Arcade, Cultivated Cocktails is such a fun place to taste a variety of spirits and stock your bar. Not only can you buy their full line of spirits, but also cocktail kits, mixers, bar tools and hand sanitizer. They offer free tastings and $6 cocktails at their bar.
Catch a show at The Orange Peel: Downtown Asheville's premiere music venue. You can always expect an amazing lineup. Make sure to check out the building's Lionel Richie mural even if you aren't catching a show!
Spend some time at the Asheville Art Museum: The Asheville Art Museum is a great stop for art lovers! Here you'll find art from Western NC from the 20th and 21st centuries, both in a permanent collection and through various exhibits. The museum is recently remodeled and very spacious.
Visit the kid-friendly science museum: The Asheville Museum of Science (AMOS) is a great thing to do with kids in downtown Asheville! It has a ton of fun exhibits, including the cast of a dinosaur, a large climbing exhibit based on the Southern Appalachian Forest, a water splash zone, local gemstones and minerals, and even a weather simulator. It's a great place for children to learn and burn off energy!
Unwind at the Asheville Pinball Museum: Ok, so it's not an actual museum. Instead, it's all you can play pinball for $15 per person! It's a great rainy day activity.
Jam out at the Asheville Drum Circle: One of my favorite things to do on a summer Friday night is to stop by the free drum circle in Pritchard Park's outdoor amphitheater. There you'll find a diverse mix of people coming together in harmony and dance. Whether you want to jam or just people-watch, it's a great way to spend an evening!
Take a tour on the Amazing Pubcycle: If you are looking to explore downtown in a self-described "Wonka-style" cycle bar (aren't we all?), check out Amazing Pubcycle! They offer BYO (beer/wine) tours of downtown Asheville on a 13 person pedal-powered trolley. It's a great activity if you are planning a big (adult) birthday or bachelor/bachelorette party in Asheville. And you only have to be an adult for the drinking part! Anyone over 12 can ride on their Nomad Tour.
Sit down, relax and prepare to laugh on a LaZoom Tour: If pubcycles and trolleys aren't your thing, maybe the LaZoom comedy bus is! They have several types of tours to choose from, including those that are kid-friendly. They also have ghost tours and music + beer ones.
Getting Around in Downtown Asheville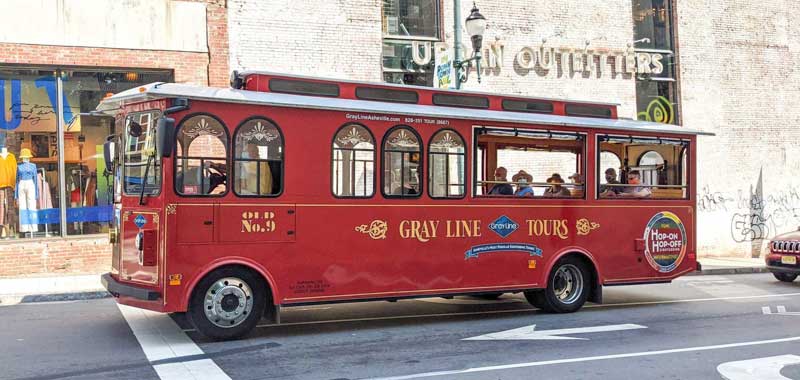 Walkability: Asheville is fairly walkable, especially if you are staying in a hotel nearby. There are tons of hotels in the area and you can also walk downtown from some of the nearby neighborhoods. You'll find street and garage parking if you are driving in, and of course, you can be dropped off in a ride-share car.
Gray Line Asheville Trolley Tour: A fun way to spend a day in Asheville is on the hop-on/hop-off trolley tour given by Gray Line Asheville, and there are two stops downtown. Ticket prices range from $14 (5-11 years) to $35. Tickets for senior citizens 60+ are $33. The tour is around 90 minutes, but you can do it at your own pace by hopping off an on at any of the ten stops.
Is downtown Asheville safe? Here's what I'll say… stay vigilant! There is an ongoing homeless problem and at times I find myself a little bit nervous, especially if I am by myself. We typically like to travel in pairs, stay near larger groups of people and never stray too far from the city's center.
You'll find some great (and sometimes a bit weird…) buskers around. And you are always bound to run into something funky going on, whether it's a performance or a piece of art. Speaking of, the quirky flat iron sculpture across from Woolworths always makes me smile!