Your Guide To South Asheville.
South Asheville is a popular residential area with all of the amenities needed for convenient living.
This area has seen a high volume of development in recent years along I-26, Brevard Road and Hendersonville Highway, giving area residents and visitors plenty of places to eat, shop and play.
About South Asheville
What It's Like
Suburban · Family-Friendly
Known For
NC Arboretum · Biltmore Park Town Square · AVL Airport
Location
South of downtown and the Biltmore Estate
---
Table of Contents
About South Asheville
South Asheville has seen some of the most growth in the Asheville area in recent years. It's a popular residential area for families moving to town and long-time residents alike. South Asheville has all the amenities needed for convenient living.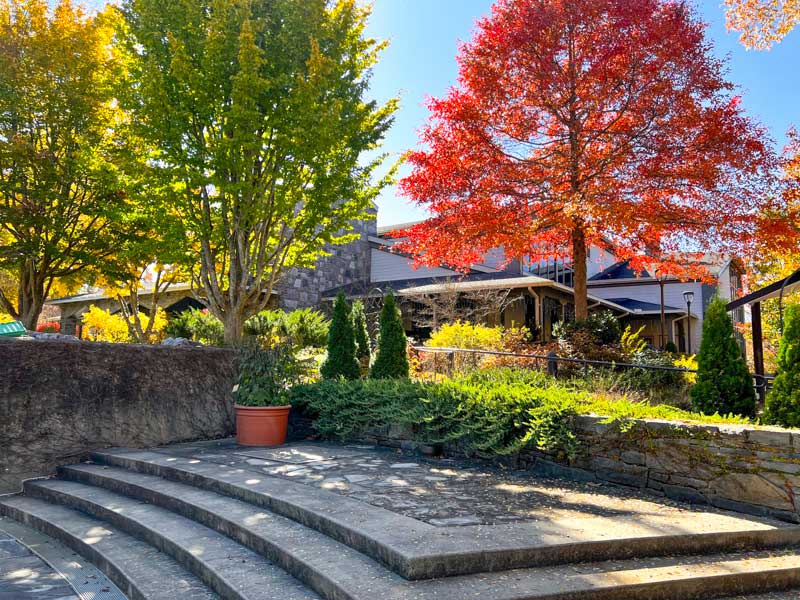 The main commercial corridors leading out of Asheville toward the South are Hendersonville Highway, Sweeten Creek Road and Brevard Highway. You'll find everything you need from restaurants to recreation areas and hotels to grocery stores in South Asheville.
As the area continues to expand, more and more 'Asheville' restaurants and establishments are opening a location in South Asheville. To name a few, Early Girl Eatery, Tupelo Honey, Vinnie's Neighborhood Italian, Biscuit Head, Asheville Pizza and Brewing, White Duck Taco Shop and Green Sage all have locations in the area.
Restaurants in South Asheville
With the growing popularity of Asheville as a food mecca, South Asheville has gained its fair share of top-quality restaurants and eateries. As you browse the list of restaurants you will notice that many Asheville favorites have opened second locations in South Asheville following the growth of the city in that direction.
Many of the restaurants featured on this guide are located in Biltmore Park. We also have a guide to Biltmore Park restaurants with all of the details.
Great for Dining in or Takeout in South Asheville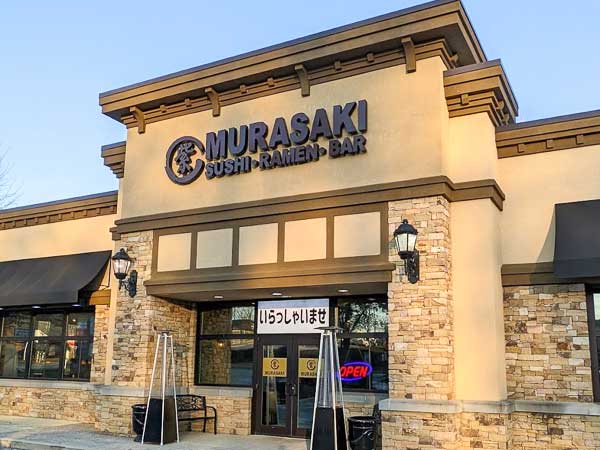 Nine Mile: A Caribbean-inspired restaurant that has tons of vegetarian, vegan and gluten-free options. Their Live & Give appetizer is always great– tortilla chips, queso, hummus and salsa. PS they sell their hot sauces by the bottle (a great gift or souvenir!)
Wild Ginger Noodle Bar: Asheville's favorite spot for Pho! And it's in a strip mall! It doesn't matter who you ask or which part of town they live in, though, everyone agrees: Wild Ginger has the best pho in town! Not only is Wild Ginger a great spot to dine, but you can also call in a to-go order. We typically get takeout, though it's a cozy spot for a date night. Kids are welcome but it's not the first place I'd take them.
Murasaki: Another great Asian restaurant in South Asheville. Murasaki is our favorite sushi restaurant in Asheville (and Wild Ginger for Pho!) We have loved every dish from Murasaki, but especially their dynamite shrimp. It's our son's number one choice when we mention getting sushi for dinner! So far we have only gotten food to go from Murasaki but they have an excellent dining area both indoors and out. Inside feels a bit fancier so I'd probably want to sit outside with our kids. You can order online here.
Vinnie's Neighborhood Italian: One of our favorite Asheville restaurants! Their original location is in North Asheville and we are fairly certain all of South AVL jumped for joy when they announced their expansion. You'll find the best Italian dishes at Vinnie's, including two of our favorites: chicken parmigiana and pasta al funghi. Vinnie's is on our must-try takeout in Asheville list if you are looking for a fun night in with great food.
Cantina Louie: Great outdoor seating with chips and salsa. Count me in! The restaurant is right by Whit's Frozen Custard, which is a great spot to grab ice cream after a delicious dinner. The Street Taco Basket is always a good choice, as well as the Cantina Fajitas. Cantina Louie also has a breakfast burrito (they open at 11am daily.)
Casual Bites in South Asheville
Old School Subs and Deli: A favorite of ours and a definite hidden gem! Old School Subs is near Biltmore Village and has some of the best deli sandwiches in Asheville. They also have the most amazing Greek salad with the best dressing ever. We like getting sandwiches to go and going on a picnic, though you can also dine there.
Juicy Lucy's: If you're looking for a casual burger joint in South Asheville, Juicy Lucy's is the place for you. Located a little south of Biltmore Village in South Asheville, this locally owned restaurant is a convenient and easy place for families and friends to gather. Their burgers are delicious and they also have a full bar with tons of local beer on tap.
Rocky's Hot Chicken: If you're familiar with the Asheville food scene, you've heard of Rocky's Hot Chicken and their famous spicy fried chicken. They have been a local crowd favorite since 2009. They offer fried chicken and other chicken dishes any way you like. We find the medium spice level to pack plenty of heat. And don't worry, if you aren't into spicy chicken they have plain and honey style for you!
White Duck Taco: Here's another downtown Asheville restaurant that has a location in South Asheville. White Duck Taco Shop serves up a unique menu of fresh tacos. Their location just of Long Shoals Road is tucked away and has an awesome outdoor area with picnic tables that are great for the whole family.
Barbeque in South Asheville
There are some great barbecue options in South Asheville. These four spots are all on our best barbecue in Asheville article!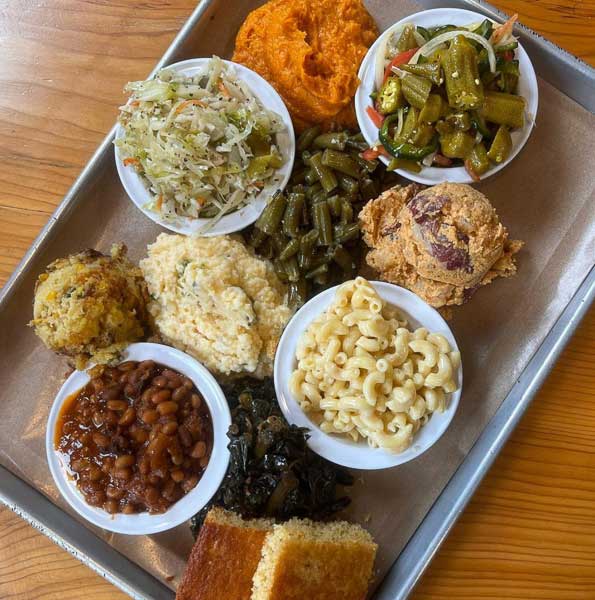 12 Bones South: 12 Bones is a fixture in the Asheville barbecue scene. They make mouthwatering BBQ and sides, especially their rack of ribs. You can't go wrong with anything on the menu. Check out their sister brewery 12 Bones Brewing collocated next door to 12 Bones South.
Luella's BBQ: You'll love the pulled pork bar-b-que from Luella's BBQ located in Biltmore Park. It is so flavorful and finished with their vinegar-based sauce. It is the perfect spot to dine while shopping at Biltmore Park or grab it to go. Their sides are amazing as well — their mac and cheese is some of the best we've ever had.
Big J's Bubba-Q: This unassuming roadside BBQ take-out joint is a hidden gem in South Asheville. Located on Sweeten Creek Road across from Rocky's Hot Chicken Shack, it is the perfect place to grab a quick bite or pick up dinner to go. From ribs to pulled pork plate to BBQ sandwich, you won't be disappointed!
Bear's Smokehouse: This is a food truck located at Sweeten Creek Brewing. Their BBQ is awesome (especially the brisket and ribs!) and it's always a blast to hang out in Sweeten Creek Brewing's outdoor space.
Pizza in South Asheville
Be sure to check out our list of our favorite pizza places in Asheville!
Asheville Pizza South: Asheville Pizza South is the South Asheville location of Asheville Pizza and Brewing. They are available for takeout only, making them a great spot to grab dinner for the entire family. They have some awesome topping combos and even have vegan and gluten-free options.
Fahrenheit Pizza & Brew: This hidden gem is tucked away off Hendersonville Highway in South Asheville. Their brick oven pizza is amazing and they have great picnic tables outside to enjoy it. They also have self-service beer taps with lots of local beers.
Iurato's Pizzeria: For a classic NY-style pizza joint, Iurato's is a great option in South Asheville. They have all the classic pizzas available as well as pasta, calzones and subs. They have a dining room with waitstaff or you can place your order online for pickup!
Breakfast and Cafes in South Asheville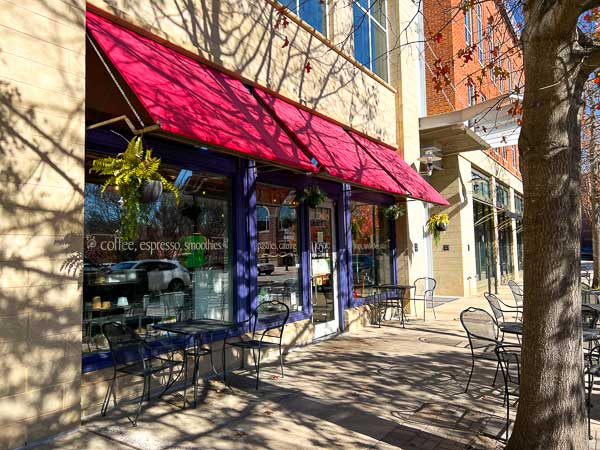 Biscuit Head: A great place to grab breakfast! They have a ton of mega-loaded biscuit specials on their menu. Biscuit Head has multiple locations around town and you can order online.
Early Girl Eatery: All-day breakfast, lunch and dinner! And it's delicious!! You'll find a few gluten-free and vegan options, as well as your classic downhome-style breakfast plates. Their menu focuses on local, organic, seasonal items.
Green Sage Cafe: Fresh, fresh, fresh! We like to get takeout from Green Sage and it always makes me want to exclusively eat their food. Their breakfast and lunch bowls are great, especially the Buddha Bowl (golden fried turmeric chickpeas, lemony kale, kimchi slaw, julienne carrot, sliced avocado, brown rice tabbouleh, lemon tahini dressing.) I never feel guilty eating Green Sage!
Mosaic Cafe: A great little spot for breakfast and lunch in the Biltmore Park shopping center. You can get a sandwich made-to-order from Mosaic Cafe or choose from their pastry case. There are a few tables out front if the weather is nice! Read about our takeout breakfast from Mosaic Cafe.
Another Broken Egg Cafe: A casual breakfast spot in Biltmore Park Town Square that serves classic breakfast dishes including pancakes, french toast, omelets, eggs benedict and burgers.
Abuelas Little Kitchen: A hidden gem in South Asheville with a great breakfast menu We love their chilaquiles, hueveos rancheros, crepes (Nutella! Strawberry!) and omelets.
Tupelo Honey: An all-day spot serving up breakfast and southern comfort food. You'll find fried green tomatoes, shrimp and grits, breakfast bowls and waffles on the breakfast menu. They also have fun boozy drinks, like a mimosa with lavender lemonade and a bloody mary with a chili-salt rim, pickled jalapeno and green bean and dixie black pepper vodka.
Coffee Shops in South Asheville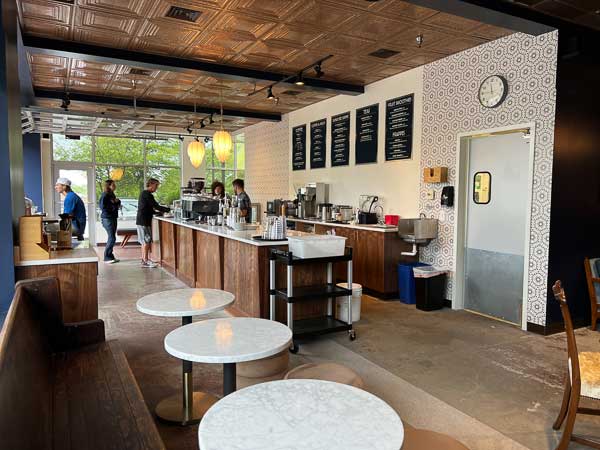 Dripolator: South Asheville's newest coffee shop and it filled a void on Hendersonville Highway. It's in the same shopping center as Publix, Little Gym and Chick-Fil-A. You'll find a great outdoor seating area and a cozy corner inside. Choose from a variety of pastries or grab a bagel or croissant sandwich.
Retro Coffee: A new coffee shop down Sweeten Creek Road with retro furnishings and decor. The space was previously Lucky Coffee but went under new ownership in 2022. Retro Coffee opened fall 2022.
Sweeten Creek Coffee: A quaint coffee shop with espresso drinks, frozen coffee drinks, tea, kombucha, Italian soda and nitro. On the food menu you'll find NY style bagels, cookies, scones, muffins, lunch sandwiches, quiche and bagel sandwiches.
Round Earth Roasters: You'll find Round Earth Roasters just south of Biltmore Village serving up house-roasted coffee and pastries. They have a great outdoor seating area behind the coffee shop.
Desserts and Sweets in South Asheville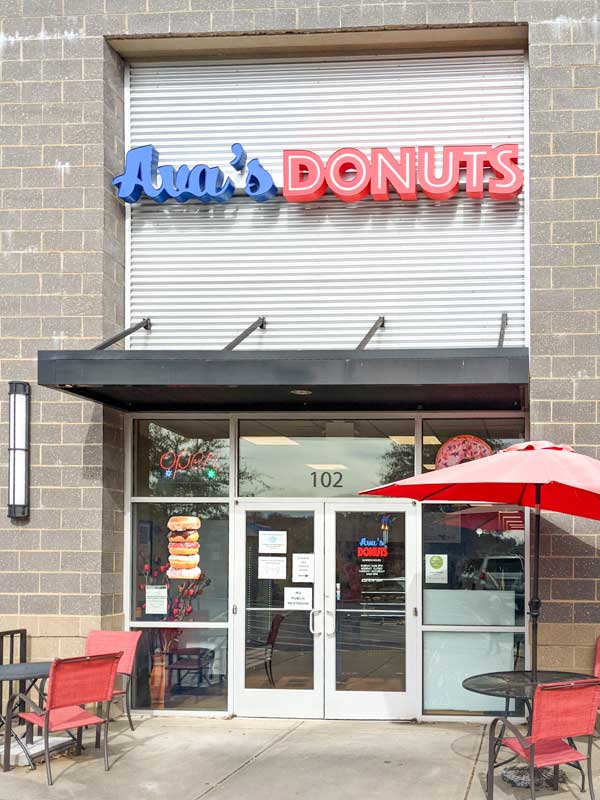 Ava's Donuts: A great local place to stop for a delicious donut! They have a ton of different flavors— we really love their cookies & cream donut! Ava's is right next door to Starbucks near the Biltmore Park shopping center.
Baked Pie Company: The best pie in Asheville! You can buy by the slice or a whole pie. And you can get a PIE FLIGHT with three slices of of pie and ice cream.
Annie B's Homemade Ice Cream: A local ice cream shop with fantastic treats! What's super cool about Annie B's is that they employ people with intellectual and developmental disabilities. Expect amazing people and amazing ice cream!
Whit's Frozen Custard: A favorite of our kids! They specifically love the Cup Of Dirt on the menu (ice cream, Oreo crumbles and gummy worms) and a regular ice cream cone with sprinkles on top. Whit's has a few standard flavors like chocolate and vanilla as well as a flavor of the week.
Breweries in South Asheville
Sierra Nevada Brewing: The Sierra Nevada Brewery is a huge (and beautiful) brewery full of fun and entertainment for the whole family. They offer brewery tours and have a taproom with excellent food. They also have a "back porch" where you can just order a beer. Sierra Nevada's grounds are beautifully maintained with plenty of space to enjoy the outdoors.
12 Bones Brewing: This small local brewery brews a range of delicious beers including fun small-batch brews. They are located right next to sister establishment 12 Bones Smokehouse. It's a great place to enjoy delicious BBQ and great beer in their taproom or outside on their covered patio.
Thirsty Monk: This spot is a refreshingly quaint brewpub in the sprawl of South Asheville. They have a great selection of beers including some Belgian-style beers which they are known for. It's a fun taproom with great outdoor seating in front. They also have a full-service kitchen primarily serving bar snacks, sandwiches and salads. Thirsty Monk has a second location in downtown Asheville.
Sweeten Creek Brewing: This family-friendly brewery is a neighborhood gem in South Asheville. Sweeten Creek Brewing has a refreshingly casual atmosphere with ample outdoor space to enjoy. They have a large selection of beers including some seasonal and small-batch brews. They also have Bears Smokehouse BBQ permanently on-site, serving delicious BBQ to go with their excellent beers.
Blue Ghost Brewing Company: Located in Fletcher, Blue Ghost Brewing is on the southern extent of places covered in this guide. It's a great brewery frequented by locals in the area. They have a casual taproom and plenty of room to sit and roam, making it a great brewery to bring kids. They have an onsite food truck called the Hungry Ghost to keep you fed while there.
Recreation in South Asheville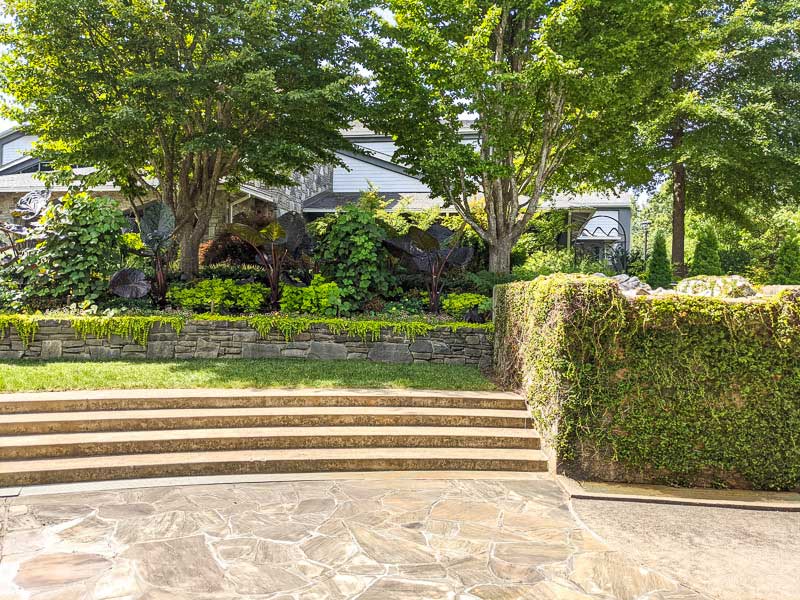 NC Arboretum: An arboretum and botanical garden with a perfect mix of manicured gardens and natural landscapes. The world-class gardens have a wide range of plant and tree species that are all very well-identified. Our kids love outings to the NC Arboretum– you can read more about visiting the NC Arboretum with kids here. There's a Bistro on-site or you can pack a picnic lunch.
Blue Ridge Parkway Entrance: You can easily hop on the Blue Ridge Parkway in South Asheville! Take it northeast through East Asheville toward Mount Mitchell and Craggy Gardens, or Southwest to the NC Arboretum and then Pisgah Inn, Devil's Courthouse trail, etc. Both directions leads to great views and awesome hikes.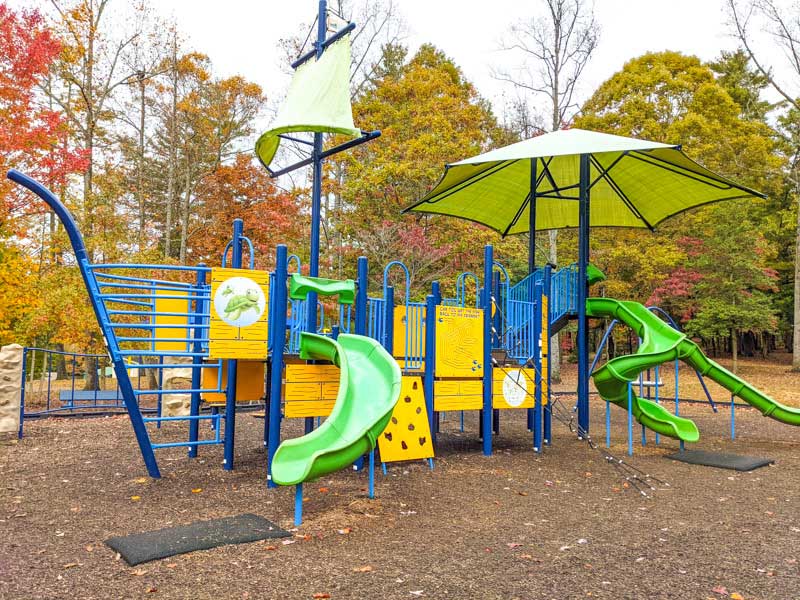 Lake Julian Park: A wonderful playground and park area to explore! You'll find play equipment for all ages, as well as docks to feed the ducks and even paddleboat rental. Lake Julian Park is on our list of the best playgrounds in Asheville.
Jake Rusher Park: One of our favorites on our list of the best playgrounds in Asheville. It is tucked away in a neighborhood and feels so safe. There's a covered picnic area, restrooms and lots of play areas. Our sons love the wooden play structure and the toddler section is perfect for our one year old. The park is right next to Rocky's Hot Chicken.
The Riveter: A climbing gym with over 16,000 square feet of climbing terrain, bike park, and yoga + fitness studio. Their mission is to provide an inclusive, world-class facility for the outdoor community to come together to train and play. The Riveter is located just by the entrance to Sierra Nevada's expansive facility in Mills River.
Zen Tubing: Zen tubing offers a relaxing float down the French Broad River. The journey offers plenty of opportunities to swim and explore rock outcroppings while being surrounded by nature. The Zen Tubing folks will shuttle you upstream after you check in and you finish up back at your car. The float time is about 2 to 2 1/2 hours. Reservations are required in advance so make sure you book a reservation before you go!
Beer City Tubing: Another great tubing outfitter in South Asheville is Beer City Tubing. Located just up the river from Zen tubing they offer a similar tubing experience with a relaxing float down the French Broad River. Reservations are required so make sure you book in advance.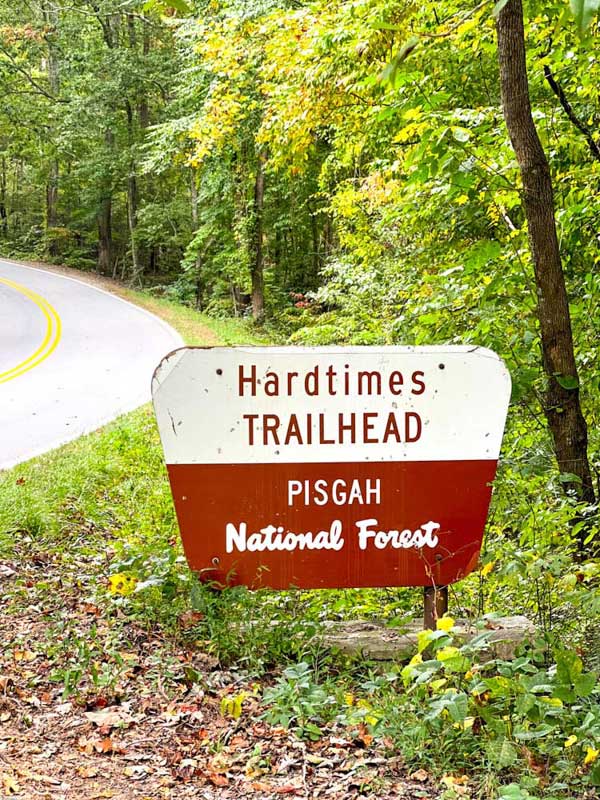 Lake Powhatan Hike: a perfect family-friendly hike near the Arboretum. Walk along a creek and then check out the lake before looping back. You can read more about the loop around Lake Powhatan here.
Carolina Mountain Trail Hike: This family-friendly hike is actually located inside of the Arboretum! It's a great 1.2 in and out trail that our kids love. Toward the end of it, you'll run into Bent Creek where you can splash a bit and even catch a glimpse at a small waterfall.
Shopping Areas in South Asheville
Biltmore Park Town Square: a great development with a ton of shops. You'll find local shops mixed in with national retailers like REI, Loft, Barnes and Noble, Francesca's and Athleta. There are also several restaurants, a hotel and a movie theater. Check out our guide to Biltmore Park shopping for additional details.
Asheville Outlet Mall: An outlet mall just off I-26 with tons of shops (Abercrombie, American Eagle. Bath & Body Works, Dillard's, Restoration Hardware, J. Crew, Le Creuset, Levi's, Vineyard Vines and Crate and Barrel, among others. See a full list of retailers here.
Grocery Stores in South Asheville
South Asheville feels like the true suburbs and has several large grocery chains. It's home to the only Publix in Asheville, though there's also one in Weaverville. South Asheville also has several Ingles, a Fresh Market, a Whole Foods, Target and WalMart.