A guide to our favorite Asheville restaurants to take our kids
We are excited to share a guide to our favorite kid-friendly restaurants in Asheville. We have two boys under five and they have dined with us at every single restaurant on our kid-friendly list.
We hope this list of kid-friendly restaurants is useful whether you are visiting Asheville with kids for the weekend or are a local looking for new restaurants to bring the family.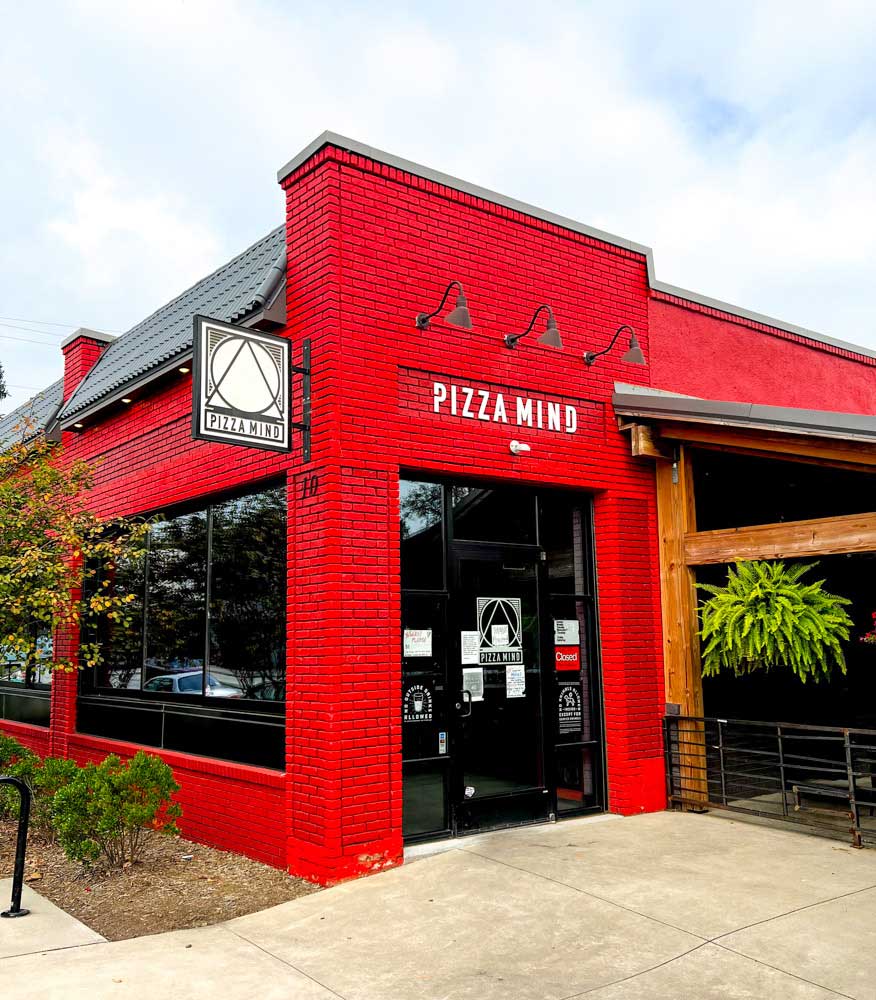 Speaking from experience, the worst is the mid-meal regret that sets in when you realize you definitely should have gone somewhere else. Been there!! Let's avoid that!
We love all of the places mentioned in our guide and hope one stands out to you for your next meal!
Two last things before we begin: 1. We wouldn't feature a restaurant on this guide that we didn't fully recommend (and psst we don't take sponsorships!) 2. This list doesn't include breweries but we have a guide to kid-friendly breweries here. There are some really good ones there!!
An overview of our guide to Asheville's kid-friendly restaurants
Most of the spots on our kid-friendly restaurant list are counter service because they are just inherently easier with kids than table service. We like that it cuts out any additional waiting time to order, pay at the end, etc.
However, we have included a few table service restaurants that go above and beyond for kids. For example– Pizza Mind in West Asheville has a make-your-own pizza option on their kids menu!
Map of our favorite kid-friendly restaurants in Asheville
A list of Asheville's most kid-friendly restaurants
A fun food hall in downtown Asheville with several restaurant vendors, an ice cream shop and a taproom!
Starting this list off with an absolute favorite of both ours and our two kids! The S&W Market is Asheville's only food hall and it has a ton of great options (chicken nuggets, hot dogs and ice cream come to mind!)
I especially like to recommend S&W for large groups who have a variety of palates to satisfy. S&W Market has indoor seating as well as tables along Patton Ave right out front. You'll have a view of the drum circle in Pritchard Park from here on Friday evenings in the summer.
My favorite food vendor at S&W is Buxton Chicken Palace because I absolutely love their chicken sandwiches. Our four-year-old is a big fan of Farm Dogs hotdogs and my husband always opts for Bun Intended.
Ice cream from The Hop is a must before you head out! Cookie Party is my go-to flavor at The Hop and our oldest loves their Unicorn Poop (excuse the name…)
Let your young chef make their own pizza in West Asheville!
If you have a budding chef in your family, make time for lunch or dinner at Pizza Mind in West Asheville. Their kids menu includes a 'make your own pizza' option. Our boys love this so much that we listed it on our list of fun things to do with kids in Asheville.
If you opt to make your own pizza, your server will bring out dough, sauce, cheese and a choice of one topping. And then your kids can get to work!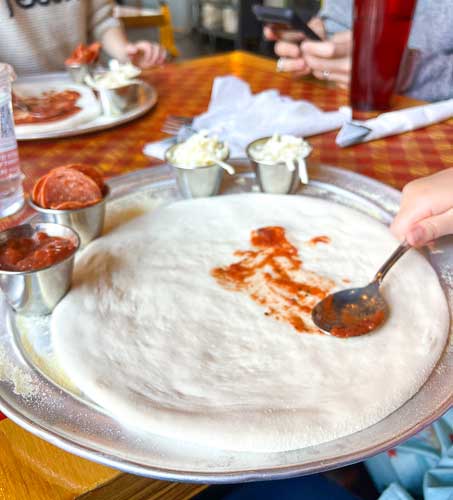 It's a really fun activity that not only keeps kids entertained, but also gets them excited to try their meal. NOTE: The make-your-own pizza option is available for children ages 12 and under only.
Apart from the kid-friendly fun, Pizza Mind also happens to have some of the best pizza in Asheville. I especially love their Happy Wheel pizza (think: Big Mac on a pizza) and Caesar Salad. Their croutons and crust are excellent!!
A James Beard Award winner that also happens to be super kid-friendly!
I know that it may sound crazy to hear that the big winner of the 2022 James Beard Awards would be kid-friendly, but it's true! It's such a cool, laidback space with great food and wildly quick service.
Chai Pani has a kids section on the menu that includes kids cheese paratha (mozzarella melted between flatbread) and kids rice & daal (mild lentil soup, rice, sweet yogurt.)
They also immediately bring a coloring page and crayons, which is always a bonus! It has a few fun games for older kids (maze, word search, etc.) and is also perfect for scribbling for the younger ones.
Our oldest loves their matchstick okra fries. Well, we all do! And he also can't get enough of their kale pakoras. Again, we all can't.
There are always several kids when we go and the noise of the restaurant just kind of drowns everyone out. Also, everyone is just so nice and accommodating.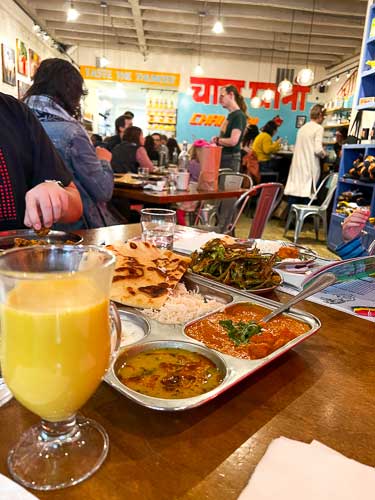 If you arrive and there's a wait, just add your name to the list. You can monitor the progress on the Yelp app and pop back once your table opens. We recommend checking out Curio Toy Shop just down the block if strolling around with kids.
4. Well-Played Board Game Cafe
A board game cafe in Asheville! Need I say more?
Another one on our list of fun things to do with kids in Asheville! The name alone should make it obvious that kids will love this South Slope cafe. Inside you'll find a wall with over 700 games!!! And they also have food and snacks, so you can stay all day. Oh, and beer, wine and coffee for the grownups.
Well Played has couch seating and regular tables, so you can get as cozy as you want. Choose from an all-day pass or if you are local, opt for a membership! Kids under 6 are free with a paying adult and children under 14 are $5 per day.
And the food… wow! Have you ever tried a grilled cheese where the cheese is actually mac and cheese!? And they have daily breakfast starting at 8am with everything from croissant sandwiches to a spinach feta pocket. And coffee, of course.
There are also a ton of small plates, including dino nuggets— a hit for picky eaters of all ages– mini quesadillas and cheese sticks. For my fellow dessert lovers, you'll be happy, too! Well Played has ice cream, brownies and milkshakes on their daily menu.
Baby Bull has everything you need in a restaurant when dining with kids: counter service, cheeseburgers, outdoor seating and the occasional view of a train.
We enjoy going to Baby Bull in the River Arts District because their burgers and fries are great and their outdoor seating is perfect for our family. Counter service is the cherry on top!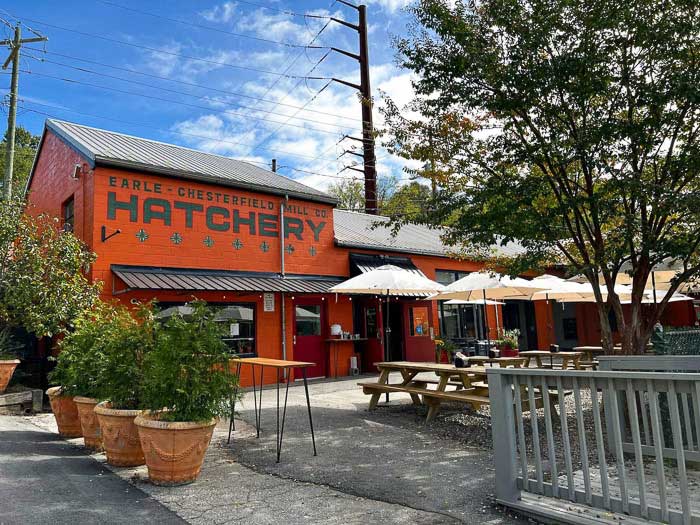 Baby Bull is near train tracks, so if you are lucky your kids will spot a train or two while you eat. Happy kids, happy parents!
One thing to note about Baby Bull is that their dishes come 'all or nothing.' If you opt for 'nothing', the condiments/toppings will all come on the side. I personally love the double cheeseburger with American cheese, pickles, Duke's mayo and onions. All the way, please!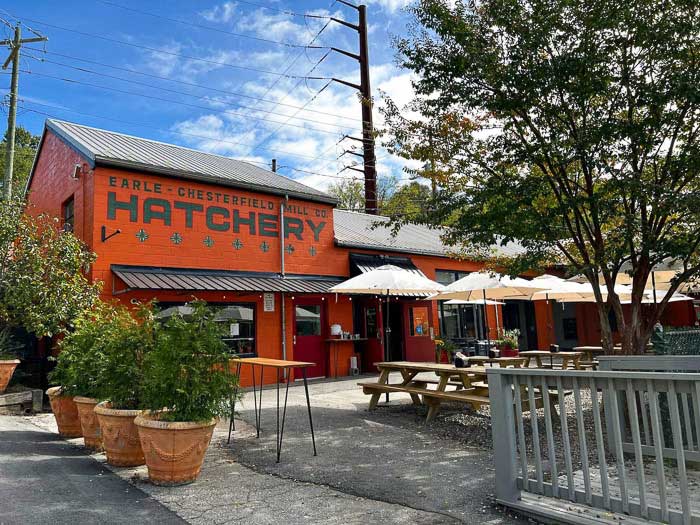 Baby Bull has a kids cheeseburger on the menu that's plain and you can add condiments as needed. There's a separate area where you can get mustard, ketchup, etc.
Gluten-free buns are available for an additional charge.
If you are looking for a side of nostalgia with your lunch, head to The Soda Fountain diner at Woolworth Walk downtown for a grilled cheese and float.
Here you'll find a diner serving up BLTs, grilled cheese, hot dogs and egg salad sandwiches. And of course, awesome ice cream in Asheville! Everything from a classic banana split to hand-dipped ice cream! You can view the full menu here.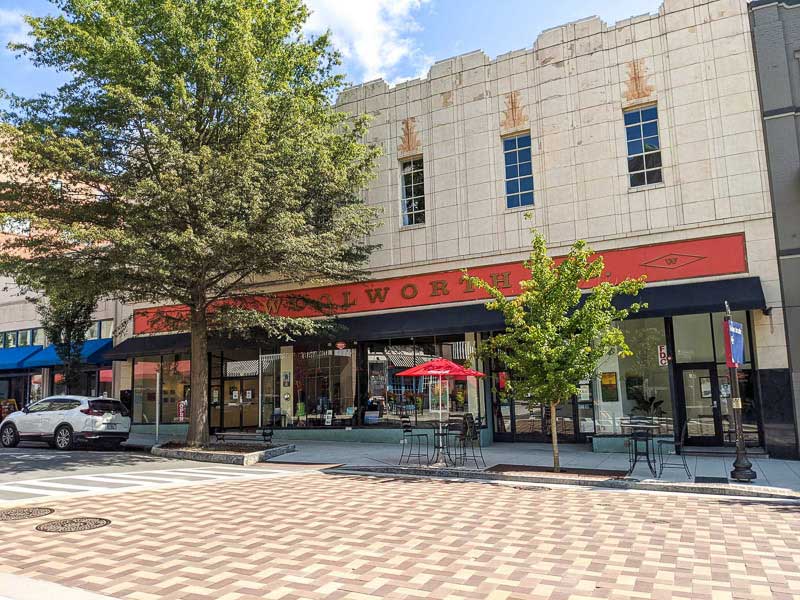 The Soda Fountain is a fun stop if you are shopping around downtown and need a place for your kids to sit back and enjoy lunch with a side of ice cream.
Bonus: it's inside the Woolworth Walk, which is filled with the work of hundreds of local artists.
You'll find work from a variety of artists (ex. jewelry, glass, metal, pottery, fine art, photography, apparel, fiber, wood) spanning two levels at Woolworth Walk. The Soda Fountain is on the main level when you walk in and there are stairs that take you to a level below. Restrooms are located just past The Soda Fountain on the right side of the building.
Tacos, queso, counter service, picnic tables and a view of the river!
There are three White Duck Taco locations around town (River Arts, downtown and south AVL.) We especially love their RAD location when dining with kids as well as their newest taco shop in South Asheville. You can expect some of the best tacos in Asheville at any White Duck Taco Shop.
Their RAD location is on the river and they have tons of colorful picnic tables with umbrellas around. The river is down a steep hill but there are plenty of trees in the way that acts as a barrier for curious kids. Their South location also has great outdoor seating with a ton of picnic tables. Both locations also offer excellent indoor seating if the weather isn't cooperating.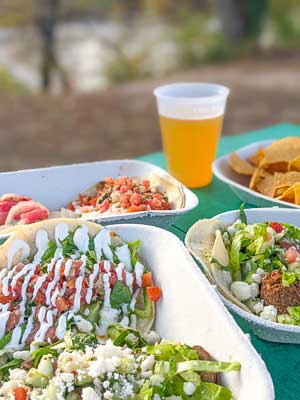 One thing I love, especially when dining with kids, is that you order at the counter. They'll give you a number and bring your meal out when it's ready. Easy!
White Duck Taco has so many fun taco flavors (think: Korean Beef Bulgogi tacos.) They also have more kid-friendly ones like a traditional ground beef taco and a crispy chicken BLT taco (which is essentially a chicken finger on a taco!)
You'll also find a kid's chicken or cheese quesadillas on White Duck Taco's menu, as well as queso. Our kids are obsessed with their queso!
8. Liberty House Coffee & Cafe
Liberty House Coffee & Café is one of our absolute favorite breakfast + brunch spots in Asheville and the most-requested by our kids.
Liberty House has exceptional food, great outdoor seating and it's counter service. My three favorite things!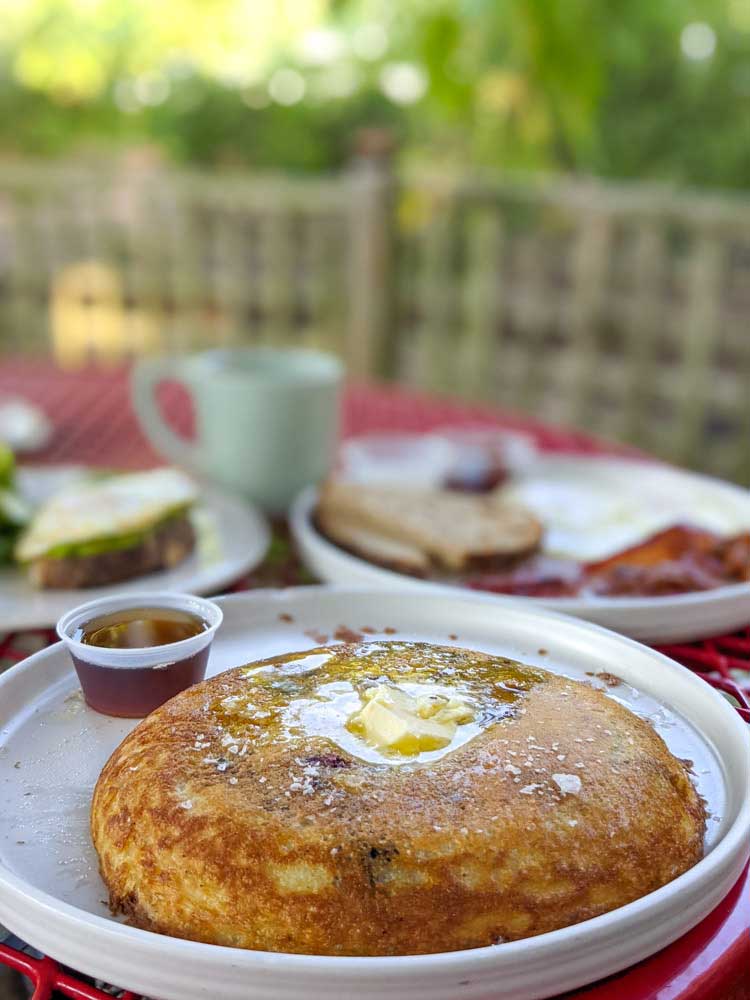 I always tell people that Liberty House is perfect for families with younger babies who want to sleep peacefully in their stroller while you dine al fresco by the garden. That sounds idyllic, right??
We are past the newborn stage with our two, but Liberty House was our go-to spot during this time. Even though they aren't snoozing in strollers anymore, we still enjoy taking our two to Liberty House for breakfast.
Our kids love the sourdough pancake, pastry treats, classic breakfast plate and Honest Co juice boxes. They also enjoy exploring near the garden while we wait for our food. There are usually other kids around and it's overall a very peaceful setting.
Read more about dining at Liberty House, including info on parking and what we love to order!
If you are looking for more breakfast ideas: we wrote about our favorite breakfast and brunch spots in Asheville here.
If you want more coffee shops: check out our guide to Asheville coffee. It's categorized by neighborhood and lists all of our favorite places to get coffee in Asheville.
Sunny Point is a neighborhood cafe in West Asheville serving breakfast all day, plus lunch and dinner.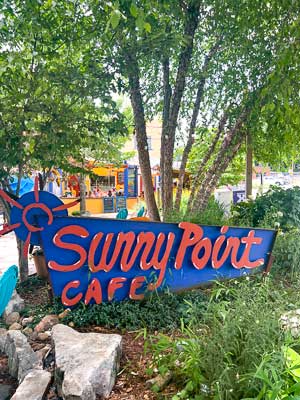 Speaking of breakfast, Sunny Point Cafe is another favorite of ours! Sunny Point is table service, but I wanted to include it on our list of great restaurants for kids in Asheville because our four-year-old loves it so much.
Specifically, he loves the following four things:
Crayons come with the kids menu
Carrot hotcakes!! Imagine a warm piece of carrot cake but in an acceptable breakfast pancake format. You can order them on the kids menu, but if you get the regular menu version it will come with the most divine cardamom cream cheese. Our son typically gets their kids breakfast plate with bacon, eggs + a biscuit and we get a carrot hotcake or two for the table.
Sunny Point has an amazing garden to explore
The first time he went I let him order chocolate milk and a house-made ginger limeade, so now that's his go-to drink order there.
And as for me, I could eat at Sunny Point every single day and never grow tired of it. Their food is exceptional. You'll notice them at the top of every single 'best of Asheville' breakfast + brunch list in town, but it's definitely for a good reason.
Want to know more? Check out this spotlight on Sunny Point Cafe!
If your kids love macaroni and cheese, hop over to Luella's!
Luella's Bar-B-Que is an Asheville BBQ institution with two locations– one in North AVL on Merrimon and a second in South AVL in Biltmore Park Town Square.
They have absolutely amazing chopped pork in a vinegar sauce and their mac 'n cheese can't be topped. It's my favorite in town. I especially love getting their burnt ends mac 'n cheese topped with tomato and green onion. Their sweet potato chips are also great.
The kids' menu includes a bowl of mac 'n cheese. You can add pork or chicken for an additional cost. They can also get chopped pork bbq, pulled chicken, BBQ tempeh, Brunswick stew or 3 wings, each with one side. Our oldest loves the chopped pork with mac 'n cheese and our youngest typically just gets a bowl of mac 'n cheese.
And if you have any banana pudding lovers, don't miss Luella's!
Not only is Luella's food delicious, but both locations are close to playgrounds!
Their North Asheville location on Merrimon is right down the road from Weaver Park. You can easily walk between the two via Murdock Ave. Weaver Park has a great playground (especially for younger kids), a creek with a bridge, a basketball court, tennis courts and a paved path for a bike.
An equally great playground near Luella's South Asheville location is found at Lake Julian Park. It's about a five-minute drive from Biltmore Park Town Square and has a lake, playground, paddle boat rental and geese + ducks.
Both Weaver Park and Lake Julian Park are on our list of the best playgrounds in Asheville.
Want more Asheville BBQ recommendations?
We have the perfect guide for you.
There are so many great spots around town for BBQ, whether you are looking for classic Carolina pulled pork or maybe just epic sides. Our guide shares all!
A table-service cafe in South Asheville with great fare, a Little Library, hammocks and cornhole boards to keep your kids entertained!
Ivory Road Cafe serves breakfast and lunch and everything on the menu is delicious! We really love Saturdays when they have donuts, though you can typically find treats in their pastry case.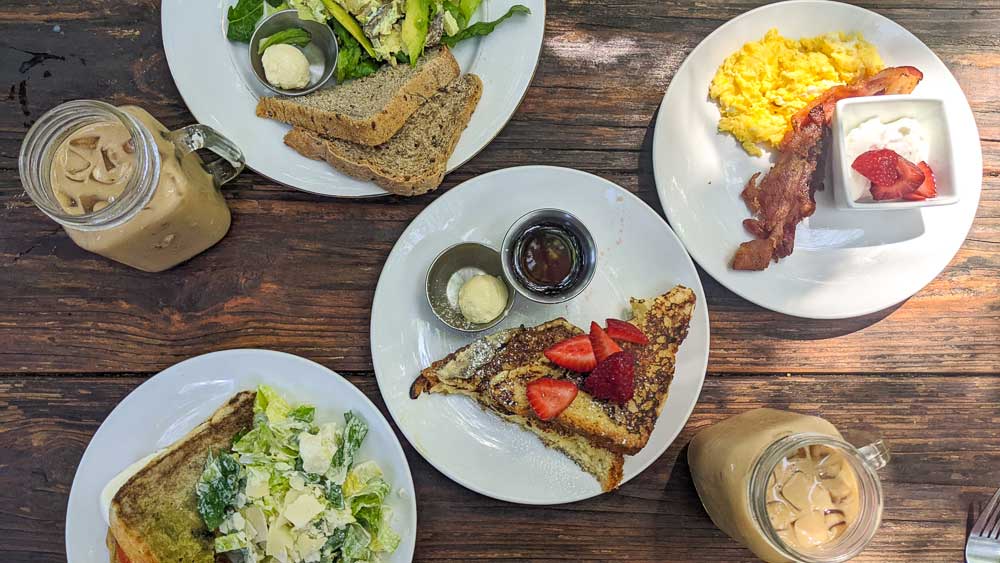 My go-to for lunch is their rosemary chicken salad served on chopped romaine with oil & vinegar. For breakfast I alternate between their daily quiche and their southern skillet with eggs, bacon and grits. Delicious!
Our boys especially love Ivory Road's french toast! And I love that they can play on the hammocks while I sip hot coffee. They also have cornhole boards available (if they aren't out– just ask!) Ivory Road is the perfect spot for kids who need an area to explore and parents who just want to sit back.
If you are looking for easy picnic food, order lunch to-go from Ivory Road! They are just down the road from both the NC Arboretum and the Blue Ridge Parkway. Grab takeout from Ivory Road and then head up to the Chestnut Cove overlook on the Parkway for an easy picnic!
Awesome ribs, counter service, outdoor seating and next to a brewery!
12 Bones Smokehouse has two locations in Asheville but we are focusing on their River Arts District one for this kid-friendly list. The other 12 Bones location is in South Asheville.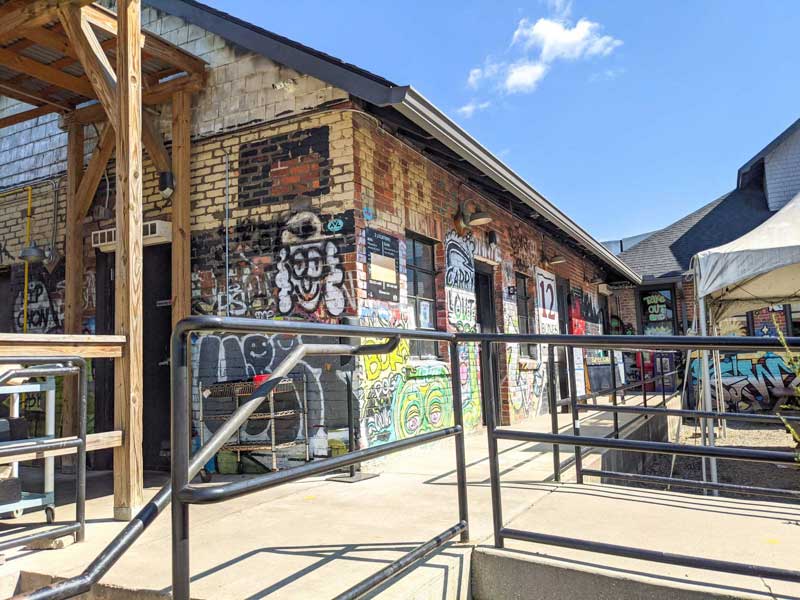 Their RAD location is pretty cool because you can either eat out front in their outdoor seating or head next door to Wedge Brewing for their outdoor seating. Our kids prefer dining at Wedge because it's near the train tracks. Easily entertained!
12 Bones doesn't have a kids menu, but they do have a 'just a taste' section on the menu where you can grab a small side of meat instead of a full plate. We typically each get a plate that comes with 2 sides and then order an extra side or two and an additional side of meat for our family of four.
I say this every time I mention 12 Bones but… try the brown sugar ribs!!
Apart from the brown sugar ribs, we also love the blueberry chipotle ribs! And our two kids could live off of 12 Bones' corn pudding because it's basically dessert. Their mac & cheese, collard greens and sweet vinegar slaw are also family favorites for us.
PS Speaking of Wedge at Foundation, they have the Chop Shop food truck on-site daily. Read more about the food truck here.
A nicer restaurant in downtown Asheville that is both kid and dog friendly!
Though several restaurants downtown have kids menus, not all actually feel like a place I would take our two. Twisted Laurel is an exception to that, though! I love their patio because it's very relaxed and I never feel like we are bothering anyone.
Our kids typically have their chicken fingers and grilled cheese. The steak & cheese sandwich on the kids menu is also great!
I can't mention Twisted Laurel without calling out the fact that they have a separate menu for your four-legged friends! Choose a protein, veggie or even doggie ice cream and enjoy dinner out with your dog on their fabulous patio.
PS: Try their crispy Brussels sprouts!
---
Looking for more info on Asheville with kids?