While Asheville, NC isn't known for its abundance of steakhouses, there are a handful of restaurants with a great steak or two on the menu. Whether you're in the mood for a classic steakhouse experience or something a little more unique, you're sure to find a place to satisfy your cravings.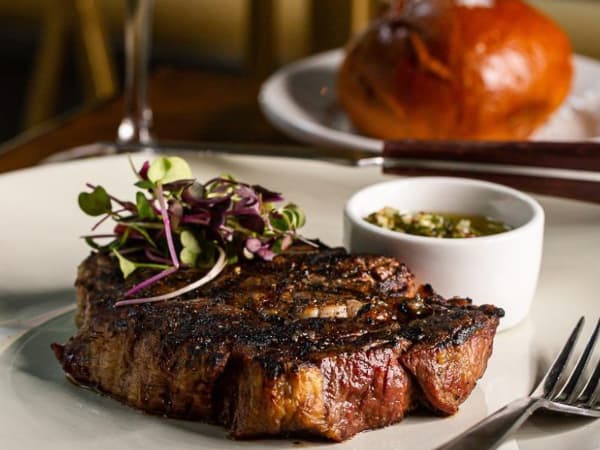 This article shares details on where to get a great steak in Asheville, from restaurants with a lone steak on the menu to those with menus full of delectable meat, amazing sides and decadent desserts.
What You'll Find In This Article
Where To get the Best Steak in Asheville
Below is a map of the places to get a steak that we have highlighted in our guide. The map should help you quickly see nearby restaurants.
And finally, onto the list! Below you'll find our top picks for when you need a great steak dinner in Asheville. For a similar restaurant roundup, check out our guide to BBQ in Asheville
---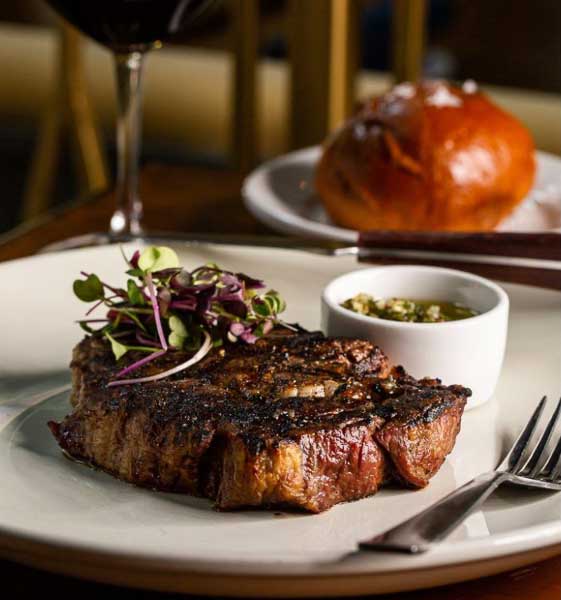 Hardwood fire-grilled steaks cooked to perfection
For the perfect woodfire grilled steak head over to Asheville Proper located in downtown Asheville's Grove Arcade. Their menu boasts seven locally sourced cuts of steak to choose from including several wagyu cuts.
All dishes are cooked over hardwood fired grill to achieve the perfect sear and smoke in each dish.
Asheville Proper is a high end restaurant and the perfect place to enjoy a steak on a special occasion. It was the obvious choice for the top of our best steak in Asheville list!
---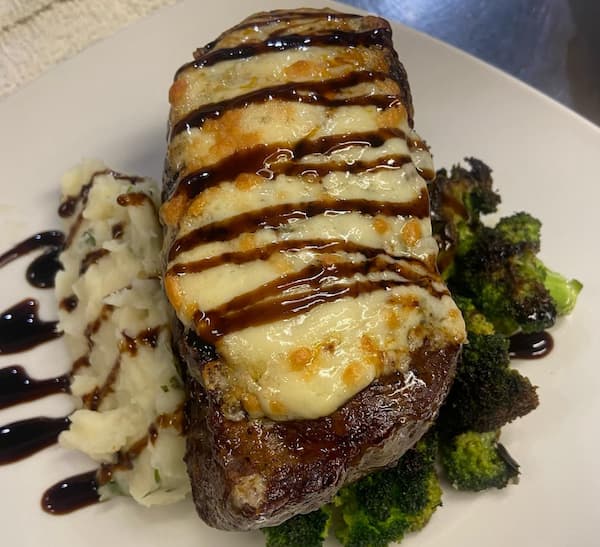 Upscale neighborhood restaurant with steaks and southern fare
Bone and Broth is an excellent steakhouse in Asheville that serves dry-aged steaks ranging from ribeye to filet mignon.
The steaks are cooked to perfection, and you can enjoy them plain or with your choice of house-made steak sauce. For a sweet and balanced finish, try their brandy cream sauce!
Bone + Broth has a laidback yet upscale atmosphere. It's located on Charlotte Street in North Asheville. They keep things local with steak sourced from The Chop Shop Butchery (next door!) and baked goods from North Asheville's Geraldine's Bakery.
---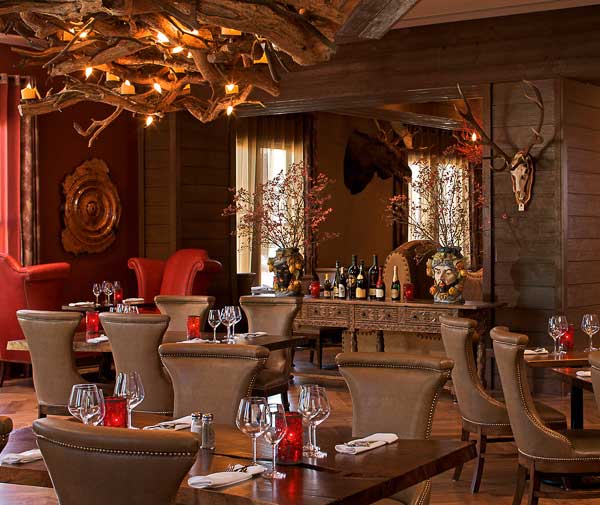 Cozy hunting lodge feel with a focus on wild game and chophouse cuisine
Red Stag in Biltmore Village is quite an exciting destination for meat-lovers. Not only does it feel like an upscale hunting lodge, but the menu includes ostrich fillet and elk loin! It's an experience for sure.
You'll find traditional steakhouse offerings at Red Stag, like filet mignon with roasted mashed potatoes and creamed spinach. They also have 'grand' cuts including a 26oz porterhouse and 14oz Wagyu ribeye.
And if you are wondering about the ostrich, it's on their 'bohemian cuts' menu alongside a red stag chop from New Zealand.
You are definitively in for a memorable experience at Red Stag and you'll know it as soon as you enter the rustic setting.
---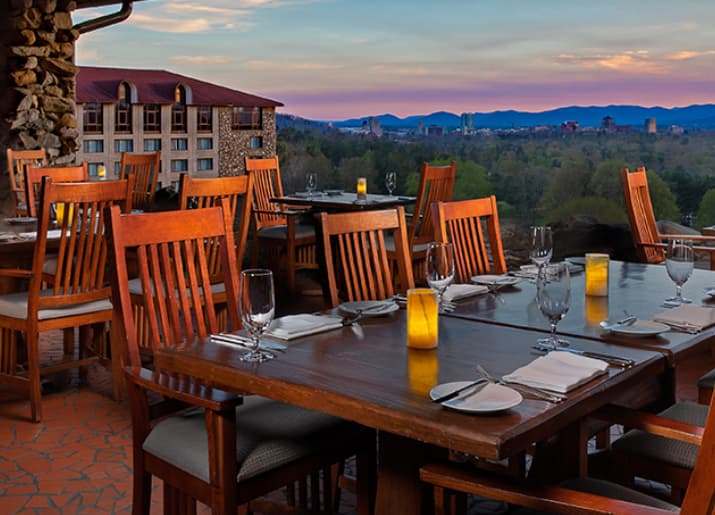 Exceptional steak dinner with a spectacular view at the Grove Park Inn
Sunset Terrace is an upscale restaurant at the Omni Grove Park Inn with spectacular views of the Blue Ridge Mountains. Their menu includes several cuts of steak, as well as seafood, pork and chicken.
Our pick for a steak dinner at Sunset Terrace is the chophouse wedge salad and the tenderloin filet. They have several varieties of steak sauces, including chimichurri and gorgonzola fondue.
It's one of the more expensive options on the list, but the dining experience is truly above and beyond. From the incredible views and the warm hospitality to the delicious food, you will love Sunset Terrace!
---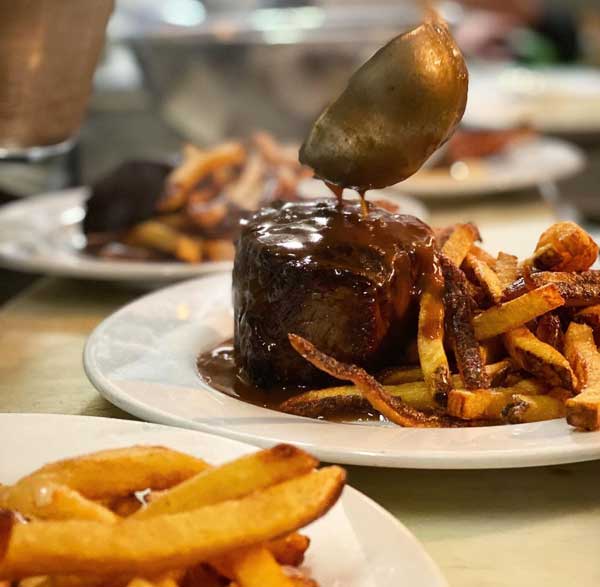 Hidden gem in the River Arts District with a 34oz bone-in ribeye
Offer an array of hearty dishes prepared in classic French cooking style. The trendy casual restaurant located in the River Arts District has a amazing warm historic industrial feel and is the perfect spot to indulge in a gourmet steak.
They regularly have two steaks on the menu, the simple yet delicious steak frites served with an au poivre sauce . The steak frites can be prepared with an onglet (hanger steak) or with filet mignon.
For the real star in the steak department try their côte de boeuf. This 34 ounce bone in ribeye is a masterpiece. Dry-aged for 30 days the flavors in this steak are amazing. And don't worry, you won't have to eat it all (unless you want to!) This dish is prepared for two.  
---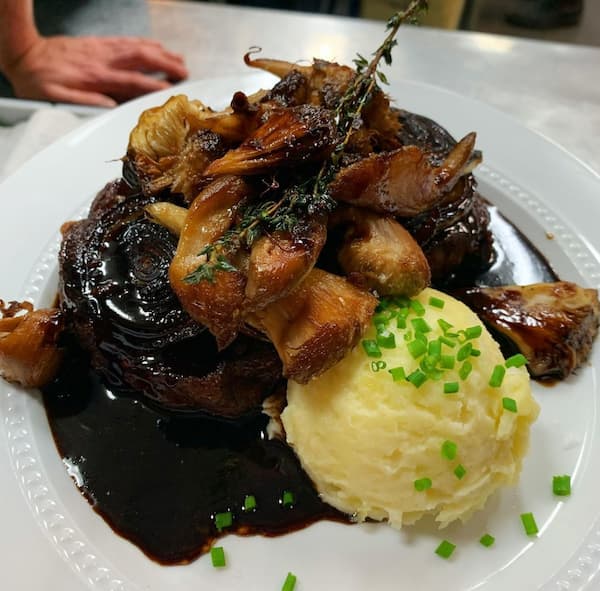 European inspired southern cuisine with a signature steak dinner
You know you're in the right place when a restaurant's signature dish is front and center on the menu. Vivian's Steak Dinner is a top dish in all of Asheville.
Their steak dinner is out of this world, prepared with a 15 ounce ribeye, and topped with charred cipollini onions. You'll be thinking about this one for a while after you dine. We like to share the steak and a few appetizers.
Brought to you by James Beard nominated chef Josiah McGaughey, Vivian offers home style southern dishes with elevated European twist.
---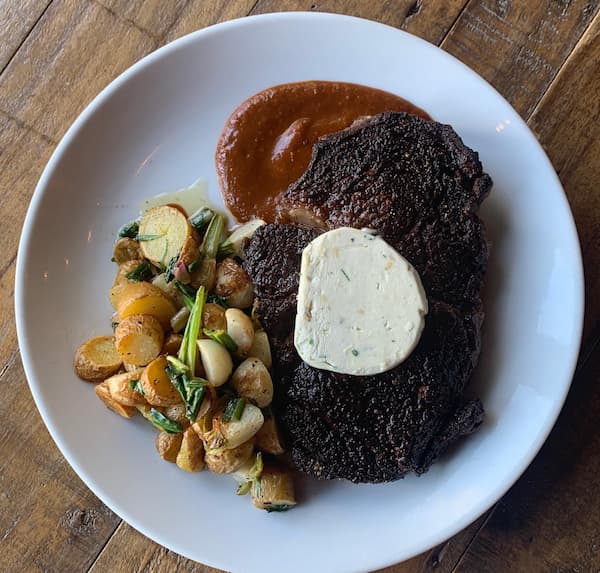 Small but elevated menu with one steak offering in a cool and casual environment
The Admiral in West Asheville has a simple menu with elevated fare. Though there is typically only one steak on the menu at a time, you can count on it being exceptional.
We love the casual outdoor dining area at The Admiral complete with picnic tables and bistro lights.
Apart from a few meat-based mains. you'll also find house made pasta on the menu and several small plates for sharing. It's a great restaurant for a date night.
---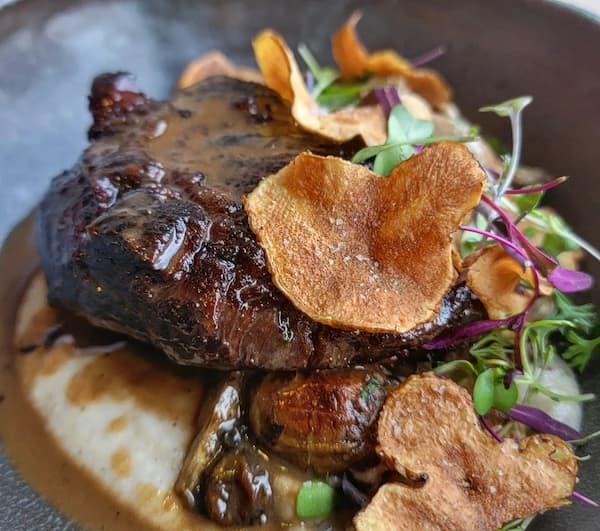 Seasonal menu in a date night-worthy spot with a standout steak
Jargon is always on our list when asked about the best restaurants in Asheville. There's just something so charming and likable about Jargon. It's a combination of the cool space, seasonal menu and always delicious fare.
While their menu changes often, you can always assume there will be a delicious steak on it. They source their meat from Hickory Nut Gap farm and you can truly taste the quality.
---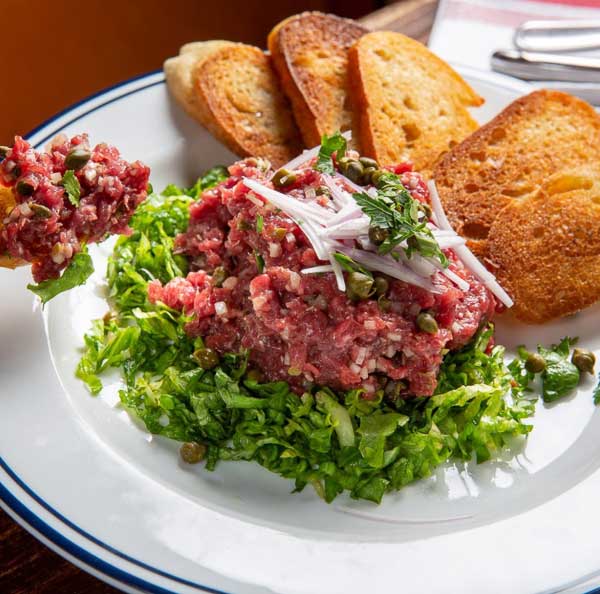 French restaurant with steak frites and tartare
Bouchon in downtown Asheville is such a gem. It's a charming spot with exposed brick walls, a cozy dining room and delicious French fare. It's a great destination for special occasions, like celebrating an anniversary in Asheville.
While it's not a steakhouse, Bouchon has a few noteworthy menu items for steak lovers. One of their most popular dishes is their Steak Frites Bouchon with home-made garlic butter. They also have Steak au Poivre and Boeuf Bourguignon on the menu, as well as a Steak Tartare small plate. Please note the tartare is available only on Thursdays.
As with all of the spots on this list, plan to make reservations in advance. You can choose from the dining room, the bar or the patio located in the alleyway.
---