There are SO MANY amazing pizza places in Asheville! Whether it's a dedicated pizza joint or just a restaurant with pizza on the menu, you are sure to find your perfect pizza place.
As you find with the rest of Asheville's foodie scene, every one of Asheville's pizza restaurants is a bit different. We have NY-style pizza, Chicago deep dish, square Sicilian pizza, vegan pizza, gigantic pizza that doesn't fit through the door (looking at you, Pie.Zaa…) to everything in between.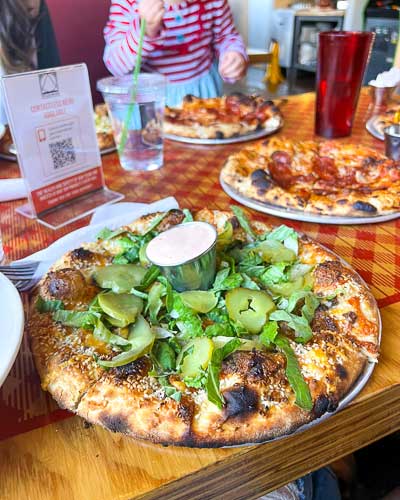 This guide to the best pizza in Asheville shares where to get pizza in Asheville and details what to expect from the atmosphere to what else is on the menu. It's perfect for planning your next pizza night out (or in!)
This guide includes both Italian and non-Italian restaurants. If you are looking specifically for Italian eateries, check out our guide to Italian restaurants in Asheville.
And now onto our list! We are kicking it off with a few of our favorites: Pizza Mind and All Souls.
---