A guide to asheville's vegan Lunch scene
There are so many great options for a vegan lunch in Asheville. There are both dedicated vegan restaurants like Pulp + Sprout and Rosetta's Kitchen, and also local gems that have awesome options for a plant-based lunch in Asheville.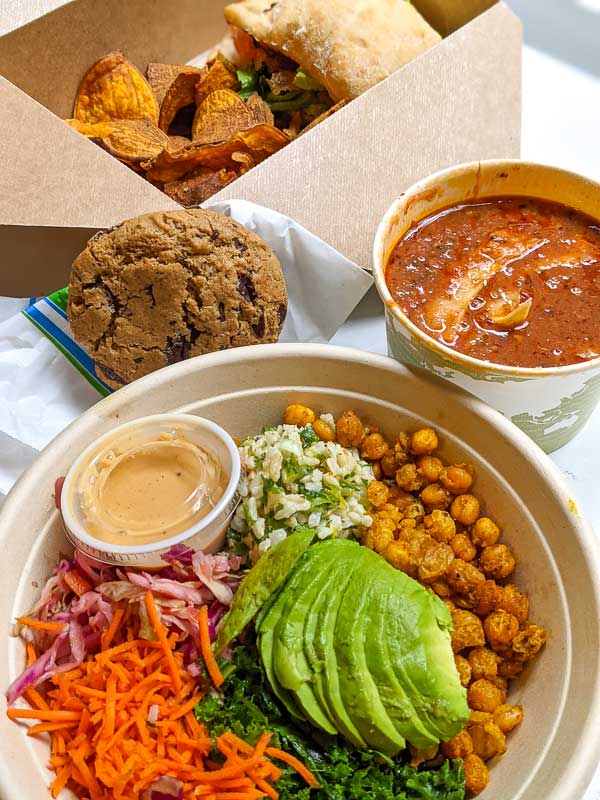 Whether you're looking for a vegan Reuben with sweet potato "pastrami" or maybe some vegan soul food, you'll be happy to know that you can find all that and more in Asheville.
Bookmark These Asheville Vegan Eats Articles
​Where To Find Vegan Lunch in Asheville, NC
Before we jump to the list of Asheville's vegan lunch options, let's first check out a map!
Asheville Restaurants with VEGAN Lunch Options
Rosetta's is a very popular vegan restaurant in downtown Asheville. They offer awesome vegan comfort food, like mac and cheese, burgers, and fried chicken. We especially love their cornbread and collard greens and the vegan queso basket appetizers.
For lunch entrees, check out their tempeh Reuben that comes with their house-cultured kraut. They also have a veggie burger, chili and even coconut curry.
Rosetta's also has a full bar and a kombucha bar (The Buchi Bar) is located downstairs. You can order from the full Rosetta's menu at The Buchi Bar.
Laughing Seed Cafe is a​n awesome vegan and vegetarian restaurant in downtown Asheville. They have been serving up delicious, plant-based food for years and they have excellent lunch and dinner.
The menu at Laughing Seed features a variety of salads, sandwiches, and entrees, all made with fresh, local ingredients. They also have great drink options, including beer, wine, champagne, ciders and cocktails.
As far as lunch goes, Laughing Seed has everything from a Reuben made with sweet potato "pastrami" to Thai Panang curry and a farmer's pie. They also have great vegan desserts that vary daily in flavor and selection. You can typically count on vegan cookies, cake and/or cheesecake.
Laughing Seed Cafe has great outdoor seating on Wall Street in downtown Asheville.
Trashy Vegan is a 100% vegan restaurant in West Asheville that offers late lunch and dinner. I want to point out the 'late' part because they don't open until 3. I didn't want to leave them off the list, though!
Now, the name might make you wonder, but honestly, it's perfect! No sad salads here, just burgers, desserts and happiness!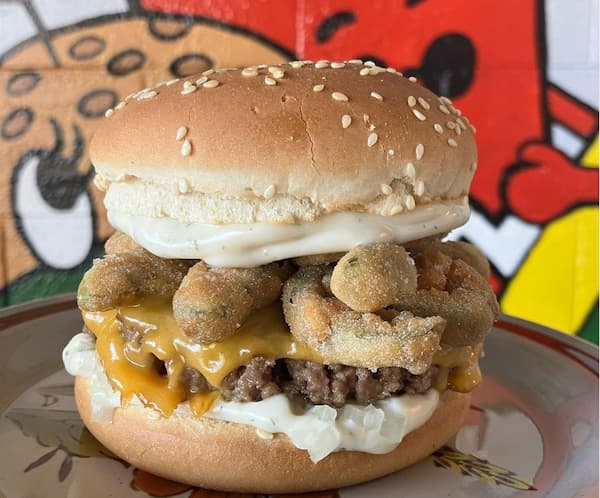 Their menu includes all vegan fare but it's not what you'd expect! You'll find cheeseburgers with an impossible patty, a chicken sandwich, a donut burger (seriously!) and even a quesadilla. They have fries, desserts and a ton of fun drink options.
Gypsy Queen is one of the best restaurants in Asheville. They have delicious Mediterranean and Lebanese food, with several vegan options available.
One of our favorite dishes in Asheville is Gypsy Queen's vegan fried Brussels sprouts. They are tossed in toom and lemon tahini sauce and are so flavorful and delicious. Their hummus and baba ghanouj are also awesome.
As far as vegan lunch entrees go, Gypsy Queen has several wraps (falafel, beet shawarma, housemade seitan) available as well as a few plates. The Suzys Sampler plate includes 2 falafel balls topped with lemon tahini sauce, pickled turnips and beets. You also get a choice of baba ghanouj, hummus, tabouleh, or fattoush. Everything is so good!!
Gypsy Queen is located in West Asheville. They have a great outdoor patio area and also offer takeout.
Awesome juice bar and vegan cafe with great outdoor seating
Pulp and Sprout is a dedicated vegan cafe in North Asheville offering breakfast and lunch options. They are passionate about crafting the highest quality, organic plant-food menu and cold-pressed juices
As far as lunch goes, we absolutely love their chickpea salad. It's very similar to chicken salad and is excellent on their Caesar salad. They also have an A.L.T. with avocado, a beet sandwich and a ton of smoothies.
Pulp + Sprout is a juice bar, too, so you can expect excellent cold-pressed juice options. You can even customize a 6-pack for the week.
They are one of our top picks for vegan desserts in Asheville. You'll find vegan chocolate chip cookies, slices of pie and millionaire bars. You can even pre-order a vegan cheesecake at Pulp + Sprout.
Indian street food in a cool setting with a few vegan options
Chai Pani is an Asheville darling and we definitely agree with the hype. Their food is fresh and flavorful and the atmosphere is great. They have a ton of vegetarian options on the menu, like their kale pakoras, vada pav and paneer tikka roll. The kale pakoras aren't vegan but can be made vegan on request!
As far as vegan options go, they only have a few but all are delicious. I'm happy to share that the famous Chai Pani matchstick okra fries are vegan. They are tossed with salt & seasoning and served with a lime wedge. Their Bhel Puri is also vegan– it's an Indian street food classic and is so flavorful and crunchy.
Finally, they have a mixed veggie uttapam on the menu that is vegan. It is served with coconut chutney that is out of this world.
Apart from their vegan dishes, they also have several that can be made vegan upon request. One of which is the kale pakoras mentioned above! The other dishes are their Vada Pav and Desi Salad. There are also a few kids items that can be made vegan upon request.
Chai Pani has an interactive menu on their site and you can toggle various options like vegan, vegan option, vegetarian, etc. It's very helpful!
Quick and delicious Middle Eastern street food
If you are looking for top-notch flavor, head to Baba Nahm in downtown Asheville. Their food is ridiculously good! It's a casual, order-at-the-counter spot with awesome online ordering. There is a small seating section inside and a few tables outside at the Grove Arcade.
Their Cripsy Baba Falfels are vegan and when you order you can select how you want it served. Options include a stuffed pita, a hummus bowl, a Lebanese platter (with tahini dressing, chickpeas dolma, etc.) or a Fattoush salad. When ordering, make sure to specify a vegan diet because most of their dishes come with feta.
Awesome coffee shop in River Arts with a great vegan lunch menu
Ultra Coffeebar in the River Arts District has great coffee and exceptionally good food (with several vegan options!) Their breakfast and lunch is served all day, so you can opt for their spicy vegan popper bagel or one of their three vegan lunch options.
Our personal favorite vegan sandwich at Ultra is their pressed fig sandwich on ciabatta. It comes with black mission fig, vegan cream cheese, green apple and arugula. Such an interesting flavor combination and so, so tasty!
Ultra has outdoor seating available and is within walking distance to a ton of great River Arts District galleries and shops.
Pizza spot with great vegan options (and delicious beer!)
If you want vegan pizza in Asheville, head to Asheville Pizza & Brewing. They have three locations around town to get your vegan pizza fix.
Their original spot is in North Asheville on Merrimon. It's actually a movie theater and restaurant! You can either dine-in at one of their tables inside or outside or enjoy a pizza inside one of their 2 theaters. They show everything from new releases to The Goonies. Asheville Pizza also features kid movies and it's one of our favorite things to do in Asheville with kids.
Just south of downtown Asheville in South Slope is where you'll find Asheville Pizza's brewery operations. It's also another fun location with great outdoor seating. Finally, they have a third spot in South Asheville, though it's to-go only.
As far as vegan pizza options go, they have one 'legendary pizza' on the menu that is vegan or you can build your own. They use Daiya vegan cheese and have a few sauces to choose from as well as specialty crust toppers. Their signature vegan pizza is called the Lawn Boy and it features their pomodoro pesto base, veggie pepperoni and sausage, roasted red pepper, mushroom and red onion.
Green Sage Cafe is a great cafe in Asheville with a focus on sustainability and fresh foods. We love their golden buddha bowl with fried turmeric chickpeas, kale and kimchi slaw. They also have a kimchi reuben and a smashed falafel burger.
Green Sage has three locations around town: north AVL, downtown and South Asheville.
Apart from delicious vegan and vegetarian fare, Green Sage also has cold-press juices, lemonade, elderberry shots, wine and beer.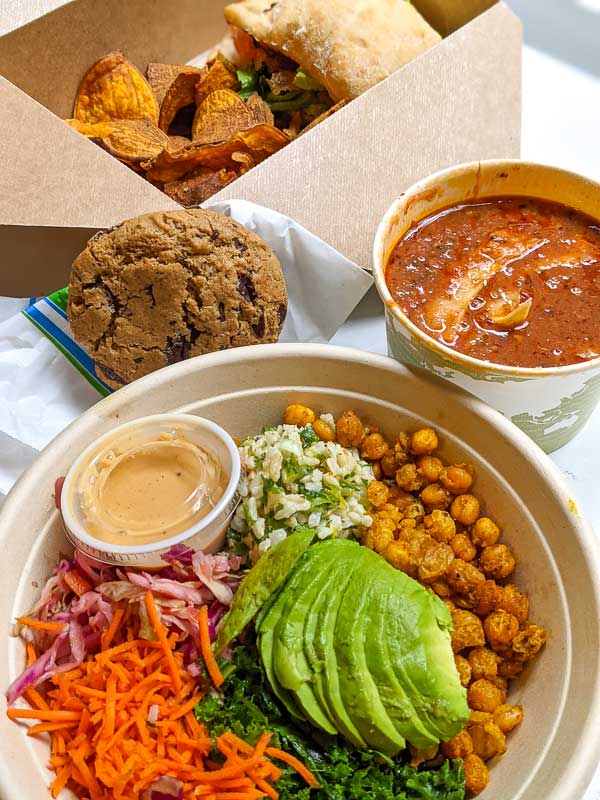 Taco Billy in West Asheville is one of our favorite taco shops in Asheville. Though most of their menu isn't plant-based, they do have a few vegan options worth mentioning.
One of my absolute favorite tacos there actually happens to be vegan. The Support Group taco comes with roasted sweet potatoes on a plantain tortilla. They also have chips, salsa and guacamole available.
Another option is to build your own taco. You can choose from a variety of fillings, including veggie chorizo.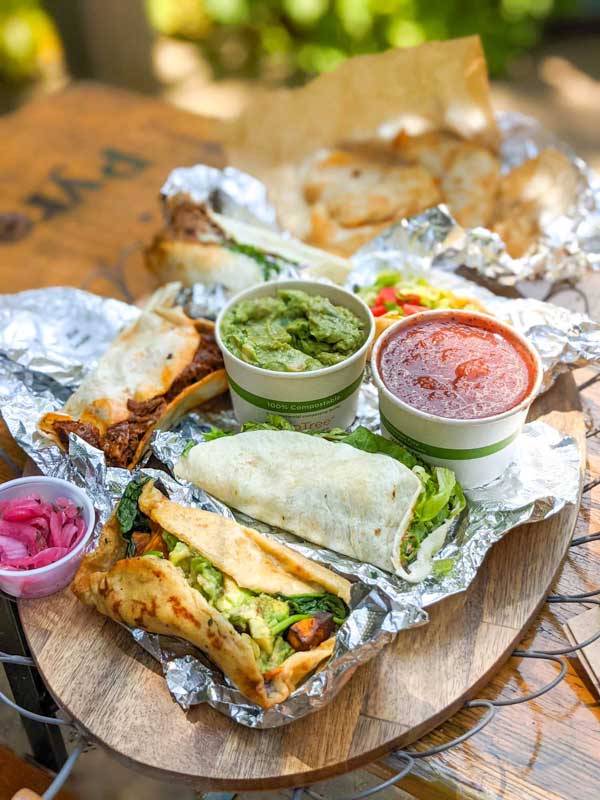 If you are looking for a vegetarian lunch in Asheville, check out the 'veggie tacos' section on Taco Billy's menu. They have a veggie-based taco (Good Lovin' and a grilled queso fresco taco with black beans (the Little Sister.)
Taco Billy is a casual order-at-the-counter taco shop with great seating both indoors and out.
Ok, I know a BBQ joint doesn't scream vegan, but Luella's smiling hara BBQ tempeh sandwich is definitely worth a mention here!
Their housemade sweet potato chips are also excellent, as are all of their sides. Unfortunately, Luella's only marks vegetarian sides so you'll have to double-check which are vegan. I'd like to assume their delicious okra, green beans and baked beans are vegan, but make sure before you dive in!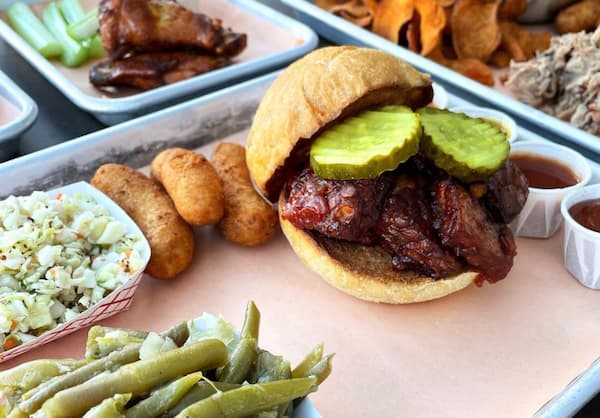 Luella's is an Asheville institution, with their original location on Merrimon in North Asheville and their newest in South Asheville in Biltmore Park Town Square. It's one of our top recommendations for BBQ in Asheville.
---
And that wraps up our vegan lunch list! If you are looking for breakfast, check out our vegan breakfast in Asheville guide. We also have a guide to vegan desserts in Asheville.