Asheville for Vegans: A Guide to Vegan & Vegan-Friendly Spots
​As you can probably imagine, there are a ton of great vegan restaurants in Asheville, North Carolina. Not only are there dedicated vegan restaurants but there are several Asheville 'foodie' restaurants with great vegan options. You'll find everything from vegan comfort food to vegan international cuisine in Asheville.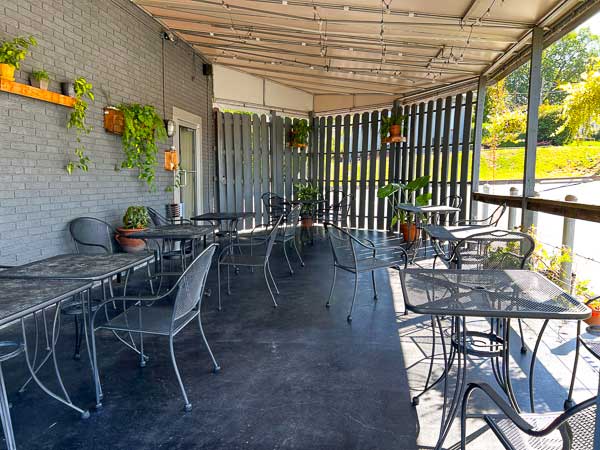 We've rounded up the best places to enjoy delicious, plant-based meals in this vibrant North Carolina city. This article will help you discover the top vegan restaurants in Asheville. While some of these restaurants are 100% plant-based, others serve non-vegan items.
What You'll Find In This Article
​Where To Find Vegan Food in Asheville, NC
Bookmark These Asheville Vegan Eats Articles
---
Vegetarian & Vegan Restaurants In Asheville
We are kicking this list off with restaurants in Asheville with either vegan-only or vegetarian menus. Pretty much everything you'll find at these restaurants will be plant-based and full of flavor.
Our number one recommendation for a vegan dinner in Asheville (and also just in general!)
Plant in North Asheville is such a wonderful vegan restaurant. In fact, Zagat called them "one of the best vegan restaurants in the country." Their menu is 100% plant-based and over 90% of their ingredients are organic. They also put a priority on local products.
Though their menu changes often, you can always count on something amazing. We are still talking about a mushroom ravioli dish from our last visit. The cheese plate is also such a fun experience and it's truly shocking that it's all vegan!
Most of the items on their menu are gluten-free and they even let you know which menu items can be made gluten-free (and which can't.) Oh, and the dessert– don't miss them! Everything on Plant's dessert menu is a delight.
You'll find a cocktail menu, beer menu and non-alcoholic menu featuring house pineapple-ginger soda, basil-lime soda coffee and tea.
There is seating inside with an open kitchen and bar as well as a covered seasonal patio. We love eating outside when the weather allows!
It's a small place, so definitely make a reservation at Plant if you are planning to dine there. While walk-in guests are welcome, there is typically a waitlist.
Vegan soul food in downtown Asheville
Rosetta's is a very popular vegan soul food restaurant in downtown Asheville. They offer awesome vegan comfort food, like mac and cheese, burgers, and fried chicken. We especially love their cornbread and collard greens and the vegan queso basket appetizers.
Rosetta's also has a full bar and a kombucha bar (Buchi Bar) is located downstairs. You can order from the full Rosetta's menu at Buchi Bar. We detail them below if you want to know more!
Apart from the delicious food and cool space, Rosetta's also has an awesome do-good mission called 'everybody eats.' They have an item on their menu called "Beans and Rice Plate" that is offered on a sliding scale price. Pay what you can, whether it's a little or a lot (anything over $6 helps others eat.)
Kombucha bar with vegan soul food from Rosetta's Kitchen
Buchi Bar is a kombucha bar in downtown Asheville. It's actually located just below Rosetta's Kitchen and they offer the full Rosetta's menu.
You'll find a ton of kombucha cocktails on the menu, with everything from a Damp Salty Dog (vodka, orange cream syrup, grapefruit, buchi water) to your choice of shot in a pint of Buchi. You can even get growlers of kombucha at the Buchi Bar.
Not only will you find Buchi Kombucha on tap, but they also have local beers, cider, nonalcoholic cocktails and a rotation selection of vegan wine.
And, of course, the food! Choose from an all-vegan soul food menu, with everything from mac & cheese to peanut butter organic tofu, with kale, smashed potatoes and gravy.
If you are looking for a really fun vegan dinner in Asheville…
Trashy Vegan, a perfectly named restaurant, is a 100% vegan restaurant in West Asheville that offers late lunch and dinner.
Their menu includes all vegan fare but it's not what you'd expect! You'll find cheeseburgers with an impossible patty, a chicken sandwich, a donut burger (seriously!) and even a quesadilla. They have fries, desserts and a ton of fun drink options.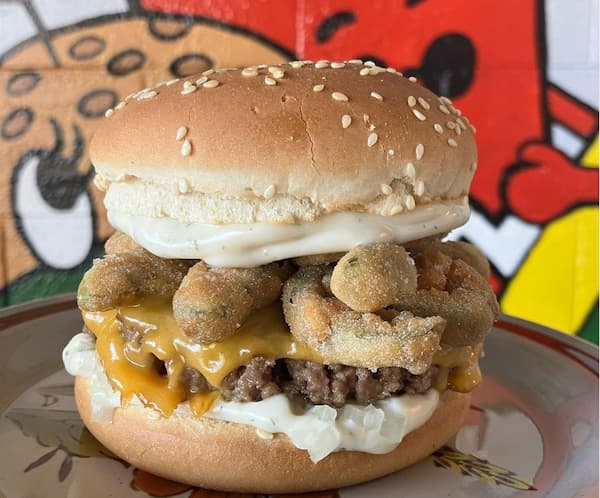 Vegan food truck that regularly frequents Asheville breweries
If vegan burgers, chicken sandwiches and gyros are your thing, you definitely need to add The Smokin' Onion food truck to your list. You can typically find them around town at various Asheville breweries (like New Belgium or Wedge Studio) and farmers markets. They keep an updated schedule on their site so it's easy to find them.
Their menu includes all of the food you'd want to get at a food truck (burgers, fries, buffalo bites…) and it's shockingly all plant-based. We love their fried pickles and they have really great vegan desserts! We especially love their peanut butter bars.
Awesome juice bar and vegan cafe with great outdoor seating
Pulp and Sprout is a dedicated vegan cafe in North Asheville offering breakfast and lunch. They are passionate about crafting the highest quality, organic plant-food menu and cold-pressed juices
If you are looking to start your day off with a vegan breakfast, try their avo toasty with cashew ricotta cheese. They also have cold pressed juices, smoothies and acai bowls.
As far as lunch goes, we absolutely love their chickpea salad. It's very similar to chicken salad and is excellent on their Caesar salad. They also have an A.L.T. with avocado, a beet sandwich and a ton of smoothies.
Pulp + Sprout is one of our top picks for vegan desserts in Asheville. You'll find vegan chocolate chip cookies, slices of pie and millionaire bars. You can even pre-order a vegan cheesecake at Pulp + Sprout.
Casual vegetarian and vegan eatery in downtown Asheville
Laughing Seed Cafe is a​n awesome vegan and vegetarian restaurant in downtown Asheville. They have been serving up delicious, plant-based lunch and dinner for years.
The menu at Laughing Seed features a variety of salads, sandwiches, and entrees, all made with fresh, local ingredients. They also have great drink options, including beer, wine, champagne, ciders and cocktails.
Pretty much everything on the menu is vegan or has the option to be. We recommend starting with the Crispy Brussels or the Jalapeno Onion Fries. After that, check out their Thai panang curry or their butternut squash risotto.
And don't miss their great vegan desserts! They vary daily in flavor and selection, but you can typically count on vegan cookies, cake and/or cheesecake.
Laughing Seed Cafe has great outdoor seating on Wall Street in downtown Asheville.
All vegan coffee shop and eatery in Woodfin
Gallivant Coffee is an excellent vegan coffee shop and roaster in Woodin, just north of Asheville. They roast their own coffee and have amazing vegan breakfast and dessert offerings. The husband and wife duo behind the brand truly have a passion for sustainability.
The food really is exceptional at Gallivant, especially the breakfast empanada and their shockingly buttery cinnamon roll. They also have scratch-made bagels and croissants available.
It's a small shop but definitely worth a visit if you are nearby. Their nitro is 10/10.
---
Other Restaurants in Asheville with Vegan Options
Below are a few other restaurants in Asheville that aren't vegan but have excellent vegan options.
Gypsy Queen is truly one of our favorite restaurants in Asheville. They have delicious Mediterranean and Lebanese food, with several vegan options available.
One of our absolute top dishes in Asheville is Gypsy Queen's vegan fried Brussels sprouts. They are tossed in toom and lemon tahini sauce and are so flavorful and delicious. Their hummus and baba ghanouj are also awesome and vegan.
Gypsy Queen also has several vegan wraps (falafel, beet shawarma, housemade seitan) available as well as a few plates. The Suzys Sampler plate includes 2 falafel balls topped with lemon tahini sauce, pickled turnips and beets. You also get a choice of baba ghanouj, hummus, tabouleh, or fattoush. Everything is so good!!
Gypsy Queen is located in West Asheville. They have a great outdoor patio area and also offer takeout.
Award-winning Indian street food in a casual setting
Chai Pani is an Asheville darling and we definitely agree with the hype. Their food is fresh and flavorful and the atmosphere is great. They have a ton of vegetarian options on the menu, like their kale pakoras, vada pav and paneer tikka roll. The kale pakoras aren't vegan but can be made vegan on request.
As far as vegan options go, they only have a few but all are delicious. I'm happy to share that the famous Chai Pani matchstick okra fries are vegan. They are tossed with salt & seasoning and served with a lime wedge. Their Bhel Puri is also vegan– it's an Indian street food classic and is so flavorful and crunchy.
Finally, they have a mixed veggie uttapam on the menu that is vegan. It is served with coconut chutney that is out of this world.
Apart from their vegan dishes, they also have several that can be made vegan upon request. One of which is the kale pakoras mentioned above! The other dishes are their Vada Pav and Desi Salad. There are also a few kids items that can be made vegan upon request.
Chai Pani has an interactive menu on their site and you can toggle various options like vegan, vegan option, vegetarian, etc. It's very helpful!
Vegan Japanese small plates and ramen
Itto Ramen is a delicious Japanese restaurant with multiple locations around town and several vegan options. It's a ramen and tapas bar, so they have a ton of excellent small plates available. Vegan options at Itto include steamed buns with marinated tofu, miso eggplant, an avocado-stuffed sweet potato, katsu tofu, Japanese spring rolls and vegetable gyoza.
As far as ramen goes, they have their Itto vegetable ramen that comes with fresh kale ramen. They also a vegan ramen burger— the veggie burger is actually nestled between two grilled ramen patties. It's as good as it sounds!
Delicious vegan pizza and lasagna in Asheville
Strada is a great spot for vegan Italian food in Asheville. While most of the menu is not plant-based, they do have a few great Italian options worth mentioning.
First and foremost: their vegan lasagna! It has Beyond bolognese, housemade almond ricotta and is topped with vegan mozzarella. They also have a vegan pizza on the menu (The Ranford) with Beyond meatballs, or you can build your own.
Definitely plan to make a reservation if you plan to dine at Strada. It's an upscale restaurant, though it's still Asheville casual. There are two different floors and also a rooftop patio to the side. They close it for winter but open it up when the weather is nice.
Quick and delicious Middle Eastern street food
If you are looking for top-notch flavor, head to Baba Nahm in downtown Asheville. Their food is ridiculously good! It's a casual, order-at-the-counter spot with awesome online ordering. There is a small seating section inside and a few tables outside at the Grove Arcade.
Their Cripsy Baba Falfels are vegan and when you order you can select how you want it served. Options include a stuffed pita, a hummus bowl, a Lebanese platter (with tahini dressing, chickpeas dolma, etc.) or a Fattoush salad. When ordering, make sure to specify a vegan diet because most of their dishes come with feta.
---