A guide to asheville's vegan breakfast scene
Asheville is home to several great restaurants that offer a vegan breakfast. While some are dedicated vegan spots like Pulp + Sprout and Gallivant Coffee, others are local gems that have great options for a plant-based breakfast or brunch.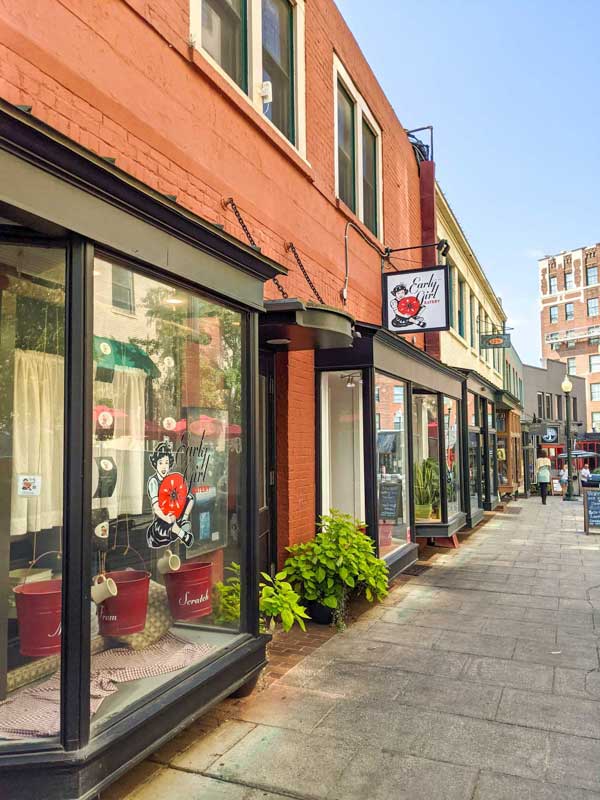 Whether you're looking for an all-day breakfast spot with a tofu egg scramble or the perfect vegan cinnamon roll, you'll be happy to know that you can find all that and more in Asheville.
Bookmark These Asheville Vegan Eats Articles
​Where To Find Vegan Breakfast in Asheville, NC
Before we jump to the list of Asheville's vegan breakfast options, let's first check out a map!
Delicious VEGAN Breakfast IN Asheville
100% vegan cafe and 100% delicious
Pulp and Sprout is a dedicated vegan cafe in North Asheville offering breakfast and lunch options. We are nuts about their chickpea salad, but that's more of a lunch thing I suppose. No fear, though, they have a ton of great vegan breakfast items!
First of all, they are a juice bar, so they have several cold-pressed juice options. You can even opt for a cold-pressed 6 pack and customize the flavors. If you are looking for a heartier breakfast, try their avo toasty. It's served with cashew ricotta on sesame heirloom wheat bread.
Pulp and Sprout also has smoothies and various bowls like an acai bowl and an espresso peanut butter bowl.
Awesome coffee shop with a ton of vegan breakfast options
Oh boy do we LOVE Ultra Coffeebar in the River Arts Districts! They have great coffee and exceptionally good food (with several vegan options!) Two of our favorite vegan breakfast items at Ultra are their avocado toast on an everything bagel and the vegan sunrise with a tofu egg, vegan cream cheese, tomato, pickled onion and spinach.
Ultra also has their 'Vegan Rad' sandwich with tempeh bacon, arugula, vegan cream cheese, cucumber and balsamic. The addition of balsamic puts it over the top! If you like spicy food, try their Vegan Popper with vegan jalapeno cream cheese!
Not only can you order breakfast all day at Ultra, but they also offer all-day lunch, too. They have three great vegan lunch options, including a black mission fig + vegan cream cheese sandwich.
Ultra has outdoor seating available and is within walking distance to a ton of great River Arts District galleries and shops.
Vegan coffee shop and eatery in Woodfin
Gallivant Coffee is an excellent vegan coffee shop and roaster in Woodin, just north of Asheville. The husband and wife duo roast their own coffee and make their amazing vegan desserts and food options from scratch. They have a true passion for sustainability and it shows!
You'll find excellent vegan breakfast options at Gallivant Coffee, including a delicious breakfast empanada and a shockingly buttery cinnamon roll. They also have scratch-made bagels and croissants available.
Delicious vegan brunch in Asheville
Strada is the perfect destination for vegan brunch in Asheville. While not all of their menu is plant-based, they have several great options. You'll find vegan eggs, Beyond Meat vegan gravy and house-made vegan breakfast sausage on the a la carte menu.
They also have several vegan brunch entrees, like their vegan breakfast sandwich with their house-made sausage. It comes with a side of fresh fruit or maple onion waffle fries. You can also get a vegan frittata with a ton of fresh veggies and vegan mozzarella and Beyond Meat gravy.
A great spot for a vegan breakfast burrito
If a Latin American breakfast makes your heart sing, head to South Asheville to Abeja's House Cafe. Here you can get an excellent vegan burrito for breakfast with your choice of herb tofu scramble or maple tempeh. Choose from a side of roasted potatoes, salad or sauteed kale.
Abeja's also has a vegan platter on their breakfast menu that includes either herb tofu scramble or maple tempeh with fresh tomatoes.
Apart from those items, Abeja's has several items on their menu that can be made vegan upon request, like their spinach berry salad pura vida bowl.
All-day breakfast and lunch spot with multiple locations and great vegan options
Green Sage Cafe is a great cafe in Asheville with a focus on sustainability. They have several vegan breakfast options, like their 'Van Gough Burrito' with sprouted tofu scramble and root hash. They also have an everything avocado toast on ciabatta.
We especially love their various bowls. They have both breakfast and lunch options for this. Their Huckleberry Bowl includes chia pudding, granola, bananas and blueberries. It's so filling and delicious!
Apart from their heartier breakfast options, you can get smoothies with almond milk or choose from a variety of cold-pressed juices.
All-day breakfast with a few vegan options and multiple Asheville locations
Early Girl Eatery is a delicious Asheville restaurant offering all-day breakfast, as well as lunch and dinner. While most of their menu is not vegan, they have a few vegan breakfast options worth mentioning.
First off, their organic tofu scramble breakfast is delicious! It includes a ton of fresh veggies and is served with grits or home fries and vegan toast. They also have vegan heirloom molasses-glazed cornbread toast that is as amazing as it sounds! You can view the full menu here— they clearly mark their vegan options.
Early Girl has several locations around town, including West Asheville, downtown and South Asheville. Our favorite spot is their original location downtown just by the famous Flat Iron statue.
Amazing donuts that just so happen to be vegan!
If you prefer sweets for breakfast, then perhaps Vortex Doughnuts is the place for you. Vortex is our absolute favorite doughnut shop in Asheville and most of their donuts happen to be vegan! It's located near downtown Asheville in South Slope and is on our list of the best vegan desserts in Asheville.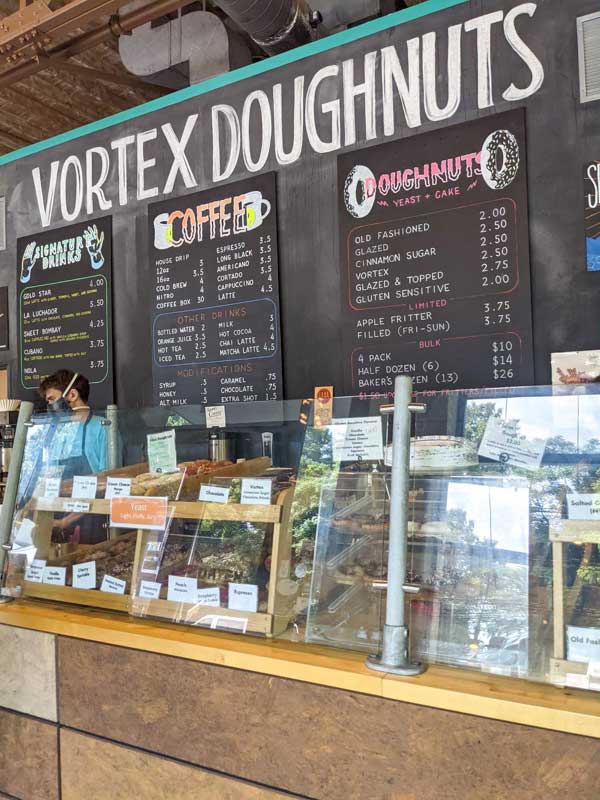 While not all of Vortex's doughnuts are vegan, most are and they are delicious! Vortex actually labels which ones are not vegan (NV) instead of the other way around. They also have some gluten-sensitive doughnuts available.
Vortex has both yeast doughnuts and cake doughnuts in a variety of flavors. The flavor list changes weekly, though you can always count on a few favorites like vanilla, Vortex (cinnamon sugar + chocolate drizzle) and their weekends-only apple fritters.
Not only are Vortex's doughnuts absolutely amazing, but they also have the perfect cup of coffee. They brew 1000 Faces out of Athens, GA and it's some of my favorite in town.
West Asheville coffee shop with vegan breakfast options
Odd's Cafe is a coffee shop in West Asheville that has great drink options and delicious baked goods. It's a great place to work from or catch up with friends.
Odd's features baked goods, many of which are vegan, from a variety of local bakers. They have vegan bagels available with peanut butter, almond butter, jam or hummus. Odd's also has vegan muffins and several smoothie options.
---
And that wraps up our vegan breakfast list! If you are looking for something sweet, don't miss our feature on vegan desserts in Asheville.