Great Spots for Vegan Desserts in Asheville
Welcome to our list of the best vegan desserts in Asheville! As we have come to realize, Asheville has a lot to offer when it comes to sustainable, vegan restaurants, bakeries and coffee shops.
You'll see that this list includes everything from vegan-only shops to local favorite bakeries with vegan options. There's also a great vegan coffee shop in nearby Woodfin!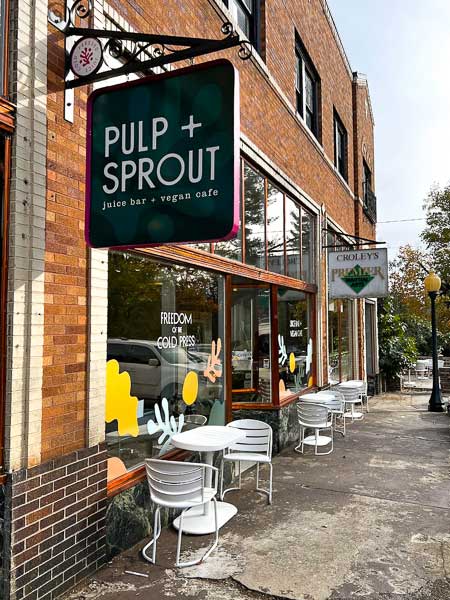 So, if you are in Asheville and need a vegan fix for your sweet tooth, look no further than these local gems for a healthier, delicious treat. We also have an article on bakeries in Asheville if you are looking for non-vegan options, too.
Bookmark These Asheville Vegan Eats Articles
​Where To Find Vegan Desserts in Asheville, NC
Before we jump to the list of Asheville's best vegan desserts, let's first check out a map!
Delicious VEGAN DessertS IN Asheville
Pulp and Sprout is a dedicated vegan restaurant in North Asheville and so dang delicious. They have a great vegan dessert selection with vegan chocolate chip cookies, rotating vegan pies, chocolate truffles and vegan muffins.
My favorite vegan dessert at Pulp and Sprout is their millionaire shortbread! It's made with chickpea flour, tahini caramel and housemade chocolate. It's as pretty as it is delicious.
Apart from their pastry case, you can also custom order a vegan cheesecake or pie. You can choose from a cashew-based raw vegan cheesecake or their avocado chocolate orange mousse pie. Plan to give at least 48 hours for a custom cake order! Check out their site for details.
If you are looking for a vegan donut to start your morning, head to Vortex Doughnuts in South Slope! It is our absolute favorite doughnut shop in Asheville and most of their donuts happen to be vegan!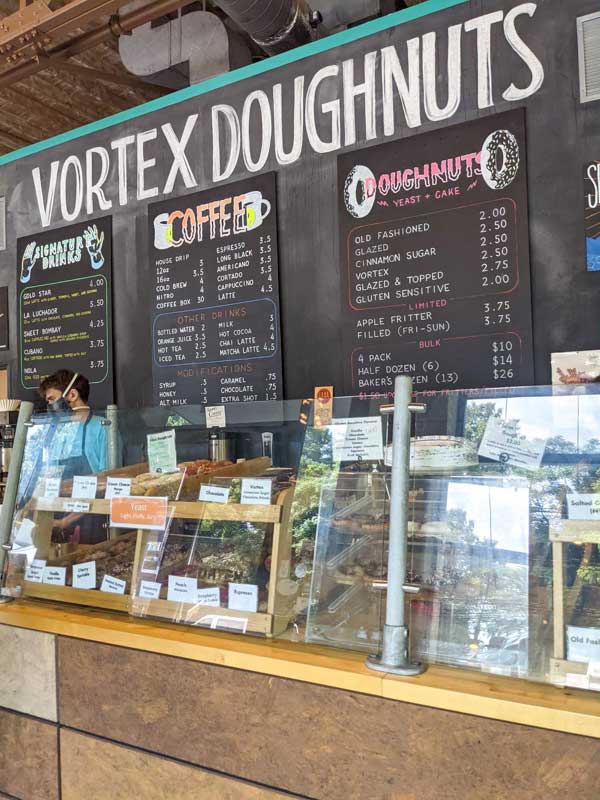 While not all of Vortex's doughnuts are vegan, most are and they are delicious! Vortex actually labels which ones are not vegan (NV) instead of the other way around. They also have some gluten-sensitive doughnuts available.
Vortex has both yeast doughnuts and cake doughnuts in a variety of flavors. The flavor list changes weekly, though you can always count on a few favorites like vanilla, Vortex (cinnamon sugar + chocolate drizzle) and their weekend special apple fritters.
The Hop is an Asheville ice cream institution at this point. They have several locations around town with the most delicious and unique ice cream flavors. They make it a priority to offer as many options for dietary restrictions and preferences as possible, including vegan options!
Their vegan ice cream starts with completely scratch-made bases of oat milk, pepita milk, hemp milk, almond milk, and banana crème. They also have vegan ice cream toppings available, like sprinkles, homemade fudge, nuts, peanut butter sauce and Oreos.
Gallivant Coffee is an excellent vegan coffee shop and roaster in Woodin, just north of Asheville. The husband and wife duo roast their own coffee and make their amazing vegan desserts and food options from scratch. They have a true passion for sustainability and it shows!
As far as desserts go, everything is vegan! They have vegan cookies available daily, as well as a vegan cinnamon roll and even scratch-made pop tarts.
The Trashy Vegan is a 100% vegan restaurant in West Asheville that has super delicious and shockingly vegan lunch and dinner options. We're talking cheeseburgers, donut burgers, chicken sandwiches and some awesome desserts.
Their desserts are all gluten-free and vegan and include a chocolate brownie, a daily special brownie and Darë cheesecake with cashews. They also have take-and-bake cookie dough available.
Laughing Seed Cafe was one of the first restaurants in Asheville offering vegan food. Not only do they have delicious vegan lunch, but they also have great vegan desserts! Their offerings change daily, but they typically have vegan cookies, cakes and even cheesecake.
Laughing Seed is located in downtown Asheville across from Trade and Lore coffee shop.
Short Street Cakes has a ton of vegan cake options, with everything from their famous strawberry short street cake to a birthday cake and peaches and cream cake.
They have a few daily vegan options available in-store, though you should order in advance if you want to guarantee a certain flavor.
Old Europe is an excellent bakery and pastry shop in downtown Asheville. It's actually one of our favorite bakeries in Asheville. They have beautiful desserts and excellent coffee, and it makes for a great stop if you need a break from all of your downtown shopping.
Old Europe's menu changes, but you can always count on delicious vegan desserts. A few worth mentioning are their vegan chocolate chip cookie, vegan sugar cookie and vegan chocolate cupcake, They also have vegan lemon poppyseed bread!
Baked Pie Company has the absolute best pie in Asheville. And we are happy to say they have vegan pie available daily! Though the flavor changes, you can always count on something delicious. Whether it's a vegan blueberry pie, vegan apple pie or their gluten-free vegan brownie pie, you will love their desserts!
You can buy a slice or a whole pie. They also take custom orders with advanced notice. And perhaps my favorite thing about Baked Pie Co: they have pie flights! Choose 3 slices of pie and your choice of ice cream. While they don't have vegan ice cream, I still wanted to mention it in case you were dining with someone who was not exclusively vegan.
French Broad Chocolate Lounge is such a fun place to kick back for a bit when in downtown Asheville. While not all of their desserts are vegan, they do have a few and they do a great job communicating which are plant-based.
First up, their coconut raspberry panna cotta is vegan and so delicious! It is topped with a delicious raspberry prosecco gelatin.
They also have vegan ice cream available daily and a chocolate cherry almond cookie. Also, their cold sipping chocolate is made with organic coconut milk.
---
And that wraps up our vegan dessert list! If you are looking for more about the Asheville vegan scene, check out our article on where to get a great vegan breakfast in Asheville.