What we did: Spent the afternoon at Wedge at Foundation // dinner at the on-site Chop Shop Food Truck
Thoughts: A great afternoon out! We loved sitting in the sunshine, enjoying beer and people-watching. Dinner from the on-site Chop Shop food truck was great (burger, hot dog, wedge salad, fries.) The Carolina hot dog is a can't-miss menu item!
An Afternoon at Wedge at Foundation
This week graced us with Asheville's first taste of spring and it has made us all feel a bit lighter. Daffodils are blooming, birds are chirping and yesterday it was warm enough to dine outside in short sleeves! We have been waiting for this!! Not wanting to miss a moment of sunshine, we headed to the River Arts District for an afternoon at Wedge's brewery at Foundation.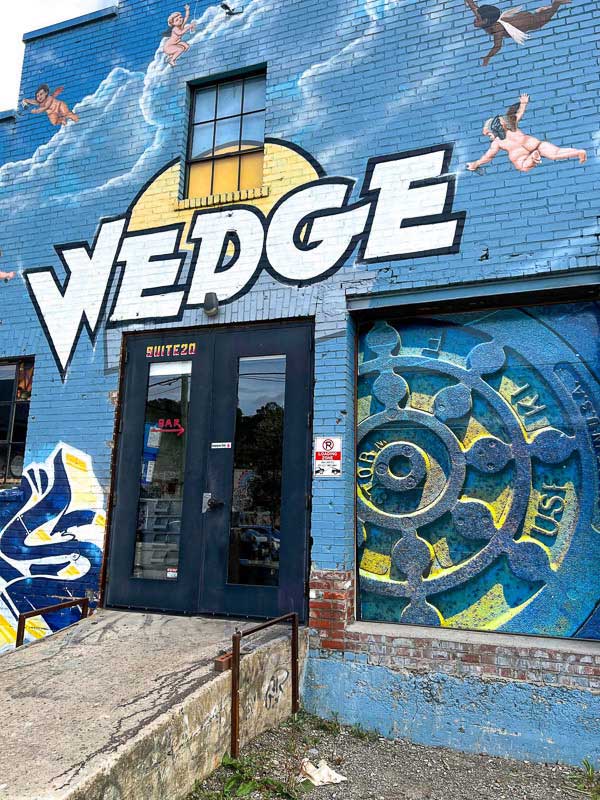 We arrived at the brewery around 4:30pm and it was already starting to fill up. To be expected on a Thursday during the first warm week all year! We snagged a picnic table right next to a ping pong table. It also had a clear view of the train yard, which is apparently all that's needed to entertain a 1 and 4 year old. They were mesmerized by the people and the sounds and we got to enjoy a perfect afternoon out! There were also a ton of kids running around (Wedge at Foundation is kid-friendly!) and lots of dogs being good boys (Wedge is also dog-friendly!)
There are a ton of picnic tables out back and it felt like a backyard party. Everyone was just so happy to be out enjoying the sunshine, camaraderie and good beer! Speaking of, Wedge has great beer! You order inside at a bar there and they have a ton of different styles on tap, as well as wine, seltzer, Ginger's Revenge, ciders, etc.
Dinner from the Chop Shop Food Truck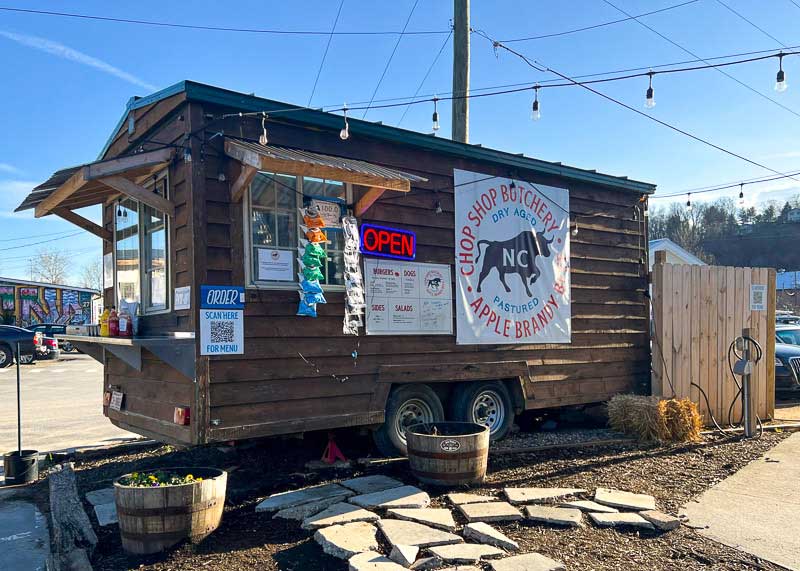 As far as food goes, there's a permanent food truck on-site at Wedge run by Chop Shop Butchery. We grabbed dinner from there and it was great!! Chop Shop's food truck has a pretty straightforward menu. You'll find four different burgers (available in single, double or triple), two hot dogs, two salads and a few side options like fries and cheese fries. Their specials vary, but yesterday they included tator tots and a lamb gyro.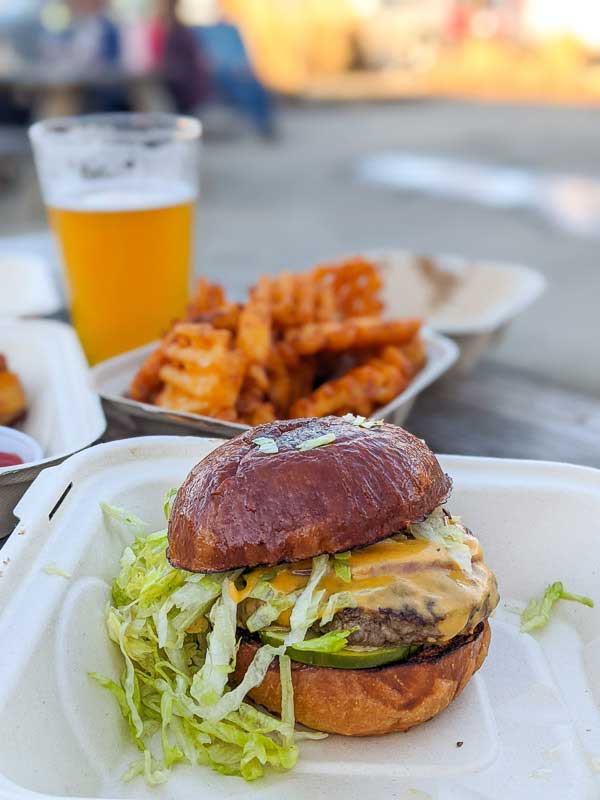 We opted for a classic burger (cheese, lettuce, pickles, onions, Comeback sauce), a Carolina hot dog (chili, slaw, yellow mustard, onions), a large wedge salad (iceberg, bacon, bleu cheese, buttermilk ranch dressing, green onions) and an order of waffle fries. When I say we ate everything, I mean it! Not a bite was left!
The salad was a bit spicy (in a good way) due to the green onions but Alex and I loved it. Our four year old pretty much took over the burger while our one year old brought his own broccoli, banana and cheese. Don't worry, he enjoyed a waffle fry or five, too. The star of the show, though, was the Carolina hot dog! It was amazing. The combination of chili, slaw, mustard and onions was spot on, and it was made even better by a fresh brioche bun baked by Asheville's own MOTHER bread (who recently opened their own RAD location!) Next time we may repeat our order but add an extra hot dog!
How to Order at the Chop Shop Food Truck
I'm including this section because ordering at the Chop Shop food truck is a bit funny. On the front of the food truck you'll see a window next to the menu and that's where you'll order. The window is typically closed, though so it can be confusing. They will occasionally open the window and take orders before shutting it again to complete the orders. Then they'll call out the names for the orders that are ready and open their order window again. It's a pretty easy process once you know what's going on but we saw a few people kind of confused about the closed window.
They take your name and phone number when you order and will call your name and text you when it's ready. As far as getting your food goes, the food truck has a pickup window on the left end of the truck where they will leave your order after calling your name. There's also a place to grab napkins, utensils and condiments there. Everything is boxed up and ready to go! We saw a few people get takeout from the Chop Shop Food Truck and to-go beer from Wedge and thought that was pretty clever. An easy way to bring dinner and drinks home!
Final Thoughts
We had such a great time at the brewery! It's laid-back and was perfect for our young kids to sit back and take it all in. The trainyard and ping pong skills of various groups kept us all entertained. The beer is always great at Wedge and dinner from Chop Shop's food truck was top-notch. We will definitely be back a lot this coming spring and summer! But first, back to winter temps! 🙁