We finally tried Mosaic Café in Biltmore Park for breakfast and it was great! We were at a nearby library on the hunt for a book when I decided to see what was around for breakfast. I ordered Mosaic online before checking out and it was ready on arrival. Already a 10 in my book.
For drinks, we got an almond milk iced latte and a cold brew. Sometimes I feel like lattes can lack flavor, but this one had a distinct roasted flavor. It was very good!
The real star of the show, though, was the lumberjack sandwich. It's kind of extravagant– ham, bacon, sausage, egg and swiss on a pretzel roll— but so, so delicious. It's definitely a must-try sandwich in Asheville. We also got their sausage, egg and cheese on sourdough. Both sandwiches were fantastic and we plan to repeat this exact order again.
Mosaic would be a great place to grab to-go for a picnic or hike because the sandwiches are wrapped in foil and stayed warm. They also both came with a cup of fruit, which was a pleasant surprise.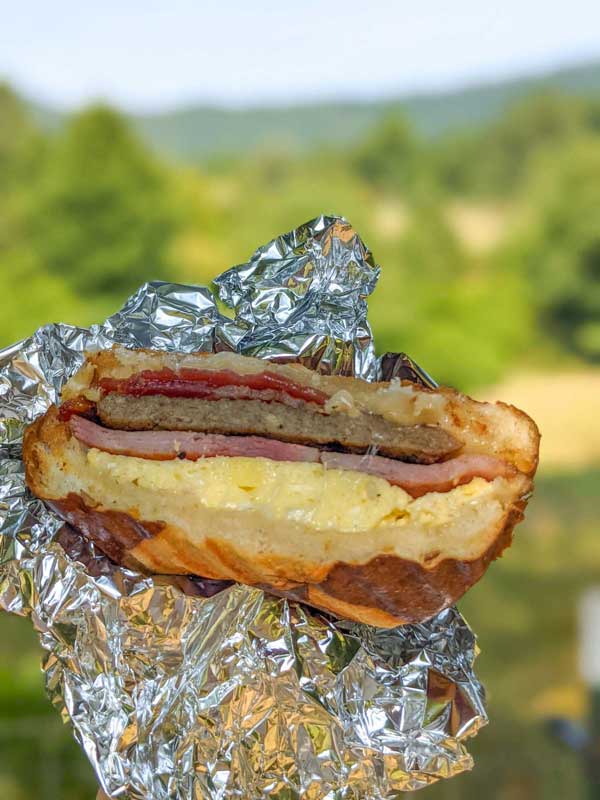 We're planning to go back soon to try their lunch menu. Lunch is an entire side of their menu, while breakfast is just one column on it, which makes us assume lunch is even better. Everything on the menu is served all day, though!