Are you trying to find the best hotels and places to stay in Hendersonville, NC? There are so many fun things to do in Hendersonville that it is no surprise that its one of Western North Carolina's most popular mountain towns.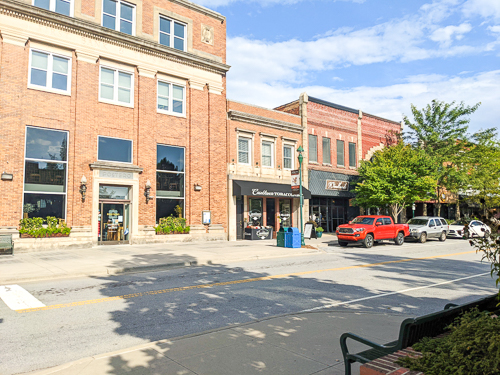 This list of places to stay in Hendersonville also includes hotels in Flat Rock, NC which is less than 10 minutes from downtown Hendersonville.
Whether you are looking for a quaint bed & breakfast, a boutique hotel or maybe you prefer a national hotel chain, we've got you covered.
Let's dive in and find the perfect hotel in Hendersonville for you!
What You'll Find In This Article
Map of The Best Hotels and Inns in Hendersonville, NC
Boutique Hotels, Inns and Bed & Breakfasts in Hendersonville, NC
1898 Waverly Inn
Stay at Hendersonville's oldest inn still in operation today at 1898 Waverly Inn. This historic inn boasts 15 comfortable rooms and offers an outstanding homemade breakfast. You will be met with hospitality that you can only find at a small town bed and breakfast.
Located at the northern end of North Main Street, the Waverly Inn is within walking distance of everything in Hendersonville's historic downtown district. The property is picture-perfect with with large trees in front and large porch to kick back on.
The Henderson
Just a block from the center of Hendersonville's North Main Street you will find The Henderson. This 17 room inn is a classical revivalist gem built in 1919. The guest rooms are outfitted beautifully with historic charm.
Their in-house restaurant, Harvey's, is the perfect spot to dine al fresco Thursdays through Saturdays. Be sure to check out their Sunday brunch if you're staying for the weekend.
The Charleston Inn
On a treelined street just next to the 1898 Waverly Inn is The Charleston Inn, another charming bed and breakfast. They have 16 nicely appointed rooms, a large porch, and in-house spa services available, making it the perfect recipe for a relaxing getaway.
The Charleston Inn is the perfect spot stay when exploring downtown Hendersonville's shops and restaurants as well as the surrounding Blue Ridge Mountains.
Echo Mountain Inn
Echo Mountain Inn is a bit further away from downtown Hendersonville, but it offers beautiful mountain views. This 25 room bed and breakfast is located in the Laurel Park neighborhood of Hendersonville and is just a 10 minute drive from downtown Hendersonville.
Highland Lake Inn & Resort
While technically in Flat Rock, Highland Lake Inn & Resort is just a 12 minute drive from downtown Hendersonville. This 26 acre retreat offers plenty of room to explore and is located on a 30-acre lake.
Enjoy nature trails, swimming in the lake or pool and playing games on the lawn. There is also the highly rated Season's Restaurant on site. Highland Lake Inn & Resort is the perfect spot to relax and enjoy nature.
Large Chain-Style Hotels in Hendersonville, NC
There are several larger hotels chains located in and around Hendersonville as well– most near I-26. We've included some of the highest rated hotels in the area for consideration.
At exit 49A you will find the Hampton Inn Hendersonville which is only about 5 minutes from downtown Hendersonville. The Fairfield Inn and Holiday Inn Express & Suites are located approximately 10 minutes from Hendersonville at exit 53.
Mountain Inn & Suites – Flat Rock
Holiday Inn Express & Suites