There are over 10 shops in Biltmore Park Town Square's main area, from local brands to national retailers. The shops are scattered amongst several restaurants in Biltmore Park, and you can easily spend an afternoon shopping and dining there.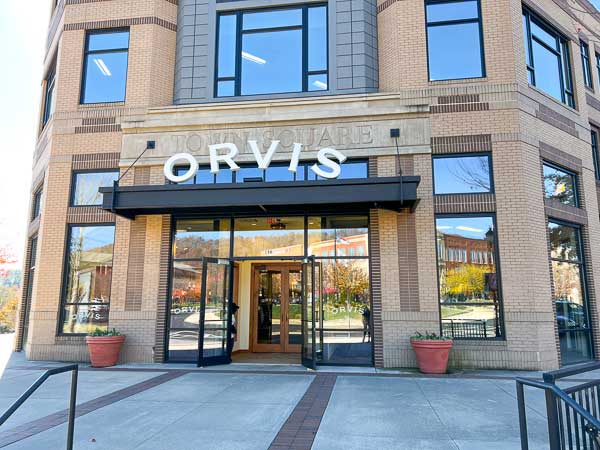 If you aren't familiar with Biltmore Park, it's Asheville's first mixed-use community. It has everything from a grand neighborhood to an excellent shopping center with local restaurants, national retailers, a YMCA, professional offices, and even a tinkerer space for kids.
This guide shares details on the various shops within the Biltmore Park community.
What You'll Find In This Article
Where To Shop At Biltmore Park
Shopping at Biltmore Park
Below you'll find details on the various shops in Biltmore Park Town Square. We think the area has the perfect amount of shops because you can see it all and shop it all in an afternoon. There's also a Barnes & Noble if you need to rest your feet and several restaurants in Biltmore Park if you need to refuel.
Let's get to the list, starting with a temporary pop-up shop that we absolutely adore.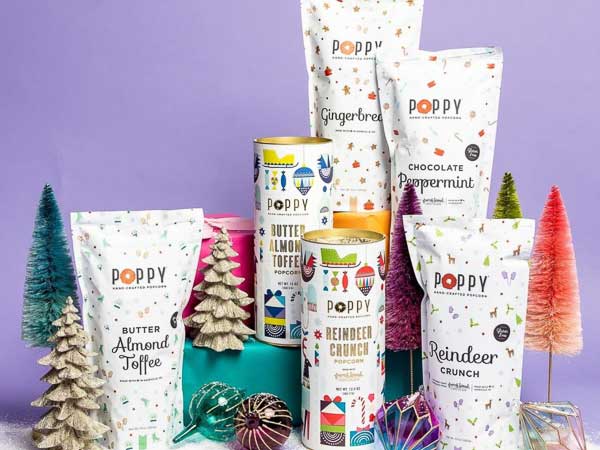 Poppy Handcrafted PopCorn
Though it's only a temporary holiday pop-up, we are thrilled that Poppy Popcorn has a shop in Biltmore Park. They opened November 4, 2023 and will remain open through Valentine's Day.
If you aren't familiar with Poppy, it's a local Asheville brand making waves nationally. Their holiday flavors are delicious and highly giftable. Make sure to try the Asheville mix!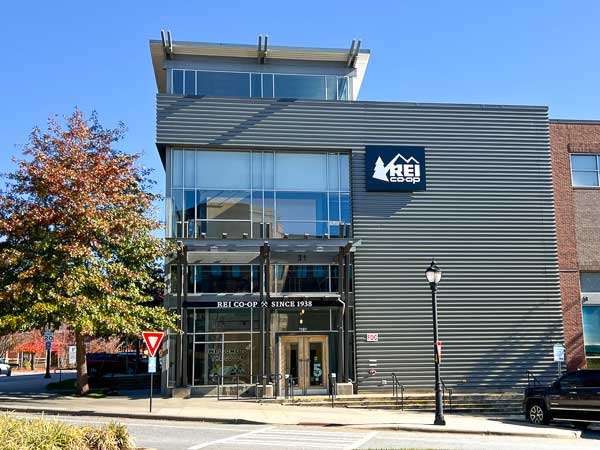 REI Co-Op
A perfect stop to gear up for an Asheville adventure. REI has everything from camping equipment to bikes, outdoor apparel, shoes and kid gear. Brands include The North Face, Patagonia, Marmot and their own REI Co-Op brand.
Plan to get a membership at REI to save if you'll be shopping frequently. They typically have a deal going where you get your membership fee back immediately. And it's a lifetime membership!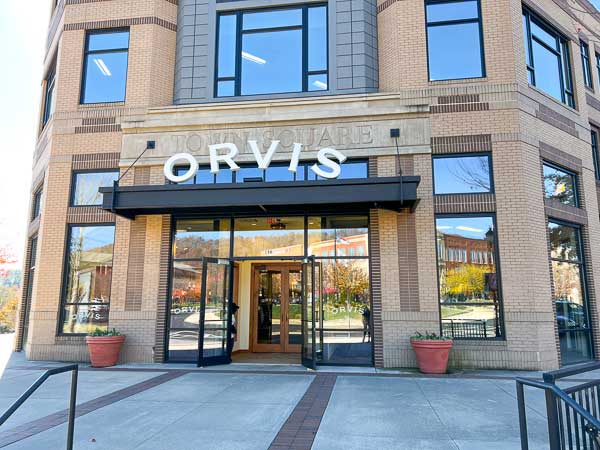 Orvis
Just across from REI you'll find another outdoor lover's shop, but this one has more of a hunting + fly fishing feel than REI. It's the perfect stop for fly fishing enthusiasts, whether you are just beginning or it's a long time hobby. The team at Orvis can offer input on local waters, gear and more.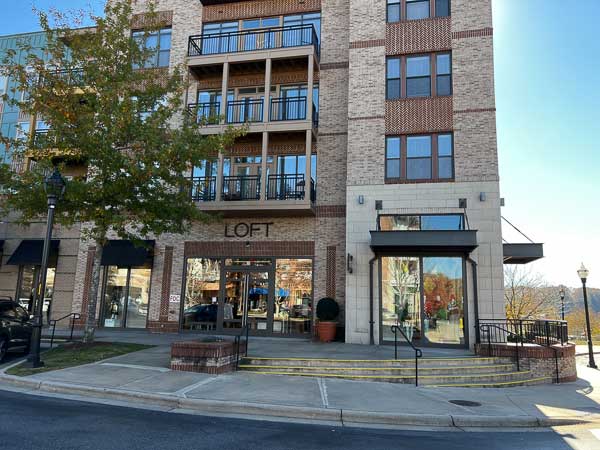 LOFT
You're probably familiar with this one! LOFT is in a block of Biltmore Park along with Francesca's, Altheta and Altar'd State. Here you'll find women's dresses, skirts, pants, blouses and more.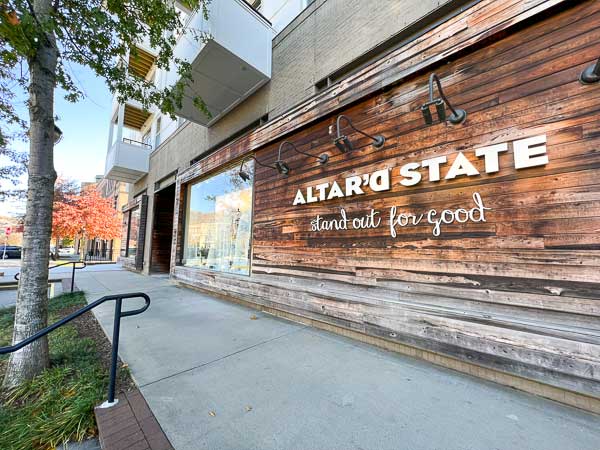 Altar'd State
Women's clothing, shoes and accessories in a fun-to-shop setting. The brand is committed to doing good in their communities with their 'Stand Out. For Good.' mission. They have partnered with over 4,000 nonprofits that provide food, clothing, resources and education. They also host a Mission Monday where 10% of proceeds are donated.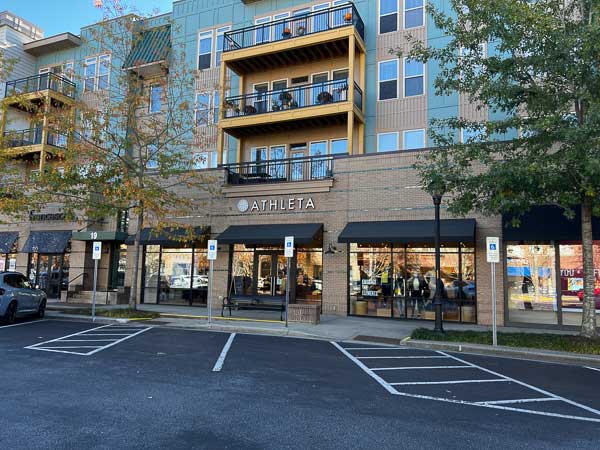 Athleta
Athleta is a great shop if you need to revamp your yoga wardrobe, grab a cozy sweater or maybe a new dress. You'll find exercise clothing, jackets, swim and more. The majority of their inventory is for women, though they also do have clothing for younger girls.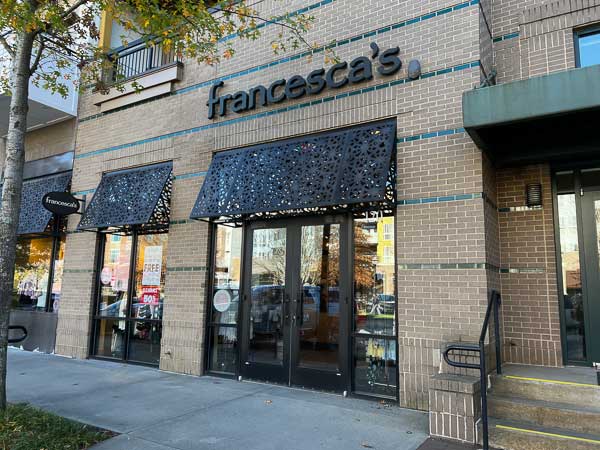 Francesca's
You'll find boutique clothing, dresses, sweaters, jewelry, shoes and gifts at Francesca's. It's a great place to find something you didn't know you needed!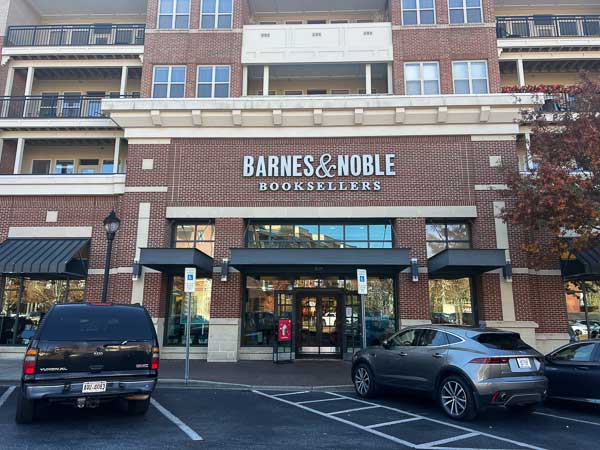 Barnes & Noble
Barnes & Noble is located next to Luella's BBQ and offers a great place to rest if perhaps your shopping partner needs a break. There's a cafe inside with Starbucks coffee.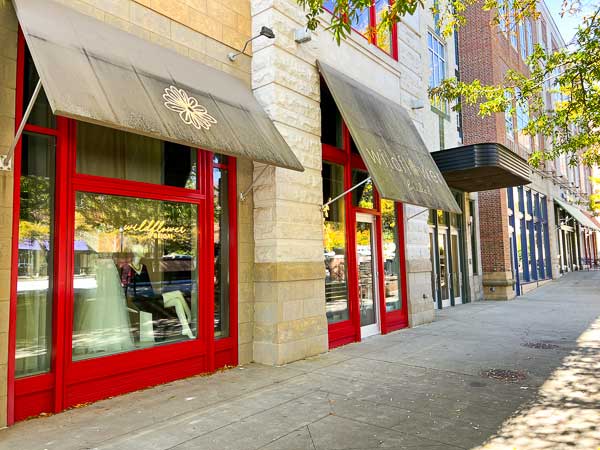 WIldflower Bridal
Wildflower Bridal is an appointment only shop for wedding dresses in South Asheville. They recommend booking an appointment 3-4 weeks ahead of time. Weekends fill up about 2-3 weeks out.
As far as wedding dress prices go, special order gowns range from $1200 to $3500, with most falling in the $1500-$2500 range. Additional details can be found on their site.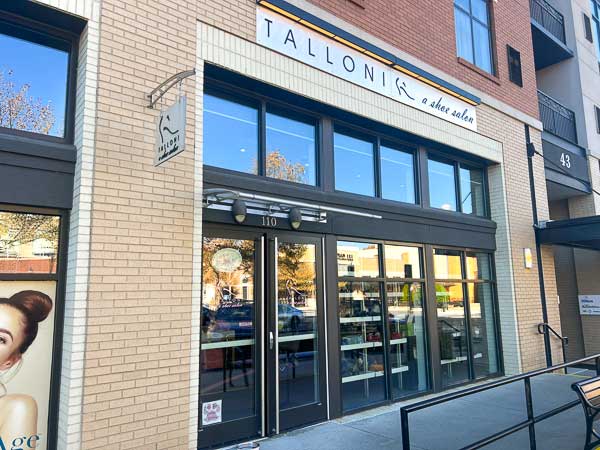 Talloni Shoe Salon
Talloni is a shoe and accessory shop in Biltmore Park. It's just under the Hilton hotel and offers a fun setting to upgrade your wardrobe. Whether it's a new pair of leopard sneakers, cozy fur-lined sneakers or maybe sparkly earrings, they have it!
---
And that wraps up our list! Make sure to check out our complete guide to Biltmore Park for additional details on the area, including where it is in the city, where to stay nearby and other things to do.