Everything To Know About The Grove Park Inn
Visiting the historic Grove Park Inn is one of our favorite things to do in Asheville. Whether you go for dinner or drinks, to check out an exhibit or just to catch the breathtaking views, it will certainly be a memorable experience.
Our Omni Grove Park Inn guide covers hotel access, parking, things to do and an overview of some of the best bars and restaurants in Asheville.
Table of Contents
About The Omni Grove Park Inn
The Grove Park Inn is set on 150 acres in North Asheville with sweeping views of the Blue Ridge Mountains and downtown Asheville.
The hotel's construction was completed in 1913 as a luxury vacation resort in the then up-and-coming mountain town of Asheville.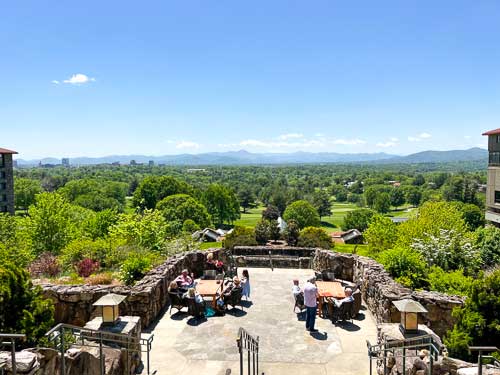 The property includes over seven bars and restaurants catering to the needs of overnight guests and day visitors alike. In addition to the dining options, there are several things to see and do, including a self-guided audio tour, terraces to relax on while enjoying the view and an onsite golf course.
The Grove Park Inn is also home to a world class spa, but be sure to book a room and reserve you spa session in advance as they are only available to the hotel's overnight guests.
Day Visitor Access and Parking
The Omni Grove Park Inn is located in North Asheville and is less than a 10 minute drive from downtown. Access to the hotel is available to overnight guests and day visitors alike.
Parking rates vary seasonally so make sure you check the latest parking rates on their website. Generally, the first 3 hours of self-parking are free from January through March. From April to September you can typically park for free for one hour. And during the busy fall and holiday season, the only available self-parking is $25 per day.
There is no controlled access to the lobby and visitors are welcome to explore the premises.
Another fun way to experience the Grove Park Inn while checking out the rest of what Asheville has to offer is riding the hop-on hop-off Trolley Tour that stops at the Grove Park Inn. This is an especially good idea during fall and the holidays when parking is $25 per day and can often reach capacity.
Omni Grove Park Inn Restaurants, Bars and Coffee Shops
The Omni Grove Park Inn has abundant dining options and some of the best rated restaurants in Asheville. With four full service restaurants, several bars and a coffee shop there is something for every appetite.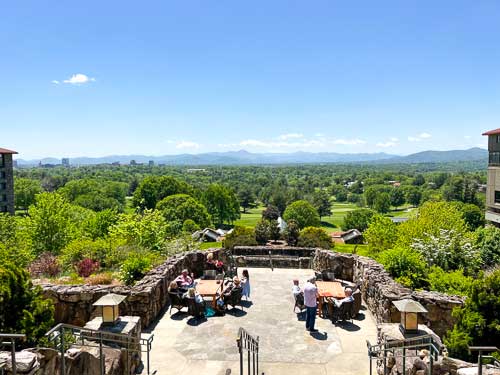 Sunset Terrace
Arguably the Grove Park Inn's most well-known restaurant, Sunset Terrace is the epitome of outdoor dining with panoramic views. The beautifully plated entrees make for the perfect dining experience for special occasions.
Note that Sunset Terrace is open seasonally, so be sure to check their website before making plans. Reservations are recommended and can be made online.
Sunset Cocktail Terrace
If you are not interested in a full-blown meal but still want the view, the Sunset Cocktail Terrace is a great option. Just one level below the Sunset Terrace, the Sunset Cocktail Terrace offers hand crafted cocktails, local beers and small plates with an opportunity to enjoy a magnificent view. It is open daily from 11:00am to 9:00pm, weather permitting.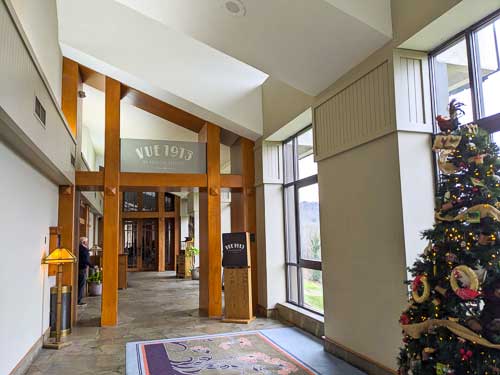 Vue 1913
Vue 1913 is one of Asheville's premier upscale dining establishments. As Asheville's only AAA Four Diamond restaurant, it offers a great fine fine dining experience. This upscale restaurant with gourmet brasserie menu offers dishes with locally sourced ingredients.
On the menu you will find wagyu filet, vegetable risotto and elk tenderloin among plenty of other mouthwatering options.
The Vue 1913 is set on the main 10th floor lobby level in the Sammons wing with sweeping views of downtown Asheville and the Blue Ridge Mountains. Reservations are required and can be made on their website!
Edison Craft Ales + Kitchen
Edison Craft Ales + Kitchen is a great spot for a craft beer or cocktail and a casual bite to eat. This restaurant is one of the more casual restaurants at the Grove Park Inn, with a menu including soups and salads, burgers and sandwiches, and assorted entrees.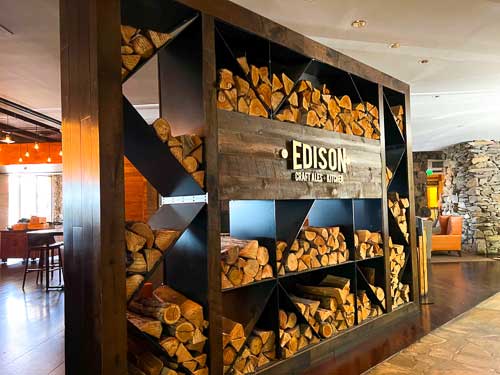 They have a huge covered porch with a fun atmosphere and incredible views. Reservations are recommended.
Blue Ridge Restaurant
Blue Ridge Restaurant is the Omni Grove Park Inn's primary buffet restaurant. This artisanal buffet offers hotel guests and visitors daily breakfast, Sunday Brunch, Friday night seafood buffet and Saturday night prime rib dinner. Reservations are recommended for brunch and dinner.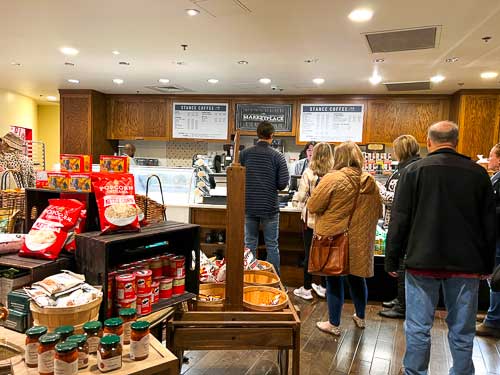 Stance Coffee
You'll find Stance Coffee tucked in The Marketplace shops. Their menu includes coffee, espresso drinks, tea, hot chocolate, Nitro cold brew, iced coffees, blended drinks, smoothies and even ice cream.
There isn't any seating in the immediate area, but you can take your coffee to other parts of the hotel. Our suggestion: go sit by the fire in a rocking chair with a nice hot drink!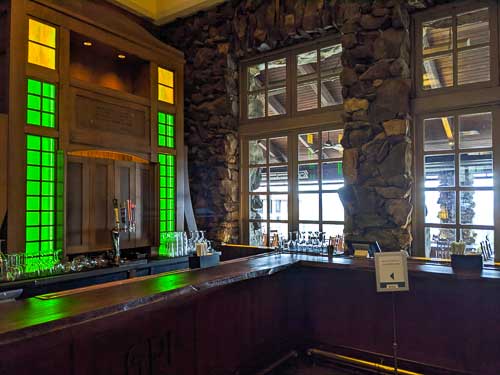 Omni Grove Park Inn Bars
The Great Hall Bar: Set in the great hall lobby, enjoy music on the grand piano and the enormous fireplaces flanking the room.
Presidents Lounge: Enjoy a drink and the views from this casual bar in the Sammons wing.
Elaine's Dueling Piano Bar: Live entertainment and cocktails, beer and wine every Thursday through Saturday night.
Things to Do at The Grove Park Inn
Play a Round at the Grove Park Inn Golf Course
The Grove Park Inn is home to a world class golf course. Open year round, this is a great activity for golfers whether staying at the hotel or not.
The golf course was designed by Donald Ross, who also designed the famous Pinehurst golf course. The Grove Park Inn golf course is immaculately maintained with a beautiful surrounding.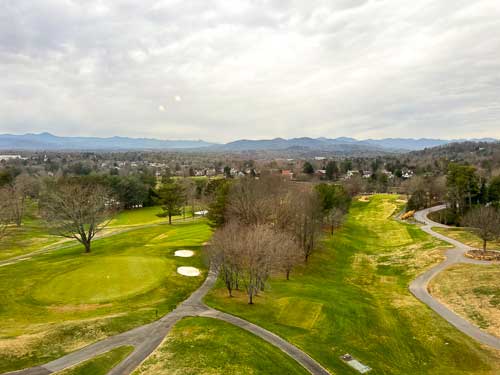 Enjoy the Architecture
Built by E.W. Grove and his business partner and son-in-law Fred Seely, the Grove Park Inn is one of Asheville's iconic structures and is steeped in history.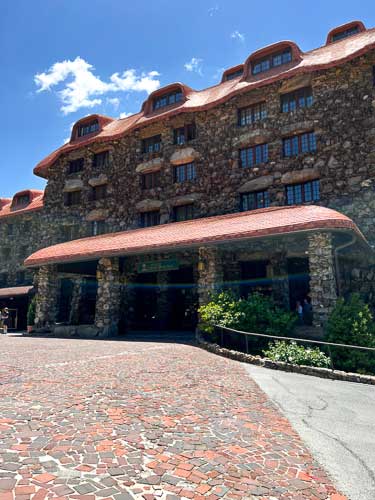 The craftsman-style buildings were built from stone quarried locally and set into the hillside. It's as unique as it is impressive! As you enter the great hall you will feel the grandness of the hotel with its high ceilings and massive fireplaces flanking each side. It's a great place to relax and take it all in.
One of our favorite places in all of Asheville is sitting in a rocking chair by the Omni Grove's fireplaces. Especially when it's cold out!
Relax at The Spa at Omni Grove Park Inn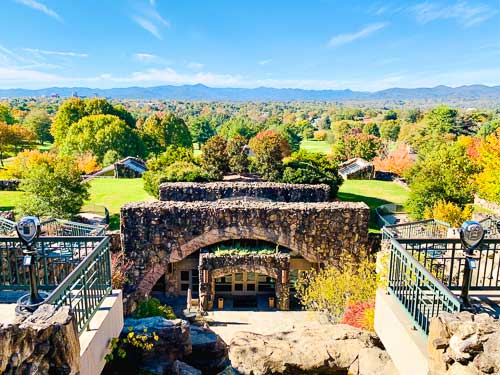 Perhaps the most indulgent place in all of Asheville! The Spa at Omni Grove is like no other.
It's nestled underground and has rock walls, arches and tunnels. It's over 40,000 square feet and includes two waterfall pools, twenty water features and even a lap pool with 6,500 fiber-optic stars and underwater music.
Access to The Spa at Omni Grove is available only to guests of the Inn over 18 years old. Guests should plan to book services well in advance to ensure availability.
Catch the Panoramic Mountain Views
If you came to Asheville for the views, the Grove Park Inn is a must stop.
Whether you eat on the patio of one of their award-winning restaurants, have a drink on the sunset terrace, or just grab a coffee and meander about the property, you will be amazed.
The hotel is set with the rear porches and terraces facing the southwest and is the perfect spot for beautiful sunsets! You will be in awe of the long range views of the Blue Ridge Mountains and views of downtown Asheville.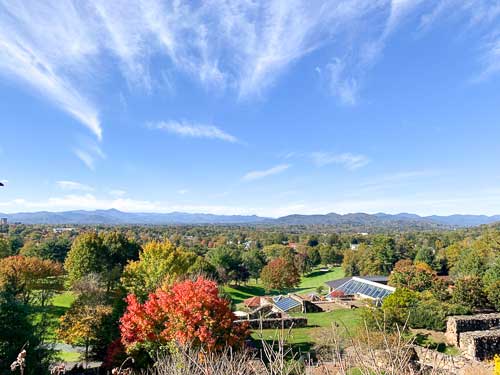 Visit Grovewood Village
While not officially part of the Grove Park Inn property, Grovewood Village is located adjacent to the hotel and is a gem in its own right. Grovewood Village is home to two museums, a restaurant, artist studios and a gallery.
ELDR is a great restaurant for lunch or dinner (or even brunch on weekends!) They have a unique gourmet menu with a wide variety of dishes. There is indoor and outdoor seating, so it's a great option any time of year. Make a reservation in advance to secure a table!
The Estes-Winn Antique Car Museum is home to 20 classic American cars that are in immaculate shape. Admission is free but donations ($5 suggested) are greatly appreciated to maintain the collection. Its a great stop for car enthusiasts and kids love it (trust us!)
The Biltmore Industries Homespun Museum exhibits the history behind Grovewood Village, which includes a world class wool spinning weaving operation.
Note: both museums are closed from January through March.
Walk on the Sunset Trail
The Sunset Trail is a .7 mile out and back trail located at the Grove Park Inn. It's a kid-friendly hike that has a few cute bridges along the way.
The Sunset Trail is ideal if you are staying on the property and want to stretch your legs for a bit, but probably not worth traveling to the Grove Park Inn alone for.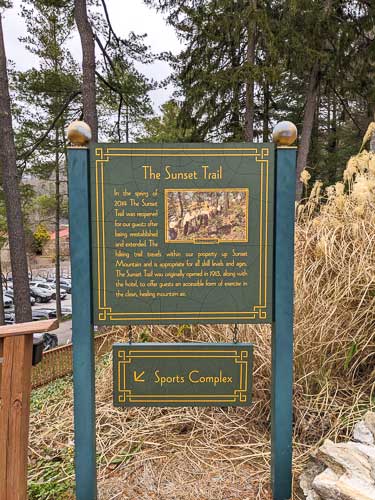 Holidays at the Grove Park Inn
The festive holiday atmosphere at the Grove Park Inn makes it truly special and the perfect holiday destination.
The Great Hall is decorated top to bottom and there is nothing better than cozying up in a rocking chair by one of their massive fireplaces.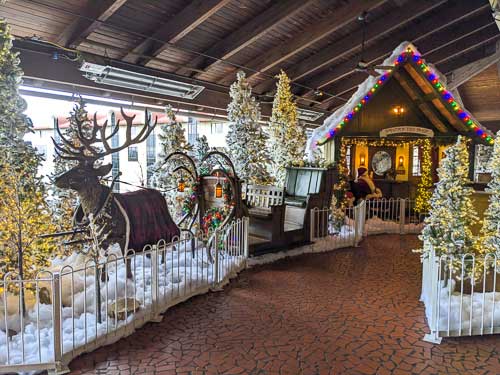 They have a hot chocolate bar set up for the season in the lobby. Just outside the Great Hall you'll find Santa's sleigh and an animatronic Santa and elf display that kids just love (it's a perfect photo op!)
Also be sure to check out the National Gingerbread House competition with the finalists' works of art displayed throughout the hotel.
Note that there is no complementary parking available from October through New Years. Self-parking is $25 per day.