A guide on where to stay in the Biltmore Estate / Biltmore Village area
If you are looking for hotels near The Biltmore Estate and Biltmore Village, you are in the right place. These are two of the most popular places to visit in Asheville (and for good reason!) Not only do tourists love them, but they are also popular destinations for locals, too.
There is so much to do both on the Biltmore Estate and in Biltmore Village that you could easily spend days exploring the two and not see it all. In fact, a lot of visitors to Asheville like to stay close to the area to maximize their time. One way of doing this is by staying on the Biltmore Estate. There are actually three properties on-site, all of which keep you right in the action.
There are also several properties nearby that offer easy access to the Biltmore Estate, Biltmore Village and the rest of Asheville.
Our guide to where to stay near the Biltmore Estate and Biltmore Village covers hotels, Beds and Breakfasts and even a short-term rental nearby.
Read more for details on the area, a map on where to stay nearby and a brief overview of each property.
Table of Contents
About the Biltmore Estate / Biltmore Village Area
As far as where the Biltmore and Biltmore Village is in Asheville, it's about 2.5 miles south of downtown. You'll find Mission Hospital halfway between the two.
About The Biltmore Estate
The Biltmore Estate, also known as America's Largest Home, is Asheville's most popular and well-known attraction. The estate, originally built and owned by George Vanderbilt, boasts over 35 bedrooms, 43 bathrooms and 8,000 acres.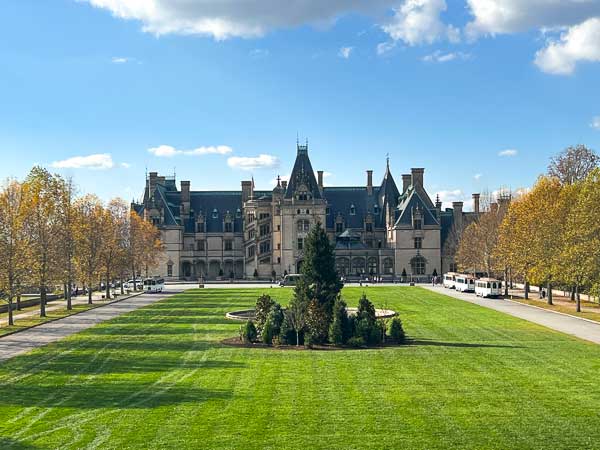 Not only is the scale of the Biltmore Estate something you have to see to believe, but the meticulously manicured grounds are also breathtaking in their own right. We recommend taking a self-guided tour of the house and gardens.
The entrance fee to The Biltmore is pricey, so you should consider an annual membership if you are local or plan to visit more than a few times a year. Read our full guide to the Biltmore Estate for all the details!
About Biltmore Village
You'll find the charming Biltmore Village at the entrance to the Biltmore Estate. This area of Asheville was conceived by George Vanderbilt and constructed in the late 1800s to resemble an English village.
Today, Biltmore Village serves as a great shopping and dining district. You'll find local shops, galleries, national brands, cafes and more, all along cobblestone streets.
Read more about Biltmore Village, including details on where to shop and dine, in our guide to Biltmore Village
Map of Hotels Near the Biltmore Estate and Biltmore Village
Hotels and places to stay in Biltmore Village
While there are several hotels within walking distances to Biltmore Village, there is only one hotel within the actual shopping area. There's also a short-term rental option in Biltmore Village that we think is worth checking out. See below for details.
Grand Bohemian Hotel Asheville
What a unique and beautiful stay! The Tudor-style Grand Bohemian Hotel is a gorgeous property both on the outside and in. It's located just across from the entrance to the Biltmore Estate and is within walking distance to all of Biltmore Village's shops and restaurants.
Griffins Lair Luxury Vacation Rental