As big fans of takeout food, we love the rise in popularity and availability of takeout from so many Asheville restaurants. To state the obvious, takeout in Asheville has blown up in popularity over the past few years with almost every restaurant offering to-go options.
To help you cut through the noise and find some real gems, we want to share some of our favorite restaurants for the best takeout in Asheville and give you some tips on what to order.
Our Criteria for the Best Takeout in Asheville
The restaurants on our best takeout in Asheville list are the places we always turn to. We have taken into account the ease of ordering online, the packaging and the quality of food after its journey home. Finally, we share what we always order in case you need some inspiration!
1. Gan Shan West
We're starting our best takeout in Asheville list off strong with Gan Shan West!!!! Gan Shan is soooo good and by far our favorite Asian restaurant in town! The food is always fresh and flavorful and their dishes hold up great to go.
Not only do they have excellent food but their online ordering and pickup is top-notch too. We are always delighted when our dinner plans include Gan Shan. If you aren't convinced, their GSW Rice Bowl was the EIGHTH MOST ORDERED ITEM IN THE COUNTRY on the BentoBox platform in 2020.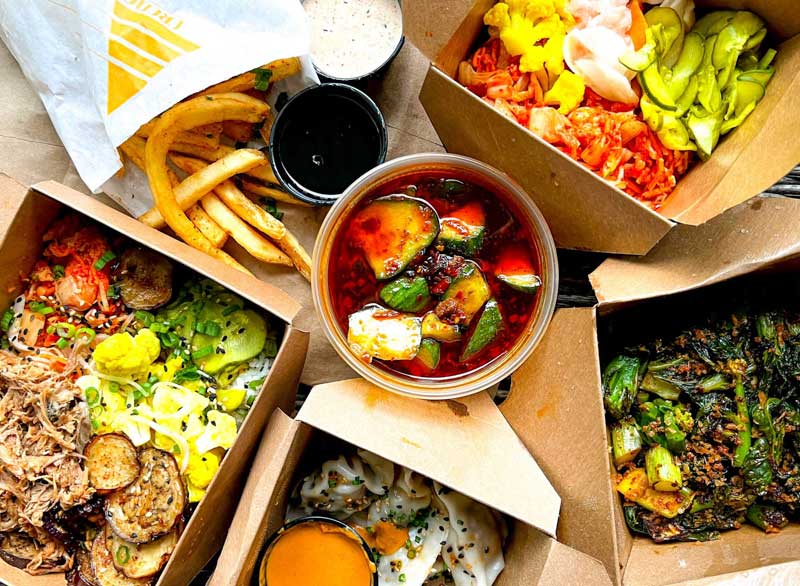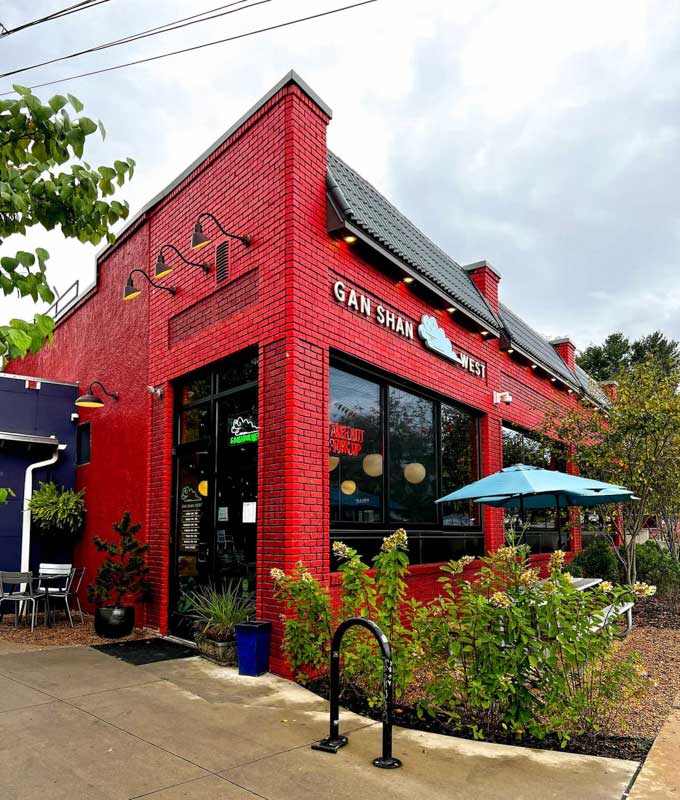 Type of food: Asian food (inspired by East Asian cultures of Thailand, Vietnam, Laos, China, Japan, and Singapore)
Availability: Open for dinner at 4pm every day but Sunday
Location: 285 Haywood Suite 20 // West Asheville
What to order at Gan Shan West: GSW Rice Bowl with Korean Pulled Pork (10000% recommend!!!) and Pork and Chive Dumplings
Ordering ease: Amazingly fast and easy to use online ordering for pickup. They are also available for delivery through Takeout Central.
Beverages: You can add beer, wine or sake to your online order.
Pickup ease: Pickup is so easy at Gan Shan! They have a separate window on the side (between there and OWL Bakery). You can select your pickup time (from ASAP up to a week out) and they will keep you updated on your order status via text.
Parking: There is a convenient parking lot behind the building (on the other side of Archetype Brewing.) Take the sidewalk behind Archetype and you'll arrive at the takeout window. There are also a few spots out front on Haywood.
Pro tip: Join their email list on their site for savings delivered to your inbox!
2. All Souls Pizza
All Souls Pizza is another one of our Asheville favorites for dining in and picking up! All Souls takes an artisan approach with their delicious pizzas.
The crust is thin and perfectly baked in their brick wood-fired oven. They have some traditional pizzas well as eclectic toppings. We love the NC soppressata, basil, oregano, garlic, and pecorino pizza paired with their Bibb Salad!
All Souls has great outdoor dining for good weather days. For years they have consistently cemented their place as offering some of the best takeout in Asheville in our opinion.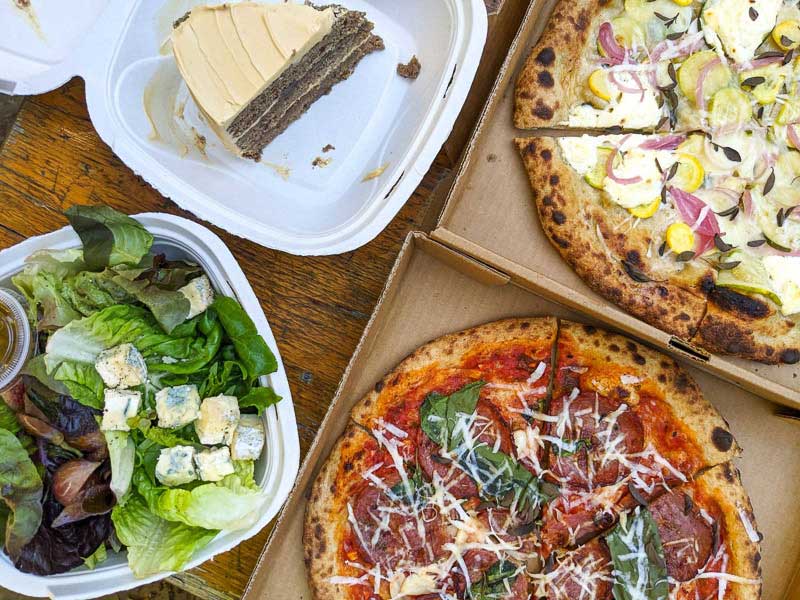 Type of food: Pizza
Availability: open Wednesday-Sunday for dinner
Location: 175 Clingman Ave // River Arts District
What to order at All Souls Pizza: Their daily specials are always great! And as a classic standby, we always get the soppressata pizza with their bibb lettuce salad.
Beverages: All Souls offers a takeout wine special on their online menu.
Ordering ease: Super easy online ordering!
Pickup ease: You'll find your order at the front counter when you walk in the door (right side of the building next to the outdoor dining area.)
Parking: Ample parking is available with a big parking lot right in front of the restaurant
3. Baba Nahm
Baba Nahm is a quick pick-up spot in downtown Asheville serving some of the best Middle Eastern takeout around. Their food is so fresh and it's fast, too (their motto is 'grab and get gone'!)
Baba Nahm is a great option for when you're looking for a pita as a quick to-go bite and also when you need a full dinner for four. Keep an eye out for their lamb shank dinner for two that they sometimes offer on special.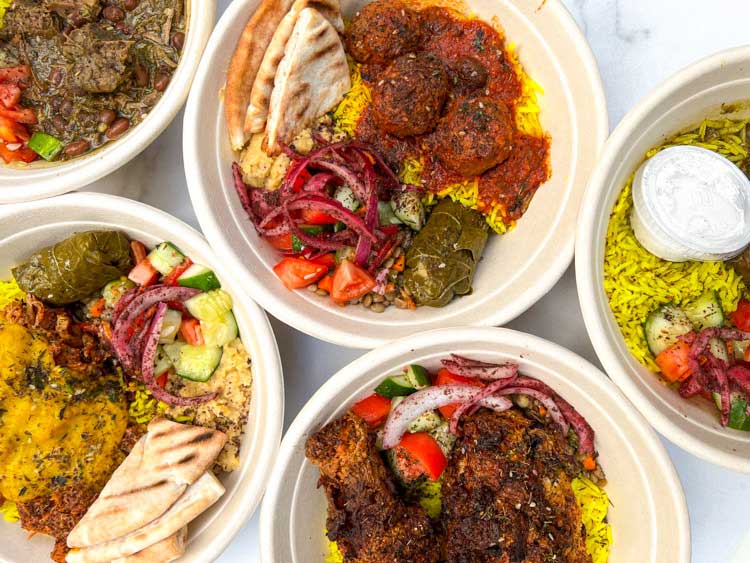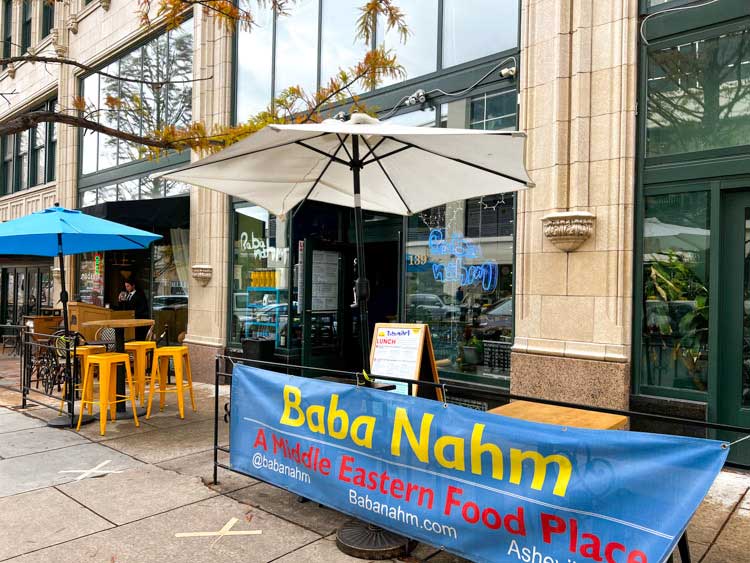 Type of food: Middle Eastern
Availability: open for lunch on Sundays Mondays and Tuesdays // open for lunch and dinner Wednesday-Sunday
Location: 1 Page Ave – Suite 139 // Downtown in the Grove Arcade
What to order at Baba Nahm: It seems like their menu is a bit different every time we order, but it's always great! We love their lamb shank when it's available! Their Chickpea Fried Chicken is also wonderful. The Chicken Shawarma special is reliably on the menu and is very tasty. You can order it on a stuffed pita, laffah wrap, as a Lebanese platter, fattoush salad or a hummus bowl.
Beverages: Baba Nahm offers beer, cider and wine to go along with your takeout. They also have other fun beverages like kombucha, coconut water and Waynesville Soda Jerks probiotic soda.
Ordering ease: Online ordering for the win! You can order for ASAP pickup or schedule it for later that same day. You can also call in if you prefer phones. I'm specifically thinking of my mom (#babyboomer.)
Pickup ease: They will have your order ready at the counter!
Parking: There are several diagonal and parallel spots around the Grove Arcade. Be warned that at busy times these may all be taken. There is a public garage across the street from the end of the Grove Arcade (Wall Street Garage).
4. Luella's Bar-B-Que
Luella's Bar-B-Que is our go-to spot when we have guests in town! Their chopped pork barbeque is one of our favorite Carolina-style barbeques around. They top it with a light vinegar sauce which just takes it to the next level.
We typically get the pork BBQ family pack with okra, collard greens and green beans as our sides and then a large side of the Mac and Hoop Cheese. And also the sweet potato chips and smoked wings because we can't resist.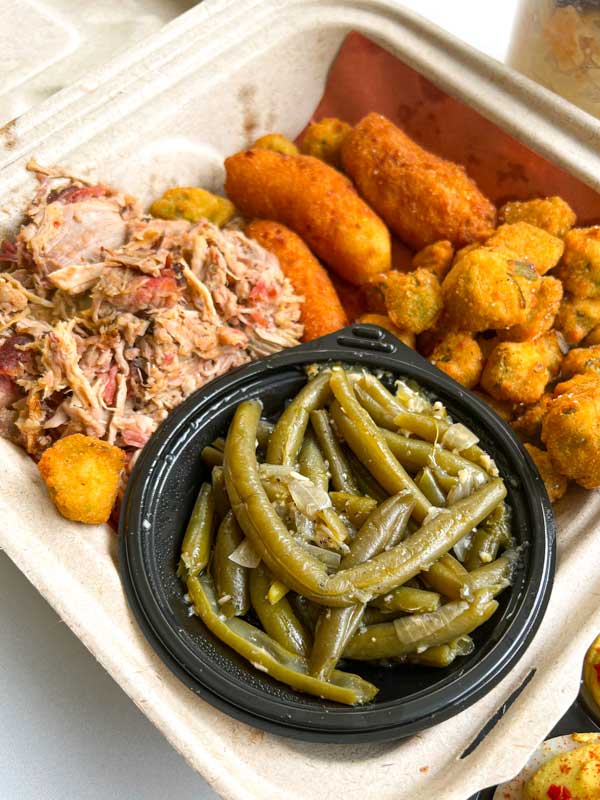 Type of food: Carolina Barbecue
Availability: Open for dinner at 4pm every day but Sunday
Location: They have two locations! 501 Merrimon Avenue (North Asheville) and 33 Town Square Blvd (Biltmore Park in South Asheville.)
What to order at Luella's: Anything and everything!!! Some of our favorites include their pulled pork (with vinegar and mustard sauces), mac 'n hoop cheese, smoked wings and sweet potato chips (with the best ranch dipping sauce!!). Their brisket burnt ends mac and cheese is also delightful. Oh, and the banana pudding!!!
Beverages: You can order tea and lemonade by the cup or gallon. They also have canned wine and local beer available for pickup.
Ordering ease: Luella's is one of our favorite restaurants to order online from! Their site is so easy to use and you can schedule your order a week in advance.
Pickup ease: Easy pickup at the counter and it's always ready on time.
Parking: There is a parking lot in front of the restaurant at their Merrimon location. It can sometimes fill up at peak times. There is tons of parking at their Biltmore Village location.
5. Vinnie's Neighborhood Italian
Vinnie's Neighborhood Italian is exactly what it sounds like. Great Italian food in a neighborhood setting. You'll feel like part of the family when eating in but it's also great for takeout Italian! Vinnie's is a very approachable family Italian restaurant.
Vinnie's has been our go-to for date nights in lately and is always such a treat. Sometimes we'll grab it early so the whole family can enjoy Italian, but for the most part, we wait until the kids are asleep before ordering. A perfect date night! Our meals are always hot, ready to go and delicious!!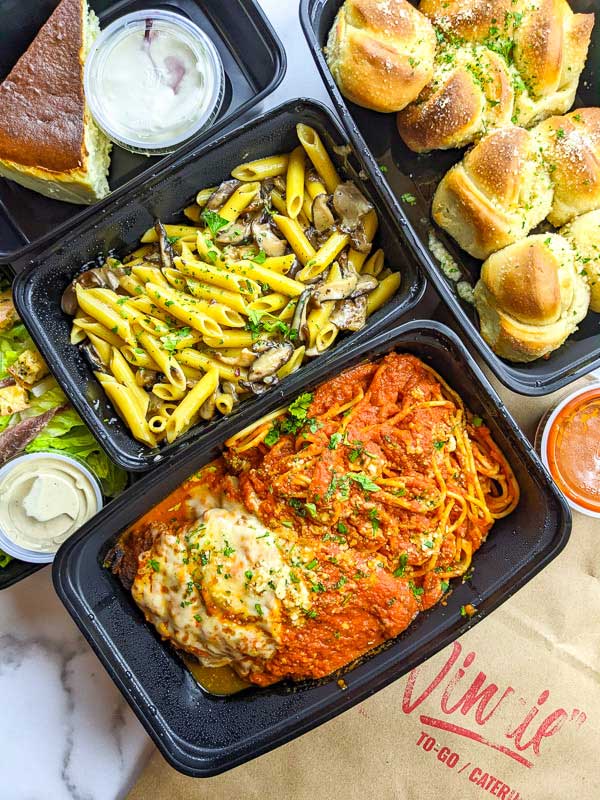 Type of food: Classic Italian goodness
Availability: Open for dinner all week (except they aren't open on Tuesdays at their Merrimon location). They are also closed on Tuesdays at their South AVL location for the month of May.
Location: Another spot with two locations! The original is in North Asheville (641 Merrimon Ave) and they now have a South Asheville location (1981 Hendersonville Rd.)
What to order at Vinnie's: Chicken or Eggplant Parmigiana, Fettucini, Penne Al Funghi if you like mushrooms and Ricotta Cheesecake are all amazing. Oh, and the mozzarella sticks. And cannoli! You can't go wrong, really!
Beverages: Wine is available for pickup!
Ordering ease: They have an easy-to-use website for ordering but (!!!) the only option available for pickup time is ASAP. You find out the timing after placing the order, though, which isn't useful if you are working around something. We have always received a 45-minute window but I assume the timing is dependent on how busy they are. I'm sure you could call in to find out the wait time prior to ordering but I like to live life on the edge so I haven't done that.
Pickup ease: They'll have your order ready at the hostess stand.
Parking: Both locations have large parking lots. The lots can get full-ish but we have never had an issue getting a spot.
Pro tip: Order an extra pizza for your next day's lunch or dinner. Their pizza is delicious and reheats great!
6. 12 Bones Smokehouse
12 Bones Smokehouse recently added online ordering to their site and as soon as we saw that we knew they needed to be added to this list! They have always done takeout but you either had to order in person or call in. Online ordering was a requirement for this list, though!! So, thanks 12 Bones!
12 Bones has some great classic barbecue options as well as absolutely perfect ribs (especially the brown sugar ones!!) You'll find a ton of daily sides as well as a few specials. We love sitting outside at their RAD location and then grabbing a beer next door at Wedge Brewing. And I can't mention 12 Bones without calling out that it's Barack Obama's favorite spot to grab BBQ when he is in Asheville.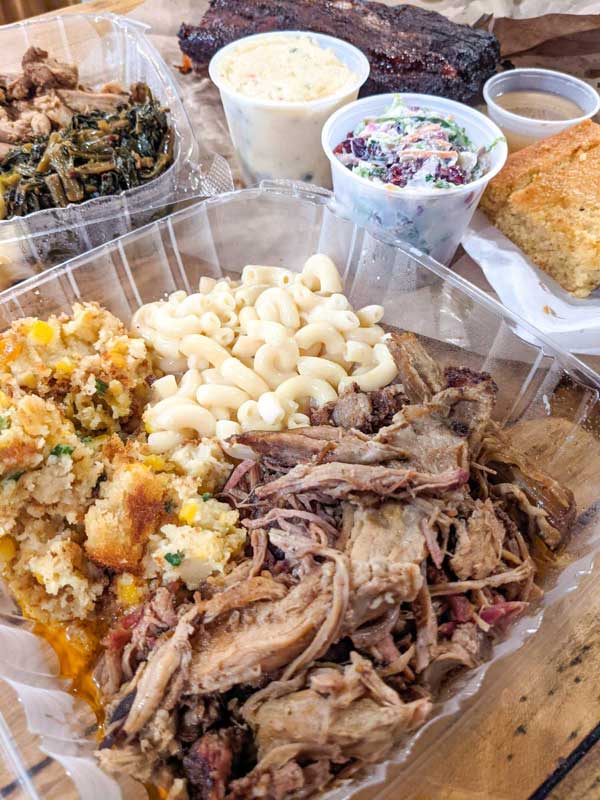 About 12 Bones Smokehouse
Type of food: You'll find all the classics at 12 Bones (pulled pork and chicken, smoked Turkey, brisket…), but what they are really known for is their ribs! 12 Bones' ribs are available in four flavors: nekkid (salt + pepper), brown sugar, blueberry chipotle and pineapple habanero. They have tons of sauces available and even sell them in bottles.
Availability: Their RAD location is open Monday-Friday and their South location is open Tuesday-Saturday.
Location: 12 Bones has two locations: 5 Foundy Street (River Arts District) and 2350 Hendersonville Rd (South Asheville)
What to order at 12 Bones: Ribs!! Please! You must! Their blueberry chipotle ribs (described as sweet with a kick) is one of our favorite dishes in town! We also love their brown sugar-rubbed ribs, collard greens, corn pudding and jalapeno cheese grits.
Beverages: Iced tea, RC Cola and 12 Bones Brewing
Ordering ease: Easy online ordering through Square! You can order in advance too, which is awesome!
Pickup ease: They'll have it ready for you at the scheduled time.
Parking: Tons of space at both locations.
Pro tip: Order from their 'Just a Taste' menu if you are indecisive and/or love to sample the menu.
7. Taco Temple
Located on Charlotte Street just north of downtown, Taco Temple is a fixture in the community. The simplicity and real flavor make their tacos worth having again and again. And their corn tortillas are ground fresh and grilled to order!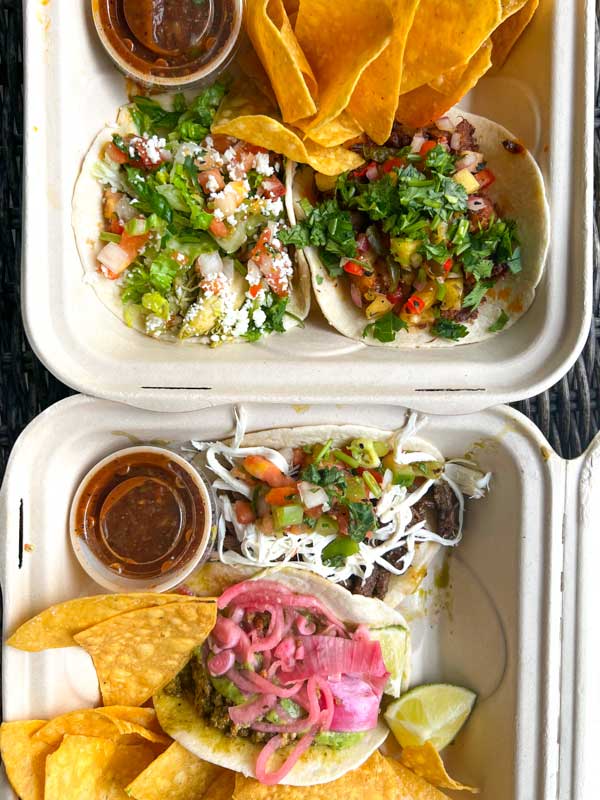 Type of food: Tacos! Tortas! Breakfast tacos!!
Availability: closed Sundays
Location: 132 Charlotte St. // North Asheville
What to order at Taco Temple: Whatever you do, make sure to try a corn tortilla! We love their Al Pastor taco and torta (topped with pineapple!) The Santa Barbara (ancho chile-brown sugar-rubbed steak) is also great, as is their Toluca taco filled with house-made chorizo. We always opt for chips and salsa, chips and guacamole (and sometimes chips and queso … #wheninasheville…) Oh, and their Mexican vegetable tray (cucumbers, carrots, jicama & lime-dusted flour chicharrones) is a fun add when we are feeding a group. For breakfast, we love to get their Coyo Taco (bacon, eggs, cheese, salsa), Tepito Taco (chorizo, eggs, cheese, salsa) and their temple tots (dusted with chile-lime sal.) So good!!
Beverages: You'll find bottled Mexican Coke, Horchata, Topo Chico, and hibiscus lemonade in addition to fountain drinks and tea. They also have beer, wine and mixed drinks available. For breakfast you can pair your tacos with locally-roasted High Noon coffee or a cup or Mexican hot chocolate.
Ordering ease: Easy online ordering through Square. They have a drive-through where you can grab and go. You can't order in advance online, though, so keep that in mind.
Pickup ease: They have a drive-thru window on the side! You can also park and grab from the ordering window.
Parking: Taco Temple has a few spots right out front. Next door is the old Fuddruckers building with a huge parking lot. We always see people park here. Now, whether you are supposed to or not is a different question…
Whew– that's a wrap! For now, at least! Hopefully this list of the best takeout in Asheville will help with your next night in. Whether you are local to Asheville or just here for the weekend, we promise you can't go wrong with any of these spots!
Note: Nani's Chicken was previously on this list of best takeout, but they closed their Asheville restaurant in July 2022. Nani's is now a Spicewalla popup by the same team behind Nani's, Chai Pani, Buxton Hall BBQ and Buxton Chicken Palace. You can still find Nani's at Ponce City Market in Atlanta, GA and hopefully another will pop up in Asheville one day!