I recently took my four year old to BattleCat Coffee Bar + Tiger Bay Cafe* for a late breakfast. This was his first time there, which isn't saying a lot given that we have lived in a bubble for the last two years. We are starting to emerge, though, and are enjoying our favorite spots in a different way now that we have two kids in tow.
*Tiger Bay is located in the same house as BattleCat, so it's easy to grab both. It should actually be required. Both are amazing!
Anyway, it was about a month ago that we went. In true kid fashion, he still asks daily if we can go back to BattleCat and have Tiger Bay. He can't put his finger on his favorite part, but I can easily speculate on what keeps drawing him back:
Perhaps it's the interesting name(s) or the funny logo.
Or the nice barista who made a superb hot chocolate.
Maybe it's their outdoor seating– it's pretty great and a fun place to people-watch.
Or maybe it's the breakfast sandwich from Tiger Bay Cafe that still sticks out to him weeks later.
Suffice it to say, I plan to go back to BattleCat and Tiger Bay with him very soon. In the spirit of his love for these West Asheville favorites, I thought I'd share a bit about why I love each!
What I love about Tiger Bay Cafe
Tiger Bay Cafe has some of the best breakfast sandwiches in Asheville. And bonus! It feels like a hidden gem. Normally I like to keep hidden gems to myself, but I also like to support small businesses so…
One thing I love about Tiger Bay is that it is FEMALE OWNED and BLACK OWNED and FAMILY-RUN!
They also have an absolutely perfect menu with seriously amazing food. You can get breakfast starting at 7am and items from their lunch after 9am.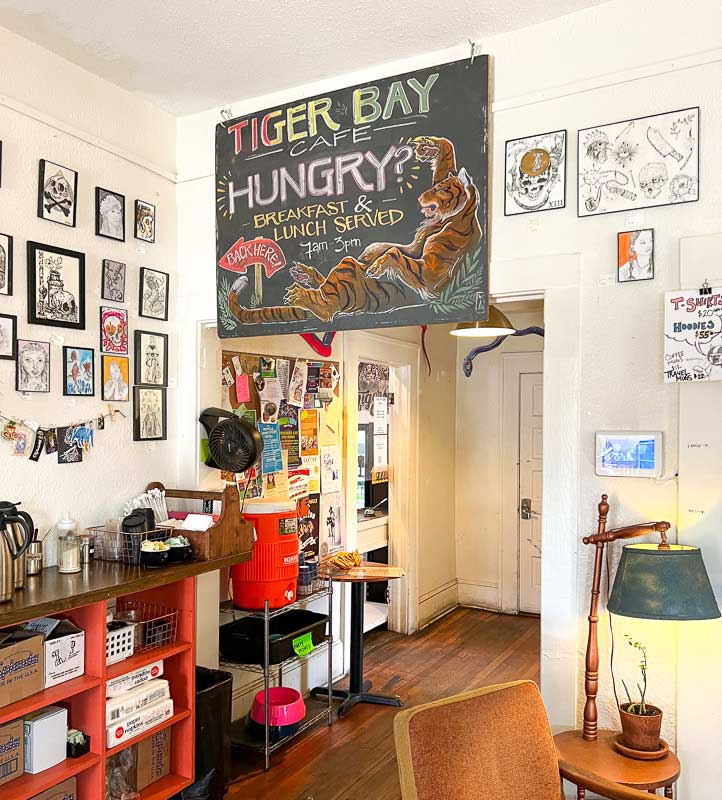 Their breakfast panini (scrambled egg, tomato, bacon, cheddar, swiss, and herb mayonnaise) is absolutely amazing. I would cast my vote for the best sandwich in Asheville for it. All of the ingredients are great but the herb mayonnaise sends it over the edge!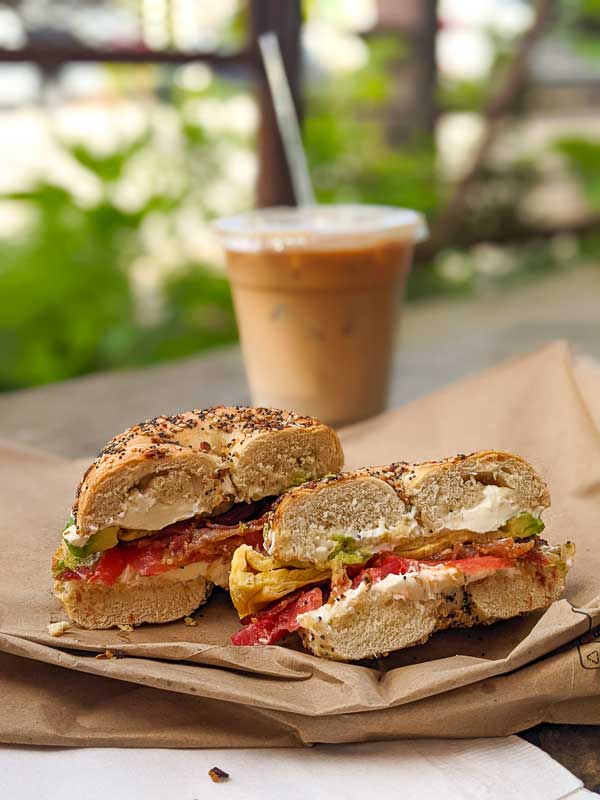 I also really love their breakfast bagel (everything bagel with cream cheese, tomato, avocado, scrambled egg, and fresh cracked pepper) with bacon added. The ingredients are all so fresh and you can actually taste the hint of cracked pepper.
For lunch, we are big fans of their vegetable panini (swiss cheese, avocado, tomato, roasted red bell peppers, red onion, and herb mayonnaise on a toasted panini) and their BCT panini (applewood smoked bacon, tomato, avocado, swiss cheese on a toasted hoagie roll.) You really can't go wrong, though!
Another thing I love about Tiger Bay Cafe: You can order online! It's great because you can order in advance and not have to wait around. Even if you show up in person, they are still taking all orders online anyway, so it makes sense to do it ahead of time.
And my last thing about Tiger Bay: I love that I can grab an awesome sandwich and then easily hop over to the next window to get an amazing espresso drink from BattleCat!
What I love about BattleCat Coffee
That brings us to our next topic: BattleCat!! BattleCat Coffee is a West Asheville institution. So much so that they don't even really have their name on the building out front. Instead, the top of the building merely says "coffee bar". Now, the BattleCat logo is above it, but "coffee bar" is always the thing that sticks out to me.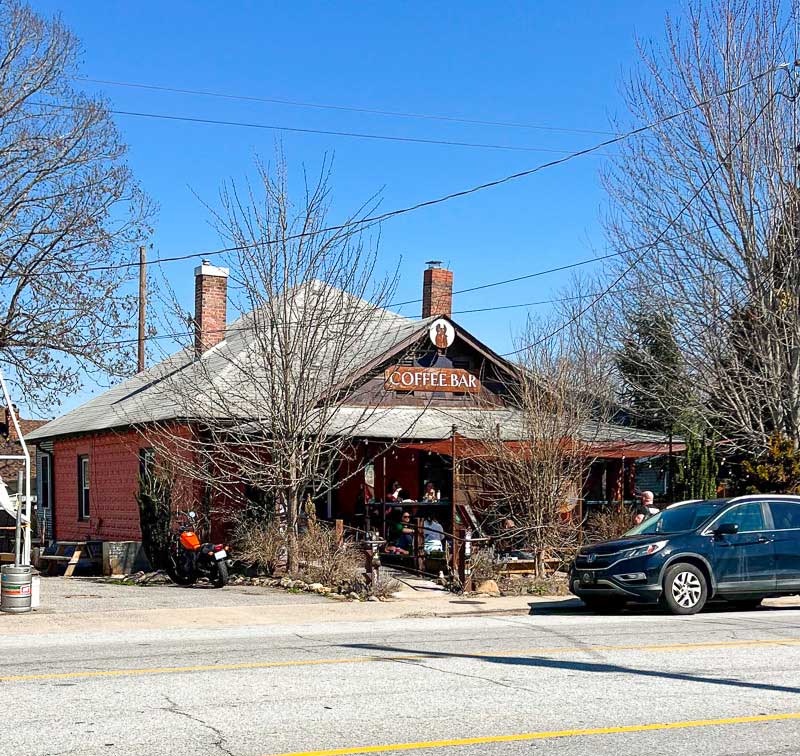 Anyway, BattleCat is the type of place that doesn't need a real website or social media presence. Their website domain has expired (and can apparently be purchased??) and their FaceBook page was last updated in August 2021 with information about COVID protocols. They have a more up-to-date Instagram, but they mostly just use it to communicate when they will be closed. They clearly aren't trying to build a customer base– they have their loyal market. Go BattleCat!
But don't let that make you think you shouldn't go. You should absolutely visit BattleCat Coffee Bar. They have awesome coffee, cozy seating for socializing, tables for getting work done and a nice outdoor area out front on Haywood. They are also very friendly, even when you have a four year old in tow. And another great thing is that they have a ton of local art for sale hanging all over.
As far as drinks go, I am very unhelpfup because my favorite is a very basic latte. But! I can at least tell you that their lattes have the most perfectly roasted flavor. The only other place I have found with comparable espresso drinks is Old Europe Pastries (excellent espresso drinks & pastries, btw!) Anyway, I love grabbing an iced latte from BattleCat and wish it could be a daily treat.
One last thing I love about BattleCat: you can buy bags of PennyCup Coffee from their retail section. You'll find various blends, including their very own BattleCat Blend. I love getting to shop local (supports both BattleCat and PennyCup!) and getting to have a nice cup of coffee in the morning. Can't ask for anything better!
Final Thoughts
I hope this post encourages you to visit BattleCat and Tiger Bay if you haven't already. You'll find great coffee, great food, friendly service and a fun place to kick back and see what West Asheville is all about.